The use and disposal of disposable plastic items has contributed to environmental degradation and consequently, climate change. As a result, international specialists in the field of construction are continually attempting to implement new architectural models based on modern research in construction projects, such as plastic roads to minimize the problem. The government of Bangladesh has made similar efforts to recycle the country's enormous plastic trash piles into usable building materials for roads. Road building officials are considering a strategy to build better, more enduring, and more affordable roads using plastic waste. In addition, this will contribute in combatting global issues by reducing plastic waste through effective waste management.
PLASTIC POLLUTION IN BANGLADESH
Due to poor plastic waste management, the World Bank ranked Bangladesh as one of the world's most polluted countries in December 2021. In Dhaka alone, there is a yearly usage of 22.25kg of plastic per person. The amount is more than three times the urban national average. According to a report on the plastic sector by the business consultancy firm LightCastle Partners, Bangladesh is ranked 10th in the world for poorly managing plastic trash. In Dhaka, daily plastic garbage increased dramatically between 2005 and 2020, going from 178 tons to a shocking 646 tons.
The accumulation of plastic garbage is a concerning issue since it could have negative environmental effects. According to Plastics Europe, a major pan-European trade organisation, the majority of plastic is produced using "natural resources such as cellulose, coal, natural gas, salt, and crude oil through a polymerization or polycondensation process." Additionally, these have the capacity to release substantial amounts of greenhouse gases when exposed to the sun's heat. This definitely makes the temperature go up, which can help plastic waste make more harmful gases like ethylene and methane. These gases can then make the temperature go up, even more, creating a nightmare cycle of destruction.
Given that plastic is not naturally biodegradable, the only solution for managing plastic trash is to use a circular economic model. Only 37.2% of the daily 646 tonnes of plastic waste collected in Dha- ka is recycled. The remainder is dumped in various locations, including landfills, bodies of water, parks, roadways, and seashores. Additionally, the environment is impacted by this garbage, which has an overall negative influence on not only the nation but also the health of the entire world and all of its inhabitants.
A PROGRESSIVE INITIATIVE OF WASTE MANAGEMENT AND PLASTIC ROAD CONSTRUCTION
The initiative has been in the works for the Roads and High- ways Department (RHD) for the past four years, and according to the project's coordinator, RHD Additional Chief Engineer Dr. Md. Abdullah Al Mamun, it could finally get underway in the next two or three months. RHD is now working to complete the durability testing and design criteria for the proposed roadways. The plastic roads will be tested on state, local, and interstate roadways as well as in hilly terrain.
The use of plastic waste for road construction would not only allow for the construction of more durable and cost-effective roads, but it would also give a sustainable solution to the plastic waste problem. Dr. Md. Abdullah stated, "Plastic makes roads more resistant to damage from heavy rains, which is one of the major causes of the short lifespans of roads in the country." Out of Bangladesh's about 21,000 kilometers of roadways, roughly 30% are in poor condition due to cracks and potholes.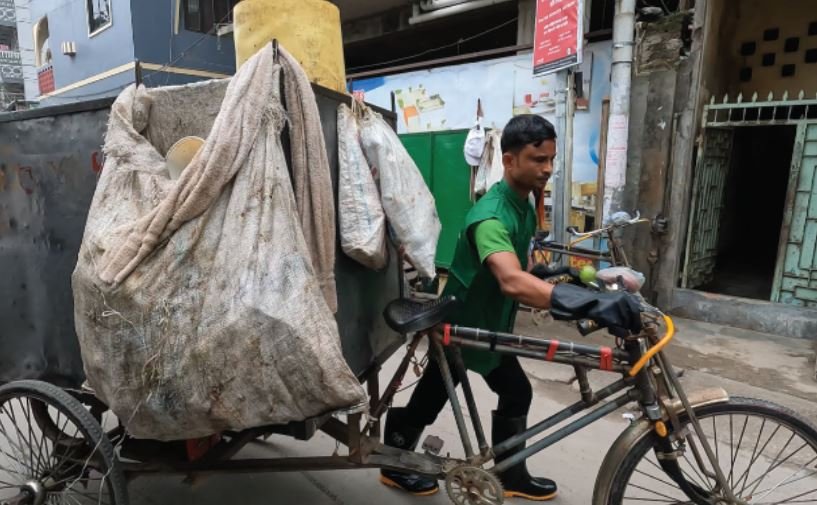 Rusting and stripping are the two most significant distresses that shorten the lifespan of flexible pavement, while overloading, severe rainfall, and water-logging exacerbate these distresses.
According to representatives of the Roads and Highway Department (RHD), adding plastic polymer to the bitumen will improve its binding ability and improve the properties of the pavement, decreasing rutting and other distresses. The department has also begun cooperating with regional and municipal governments, such as the Dhaka South City Corporation (DSCC) and the Dhaka North city corporation (DNCC).
SUSTAINABLE ACTIONS BY THE MINISTRY
According to Md. Shahab Uddin, minister of environment, forests, and climate change, the government has approved a blueprint for gradually banning single-use plastic in coastal areas through a gazette notification. "Government has proactively responded to this challenge by formulating a number of legislations, rules, regulations, and policies. The 8th Five Year Plan has focused on improving solid waste management," he stated. Along with that, the Bangladeshi government has finalized "Towards a Multisectoral Action Plan for Sustainable Plastic Management in Bangladesh."
The government has developed a National Action Plan for Sustainable Plastic Management based on the 3R strategy of Reduce, Reuse, and Recycle. This is based on the idea of a circular economic model and has specific goals to cut down on plastic waste.
Some of the goals are to recycle 50% of plastics by 2025, get rid of 90 % of single-use plastic by 2026, and cut the amount of plastic waste by 30 % by 2030 compared to the baseline of 2020-21.
At the National Stakeholder Consultation Workshop on Plastic Free Rivers and Seas for the South Asia (PLEASE) Project, Mr. Shahab Uddin said,
"This will help to create new value chains, skills, innovative products, and green jobs while addressing social and environmental challenges," the minister said.
In another seminar on "Enabling Policy for Sustainable Plastic Waste Management", the environment minister stated, "Addressing plastic pollution is not only an important development agenda but also an opportunity to innovate and create green jobs with a view to ensuring a green growth pathway for Bangladesh."
Shahab Uddin acknowledged that mismanaged plastic trash has a devastating effect on human health, the environment, biodiversity, and the entire ecosystem. A lot of plastic trash ends up in lakes, canals, and rivers, which then carry it to the ocean. Toxic microplastics are entering the food chain and posing a threat to human health.
Additionally, the "Plastic-free Rivers and Seas for South Asia project," started by Parley for the Oceans and the South Asia Cooperative Environment Programme (SACEP), will assist eco-innovations in the country with funding from the World Bank of roughly $50 million.
THE FIRST PILOT PROJECT OF PLASTIC ROAD IN BANGLADESH
At Pirujali Sarakghata in Gazipur, Bangladesh has built the first road in the nation using bitumen combined with plastic trash. According to representatives of the Local Government Engineering Department, using plastic waste will reduce the time and expense of building roads while also preserving the environment.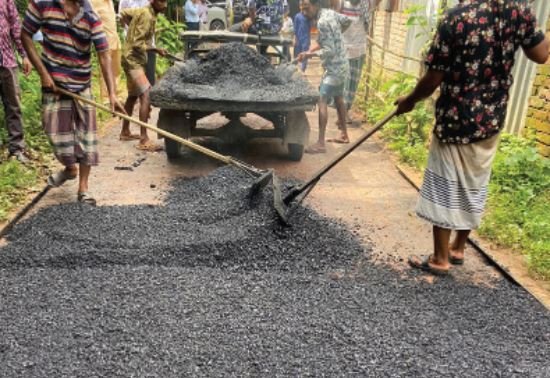 The idea offers some promise for a nation that is having trouble managing its plastic waste, but experts worry that it may raise the expense of repairing roads. Additionally, they stated that any worldwide rule intended to decrease the use of plastic may thwart the attempt.
The Greater Dhaka-Mymensingh Road Project's pilot project to build the road in Gazipur began in August. Sand and stones were combined with 9% plastic waste and 91% bitumen for the construction of the road. Before using, the mixture was heated to 170 degrees Celsius.
Executive engineer of the Gazipur LGED Abdul Barek stated, "We're using the mixture to construct the road surface just like bitumen and brick mixture is used for road carpeting." The trial project for the 100-meter road will be observed for a year.
GROWING TREND OF PLASTIC ROADS WORLDWIDE
This plastic road technology is being utilized in a large number of nations, including the United States, Pakistan, India, the United Kingdom, Australia, Indonesia, and the Netherlands. In January 2019, the UK started making the plastic road, spending 1.6 million British pounds. The same technology was applied by Pakistan at the conclusion of the previous year. Additionally, the US spent $40.2 million building a plastic roadway in Las Vegas.
The construction of plastic roads began in many European countries in the 1970s, but India gained the lead in this field in 2000 and has since built more than 33,796 kilometers of plastic roads. One of India's earliest plastic highways is located on Jambulin- gam Street in Chennai, the state capital of Tamil Nadu. A report from the Guardian says that the plastic roads have been surprisingly durable over the years and haven't gotten any potholes, ruts, ravels, or flaws in the edges.
In a similar vein, plastic has been used to build roadways in the Indian towns of Pune, Indore, and Surat. The majority are constructed in rural areas, although a minor number of roads have also been constructed in Chennai and Mumbai, according to the research.
Given that used plastic garbage can be recovered, plastic roadways are a fantastic way to reduce plastic pollution. The success of plastic roads in India gives Bangladeshi experts optimism that they will be successful here as well. Professor Shamsul Hoque of Civil Engineering Department at BUET, stated, "It is possible to use polymer-modified asphalts [another term for polymer-modified bitumen] to build plastic roads in Bangladesh."
THE OVERALL ADVANCEMENT
Dr. Md. Abdullah Al Mamun, Additional Chief Engineer, Technical Services Wing of RHD, recently indicated that they were working on defining standard specifications, design protocol, test protocol, and construction protocol in the first place while taking into consideration the weather and traffic loading conditions. "We also need to know the types of plastics being dumped in different places," he added.
The RHD is collaborating with a study team from the University of Texas in Arlington in the USA to describe (composition) solid waste in the nation. It has been finished characterizing 17 (seven- teen) roadside solid waste dumping sites in Bangladesh. Standardization is already in progress. According to Dr. Abdullah, the test protocol and construction procedure are nearly finished, and there is a plan to launch the organized trial right away in various areas depending on changing weather conditions, hazard exposure, and traffic loading patterns. He said that the group is working on several plastic grades, such as Polyethylene Terephthalate (PET or PETE), High-Density Polyethylene (HDPE), Polyvinyl Chloride (PVC or Vinyl), Low-Density Polyethylene (LDPE), Polypropylene (PP), and Polystyrene (PS or Styrofoam). "We will find out the ways of using some of these types with construction materials including bitumen. We believe we can use different kinds of plastic waste at different layers of roads," he further added.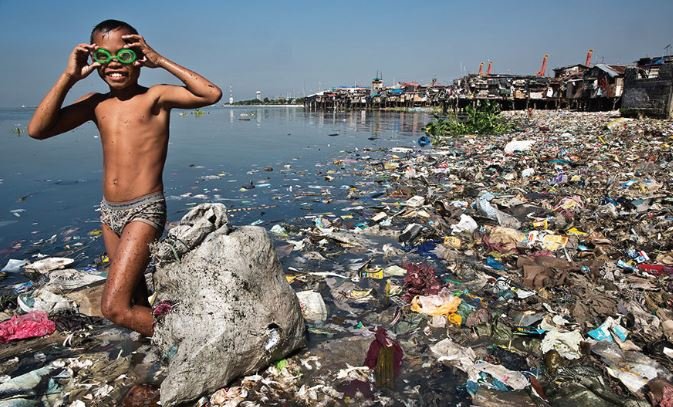 For instance, polythene has the potential to preserve road slopes rather of using forests. The RHD official says that it can also be utilized to coat aggregates for building flexible pavement. The RHD must first create a test protocol, design protocol, construction protocol, and commercial model if they want to maintain the technology.
According to officials, RHD called a number of meetings with representatives from key parties to dis- cuss the problems, including City Corporations, LGED, the Department of the Environment (DoE), Bangladesh Standards and Testing Institution (BSTI), Bangladesh University of Engineering and Technology (BUET), Bangladesh Council of Scientific and Industrial Research (BCSIR), development partners, and multinational corporations.
THE BUSINESS MODEL TO COLLECT GARBAGE
The circular economy goal can be achieved by using plastic in road building, which is more of a part of a comprehensive approach to solid waste management. Currently, only a small amount of garbage, primarily PETE and certain other plastics, is recycled, and the nation has a secondary recycling market.
Since waste cannot currently be gathered and classified at the source, a group of underprivileged individuals collects rubbish to be recycled from dustbins, roadside dumping spots, and other very filthy dumping sites. RHD official said, "So we opted for a business model that would include the Extended Producer Responsibility (EPR) mentioned in the Waste Management Regulations – 2021."
According to him, this legislation also requires producers to recycle a certain percentage of post-consumer goods, including plastic. When a significant quantity of plastic waste is required for road construction, a value chain will form automatically.
"There will be collectors, bulk sellers who will do their part for money. Also, there could be a system. For example, a beverage company can offer an incentive for its customers to return plastic bottles after consuming," he added. A few global businesses have al- ready expressed interest in joining the RHD effort. They made the RHD an offer to use the plastic waste they make after compiling it. "We may issue them a certificate that their certain percentage of waste has been recycled as a compliance of EPR," the representative described.
The government may incorporate plastic roads in building bidding contract requirements with a financial incentive after setting up a suitable mechanism. Additionally, a contractor may be given a discount if they utilize 10% plastic on the road.
THE PROSPECT WITH CHALLENGES
Plastic roads are one of the solutions in combatting waste mismanagement, but it is not going to be as simple as it sounds. Prof Shamsul Hoque said, "It is difficult to collect the necessary waste plastic and then turn it into the liquid glue in order to be mixed with bitumen." "But nowadays, machineries are available that can make the process easy," he added. According to specialists, polymer-modified asphalts are composed of virgin polymers and, at times, scraps of rubber culled from used tires. Shamsul Hoque described, "In the past, a huge number of used tyres were dumped at dumping stations in the US and there was no way of recycling them, which became a problem for the US government.
Compared to regular bitumen, polymer-modified bitumen has a higher tolerance for heat. 66 degrees Celsius is the threshold temperature at which plastic roads begin to melt, which is higher than the limit temperature of 50.2 degrees Celsius for conventional roads. Plastic roads are less prone to melt or split in high temperatures as polymer plastic can retain more heat than bitumen.
However, the price of such technology could make building roads more expensive by 30% to 50%. Shamsul Hoque, though, seems unconcerned about that. "The world now follows the theory 'Fit and Forget.' If we build an infrastructure in a sustainable pro- cess, people will agree to bear the additional costs," he mentioned. The damage plastics have already done to the earth, cannot be reversed.
The global warming and climate change will have a far worse impact if we fail to make a difference now. A change for the betterment will save the earth as well as the upcoming generations. Plastic roads can be a solution for waste management, more durable roads, and the next step for a greener environment. It will contribute by reducing plastic pollution on a greater scale.