From October 28th 2023, Bangladesh saw a return of a sheer volume of violence instigated by the opposition parties, particularly the Bangladesh Nationalist Party (BNP). Peaceful protests, rallies, and strikes are cornerstone rights of a strong democracy. It is the duty of the ruling party, opposition parties, law enforcement forces, civil society, journalists and media personnel to ensure that these sacred rights remain peaceful and honest. Unfortunately, BNP and its Jamaat alliance partner broke that by attacking the other stakeholders. After the rally, BNP brought back the old days of Hartal (strike) and Blockade all over the country which ensued further violence with human lives lost and properties of civilians torched and damaged. It is paramount that we document these tragic events to identify the correct political narrative.
DATELINE:
DHAKA, 28TH OCTOBER 2023
The BNP's Nayapaltan headquarters witnessed a gathering of leaders and activists, all ready to participate in the party's much-anticipated rally, amplifying their single-point demand.
A bus carrying Awami League activists were attacked near St. Mary's Cathedral near Kakrail Area. BNP cadres attacked the bus with iron rods and sticks.

BNP activists initiated an attack, with an assault on the chief justice's residence and in front of the Judges' Quarters around 12 pm. BNP leaders and activists attacked the nameplates and gates in front of the chief justice's residence by breaking tree branches and wielding sticks. They also began hurling bricks.
Defying police barricades, a large group of Jamaat-e-Islami activists entered Shapla Chattar from both Fakirapool and Arambagh. Earlier, thousands of Jamaat activists had started gathering at the locations after not getting the permission to hold rally in the capital
.
Nayapaltan's vicinity turned into a battleground as BNP members engaged in a prolonged confrontation with the police, which spread from Kakrail mosque to Nightingale intersection.
Continuing clashes between police and BNP members led to the torching of multiple vehicles and police box in Kakrail, further escalating tensions. Additionally, two motorcycles were set on fire by BNP supporters.
BNP activists set fire to National Audit Building premises.
BNP-Jamaat activists set fire to Rajarbagh Police Hospital and damaged public property in the Kamalapur area.
Ongoing blockades are going against mass people's interest. Those who are involved in the blockade in the name of political agenda will be arrested and brought to justice. Give information and hand over the perpetrators to police who harm people's lives and property in the name of movement.
A police constable named Atiur Rahman Parvez lost his life after being brutally attacked by BNP cadres armed by sticks and iron rods.
Unrest expanded to various parts of Dhaka, leading to the torching of a bus on the Malibag-Mouchak flyover.
A bus was set on fire in the Kakrail area of Dhaka, Bangladesh, near the Islamic Bank Hospital. The incident took place around 5:00 pm, and the bus was completely engulfed in flames within a short span of time.
Several casualties were reported, with 41 policemen injured, 22 receiving treatment at Central Police Hospital (CPH), and 19 at Dhaka Medical College Hospital (DMCH).
A bus of Moumita Paribahan was set on fire at Hemayetpur in Savar at 9:18pm on Saturday.
In Mirpur's Kalshi, another bus burnt to ashes at 9:22pm.
In Gazipur, the third bus was set on fire under Gazipur flyover at 9:30pm.
"BNP was supposed to hold its grand rally peacefully, but they turned violent at one stage and attacked the entrance of the chief justice's residence, hospital and government establishments. They also clashed with police and police took action to save public lives and properties. Police will take legal measures over the incidents after scrutinizing video footages."
At least 20 people, including three policemen, were injured in a clash in Narayanganj. A police constable Nurul was attacked with sharp weapon. Inspector Humayun Kabir's left hand was broken and his right hand was injured severely. They also attacked SI Matin with sticks and bricks"
DATELINE: DHAKA, 29TH OCTOBER 2023
A teenager helper of a bus driver was killed in his sleep inside his bus as miscreants set fire to the parked vehicle in the Delia area of Demra in Dhaka early Sunday.
Arsonists boarded a Dhaka-bound bus in the guise of passengers and later set it on fire in Manikganj Sadar upazila Sunday morning, amid the dawn-to-dusk hartal called by BNP
Unidentified miscreants torched a bus of "Shikor Paribahan" at the south gate of Baitul Mukarram National Mosque on Sunday amid BNP's countrywide hartal.
BNP Secretary General Mirza Fakhrul Islam Alamgir has been detained by the Detective Branch (DB) of Police on Sunday. He was detained from his house in Dhaka's Gulshan area at around 9:30am.
A pick-up van was torched at Joydebpur police station area in Gazipur at 09:30 am on Sunday, while four buses were vandalized at Palli Bidyut intersection in the district from 07:00am to 10:00am.
Miscreants torched a bus of Bihanga Paribahan with passengers inside at 10:28am in Bangshal's Tatibazar intersection. The passengers had disembarked before the fire spread.
Arsonists torched a BRTC double-decker bus at Tongi on Sunday morning, amid the nationwide hartal called by BNP and Jamaat-e-Islami. Eyewitnesses said the bus was set on fire by a group of unidentified men around 10:30am in front of Cherag Ali Market in Tongi.
Unidentified miscrients on Saturday night set ablaze an Awami League's party office in Enayetpur, Sirajganj. General Secretary of Enayetpur Thana Awami League Asgar Ali Master filed the case in connection with the inciudent.
Journalist Rafiq Bhuiyan, who sustained injuries on Saturday during a clash between BNP men and police at Segunbagicha in the city, passed away on Sunday while undergoing treatment at Birdem General Hospital.
Leader and activists of BNP on Sunday torched dozens of vehicles including busses, private cars across the country during the nationwide dawn-to-dusk hartal.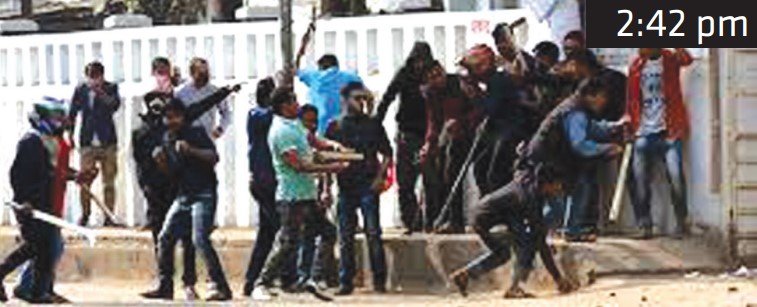 Multiple clashes between BNP men and police in various Sylhet city areas took place on Sunday in the midst of a nationwide hartal called by BNP and Jamaate-Islami.
DATELINE: DHAKA, 30-31ST OCTOBER 2023
Miscreants have set three buses on fire in Gazipur and Chattogram city on Monday night ahead of the BNP's all out blockade movement. However, no one was injured in the incident.
Miscreants set two pick-up vans on fire on Dhaka-Chattogram Highway at Madanpur Dewanbagh Gate in Narayanganj district on Tuesday during the countrywide 3-day blockade enforced by BNP, Jamaat-e-Islami and likeminded parties.
20 people including three policemen were injured in a clash involving BNP, Awami League activists and police at Pachrukhi in Araihazar upazila of Narayanganj district on Tuesday.
Two BNP men were killed and over 40 people, including 15 police personnel, were injured when Police tried to bring order in Chhoysuti Bus Stand area in Kishoreganj's Kuliarchar upazila on Tuesday morning.
BNP-Jamaat activists enforced a three-day road blockade, setting tires on fire and staging protests as part of their shutdown agenda. Jubo Dol, Swechasebak Dol, and Chhatra Dol activists demonstrated in different parts of the Dhaka-Sylhet highway in Maulvibazar, resulting in significant traffic disruption.
The first day of the BNP and Jamaat's three-day shutdown in Bogura was cocktail explosions, torching 3 motorbikes and damage to vehicles. BNP-Jamaat leaders and activists burned tires in different parts of the Dhaka-Rangpur Highway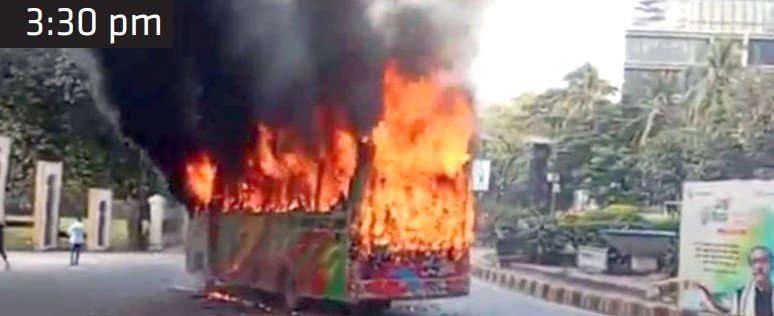 A bus was set on fire by BNP-Jamaat activists at Kadam Foara, near the High Court, causing significant damage to an Airports Bangabandhu Avenue Transport Limited bus.
"Stern action will be taken against those who will try to create anarchy. Everyone has the right to organize political programme but action will be taken if the movement of common people is obstructed in the name of blockade, rally or any other programme. Police performs sincerely after the tragic death of police official. Journalists were also came under attack while performing duty. Everyone involved in the attack on the police and journalists will bring into book"
DATELINE: DHAKA, 1ST NOVEMBER 2023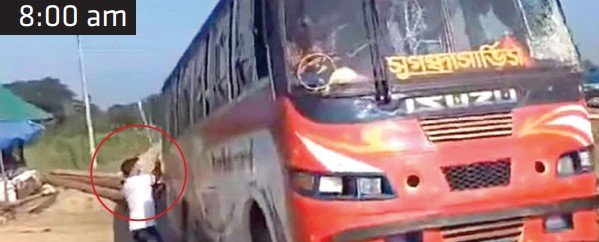 On the second day of the 72-hour blockade by the BNP-Jamaat, a bus was intentionally set on fire at Vellapara Bridge. Prior to the incident, the perpetrators chanted slogans and vandalized the bus.
A young man, identified as Alamin, was arrested by the police for setting fire to a Midnight Transport bus in front of Mugda Hospital, where he was disguised as a passenger.
Miscreant targeted and attacked the Kolkata-Dhaka Friendship Express train during the blockade, shattering the train's windows. After the train had departed, the police seized a cocktail and a petrol bomb bottle from the scene.
A bus was torched in the Shyamoli area of the capital city. The incident occurred in the evening in a green bus labeled 'Welcome Paribahan'
Arsonists set fire to an ambulance belonging to the Universal Medical College under the Mohakhali Flyover in the capital city.
A passenger bus was blazed while it was standing near Green University, prompting the fire service units to control the fire at the scene.
DATELINE: DHAKA, 2ND NOVEMBER 2023
Miscreants set fire to a sugar-laden truck at Lalpole in Feni district on the Dhaka-Chattogram highway. The truck was deliberately set ablaze by unidentified individuals upon its arrival at the location.
Miscreants set fire to a bus and vandalized two other buses in Rangunia. In the Chandraghona-Lichubagan Chowdhury Gotta area miscreants resorted to cutting down trees and throwing barricades on the road.
A bus owned by Hiranya Enterprise was set on fire at the Kendua Terminal in Netrokona. The incident occurred on Wednesday night at the Kamalpur bus terminal.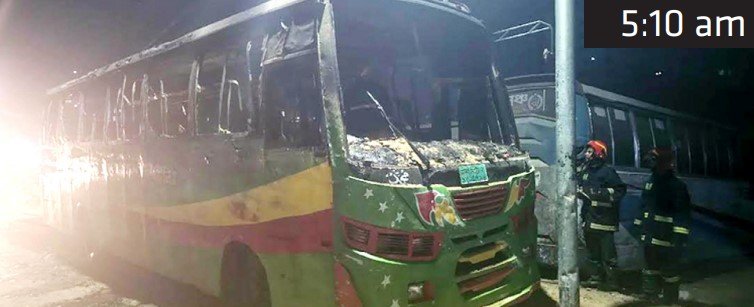 In Mohammadpur, a passenger bus of Moumita Paribahan was set fire near theBeribadh Bhangam Mosjid area.
Miscreants set fire to a passenger bus in Uttara, Dhaka, in the Azampur area under the flyover. Rashed bin Khaled, the officer in charge of the fire service control room, informed that the bus, "Paristhan Paribahan," was targeted to arson.
Bomb disposal unit of Dhaka Metropolitan Police (DMP) has recovered three cocktail-like objects from Nilkhet area of the capital. Those objects were recovered from in front of Niharika Bhaban.
Two trucks were torched and a number of vehicles were vandalised in Narayanganj. Rupganj and Siddhirganj police detained seven members of BNP and its youth organisation Jatiyatabadi Jubo Dol in connection with the incidents.
"Under the guise of blockade, the BNP-Jamaat alliance is trying to take the country backwards. BNP-Jamaat can't be happy as the country is moving forward and honored among the global nations. Everything will happen in accordance with the constitution but not as per BNP-Jamaat or their foreign masters' will. There is no outcome in threatening Prime Minister Sheikh Hasina. Their goal is not a neutral election, their goal is to create anarchy through arson-violence-destruction-interference and to bring an unconstitutional government. But the people of Bangladesh will never allow this desire of BNP-Jamaat and their political allies to be successful."
"The violent incidents that took place during the political rallies on October 28 are in no way desirable. I strongly condemn the brutal killing of on-duty police constable Atiur Rahman Parvez and the attack on Chief Justice's residence and hospital. Politics is for ensuring the security of the country and its people and for establishing rights. It is not for taking lives. We hope, country's healthy political trend will continue in future."
''There is no dialogue with the BNP beyond the constitution. BNP is not interested in dialogue or polls. They want violence, which is exactly what they are doing now. Setting fire to buses is an old practice for BNP as they did the same in 2014. BNP is that party to which the people of the country have turned their backs will definitely not be able to win the election. They want violence, they don't want peace. They want to create an atmosphere of violence. But the people of our country do not want violence.''
''The BNP not only carried out terrorist acts but also continued information terrorism through falsehood and propaganda. Through which the true image of their traditional lies-propaganda and rumors has emerged. Military dictator Ziaur Rahman formed BNP by destroying the ideals and democratic spirit of the great Liberation War. Radical communalism and terrorism have been the main weapons of BNP. Now they [BNP men] have again chosen the path of terrorism in guise of its so-called systematic movement."'
BRUTAL ATTACK ON JOURNALISTS AND MEDIA WORKERS