Sheikh Hasina is walking in the line of the Father of the Nation Bangabandhu Sheikh Mujibur Rahman given the basis of the foreign policy of Bangladesh, – "Friendship to all, malice to none." Today, it is said that Bangladesh has the smallest but most effective foreign policy in the whole world because the current Prime Minister of Sheikh Hasina is becoming increasingly prudent in the foreign policy practice of this path. Renowned world diplomats say that Sheikh Hasina Hasina's position in world politics is now strong due to such a policy. This has accelerated the image of Bangladesh.
Sheikh Hasina's foreign policy towards any particular country is not weak or tilted. For economic prosperity, she has given importance to India, China, Russia, France, the United States, the Middle East, and other countries. Her policies have actively sought to increase partnerships with countries around the world. Bangladesh has attracted the attention of international investors due to sustainable economic growth, and expansion of sectors such as textiles, pharmaceuticals, and information technology. Foreign Direct Investment (FDI) has increased as a result of Sheikh Hasina's diplomatic efforts.
This is how over the years, Sheikh Hasina has become a global leader in diplomatic prudence, advocating for peace, cooperation, and economic prosperity.
Sheikh Hasina's diplomatic finesse has not only forged stronger bonds between Bangladesh and key global players but has also profoundly redefined the nation's foreign policy landscape, elevating it to greater prominence on the global stage. It is evident that Sheikh Hasina's position in the intricate arena of global politics has been repeatedly affirmed by renowned diplomats from all over the globe. As a result, Bangladesh's global stance has risen dramatically, a fact that is readily apparent upon examination of both domestic and international media reports, which resound with the numerous victories achieved during Sheikh Hasina's tenure in international politics.
POLICY ON REGIONAL COOPERATION AND INTEGRATION
Bangladesh's foreign policy is inextricably linked to Sheikh Hasina's visionary approach to regional cooperation and integration. Recognizing the numerous problems plaguing South Asia, including terrorism, poverty, and political instability, Sheikh Hasina has made it a top priority to foster regional cooperation to address these pressing problems collectively.
Bangladesh has made significant progress toward becoming a key player in both South Asia and the broader Indo-Pacific region under her leadership. Sheikh Hasina's participation in numerous regional forums demonstrates her dedication to regional cooperation. The South Asian Association for Regional Cooperation (SAARC) and the Bay of Bengal Initiative for Multi-Sectoral Technical and Economic Cooperation (BIMSTEC) are two notable platforms. Bangladesh has been instrumental in advancing SAARC's regional integration mission.
Under her leadership, initiatives related to commerce facilitation, infrastructure development, and cultural exchange have flourished. Bangladesh's active participation in initiatives to improve trade, transportation, and connectivity in the Bay of Bengal region demonstrates Sheikh Hasina's dedication to BIMSTEC. Not only has these strengthened connections between Bangladesh and its neighbors, but it has also paved the way for greater economic prosperity in the region.
ECONOMIC DIPLOMACY
Sheikh Hasina's unwavering commitment to economic diplomacy is one of the main pillars of her foreign policy. Her approach to various nations, such as India, China, Russia, France, the United States, and the Middle East, is characterized by a strategic emphasis on economic prosperity and international partnerships. Bangladesh has actively sought to strengthen its economic ties with countries worldwide. International investors are attracted by the sustained economic growth and expansion of critical sectors such as textiles, pharmaceuticals, and information technology that have resulted from these efforts. The increase in foreign direct investment is a testament to Sheikh Hasina's diplomatic skills in fostering economic cooperation.
Through her proactive engagement with world leaders and international forums, Sheikh Hasina has successfully promoted Bangladesh as an attractive destination for foreign investments, substantially contributing to the nation's economic prosperity. Moreover, the expansion of sectors such as textiles, pharmaceuticals, and information technology, which has been led by Sheikh Hasina's visionary policies, has not only created employment opportunities but also increased Bangladesh's export capacity, making it a competitive player in the global market. This economic diversification has decreased the nation's reliance on a few industries and increased its economic resilience. In addition, Bangladesh has achieved remarkable economic growth and prosperity over the past decade by maintaining positive relations with the United States and China, as well as other regional and global powers.
EXPANSION OF STATE BORDERS THRU DIPLOMACY
By amicably resolving maritime boundary disputes with Myanmar in 2012 and India in 2014, Bangladesh accomplished the remarkable feat of securing its sovereign rights over 118,813 km2 of sea area in the Bay of Bengal. Sheikh Hasina, the Prime Minister of Bangladesh, was praised globally for her reverence for international law and her visionary foreign policy. She was able to avoid conflict with the surrounding nations and secure a massive naval victory without resorting to war, a feat that is extremely uncommon in world history.
On August 1, 2015, she also resolved another long-standing dispute with India involving the exchange of enclaves. The inhabitants of the enclaves attained their rights and national identity without hostility or violence. This was accomplished through informal agreements between the two nations, which demonstrated their trust and friendship. Bangladesh set an example for the world by exchanging enclaves peacefully, which many large nations were unable to do.
ENGAGEMENT WITH MAJOR GLOBAL PLAYERS
Sheikh Hasina's engagement with significant global players is one of the hallmarks of her diplomatic excellence. She has conferred with numerous world leaders and dignitaries to strengthen bilateral and multilateral ties between Bangladesh and other nations. Sheikh Hasina has been proactive in her engagement with key international players. She has had fruitful discussions with world leaders including US Vice President Joe Biden, Russian President Vladimir Putin, French President Emmanuel Macron, Turkish President Recep Tayyip Erdogan, Chinese President Xi Jinping, Indian Prime Minister Narendra Modi, former Japanese Prime Minister Shinzo Abe, UK Prime Minister Rishi Sunak, and Canadian Prime Minister Justin Trudeau. These meetings have resulted in enhanced collaboration in areas such as trade, investment, defense, security, infrastructure, energy, and climate change.
She has also maintained cordial relations with world leaders such as Angela Merkel, Boris Johnson, Scott Morrison, and Salman bin Abdulaziz Al Saud. These interactions have facilitated greater cooperation in sectors including commerce, investment, energy, infrastructure, and humanitarian aid.
BALANCING THE REGIONAL POWERS
Since her term in office, Sheikh Hasina has pursued a prudent foreign policy that has helped to maintain good relations with both India and China, despite the mutual conflict between these two countries. She has cooperated with India on political and security issues, such as fighting separatism and militancy, which are threats to both countries. She has also engaged with China on economic issues, such as trade and investment, which are opportunities for both countries. She has not taken sides with either country but has sought to benefit from both nations. This has helped to boost Bangladesh's economy and security, while also maintaining good relations with both of its neighbors.
Sheikh Hasina has also maintained a delicate equilibrium in her approach to the Rohingya refugee crisis. While urging Myanmar to accept back its displaced Rohingya population, the country has maintained diplomatic relations with Naypyitaw. She has been involved with many regional organizations and worked closely with neighboring countries to promote regional stability and development in South Asia. Her strategy demonstrates a dedication to constructive engagement and cooperation in the region.
LEADERSHIP IN THE INDO-PACIFIC REGION
Bangladesh has recently announced its official stance on the Indo-Pacific region, which is a key area of geopolitical interest for the Western world. Bangladesh has adopted a balanced and strategic approach that prioritizes economic security over military security in light of the increasing polarization and US-China rivalry in international politics. As a result, Bangladesh publicly proclaimed its "Indo-Pacific Outlook" (IPO) under the direction of Sheikh Hasina on April 24, 2023. The adoption of the IPO by Bangladesh is consistent with its foreign policy principles and neutral and balanced stance, promoting peaceful coexistence, cooperation, regional stability, economic development, and most notably "inclusivity." Bangladesh's approach to the IPO demonstrates its commitment to responsible foreign policy, by its vision of a sovereign, prosperous, and inclusive nation.
The Indo-Pacific Prospects are founded on the following views:
Peace and stability: According to Bangladesh, peace and stability are indispensable to the prosperity of the Indo-Pacific region. It has urged the peaceful resolution of disputes and the expansion of regional cooperation.
Security: Bangladesh is dedicated to ensuring the security of the Indo-Pacific region. It has bolstered its own defense capabilities and worked to promote regional security cooperation
Prosperity: Bangladesh thinks that the Indo-Pacific can be a zone of shared prosperity. It has called for the elimination of trade and investment barriers and the promotion of economic growth.
Inclusion: Bangladesh believes that all nations, regardless of size or strength, should be included in the Indo-Pacific region. It has urged the observance of international law and norms and the aversion to unilateral action.
THE GLOBAL SPOKESWOMAN AND A TRUE REPRESENTATIVE OF BANGLADESH
Sheikh Hasina of Bangladesh is a global spokeswoman for democracy, human rights, and international cooperation on critical global issues. Her commitment to peace, sustainable development, and humanitarian issues has elevated Bangladesh's global stature, making her a true ambassador of her nation and a leader in an interconnected world.
Prime Minister Sheikh Hasina has tackled important topics and enhanced Bangladesh's international position in recent worldwide engagements. Her powerful speeches at the G20 Summit and UNGA have illuminated climate change, the Rohingya crisis, sustainable development, and global solidarity.
THE G-20 SUMMIT
In September of this year, Sheikh Hasina represented Bangladesh effectively as a global player at the "G-20 Summit 2023" in India. She highlighted Bangladesh's commitment to a free, open, and inclusive Indo-Pacific region, called for the peaceful resolution of disputes and the strengthening of regional cooperation, emphasized the importance of climate action and disaster resilience, promoted Bangladesh's economic development and its potential as a major market, and bolstered Bangladesh's relations with other nations in the region.
In addition, she has spoken out against terrorism and extremism, promoted gender equality and women's empowerment, highlighted Bangladesh's achievements in education, healthcare, and poverty reduction, and demonstrated Bangladesh's dedication to democracy and human rights. Bangladesh's representation at the G20 summit by Sheikh Hasina has been positive and has helped raise the country's profile on the international stage.
During the G20 Summit, Prime Minister Sheikh Hasina emerged as a global spokeswoman, strongly calling for global cooperation and solidarity to address critical global challenges. Her four main recommendations, presented as a member of the Global Crisis Response Group of the UN Secretary-General, highlighted the urgency of concerted action. Sheikh Hasina's leadership on the international stage was exemplified by her unwavering dedication to implementing the 2030 Agenda for Sustainable Development, supporting transitioning economies, championing gender equality, and advocating for a just global economic order.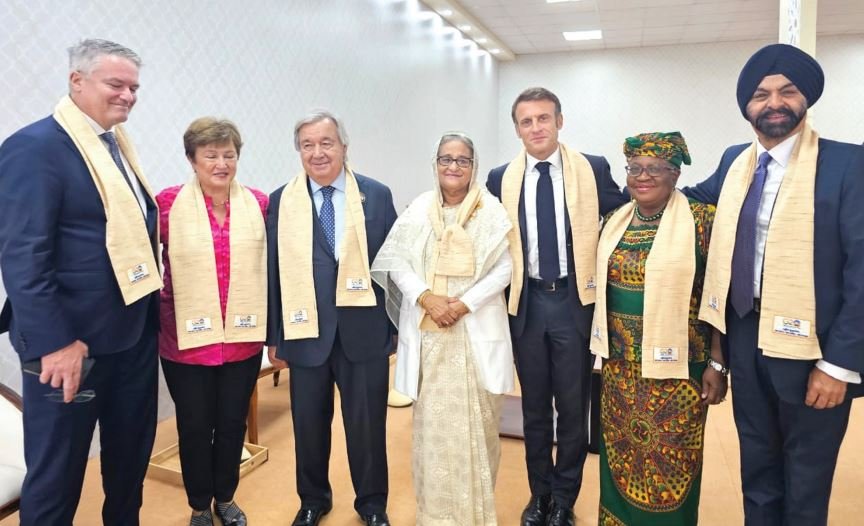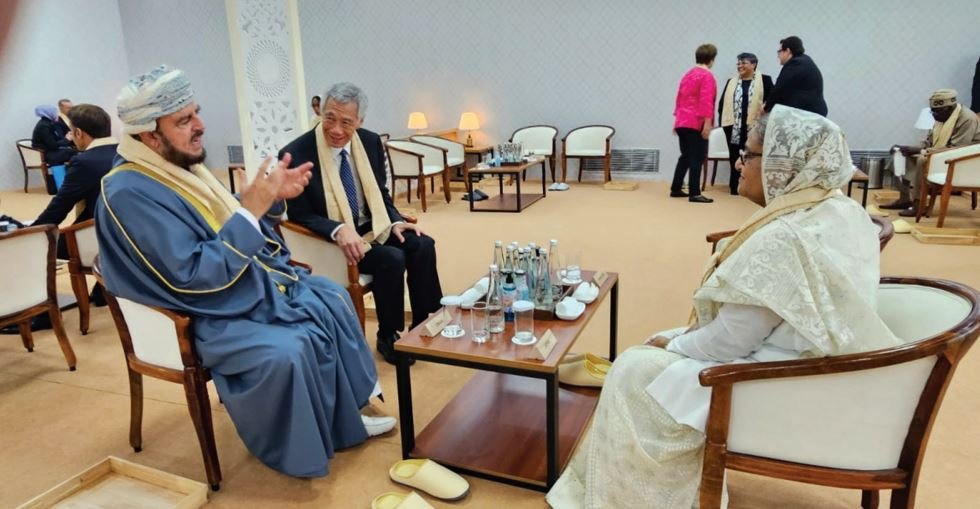 THE UNITED NATIONS GENERAL ASSEMBLY (UNGA) SESSION
Sheikh Hasina played a significant and proactive role during the 78th session of the United Nations General Assembly (UNGA) in New York. Her presence and participation in this international forum exemplified Bangladesh's commitment to addressing pressing global issues and its active involvement in locating solutions to contemporary problems.
Through her visit, Sheikh Hasina attended high-level events and conversations on global issues. She began by delivering the keynote address at a conference co-hosted by UNIDO and Deloitte, and then she participated in the SDG Summit – Leaders' Dialogue 4. In addition, she attended a private dinner for the UN's 2023 SDGs Summit and participated actively in the General Debate of the UNGA session.
Invitation to a dinner hosted by US Vice President Joe Biden was a notable recognition of her international eminence, demonstrating her influence and esteem on the global stage. During her visit, she engaged in discussions comprising a wide spectrum of topics, including the Rohingya crisis, climate change, Sustainable Development Goals (SDGs), universal health coverage, and financial matters.
On September 23, 2023, Prime Minister Sheikh Hasina addressed the United Nations General Assembly on a variety of crucial topics. She discussed democracy and human rights, global peace and stability, the Rohingya crisis, climate change, and the global sustainable development agenda for 2030. World leaders were moved by her passionate appeal for global cooperation and solidarity in addressing the most pressing issues of our time. In addition to being a global advocate for democracy, human rights, peace, and sustainable development, Sheikh Hasina is also a dedicated representative of Bangladesh.
Sheikh Hasina emphasized Bangladesh's unwavering dedication to democracy and the rule of law, and she urged world leaders to work together for peace and prosperity. She emphasized the difficulties Bangladesh faces as a climate-vulnerable nation and called for a greater global effort to alleviate the distress of climate migrants. In addition, she emphasized the importance of financing in attaining the Sustainable Development Goals (SDGs) on time. Her strong participation and discussions in the UNGA session showed Bangladesh's commitment to global affairs and its proactive role in international collaboration and problem-solving.
THE MULTI-APPROACH DIPLOMACY OF SHEIKH HASINA
Sheikh Hasina has also adopted the potential of digital diplomacy to strengthen Bangladesh's foreign policy in an increasingly interconnected world. She has promoted Bangladesh's culture, achievements, and development initiatives directly to global audiences via social media platforms and digital channels. This strategy enabled her to influence public perception, reach out to the international community, and highlight the country's progress. It has overall enhanced Bangladesh's soft power and diplomatic outreach.
Furthermore, Bangladesh's importance and influence on the world stage have been evident by the visit of the French president Emmanuel Macron, or the visit of the Russian foreign minister Sergey Lavrov's visit to Bangladesh. Moreover, Sheikh Hasina has also taken several steps to strengthen Bangladesh's international standing. For example, she has successfully built the Padma Bridge with her own country's funding, even though World Bank funding was canceled during the construction. This project has demonstrated Bangladesh's ability to undertake major infrastructure projects without foreign assistance.
In this phase of analysis, we can also add by saying that Bangabandhu wanted Bangladesh not to be part of any alliance exercising international power. Sheikh Hasina has also followed the same path. As soon as the vaccination program started to combat COVID-19, vaccines were purchased from different countries. Some are available for free because of Sheikh Hasina's visionary leadership. As a result, Bangladesh has been able to deal with COVID-19 with great success. In this case, if Bangladesh was part of a particular alliance, the countries against it would not have helped us with vaccines. This is an unprecedented diplomatic success for Sheikh Hasina.

Sheikh Hasina's efficient foreign policy added a different feather to UNESCO's recognition of Bangla as the International Mother Language in 1999. It is a matter of great pride for the Bengali country and for the Bengali language.
In conclusion, Bangladeshi Prime Minister Sheikh Hasina's diplomatic excellence has uplifted Bangladesh's Foreign Policy by balancing foreign relations. Bangladesh's global standing has been elevated by her visionary leadership on the international stage, strategic partnerships, multilateral diplomacy, and adept handling of regional and global issues. Her dedication to resolving pressing issues demonstrates her commitment to a better future for Bangladesh.