Showdowns by the party in power and the major one in opposition have been hogging headlines in recent weeks. These two foremost political forces have been hurtling towards competing mass rallies and showdowns in a frantic bid to counter each other's on-field dominance in a country with a history of ferocious political violence and distrust over election, which is often marred allegedly by rigging thanks predominantly to the imposing incumbent party in power, if not for systematic flaws, writes Nashir Uddin
Of late, Bangladesh has been going through a spat of heightened political tensions as the leaders and activists of major parties like the ruling Awami League (AL) and the main opposition Bangladesh Nationalist Party (BNP) have been staging showdowns and counter-showdowns from grassroots to metropolitan city levels as part of flexing muscle against each other on the fateful field of politics in view of a fast-approaching election year.
These two foremost political forces have been hurtling towards competing mass rallies and showdowns in a frantic bid to counter each other's on-field dominance in a country with a history of ferocious political violence and distrust over election, which is often marred allegedly by rigging thanks predominantly to the imposing incumbent party in power, if not for systematic flaws. Showdowns by the party in power and the major one in opposition, thus, have been hogging headlines in recent weeks – thereby prompting questions in curious minds like: Why are showdowns of such stature taking place? Is showdown beneficial anyway? How political showdowns take place in other democracies? Where will politics of showdown take Bangladesh to?
RECENT TREND OF SHOWDOWNS
BNP has spread heat in the political arena of the country with series of showdowns in the last few months. It all started though on September 28, when the party announced mass rallies across the country including the capital, to protest against, what the party alleged, the fuel and commodity price hikes, the killing of several of its activists, lawsuits and false allegations against its several leaders, and demanding the release of BNP Chairperson Begum Khaleda Zia. In view of that, BNP held its first divisional rally in Chattogram on October 14 when the party managed to draw a huge crowd. The big turnout at the first rally reinvigorated the party – thereby resulting in even bigger gatherings in their subsequent rallies. The ruling party, too, organised counter-rallies in and outside the capital to demonstrate their popularity.
Things started heating up with BNP senior leader Amanullah Aman's statement 'the country will run by the words of Khaleda Zia from December 10'. Fierce comments followed in from the AL camp, with one leader taunting and challenging the opposition by uttering the famous Bengali phrase "khela hobe". The situation further heated up around BNP's December 10 mass rally in Dhaka, debates poured in over the venue, and counter-statements continued. With the massive gatherings being widely practiced and praised on social media, BNP made mass gatherings at their rallies their key strategy, given that it was inevitable for them to draw large crowds in the capital for their latest rally. When they wanted Naya Paltan as the venue, the government vetoed it, saying that rallying at this area of the capital would cause public inconvenience including traffic congestion, so they should conduct rally elsewhere. At that time, AL leaders also called BNP's urge to conduct rally in Naya Paltan as a conspiracy.
Tofail Ahmed, a veteran AL leader, also said that BNP wanted to hold rally in Naya Paltan as they wanted to do a trick by showing more people in a small place. He said, "The place would be full if there were only 20,000 to 30,000 people there. BNP wanted to do this to bluff people." Consequently, many leaders and activists of BNP were arrested from in front of their central office in Naya Paltan while trying to conduct rally there. Later, senior party leaders including the secretary general of BNP were also arrested. BNP was somewhat disorganised by losing its frontline leaders, but still managed to gather a good number of people in their Dhaka divisional assembly. On the other hand, the AL leaders and activists stayed in different parts of the capital since morning to face any kind of provocation on the ground from BNP's showdown. Seven parliamentarians of BNP announced their resignation from the national parliament after calling for establishment of democracy and voting rights in the mammoth showdown.
Along with that, 10-point demands including dissolution of parliament and conducting polls under a caretaker government also came up. It was thought that the party might have started whirling the field of politics through continuous mass gatherings, speeches and programmes. But since no major programme was announced from the rally in Dhaka, the heat seems to have diminished quite a lot. It is believed that the activists and supporters were hoping for major direction from the Dhaka rally. But since the rally has only called for protests and mass marches, having the topleaders behind the bars, there are questions about how much the party can fulfil that expectation. Dhaka on December 13 saw another spat of showdown and counter-showdown by these two major political parties. Although BNP's next ground move remains largely uncertain, it goes without saying that one of the largest political parties in the country can make the street politics boiling at any time.
HOW 'KHELA HOBE' TURNED OUT TO BE AN ELEMENT OF SHOWDOWN?
In recent weeks, the Bengali phrase 'khela hobe' has become quite a public sensation. With the just-concluded Qatar football world cup in memory lane, one might think the crazy fans of footballing powerhouses were making wholesale use of the phrase to challenge and make fun of each other. Interestingly though, now that the political circuit has also significantly heated up ahead of the next parliamentary polls due in about a year's time, the senior politicians of the country are telling each other to bring the game on to the much-divided political field using the phrase 'khela hobe,' which was perhaps used first by firebrand Narayanganj lawmaker Shamim Osman during a political standoff with his arch-rival Narayanganj City Mayor Selina Hayat Ivy several years ago. Even Chief Minister and yet another polarising political figure Mamata Banerjee of our neighbouring Indian state of West Bengal used this phrase to challenge her political rivals.
The ruling party has thus added a new parlance 'khela' to the dictionary of politics by widely using the term as a political jargon in recent memory. Experts say the English equivalent of the word should be 'sports,' but because of the manner in which the word has been used by the ruling party, the word 'game' perhaps expresses more bombastically the true meaning of the word 'khela.' And to speak the least, the word 'khela' conjures up in one's mind something uncanny, unscrupulous and unfair. And if one were to adduce some sinister intent in that word, would one be much wrong?
It was, however, not sure as to what the Awami League general secretary meant exactly when he warned BNP and advised his cadres to gird for 'khela' on December 10. As the issue of BNP's much-talked-about December 10 showdown site was shrouded in uncertainty, the party saw a 'khela' here too that the ruling party and its loyal government machinery was interested in resorting to. However, the countrymen were least interested in the so-called 'khela' or its rule, or that it would be played out on a political turf that remained heavily uneven and worryingly in favour of the country's ruling party. Political observers and analysts, however, were of the view that the 'khela' already started long before the December 10. It all started from the very day the opposition plan was made public to exercise political rights by organising rallies and meetings.
According to a recent write-up of Brig Gen Shahedul Anam Khan (Retd) in The Daily Star, "The first game (khela) is that of keeping the public transports off the roads and rivers. The fact that the transport owners as well as the leaders of transport workers of all definitions are a cabal under the ruling party umbrella, such anti-people steps are easily implemented. The puerile excuses that were offered to justify the transport strikes did not wash with the public, and it was not difficult for anyone to see through the disingenuous tactic that was deployed to impede the gathering and spoil the BNP meetings. Strikes were called in Khulna, Mymensingh, Barishal, Rangpur, Sylhet and Moulvibazar, Rajshahi etc., starting a couple of days before the scheduled meetings– in some places, for an indefinite period. But interestingly, those were called off soon after the BNP meetings ended. Does one need any more examples of the gross mal-intent behind such a scheme?" He pointed out, "Another intimidating game (khela) that the ruling party played is going after the opposition leadership, picking them up on flimsy, concocted offences, which makes the law enforcement agencies a laughing stock."
In this regard, elderly politician and AL Advisory Council Member Tofail Ahmed on December 4 criticized the widely used recent political slogan 'khela hobe' (the game will be played), saying, "It cannot be a political slogan." He was making a public speech on the day after a long hiatus. Expressing his regret that etiquette and quality practices were being lost in politics, the senior AL politician said, "I hear the slogan 'khela hobe' in the mouth of many. But such slogans do not enrich politics."
POLICE ROLE IN SHOWDOWNS
As law enforcers, the police have a huge role to play in helping hold any showdown peacefully. But police, in this particular case too, are not always seen performing their duties quite impartially. In the latest case of December 10 BNP showdown, the role of police in imposing conditions and fixing, if not delaying, BNP's showdown venue came under heavy scrutiny. Calling for the impartial role on part of the law enforcement agencies, many asked: Do the police (Dhaka Metropolitan Police-DMP) impose the same conditions when the ruling party or any of its appendages organise political gatherings or showdowns in the capital city?
In fact, the spectre of conditional politics is not new either in our very own brand of democracy. Previous examples may include BNP gatherings in January 2016 and March 2012, when 6 and 11 conditions were imposed respectively on the party to fulfil before it could go for holding the showdowns. Analysts in this regard viewed that when a political rally is subjected to restrictive provisos, admittedly for the sake of law and order and public safety, it does not say much about politics or polity and even less about our democracy. They are also of the interpretation that a security agency of the government should remain the sole authority to determine where, when and how a political party should organise its programme is itself indicative of a deep malaise in our age-old system.
SHOWDOWN AS A DEMOCRATIC PRACTICE
Political showdown academically is a practice or movement that is intended to settle a dispute that has lasted for long by acting in accord with particular political beliefs. Thus, a showdown is an important part of politics as well as democracy. In terms of the country, political parties conduct showdowns to demonstrate their power and popularity. Political showdowns can be of different types like public meetings, rallies, processions, marches, protests, councils etc. The more people attend any showdown, the more people will get an idea of the party's ability and popularity, which will perhaps lead to more people wanting to be a part of that team. This is a psychological criteria that is often used by the political parties of the country. Since showdown is a political phenomenon and it is the right of any political party to practice it, it is regarded as one of the reflections of democracy also. Political showdowns are common in many countries around the world and are considered well-organised political activities, so its connection to democracy is undeniable. By this, the political parties outline their activities among the activists and get an opportunity to express about their abilities, and through it the parties also get an idea about their capabilities.
POLITICAL SHOWDOWNS IN OTHER DEMOCRACIES
Political showdowns are common and practiced in almost all democracies of the world, and there are even excellent historical examples of political emergence through showdowns. It has its practice, albeit in different names, in the politics of our neighbouring India, Pakistan and even in the United States. Most recently, Pakistan's ousted prime minister and head of the political party Tehreek-e-Insaf (PTI), Imran Khan, addressed his supporters again in a massive showdown three weeks after he was shot and injured last November 3.
Many people gathered with national flags and party symbols in the rally organized in the city of Rawalpindi, Pakistan. When Imran Khan appeared in the rally after hours of delay, his supporters erupted into cheers. This event has been described as the last scene of his "Long March". Imran Khan started a long march and a series of rallies from Karachi to the capital Islamabad to demand early elections in Pakistan. Through this series of rallies, he highlighted his team's capabilities and demonstrated strength. In these gatherings, he briefed his party workers about future activities.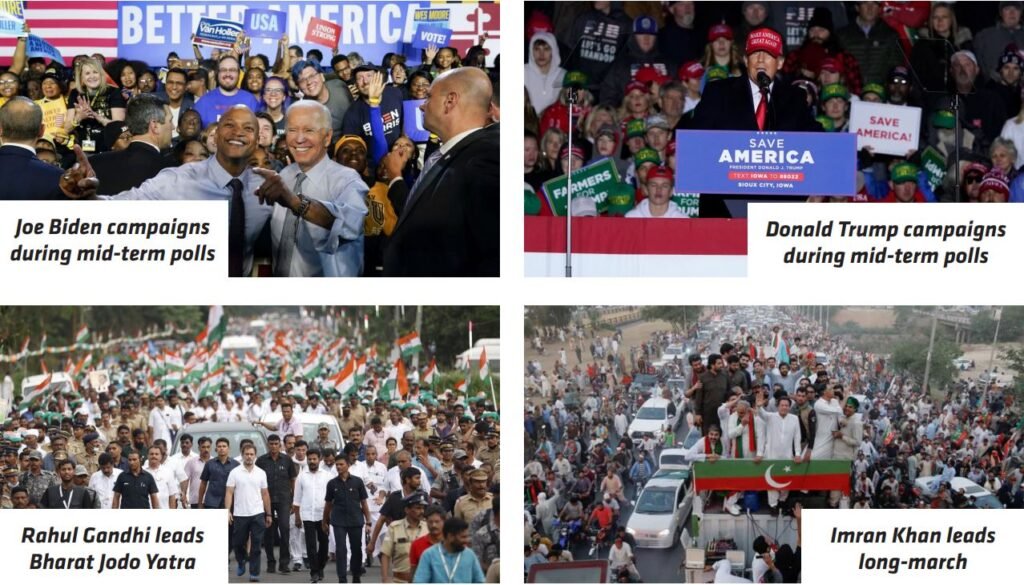 Neighbouring India also has showdowns as a core part of its politics, with the country often witnessing a showdown between different parties. The country's opposition Congress leader Rahul Gandhi has also called for a series of programmes, which he has dubbed 'Bharat Jodo Yatra'. A motley crew of thousands joined Congress's Bharat Jodo Yatra on December 24, when it entered Delhi at the Badarpur border, with some people from other cities joining the march, just for a share of the action. Congress president Sonia Gandhi joined the much talked about 'Bharat Jodo Yatra'. Rahul Gandhi started his Bharat Jodo journey on September 7, from Tamil Nadu. This long march will end in Srinagar, the northernmost state of Kashmir, after crossing 12 states and crossing 3,570 kilometres in 5 months. Already this journey has covered a distance of three and a half thousand kilometres. The journey will start from January 3 through Uttar Pradesh, Haryana and Punjab and will end at Srinagar in Jammu and Kashmir. From these it is clear how important the showdown is in India.
Political showdown also has its vibrant presence in US politics. Recently in the United States, during the mid-term elections, which are held during the interim period of the US president, ended. Before this election, the current US President Joe Biden and his rival former President Donald Trump had a showdown across the country. Donald Trump used the slogan 'Make America Great Again' for his campaign. On the other hand, the leader of the ruling Democratic Party, Joe Biden, also conducted a mass campaign. As a result, both Democrats and Republicans won the midterm elections. Democrats retain control of the upper house of the US Congress while Republicans take control of the lower house of Congress, the Senate, demonstrating the importance of political showdowns in a democratic state.
HOW EXPERTS VIEW SHOWDOWN AS PART OF DEMOCRACY?
Political analysts and experts feel that a fair democracy requires the opposition to be given full authority within their rights to conduct political exercises, including showdowns. They said that the government party should be tolerant in this case, but if anyone wants to do mischief in the name of showdown, the law enforcement forces will have to deal with it. In this regard, Professor Bashir Ahmad of Department of Government & Politics in Jahangirnagar University (JU) said, "Political demonstrations like rally, procession, strikes, and meeting are very common in political culture of the country since long. Showdowns and countershowdowns awaken people on governance failure, for instance, political accountability, managing crisis of banking sectors, energy crisis, price hikes and so on. On the other hand, it watersheds for violence, confrontation, and foreign presence in domestic politics."
According to columnist Brig. Gen. Shahedul Anam Khan ndc, psc (Retd), "General public are least interested in the so-called game, or its rule, or that it would be played out on political turf that remains heavily uneven and heavily in favour of the ruling party. But the game started from the very day the opposition parties sought to exercise their political right by organising rallies and meetings."
Dr Badiul Alam Majumdar, Secretary of SHUJAN: Citizens for Good Governance, said, "The events that have unfolded in our political landscape over the past few weeks – the debate regarding the venue of BNP's Dhaka rally, the clash between police and BNP men that resulted in one death and many injuries, rallies by the ruling party and its provocations, etc. – are saddening, to say the least." According to him, "We are at a critical juncture in our history. We should all now come together and find a way to political agreement, and agree to a citizen charter to decide which kind of government would conduct the upcoming parliamentary elections. Then, whoever comes to power after a free and fair election would implement the national charter.
I hope that our political leaders will come to their senses and take imminent steps to resolve the current political crisis." The showdowns are also meant to expose government's failures in front of general populace that can put immense pressure on the government. However, throughout the recent consecutive BNP programmes in the country, many questions have aroused, has BNP created sufficient pressure on the government? Or, the ruling party was the beneficiary as the major leaders of BNP are now imprisoned? In this regard, Professor Nizam Ahmed, a parliamentary affairs expert, said that "BNP will be the loser here as the resignation of just seven MPs won't mean much pressure on the government or parliament. At least they had a formal platform from where they could speak on issues against the government. With the resignation, they will lose this platform as well."
WHERE WILL POLITICS OF SHOWDOWN TAKE BANGLADESH TO?
Political showdowns are important for state politics and the practice of democracy but are by no means desirable if they lead to conflict. The Greek philosopher Aristotle called human beings social and rational. Accepting what is seen to be true in reality is the essence of logic. Through this, a place of trust, faith, and love is created for each other and the group society gets an opportunity to establish and develop in it. This is how humanity has progressed. The knowledge that the wise philosophers of ancient times have revealed to the people has been further developed through the course of history and politics. But the sad experience is that despite living in such an open world, many individuals and groups in the social and political spheres are eager to push everything in the face of conflict with the passion of backward ideologies, politics, and interests. As a result, the argument is defeated.
For example, in the critical situation around the world, when the two political parties of this country were supposed to stand by the side of the common people, what argument will you give to explain their counter-showdown? Just as the current government is not interested in talks with BNP, the BNP also does not want to have talks with the government. If both sides take a firm stand in favour of these political statements, is there any reason for the common people like us not to worry about the conflict? On the one hand, the government says that 2023 could be more difficult due to the global economic crisis, on the other hand, the risk of a political conflict is intensifying. It is natural to surface question in public minds as to whether the current political situation will lead the country to conflict.
Bangladesh witnessed its most recent disruptive politics in the years 2013 and 2014. In 2014, BNP boycotted the national elections and called for resistance. According to rightsbased organisation Ain O' Salish Kendra (ASAK), 507 people were killed in political violence across the country in 2013. 147 people were killed in 2014, 153 in 2015, 177 in 2016, 56 people in 2017. A year later, the number of people killed in political violence began to decline. But from 2021 it started to rise again. While only 31 people were killed in 2020, the number of deaths worryingly rose to 157 in 2021. And finally, 64 people were killed in political violence in 11 months from January to November this year. In this regard, experts believe that politics has been going on for a long time in this country without compromise or soft stance of the parties concerned, and if the intolerance that is visible between the two opposition parties continues, further conflict in national politics looks inevitable. It is not desirable at all in the current economic situation of the country.
To wrap up, Abraham Lincoln in his famous Gettysburg Address of 1863 defined democracy as "government of the people, by the people, for the people." But instead we on many occasions see people are being made to pay or used for political gains by feuding political factions and parties.
It is, therefore, not the first time such ploys have been used to obstruct the opposition's political programmes. Many think ever since the Awami League came to power in 2009, this very tactic was applied as a tool to prevent BNP from exercising its political rights terming it a thoroughly anti-constitutional act. But did BNP serve Awami League any better during it was in power previously?
Given that such a policy is being enforced by irrespective of the ruling parties, utilising the agencies during the run-up to the election, which this time is only a year away, such actions can hardly breed confidence in the administration under the party in power to remain impartial and conduct a fair election. Dr Badiul Alam Majumdar aptly said,
"We have to step out of this disoriented state and recalibrate ourselves to get back on track to achieve the goals that were set during the Liberation War….We are at a critical juncture in our history. We should all now come together and find a way to political agreement, and agree to a citizen charter to decide which kind of government would conduct the upcoming parliamentary election. Then, whoever comes to power after a free and fair election would implement the national charter. I hope that our political leaders will come to their senses and take imminent steps to resolve the current political crisis."
Exclusive Interview with Professor DR. Shakil Ahmed
Q1. Do you consider showdown to be a proper democratic practice?
Democracy was born on the street. If you take the examples from the ancient Greek city states to democratic development in Bangladesh you will find plenty of examples of it. The first, Greek city states presented us with mature democratic models which influence in the democratic practices around the world even in the modern time.
Ancient Greek democratic practices were direct in nature as the number of citizens was lower than modern states. In the direct democracy, citizens gathered in an open square to participate in the major political decisions. Political showdown was meant to achieve political mobilizations. As the number of citizens in the modern time grew exponentially, it was imperative to develop representative democracy.
Parliamentary system of democracy is one of the models of representative democracy. The second, the birth of political movement in Bengal during the British colonial rule in the hands of Muslim fakirs (sufis) and Hindu sannyasis (yogis) in 1760. It is known as the Fakir-Sannyasi Resistance. Even the language movement against the Pakistani ruler was predominantly an act of direct democracy. Historically speaking, the street level democratic practices were common in Bangladesh.
You are calling this practice a showdown and I am interested in portraying it as a display of direct democracy. Let's use these two terms synonymously. Yes, I consider showdown as a proper democratic practice.
Q2. What can be the positive and negative impacts of showdowns by political parties here?
The peaceful demonstration and use of violence are the two major opposite dimensions of the showdown. The peaceful demonstration is the positive one of the showdown, nevertheless, it could be violent in nature and earn negativity.
The following is an excellent example in the political development of Bangladesh where we can find the showdown played an important role. In March 1971, the politics of Pakistan was directed from the street. On 7th March, Bangabandhu Sheikh Mujibur Rahman was saying, "The Secretariat, Supreme Court, High Court, Judge's Court, and government and semi-government offices shall remain shut. Only banks may open for two hours daily for business transactions. But no money shall be transmitted from East to West Pakistan. The Bengali people must stay calm during these times. Telegraph and telephone communications will be confined within Bangladesh."
On the other hand, on some occasions during the anti-government protests by both Awami League and Bangladesh Nationalist Party (BNP) as opposition political parties failed to demonstrate positive spirits. In 1996, when Janatar Mancha (People's stage) was set up by Awami League and it ushered the way of government officials to participate in anti-government protests to establish care-taker government. It was a clear breach of the country's law. One devastating example was set in 2014 and 2015 during the anti-government protest, when the activists of BNP and Jamaat-e-Islami killed hundreds of ordinary people through petrol bombs and arson attacks across the country. So, political showdown can be both positive and negative and it is largely dependent on the leadership and context.
Q3. How can the recent trend of showdowns influence upcoming national elections?
Both Awami League and BNP are trying to prove to the voters that they are the biggest and credible political parties in Bangladesh. So far, the most part of the recent political showdowns are peaceful and nonviolent. I think this is an important feature of this political posture. The showdowns are strategic choices for the political parties to gain electoral confidence of the voters.
Q4. Do you think it's logical to conduct showdowns and counter-showdowns during this political tension?
Showdown is absolutely logical as long as it is peaceful. Bangladesh becomes politically dramatic before every general election. I see this as an act of political mobilization for the party activists and voters. Showdown is an act of political ritual.
Q5. What should be the police role in case of a showdown?
Police should be neutral in discharging their duties. They are employed not by the political government rather they are employed by the state. We need to clearly demarcate the line between the government and state. Government gives us policy based on the principles of the state which is written in the constitution.
Q6.How will the international community see the recent showdown culture?
I think the foreign countries are keen and curious about the political development of Bangladesh. Every country has its own political culture based on its unique political history. Bangladesh should be seen by diplomatic norms and values. I think it is the duty of political parties of Bangladesh to understand that there is a limitation of the international community to comment on domestic politics. It is better for the political parties of Bangladesh not to complain about partisan politics like school going students to foreign missions.
Q7. Where will the politics of showdown take Bangladesh to?
Showdown is a political process and through this activity, political parties are claiming the political ground. BNP has been complaining since long that Awami League as a ruling party is not giving them enough space to practice their democratic right to free assembling. It is true that police checking and bus strikes have been organized to impede the free movement of BNP activists. Despite these hurdles they successfully completed showdowns in the major cities of the country.
Awami League also successfully organized a series of public meetings that were attended by thousands of party activists. These large gatherings also gave them confidence as one of the big political parties of Bangladesh for the next general elections which will be held during the first week of January 2024. Awami League needs to connect between party activists and the voters in general. Because the government being in power for fourteen years has every possibility to create anti-establishment sentiments.
I think the politics of showdown has some bright sights of its own. First, it is creating a healthy political process participated by major political parties. Two, a hope for a level playing field for political parties that could lead to fair elections. And, third, the politics of showdown could open an avenue for a meaningful dialogue between major political parties for a national consensus. When confrontation ends, politics begins. Let politics give a chance!