While religious demographics differ across South and Southeast Asia, there are similarities in the ways these regions approach and engage with their respective faiths. Buddhists in Thailand, Cambodia, and Sri Lanka, like Muslims in Malaysia and Indonesia, perceive significant ties between their faith and their respective nations. Despite the fact that religious landscapes in South and Southeast Asia may differ, a Pew Research Center survey reveals similarities in how these societies experience and conceptualize religion.
Pew Research surveyed six countries in Asia to examine religion in Southeast Asia, with a special emphasis on Buddhism. This survey covers three nations where the majority of the population (70%) adheres to Buddhism (Cambodia, Sri Lanka, and Thailand), two countries with a Muslim majority (Malaysia and Indonesia), and one nation marked by its religious diversity, without any single group holding a majority (Singapore).
Buddhism in Cambodia, Sri Lanka and Thailand
In some parts of the world, Buddhism transcends being a mere philosophy of the mind and body; instead, it assumes a central role in shaping the identity of certain nations. Despite the fact that the primary religious identification in Cambodia, Sri Lanka, and Thailand is Buddhism, there is a broad consensus that Buddhism extends beyond a conventional religious belief.
Religion and national identity tied together in Buddhist-majority countries According to the survey results, a significant majority of each population values Buddhism as integral to their identity.
Likewise, 95% of Sri Lankans and 91% of Thais hold the same perspective, affirming the significance of Buddhism to their respective national identities.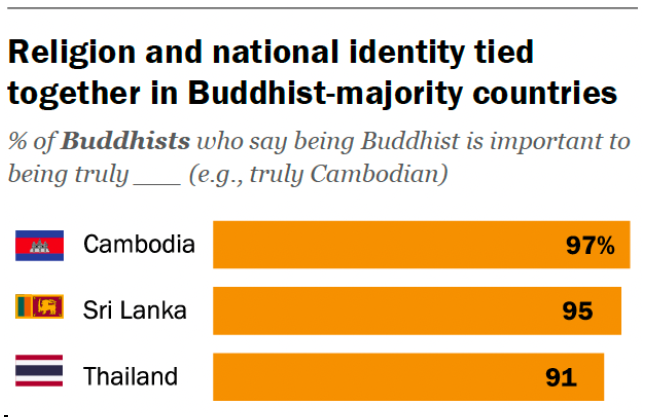 Most Buddhists see Buddhism as "An ethnicity one is born into"
Buddhism is seen as an ethnicity by 95% of the population in Sri Lanka, 90% in Thailand, and 85% in Cambodia.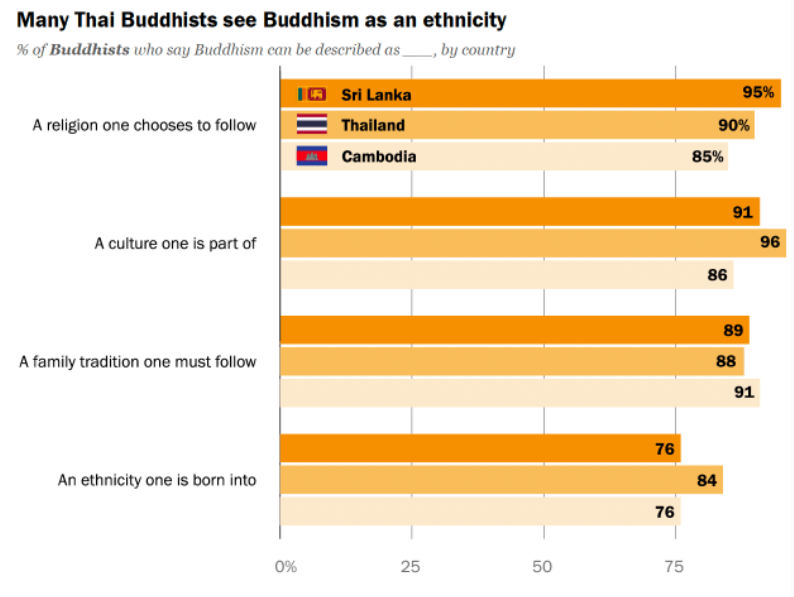 Relationship between Buddhism and national law
In Cambodia, Buddhism holds the status of the national religion, and the state is obligated to provide assistance to Buddhist educational institutions.
Sri Lanka's present constitution ensures Buddhism holds "the highest position" and mandates the government's duty "to safeguard and promote" it. Over the past century, a series of Thai constitutions has progressively elevated the status of Buddhism, one of which mandates the establishment of safeguards to protect Buddhism from any form of erosion.
Most Buddhists in all three countries support basing their national laws on 'Buddhist dharma'- a concept encompassing Buddhist doctrines, practices, and teachings.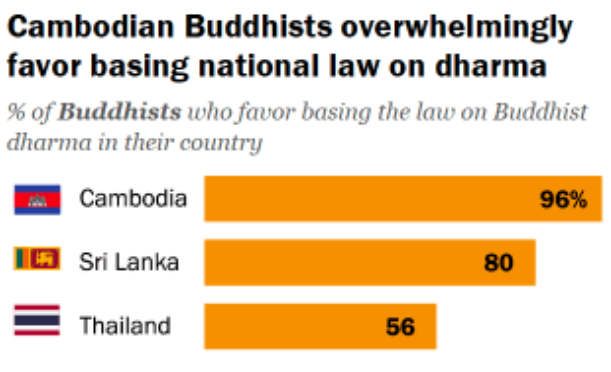 Impact of religious leaders in politics
The majority of Cambodian Buddhists (81%) express the view that religious leaders should be allowed to vote in political elections, whereas smaller proportions of Buddhists in Sri Lanka (66%) and Thailand (54%) hold the same opinion. A majority of Cambodian Buddhists are against religious leaders taking part in political protests (50%), openly supporting politicians (47%), or becoming politicians themselves (45%).
The Role of Islam in Indonesia and Malaysia
Buddhism's ties to the national identity in these countries can be compared to the role of Islam in neighboring Muslim-majority nations such as Indonesia and Malaysia, where the majority of Muslims believe that being Muslim is a fundamental aspect of being Indonesian or Malaysian.
Support for Sharia
A significant proportion of Muslims in both nations shows a preference for making Sharia the official legal framework. In Malaysia, where Islam is the official religion, an impressive 86% of Muslims back the idea of adopting sharia as the national law. Meanwhile, in Indonesia, 64% of Muslims express their desire for sharia to be implemented as the governing law.
Intersection of religion and politics
Muslims in Indonesia and Malaysia are more likely than Buddhists in neighboring countries to support prominent political positions for religious leaders, according to a survey. For instance, the majority of Muslims in Indonesia (58%) and Malaysia (69%) believe that religious leaders should publicly discuss the politicians and political parties they support, whereas roughly half or fewer Buddhists in Cambodia, Sri Lanka, and Thailand support this level of religious involvement in politics.
Singapore's stance on other countries
Singapore was part of the survey, and it's worth noting that this country, is characterized by its absence of a dominant religion. It is recognized as the most religiously varied society globally. Based on the most recent census data, 31% of Singaporean adults identify as Buddhists, while 20% are classified as religiously unaffiliated. Christians make up 19% of the population, and Muslims account for 15%. The remaining 15% of the population consists of followers of Hinduism, Sikhism, Taoism, and various Chinese traditional faiths, among other groups. The majority of Singaporeans (56%) believe that the presence of people from diverse religions, ethnic backgrounds, and cultures enhances the quality of life in their country. Conversely, only 4% perceive this diversity as a detriment to their country's livability, while a substantial 37% express the view that it has a limited effect.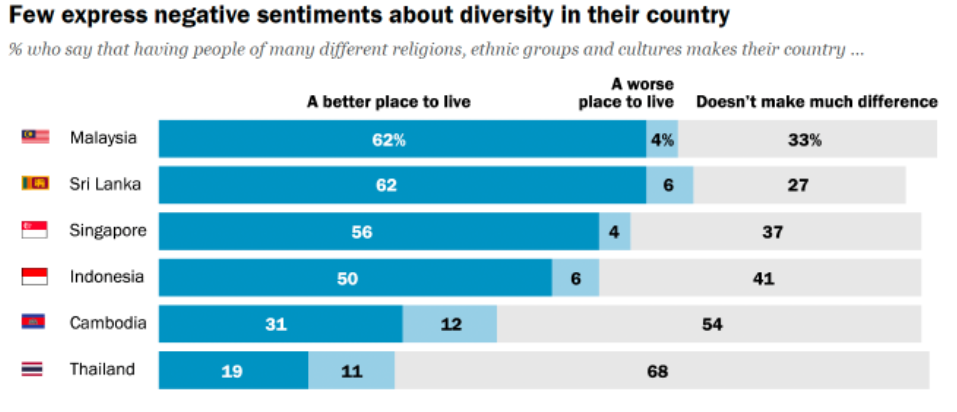 Religious tolerance
Singaporeans exhibit a wide acceptance of other religious groups on several indices of religious tolerance. Almost 90% of Singaporean adults believe that Christianity, Islam, Hinduism, and Chinese traditional religions harmonize with the culture and values of Singapore. In the context of religious, ethnic, and cultural diversity, adults in Malaysia and Sri Lanka, both at 62%, demonstrate a stronger belief in its benefits compared to Singapore, where the figure is 56%. Overall, all six countries exhibit a widespread commitment to religious tolerance.
Spiritual harmony
Beyond mere coexistence, religious groups frequently embrace each other as neighbors and fellow citizens, and, in numerous instances, demonstrate shared religious beliefs and practices that blur religious distinctions. Around 81% of Sri Lankan Buddhists express their openness to having Hindu neighbors, while an almost equal proportion of Sri Lankan Hindus (85%) share a similar sentiment toward Buddhists. Within predominantly Muslim Malaysia, 67% of respondents believe that Buddhism aligns well with Malaysian culture and values. Despite the recent conclusion of a civil war in Sri Lanka, 68% of its people believe that Christianity and Hinduism are in sync with the nation's culture and values, including 60% of the Buddhist population.

In summary, while South and Southeast Asia's religious landscapes may vary, the survey reveals common threads in how these societies perceive and integrate religion into their identities and daily lives. Whether it is Buddhism, Islam, or other faiths, religion plays a significant role in shaping the identity and values of these nations, influencing their legal systems and politics, and contributing to overall religious tolerance and harmony.
Source: Pew Research Centre