Drawing attention to trade and investment concerns, Ambassador Masdupuy pointed out the reduced presence of French companies in Bangladesh. The numbers were higher before the Covid-19 pandemic, and a few of them exited during that time. She stressed the necessity of reattracting them, calling for mutual efforts from both nations
France stands as a developed country, ranking seventh in the world in terms of nominal GDP and ninth in purchasing power (PPP) GDP. Its influence on the global stage is underscored by its position as one of the United Nations Security Council's five permanent members and its official status as a nuclear-armed state.
On February 14, 1972, France officially acknowledged Bangladesh as an independent nation. In response, Bangladesh established its first resident Diplomatic Mission in Paris just a month later, on March 17, 1972. Since French President Francios Mitterland's visit to Bangladesh in 1990, the two nations have maintained a strong and harmonious relationship.
Moreover, France extended its support to Bangladesh during the 2017 Rohingya crisis, playing an active role in UNGA meetings and advocating for Rohingya rights internationally.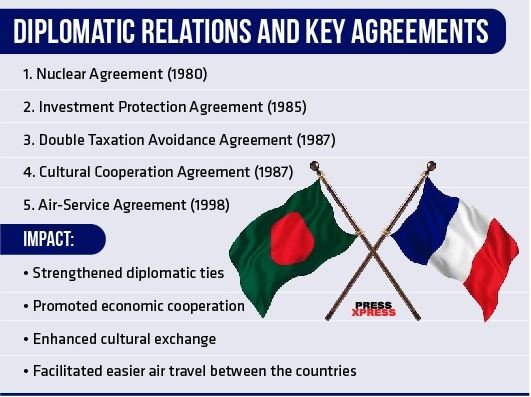 French President Macron visit Bangladesh Today
Following his participation in the G20 summit in New Delhi, Emmanuel Macron is scheduled to arrive in Dhaka on September 10th, with the aim of strengthening bilateral ties. "This also presents a chance to strengthen our bilateral ties with a nation undergoing rapid economic expansion and keen on expanding its network of partnerships," Macron in Dhaka on 4th September, 2023.
Both countries reiterated their commitment to deepen collaboration in various spheres, such as politics, diplomacy, defense, security, trade, investment, climate change, sustainable development, education, and cultural exchange.
Focus on Expanding Political Relationship
Marie Masdupuy, the recently appointed Ambassador of France to Bangladesh, has outlined three key priority areas for her tenure in Dhaka, aiming to elevate bilateral relations to new heights. With her three key priorities in mind, she encouraged both countries to take the lead in cooperative ventures addressing climate change.
Drawing attention to trade and investment concerns, Ambassador Masdupuy pointed out the reduced presence of French companies in Bangladesh. The numbers were higher before the Covid-19 pandemic, and a few of them exited during that time. She stressed the necessity of reattracting them, calling for mutual efforts from both nations.
The French envoy also conveyed her country's strong desire to strengthen ties with Bangladesh, particularly in the fields of aviation and aerospace. Additionally, she expressed a willingness to collaborate with Bangladesh on matters related to maritime security. She further voiced her government's keenness to assist in building Bangladesh's second satellite.
Growing Economic Ties
Within the European Union, France holds a prominent role as a major economic partner for Bangladesh. Both nations have nurtured strong economic ties, resulting in warm and prosperous business connections. Regarding Bangladeshi exports, France ranks as the fifth-largest destination, following the USA, the UK, Germany, and Spain.
In the most recent fiscal year, the nation recorded exports of $3.29 billion, and the export performance in this market soared by 21 percent during 2023. The key export items from Bangladesh to France include Ready-Made Garments (RMG), frozen foods, and leather products, whereas France predominantly ships parts of aircraft and vessels, alcoholic beverages, foodstuff, chemicals, and electric machinery to Bangladesh.
A trial shipment of 300kg (16,000 pieces) of lychees, originating from Dinajpur, has satisfied all the lab tests essential for exporting agricultural goods to European Union (EU) member countries. Officials from the Ministry of Commerce disclosed that these lychees were sent to Paris, France, on June 8th, 2023, and were distributed in various cities across France, including Paris. They were found to meet the EU's stringent sanitary and phytosanitary standards and other necessary conditions.
Joint Development Initiatives
France's commitment to Bangladesh's development can be traced back to 1990 when President Mitterand kickstarted flood prevention and dam projects to address the recurring flood crisis. Since then, numerous French projects have played a pivotal role in satisfying Bangladesh's aspirations for progress.
Presently, France is engaged in a green and inclusive growth initiative valued at 367 million Euros. In Narayanganj, they've established a water production plant valued at 275 million Euros. Furthermore, the Lafarge-Surma factory, which is jointly owned by Bangladesh and France, holds an estimated value of approximately 253 million euros.
However, their partnership extends to advanced technology and defense as well. A notable example is Thales, the French technology giant, which played a vital role in producing Bangladesh's first satellite- Bangabandhu-1, and is concurrently involved in the ongoing modernization of the air traffic system.
In addition to these noteworthy collaborations, the Danone-Grameen partnership is actively working to combat malnutrition in Bangladesh. Additionally, in response to the COVID-19 crisis, the French government provided COVID-19 loans amounting to 150 million to Bangladesh, alongside a generous contribution of 5.38 million vaccine doses.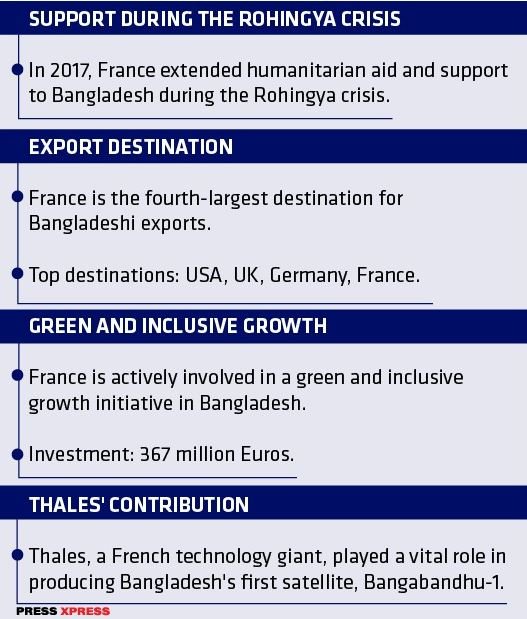 The Outlook for Future Relations
As one of the 'Frontier Five' economies, Bangladesh boasts a strong drive for development and offers a secure investment atmosphere, presenting an attractive prospect for Foreign Direct Investment. France can take this chance and invest in Bangladesh.
The most recent bilateral visit to Paris by Sheikh Hasina from November 9 to 13, 2021 resulted in a joint statement where both countries declared their mutual interest in expanding collaboration, with a specific focus on defense hardware and the startup sphere. French 'La French Tech' offers a hospitable environment for Bangladeshi startups seeking support and resources.
On the other hand, given the prevailing geopolitical and geo-economic situation, especially in the backdrop of the Quad's confrontation with China, the Indo-Pacific region has emerged as a focal point in global politics. Given Bangladesh's strategic geographical position, it can collaborate with France to contribute to the security and stability of the Indo-Pacific region. In their recent joint statement, both nations also expressed their commitment to an Indo-Pacific that is free, open, peaceful, and inclusive, grounded in international law.
Simplifying visa procedures and implementing dedicated scholarship initiatives can effectively enhance student migration in both countries. Lastly, in 2026, when Bangladesh transitions from a Least Developed Country (LDC) to a Developed Country (DC), it will require French assistance to access the EU's GSP+ scheme, thereby ensuring a smooth export pattern.
To wrap up, this year marks 51 years of diplomatic relations between France and Bangladesh, and both countries have maintained warm relations with minimal disputes. Furthermore, France has cemented a reliable trade alliance in the Indo-Pacific, while Bangladesh has found a supportive Western partner. Currently, both countries find themselves mutually reliant.