French President Emmanuel Macron is set to make a significant diplomatic stride as he arrives in Dhaka on September 10, following his participation in the G20 summit in New Delhi. This visit holds the promise of elevating bilateral relations to new heights in Franco-Bangladeshi diplomacy.
The French embassy in Dhaka expressed its eagerness, emphasizing that this visit provides a golden opportunity to deepen ties with Bangladesh—a nation witnessing rapid economic growth and a fervent pursuit of diverse global partnerships.
Moreover, Macron's participation in the G20 Summit underscores the importance of fostering continuous dialogue among world leaders from various corners of the globe. Their collective mission: to combat the looming specter of a divided world. This summit serves as a pivotal platform to strategize and collaborate on a global scale, addressing paramount challenges that transcend borders.
Paris Agenda unites Bangladesh and France
In this era of interconnectedness, addressing issues like global peace and stability, poverty alleviation, climate preservation, food security, and digital regulation necessitates a united front. Multilateral action is the only viable path forward, and the G20 serves as the nexus where these urgent issues find their collective resolve.
Bangladesh stands at the forefront of Macron's diplomatic agenda during his visit. The president aims to translate the French strategy in the Indo-Pacific into concrete actions, building upon previous engagements with key regional partners. Bangladesh and France stand shoulder to shoulder, united in their commitment to addressing global challenges. Their alignment within the Paris Agenda for Peoples and the Planet exemplifies this unity.
Given Bangladesh's vulnerability to the ravages of climate change, Macron will reiterate France's steadfast support for Bangladesh on the humanitarian front, especially in the face of recurrent floods. Furthermore, Bangladesh's pivotal role on the international stage, as evidenced by its contributions to peacekeeping operations and its hosting of Rohingya refugees, is duly acknowledged and appreciated by the French embassy. This visit serves as a testament to the enduring partnership between the two nations.
The French Embassy's statement outlined the key objectives of President Macron's visit, highlighting his commitment to furthering France's strategic engagement in the Indo-Pacific region. This includes building on previous interactions, such as his meeting with Prime Minister Modi in Paris during the summer, and visits to Papua New Guinea, Vanuatu, and Sri Lanka. The visit to Bangladesh serves as an important platform to strengthen the bilateral relationship, particularly as Bangladesh experiences rapid economic development with France's support, while simultaneously seeking to diversify its global partnerships.
Insights into Macron's visit stemming from Hasina's 2021 invitation
Foreign Minister Dr. AK Abdul Momen had earlier highlighted the importance of this visit, noting that it stemmed from an invitation extended by Prime Minister Sheikh Hasina during her official visit to Paris in 2021.
The high-level discussions held during the November visit covered a wide range of crucial topics, reflecting the depth and significance of the bilateral relationship between the two nations. Among these key issues were the elevation of bilateral relations, commemorating the 50th anniversary of diplomatic ties celebrated in 2022, and addressing major international and regional concerns.
Both leaders expressed their satisfaction with the growth of their friendship and emphasized their shared commitment to fostering a comprehensive partnership. This commitment is underpinned by regular political consultations that provide strategic guidance, ensuring the alignment of their goals and priorities.
In their discussions, both countries reaffirmed their determination to bolster cooperation across various domains, spanning politics and diplomacy, defense and security, trade and investment, sustainable development, climate change, education, and cultural exchange. Recognizing the importance of their collaboration in regional and multilateral forums, they underscored the need for sustained and substantive cooperation in these arenas.
A significant focus of the discussions revolved around the development of defense and security cooperation. Both nations underscored the importance of this aspect and pledged to strengthen their collaboration in this area. This commitment extends to enhancing defense equipment cooperation, with a keen emphasis on aligning with the expressed needs of each party and facilitating potential technology transfer. Capacity building emerged as a vital component of this shared endeavor.
France and Bangladesh demonstrated a shared vision for the Indo-Pacific region—one that is free, open, peaceful, secure, and inclusive. Grounded in international law, this vision seeks to promote shared prosperity for all stakeholders in the region. This alignment reflects their commitment to regional stability and cooperation.
Foreign Minister's comments shed light on the breadth of issues discussed during President Macron's visit. These encompassed critical matters such as the Rohingya crisis, women's empowerment, climate change, trade and investment, and migration. Climate change, in particular, holds immense significance for Bangladesh, and France's leadership in this domain was acknowledged. The intention to request President Macron's involvement in mobilizing funds for the loss and damage fund underscores the urgency and gravity of the climate challenge faced by Bangladesh.
In the midst of these diplomatic engagements, Prime Minister Sheikh Hasina is scheduled to depart for New Delhi on the afternoon of September 8, where she will participate in the G-20 meetings as Bangladesh stands among the "guest countries."
As per sources in Dhaka, Prime Minister Hasina is scheduled to arrive in Delhi on September 8 after her discussions with Mr. Lavrov in Bangladesh. She will then participate in the G-20 engagements. Diplomatic sources have hinted at Dhaka's interest in arranging a bilateral meeting between Prime Minister Hasina and Prime Minister Narendra Modi during her stay in New Delhi. However, it's unlikely that she will visit the Sufi shrine in Ajmer this time, as she needs to return to Dhaka to welcome French President Emmanuel Macron at Shah Jalal International Airport. Hasina was hosted by President Macron in Paris in November 2021, and since then, both sides have been in talks about expanding defense ties.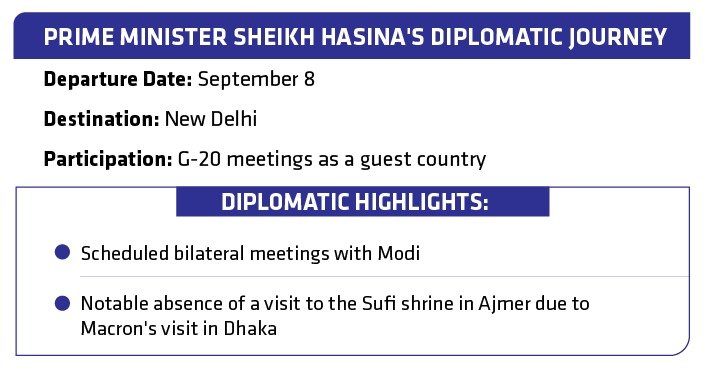 France-Bangladesh collaboration in the Indo-Pacific and beyond
France has a historical connection with Dhaka, dating back to the 17th century when Paris maintained a trading mission in the region. France was also one of the first Western countries to recognize Bangladesh's independence on February 14, 1972. Recently, France has been recalibrating its strategic focus toward the Indo-Pacific region, and the prospect of an expanding military relationship with Dhaka is becoming increasingly likely.
President Macron's visit will provide Prime Minister Hasina with an opportunity to apprise him of the pressure her government has been facing from the European Union and the United States. The last French President to visit Dhaka was François Mitterrand in 1990.
France holds significant importance as an export destination for Bangladesh, with the Asian nation exporting goods, primarily readymade garment items, worth $3.29 billion between July 2022 and June 2023. Conversely, France's exports to Bangladesh were valued at $254.32 million in 2022, according to the United Nations COMTRADE database on international trade.
Both nations share common ground on global challenges, notably their alignment with the Paris Agenda for People and the Planet, a cause actively championed by Bangladesh. Given Bangladesh's vulnerability to climate disruption, President Macron is expected to reaffirm France's commitment to stand with the country on the humanitarian front, particularly in light of the recurrent flooding it faces.