Popular cartoon composer and the man behind the creation of everlasting cartoon characters like Batman or Superman Elan Moor of England is about 70 years now. This popular cartoonist has entertained many people, especially the children through his cartoon characters. On the one hand, a single statement of this writer, cartoonist and musician has given food for thought to millions of people. His statement has also been sold in the form of posters at a large scale. The quote goes like "People should not be afraid of Government. Governments should be afraid of people". Haven of democracy England was also blessed with Sir Winston Leonard Spencer Churchill (30 November 1874 – 24 January 1965), who was a British statesman, soldier, and writer serving as Prime Minister of the United Kingdom twice, from 1940 to 1945 during the Second World War, and again from 1951 to 1955.
With a break of two years between 1922 and 1924, he was a Member of Parliament (MP) from 1900 to 1964 and represented a total of five constituencies. Ideologically an economic liberal and imperialist, he was for most of his career a member of the Conservative Party, which he led from 1940 to 1955. On 11 November 1947, a democracy lover of his magnitude stated in the House of Commons that "Many forms of Government have been tried, and will be tried in this world of sin and woe. No one pretends that democracy is perfect or all-wise. Indeed, it has been said that democracy is the worst form of Government except for all those other forms that have been tried from time to time.…".
Part of the quotation (democracy is the worst form of Government) is loved and quoted by dictators and authoritarians and it is widely believed that military of Pakistan loves it most. As a result, famous quotation of cartoonist Alan Moor made an invert presence in Pakistan which says "Government should not be afraid of people. Rather people should be afraid of Government"
The political history of Pakistan is the saga of political unrest and movements. Historically Pakistan gained independence from the British Raj on 14 August 1947. British India region which is commonly referred to as the Indian subcontinent, was divided by the British into India and Pakistan. Since its independence, Pakistan has had a turbulent political journey often characterized by martial law and inefficient leadership. General elections were held in India between 25 October 1951 and 21 February 1952. They were the first elections to the Lok Sabha after independence in August 1947.
It was conducted under the provisions of the Indian Constitution, which was adopted on 26 November 1949. Elections to most of the state legislatures took place simultaneously. A total of 1,949 candidates competed for 489 seats in the Lok Sabha. More than 173 million people out of an overall population of about 360 million were eligible to vote, making it the largest election conducted at the time. Voter turnout was 45.7%. The Indian National Congress (INC) won a landslide victory, winning 364 of the 489 seats and 45% of the total votes polled.
In contrary, there were no direct elections in Pakistan at the national level between 1947 and 1958. Provincial elections were held occasionally. But "Report of the Electoral Reforms Commission, Government of Pakistan, 1956" described West Pakistan provincial elections as "a farce, a mockery and a fraud upon the electorate". The first direct elections held in the country after independence were for the Provincial Assembly of the Punjab between 10–20 March 1951. The elections were held for 197 seats. As many as 939 candidates contested the election for 189 seats, while the remaining 8 seats were filled unopposed. Seven political parties were in the race. The election was held on universal adult franchise basis with approximately one-million voters.
The turnout of voters remained low in Lahore (30%) and in rural areas of Punjab, it was much lower. On 8 December 1951 the North West Frontier Province held elections for Provincial legislature seats. In a pattern that would be repeated throughout Pakistan's electoral history, many of those who lost accused the winners of cheating and rigging the elections. Similarly, in May, 1953 elections to the Provincial legislature of Sindh were held and they were also marred by accusations of rigging. In April 1954, the general elections were held for the East Pakistan Legislative Assembly, in which the Pakistan Muslim League lost to the panBengali nationalist United Front Alliance. Incumbent Prime Minister of East Pakistan Mr. Nurul Amin lost his parliament seat to a veteran student leader and language movement stalwart Khaleque Nawaz Khan in Mr. Amin's home constituency Nandail of Mymensingh district.
Nurul Amin's crushing defeat to young Turk of United Front Alliance effectively eliminates Pakistan Muslim League from the political landscape of the then East Pakistan. The 1970 Pakistani general election was the first direct general election after independence of Pakistan from British India back in 1947. After almost two decades' long struggle, the military government was forced to transfer the power to democratically-elected officials. In East Pakistan, the election was portrayed as referendum on self-governance for the Bengali citizens of Pakistan, who made up nearly 55% of Pakistan's population and were yet not given rights consistent with those of West Pakistanis. The election was won by Awami League, having 167 seats out of 313, and Sheikh Mujibur Rahman was to be the first democratically-elected Prime Minister of Pakistan. But the military government, at the request of opposition leader Zulfikar Ali Bhutto, refused to transfer power to the elected Parliament which ultimately led to the beginning of the Bangladesh Liberation War.
Direct military intervene in the politics of Pakistan began in 1958. There have been numerous successful coups attempts since 1951. Starting from its creation in 1947, Pakistan has spent several decades under military rule (1958 – 1971, 1977 – 1988, 1999 – 2008). Pakistan army is divided into several Corps or Commands based in different major cities. Rawalpindi command of army was allegedly involved in all the martial laws or military take overs violating the constitution and destroying democratic system in the country. Rawalpindi had previously lacked military experience as it was a small town before British Raj period.
There was not much evidence of involvement of any other Corps in military take overs. Establishment of Rawalpindi command was also involved in assassinations of former Prime Ministers Benazir Bhutto in 2007 and Liaquat Ali Khan in 1951. Military is also blamed for Lal Masjid incident in which more than 100 students were killed. 1999-2008 military rule was the most destructive one when Pakistan unnecessarily allied in War on terror which resulted in total of more than 80,000 casualties of Pakistani nationals including security forces and civilians. Financial losses were estimated at Trillions of Rupees by Pakistani researchers in many articles.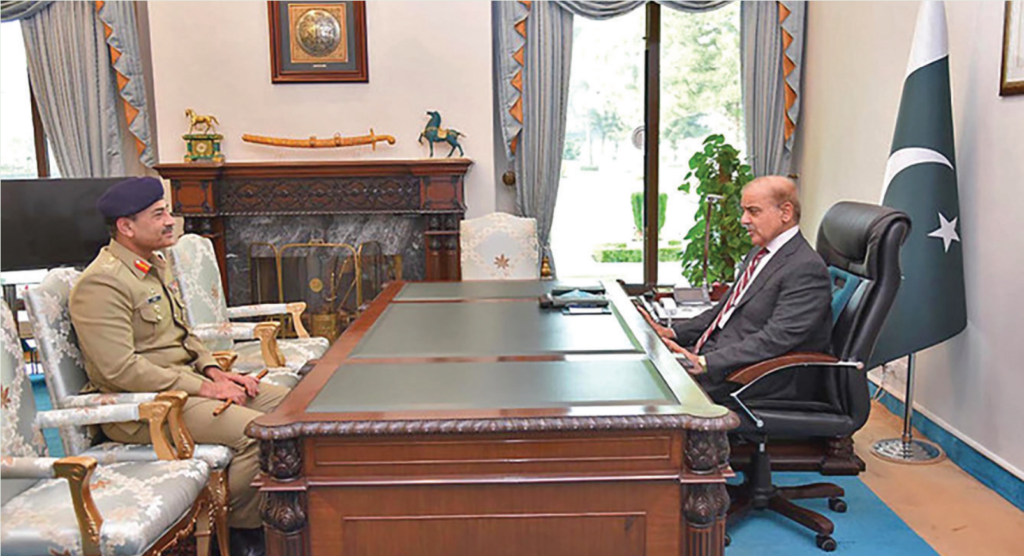 Constitutionally Pakistan follows a democratic parliamentary system. On reality, it's military has been in charge of the country for half of its 74 years long political journey since 1947. Pakistan has been ruled by four different military rulers under three different military coups. Chronologically Field Marshal Ayub Khan ruled from 1958 to 1971. Chief of Army Staff General Zia-ul-Haq staged Operation Fair Play at midnight on July 4, 1977, which was the code name for the coup d'etat by the Pakistan military against the government of then-Prime Minister Zulfikar Ali Bhutto. General Ziaul-Haq served in office until his death in a plane crash in 1988 and Ghulam Ishaq Khan succeeded him. Khan had vast, unchecked Presidential powers and was known to be close to the Pakistani military.
Khan had dismissed both Benazir Bhutto in 1990 and Nawaz Sharif as Prime Minister in 1993, though the latter resulted in his own resignation and is known in Pakistan as the Waheed Kakar formula. In October, 1999 senior officers loyal to army chief Gen. Pervez Musharraf arrested prime minister Nawaz Sharif and his ministers after thwarting the Sharif regime's attempt to dismiss Musharraf and prevent his plane from landing in Pakistan
as he returned from a visit to Sri Lanka. Departure of Shaukat Aziz from the post of Prime Minister and making Chief Justice of Pakistan Iftikhar Muhammad Chaudhry a "non-functional Chief Justice" on 9 March 2007 invoking two main clauses of the Constitution of Pakistan made General Musharraf's position weaker. The suspension evoked a nationwide popular mass protest movement led by lawyers, known as the Lawyers' Movement and eventually culminated with the Long March. He resigned to avoid impeachment in 2008 and emigrated to London in a self-imposed exile.
National Assembly of Pakistan passed The Eighteenth Amendment of the Constitution on April 8, 2010. This amendment curtailed the power of the President of Pakistan to dissolve the Parliament unilaterally. Critics terms it as a turning point for Pakistan leading to parliamentary republic from a semi-presidential system. This amendment also renamed North-West Frontier Province to Khyber Pakhtunkhwa and ensured Self-governing, legislative and financial autonomy to the Provinces. The initiative was intended to counter the sweeping powers amassed by the presidency under former military rulers like General Pervez Musharraf and General Muhammad Zia-ul-Haq and to ease political instability in Pakistan. The bill reversed many infringements on the Constitution of Pakistan over several decades by its military rulers.
The amendment bill was passed by the Senate of Pakistan on April 15, 2010 and it became an act of parliament when President Asif Ali Zardari put his signature on the bill on April 19, 2010. It was the first time in Pakistan's history that a president relinquished a significant part of his powers willingly and transferred them to parliament and the office of the prime minister. It was a clear attempt to stop the cycle of long military rules followed by a brief stint of an elected government of the national assembly in 2010. Many finds influence of the army on the decision-making bodies has not reduced even after this amendment.
Following latest constitutional crisis, Imran Khan became the first Prime Minister to be removed from office through a no-confidence motion in April 2022. In August, he was charged under anti-terror laws after accusing the police and judiciary of detaining and torturing an aide. In November, he survived an assassination attempt during a political rally in Wazirabad, Punjab. All these suggest that the military inference in Pakistan's politics again increased at large in recent days and political future of Pakistan is uncertain again.
In the eyes of analysts, Pakistan is a land where military is a dominant body which violates the principal of representative democracy and always makes efforts to capture the political power. Armed forces of Pakistan have overthrown the civil government in the name of combating corruption and restore democracy. On reality it has been observed that most of the times, Military's have ignored the process of democratization. Rather vested interest of the Military, lack of democratic culture, corruption, low literacy rate, low economic growth, poverty, economic instability, weakening of constitutional institutions specially the judiciary were marked adversely during each military regime. Statement of Samuel Phillips Huntington (April 18, 1927 – December 24, 2008) could be referred in this connection.
Samuel was an American political scientist and think tank who spent more than half a century at Harvard University as the Director of Harvard's Center for International Affairs. According to Samuel Huntington, the sources of military interventions in politics have not only the keen interest of the military itself, but it is also the result of weak political institutions and low political culture of the developing countries. And undoubtedly Pakistan is the classic example of such vicious political cycle. "Military spoiled politics or lack of political force invited military involvement in politics" is still being debated in Pakistan. But undebated fact remains that military always come to the power assuring a short period for combating corruption and restoration of law and order and never returns back the government to the civilian as promised. Military governments mostly get associated with their own class benefits and popularity. But military is considered to be incapable of dealings with complicated issues of the country as they try to solve all problems by dint of fire arms.
They get encouraged when a group of vested politicians make their link with military government for the expansion of military rule under the cover of democracy. The purpose of military as an institution is to defend the country from the internal and externalthreats. In Pakistan, the vested interest of military officers, cohesiveness, self-rule and low income were proved to be the major causes of military interventions in the politics and intends to dominate the civilian organizations, even the constitutional institutions. For instance, in August 1990, April 1993 and November 1996, military supported the President to remove the civilian governments from the politics which failed to maintain internal peace, stability and public order.
The lack of strong and independent election commission in Pakistan also remained as the major cause of military interventions in Pakistan politics. The election commission of Pakistan and military are equally blamed for failing to conduct the independent elections till now. General Elections of 1977, 1990, 1993, 1997, 2002, 2008 and 2013 were controversial and added black chapters in the political history of Pakistan as military is blamed for manipulating the election process.
Ideally, responsibility of masses is to elect the suitable candidates for running democratic set ups in the country smoothly. It is the responsibility of elected government to establish the powerful democratic system in the country for the welfare of masses. The military corporate interest in Pakistan never allowed such process. The military corporate interest was served by top-ranking military group through links with other organizations and establishments.
The public money was transferred to military fund aiming at military contribution to the economy and control over the state and society. Thus, the primary objective of the military was shifted towards expansion of its power and income. The changes in the constitution, political system and electoral process are the direct outcome of military interventions in the politics of Pakistan. The Military leaderships gradually infiltrated in business organizations and got benefited from the different Welfare Scheme like Army Welfare Trust, Askari Cement Limited and Fuji Foundation etc. All these organizations are met together with free housing, land and membership of the executive's link.
The future of Pakistan is one of the greatest challenges before the international community. It is a country of 169 million people, projected to grow to between 250 and 335 million by 2050, which would make it the fourth-or fifthlargest country in the world. It is riven by internal differences and external worries. It is also wracked by terrorism and, in places, by civil war. Most importantly, it has nuclear weapons. Falling such nuclear weapons into the wrong hands, could lead to regional if not global catastrophe.
With attention focused on militancy in the last few years, the country is increasingly viewed as a hub of both local and regional militant groups, and tags such as "the most dangerous place in the world" and "breeding ground for excellence for global jihadists" are increasingly attached to it. Despite its mooring as a parliamentary democracy, the state has been dominated by the army, which has governed Pakistan directly or indirectly for most of the time of state's existence. As a result, democracy has never fully taken root and military disctatorship over shadowed widespread legitimacy.
This is the time for Pakistan to be confident of its own abilities and be optimistic about its future considering its size, location and the qualities of its people. So far, politics in Pakistan was aimed at short term political gains taking tactical advantage rather than strategic placement. Pakistan's economic future emerged as a matter of great concern. Its economy was affected by the emerging demographic shifts over the decades, which posed a huge challenge to the country overlooking huge potentialities. The religious extremism encouraged by the Pakistan army has turned into a double-edged sword. To some extent it did hurt the Soviet troops in Afghanistan in the 1980s and India after 1989, but it now hurts Pakistan more than India. The consolidation of Al – Qaeda and its associates; the deepening of the roots of the Afghan Taliban in Pakistani territory; the growth of the Pakistani Taliban, called the Tehrik-e-Taliban Pakistan (TTP),
in Pakistani Punjab and the tribal belt; and the ideological Talibanization of India-specific terrorist organizations such as the Lashkar-e-Tayyiba (LeT) are growing rapidly. That concern raises strong doubts about the long-term capacity of the Pakistani state to effectively fulfil its obligations, managing ethnic and religious conflicts, guaranteeing internal peace and stability and providing economic opportunities to youth. Internal failures are likely to make it difficult for Pakistan to fulfil its responsibilities toward the international community as well, thereby internal problems could be more complicated.
Predicting Pakistan's future is risky business. Just a few years back, no one could think of the emergence of a robust Lawyers' Movement, challenging the Musharraf government and agitating for judicial independence. Few would have predicted the rise of a bafflingly multifaceted Taliban movement in Pakistan's western frontier that brought together a wide array of Pashtun and Punjabi militants. And who could possibly have predicted an outbreak of deadly rioting in the historically peaceful Hazara division in the newly named Khyber Pakhtunkhwa Province? Clearly one should have humility when gazing into the future, particularly with respect to Pakistan being dominated by the military. Few of the factors are said to be preconditions to turn Pakistan in to a "normal" category.
These include reasonable foreign relations specially with India, a revived economy, a vibrant civil administration, a rebalanced civil-military relationship, a redefined role of the military in the state, fighting domestic insurgencies more effectively, allowing a reshaped police force to emerge and finding a new role for Pakistan's political parties. Relations with Muslim World, USA and China also demands prudence. The politicians need consensus to resolve disputes, support reforms and showing zero tolerance to terrorism and corruption. It is widely believed that Pakistan's future is not immutable. It's political process and experiment lost many valuable lives even in mosques and shrines.
It barely resembles the tolerant state envisaged by its founder Mohammad Ali Jinnah now a days. The territory and the people of Pakistan will remain, even if there is population booming, environmental change, the redrawing of boundaries or a war. Pakistan's nuclear weapons will also remain, even if they are not controlled by a central government. But fact remains that, the greatest uncertainty being faced by Pakistan is the interplay between all such critical factors which will ultimately shape the future.
Analysts note that it will be a long, difficult and slog of one or two generations before one could safely forecast that Pakistan was going to join the rank of modern societies. Perhaps the hardest thing for Pakistanis are to imagine their country as a modern state, meeting the needs of all of its people and escaping from the curse of religious conflict. Modern states have normal relations between civilian and military elites and they ensure that state and constitutional institutions keep up with the legitimate requirements of their people.
Such modernity is difficult when a state is buffeted by the forces of globalization that weaken its institutions and empower separatist and terrorist groups. Pakistan has resources. It is important to realize the magnitude of its nuclearized dispute with India, interest international community who has a powerful stake in its survival and return to normality. Even then, to move Pakistan ahead will require concentrated focus on economic and political policies that foster growth and create greater ownership of governance. Pakistan's population, which is now regarded as irrelevant by most political leaders, could then become an asset in fighting militancy and ending Pakistan's several insurgencies.
Pakistan needs a national debate on what kind of state its citizens imagine. In other words, it is critical for Pakistan to set lofty targets for itself and to attempt to meet them with its own resources rather than be subservient to the interest of other states, near or far. Given the short-term perspective of virtually, all Pakistani politicians, and the institutional obsessions of the military, it is hard to such debate but possible.
Pakistan has fantasized over its economic prospects for years, blaming others for its economic failures and claiming phantom successes. Till now, the country is unwilling to tax the rich and allocate maximum budget to educate its masses aiming at human resource development. Defence and security expenses takes heavy toll on the budget. Economic growth is the only way to address dangerous demographic trends, which in the long run will make Pakistan ungovernable and for some, unliveable. To a group of scholars, Pakistan is beyond the point of no return in its weakened state & constitutional institutions, poor literacy rate and fragile administration and highly politicized bureaucracies. But these problems are not esoteric and Pakistan needs help from the international community in a massive organizational rebuilding process. Private organizations and NGOs are not a substitute.
The army will have to allow civilian competence to develop but this depends both on the army's willingness to adopt a recessed role and the rise of demonstrable civilian competence. Meanwhile, education and state building should be given thesame priorities as defence policy. Absence of Governance was felt during last few crises, whether external or internal, the top government officials demonstrated unaccepted incoherence in their dealings. Usually the military has its way, but there is no question that the Pakistan army does not have the strategic capabilities necessary to formulate a coherent strategy even on military issues. This includes developing a response to the domestic terrorism that rages in all parts of the country, especially the government-free zones.
If Pakistan does not create such a mechanism, presumably including a strong National Security Council, it will continue to stumble strategically. Pakistan has fallen into a position of deep dependency on donors and the government is correctly criticized for giving in to them one after another, whether they are individual states or international lending agencies. Pakistan needs to adopt a relation-ship whereby its dignity and sovereignty are protected. As with IMF loans the initiative for assistance must come from Pakistan, not outsiders. The conditionality should come from the Pakistani side, with the acknowledgement that if Pakistan fails to meet conditions, then aid or support will be correspondingly reduced.
This will require more capacity than Pakistan has now and thus the government should both seek help from known competent governments. Thus, it can improve its planning capacity, budget strength and private sectors based on talents. "Tough love" is a suitable standard and Pakistanis should themselves insist on it. At any cost, Pakistan needs to experiment with democracy. It can no more run as an autocracy, whether by the military or a civilian leadership, no matter how charismatic he or she might be. It is now in the interest of the international community that Pakistan succeeds or at least that it doesn't fail anymore. No country, not even India, wants to see Pakistan come apart violently, as real failure could spew nuclear weapons and terror groups around the world. This is why the option to break up Pakistan is both impractical and dangerous.
The Western powers, Japan, and India need to have a concerted policy that would strengthen reform and democratic forces in Pakistan, encourage the military to adopt a recessed role, improve the Pakistan economy and generate more resources to address vital domestic needs. It is a proven fact that China has emerged as a significant South Asian power in its own right and she is playing a balancing game between India and Pakistan. Policymakers need to think carefully about the cost of American intervention in the region.
Very recently Pakistan's outgoing Army Chief General Qamar Javed Bajwa confessed the military involvement in politics in the past and said that the Army has decided to stop "interfering in politics". While addressing the Defence and Martyrs Day ceremony, the Army Chief said that armies around the world are seldom criticized "but our army is often subjected to criticism." He thinks that the reason behind is the army's involvement in politics. He informed the audience that in February 2022, the army decided not to interfere in politics. "Many sectors subjected the army to criticism and used inappropriate language," he informed. "To criticise the army is the right of [political] parties and the people, but the language used [should be careful]" he added. General Bajwa started the ceremony by saying that "this is my last address as the Army Chief. I am retiring soon. This time, this [ceremony is being held] after some delay," He further added that, the army had initiated its process of "catharsis" and expected that political parties would follow the same and reflect on their behaviour. The outgoing chief emphasised that lessons should be learned from such mistakes so the nation could move forward. It's time to wish that General Bajwas' words come true on reality.