Global population has recently crossed eight billion mark. Experts believe that this massive rise in population could, among other things, lead to climate-related disasters. With the increase in population, the amount of oxygen intake and carbon-dioxide emission will increase too, so the temperature of the earth will increase – leading to global warming. Rapid population growth combined with climate change is likely to cause mass migration and conflict in coming decades. And having more people on the planet puts more pressure on nature, as people compete with wildlife for water, food and space. SM TANJIL-UL-HAQUE delves deeper into details
The world's population surged past the grand mark of eight billion on November 15, the United Nations (UN) declared, warning that more hardship is in store for regions already facing resource scarcity due to climate change. This is, without an iota of doubt, a huge jump in the world's population. Because, according to the UN, the seven billionth child was born on 31st October in 2011. From there, the human population has increased by hundreds of millions in just 11 years. Questions like – how much more the pressure of human population can the world bear – arise in this dire reality. More people means an increase in demand for all basic needs including food, clothing, healthcare, shelter, education etc. There is also massively increasing demand for other resources and services. When the world is facing the dire consequence of climate change and when there is a strong urge to save the natural environment and ecology to stop this destructive change, what more danger can this spread of population cause?
You Can Also Read: IS BANGLADESH FRAGILE IN CLIMATE CHANGE MANAGEMENT?
WHAT DO STATISTICS SAY?
According to the latest UN projections, the world's population could grow to around 8.5 billion by the year 2030. That number will jump to 9.7 billion in 2050. And it will peak at around 10.4 billion during the 2080s, which is forecasted to remain at that level until 2100. The report says over half the projected spike in population up to 2050 will be concentrated in just eight countries – India, Pakistan, Philippines, Egypt, Nigeria, Congo, Ethiopia, and Tanzania. As it depicts, the world is currently moving from high-birth and death rates to low-birth and death rates. Various areas including family planning, continuous rise in life expectancy, and improvement of public health, nutrition, personal hygiene, medicine, awareness, and education rate have played an important role in reaching such a crossroad although high and similar fertility rates also exist in some countries.
Data analysis shows that the population of the world in 1804 was just 1 billion. It took 123 years to go from 1 billion to 2 billion. In 1950, it was 2.5 billion, which got doubled to 5 billion in 1987. Then there was a high rate of population growth. Thus it took only 12 years to reach population to 6 billion in 1999 and 7 billion in 2011, which reached the 8 billion mark in 2022. According to 'World Population Prospects 2022' of the UN Department of Economic and Social Affairs, world population will reach 9 billion in 15 years with a declining trend in growth.
At present, the most populous countries in the world include China with a population size of 1.43 billion, India 1.41 billion, the United States 331.9 million, Indonesia 276.5 million, Pakistan 225.4 million, Nigeria 211.6 million, Brazil 214.5 million, and Bangladesh 171 million. Population projection says that India in 2050 will have 1.68 billion, China 1.70 billion, USA 458 million, Nigeria 375 million, Pakistan 360 million, Brazil 231 million, Congo 215 million, Ethiopia 213 million and Bangladesh 204 million. Population size in African countries will increase mainly due to high fertility rates.
Resource pressure will be especially daunting in African nations, where populations are expected to witness boom. These are also among the countries most vulnerable to climate impacts, and most in need of climate finance. In subSaharan Africa, where some 738 million people already live without adequate food supplies, the population is projected to jump by 95% by mid-century, according to the Institute for Economics and Peace. The think-tank warned in an October report that much of sub-Saharan Africa will be unsustainable by mid-century.
HOW MANY PEOPLE CAN THE EARTH HOLD?
The biosphere has a limit. The earth is not an infinite land – the more people will be there, the more population density will rise. At the same time, pressure on nature will increase. As a result, the earth will provide a counter-measure to protect itself from getting destroyed. According to experts, in that case, when the human population reaches its peak, more people will die in natural disasters, their reproductive capacity will continue to disappear due to natural causes. As a result, the population will start to decrease slowly. Some experts also believe that the countdown to the end of mankind will begin when the world's population reaches its peak.
At present, the number of people has increased more than the previously-thought measures. However, experts believe that this growth will not last. But there is disagreement as to when the population will reach its peak and then decline. Nevertheless, some studies suggest that it will start to decline by the end of this century. As a result, the controversial question of the next century will be 'how far will the population decrease'?
Whether its food or water, batteries or gasoline, there will be less to go around as the global population, according to UN projections, adds another 2.4 billion people in nearly 60 years. However, even while the global population reaches the ever-new highs, demographers note that the growth rate has fallen steadily to less than one percent per year. This should keep the world from reaching 9 billion people until 2037. The UN projects population to peak at around 10.4 billion people in the 2080s and remain at that level until 2100. Hence, a big part of this story is that this era of rapid population growth that the world has known for centuries is coming to an end.
A GROWING CONCERN?
As the population grows, so do the worries about the impact of climate change. In the coming years, the intergovernmental panel on climate change predict that about 3% of the world's population will be displaced by climate change by 2050. But despite the world's growing population, greenhouse gas emissions are linked more to income levels than population distribution, according to Raya Mottram, Professor at the University of Bologna. She said, "The top 10%, in terms of net wealth, is actually responsible for about 50% of the greenhouse gas emissions. And they only account for 770 million people in the world. "Whereas the bottom 50%, which roughly accounts for 4 billion people in the world, only emit 12%." Less developed countries face a deadly cocktail of limited resources, financial capacities and a greater risk of climate catastrophe. This high population growth will act as a watchdog of climate change, which will accelerate the impacts of climate change. Experts talk about some of the dire adverse effects that overpopulation can contribute to climate change like more pollution, food and water scarcity, more infectious diseases, and migration related problems. More population means more pollution.
As the population increases, pollution will also increase – thereby resulting in more air, water and noise pollution. Factories will also increase to meet the needs of more people, which will upsurge air pollution, more people will use and impure water, which will also increase water pollution. Again, with the increase in population, the demand for food, clothing and shelter will increase. More animals will have to die to satisfy human hunger, and plants will be displaced for shelter. As the food demand rises, it will not be possible to meet the food demand as such – thereby resulting in global food and water shortages. As the population rises, the number of infectious diseases will increase and they will spread at a higher rate. After all, with the increase in population, the amount of oxygen intake and carbon-dioxide emission will increase too, so the temperature of the earth will increase – leading to global warming. Rapid population growth combined with climate change is likely to cause mass migration and conflict in coming decades, experts said. And having more people on the planet puts more pressure on nature, as people compete with wildlife for water, food and space. But how much they consume is equally important that suggests policymakers can make a big difference by mandating a shift in consumption patterns. Humanity's impact on the natural world "has more to do with how we behave than how many we are," an expert said.
WORLD POPULATION REACHES 8 BILLION
(Forecast) number of people on Earth and annual growth of the world population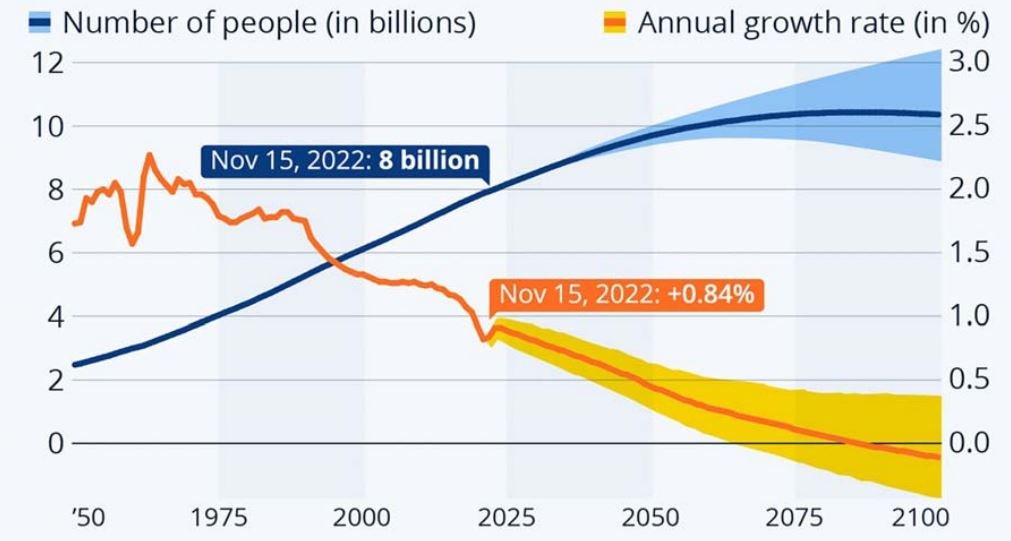 BANGLADESH PERSPECTIVE
Although Bangladesh currently is the eighth-most populous country in the world, it will be the tenth in 2050. In terms of population density, the country is one of the most densely-populated countries in the world. At present, more than 1315 people live per square kilometre, which is increasing gradually, it will be 1566 in 2050. According to UN report, the population growth rate of Bangladesh is currently 1.11 percent, which will decrease to 0.37 percent in 2045. The main role behind this will be the low fertility rate. As a result, the population of Bangladesh will be slightly more than 200 million by that year. Population growth will peak by 2061 at 206.9 million. According to UN estimates, 7 kids were born per woman in this country in 1972. In 2021, it came down to 1.98. In 2045, this average will decrease to 1.76 that will be 1.74 in 2061, and 1.7 in 2100.
This trend in fertility rates indicates that the country's population will continue to shrink at the end of this century. Professor Mohammad Mainul Islam, the former chairman of Dhaka University's Department of Population Sciences, said, "The family planning workers at the field level have contributed behind this success in reducing the rate". Apart from this, awareness campaigns in the media, education and employment progress have also made an important contribution, he said. According to him, 'In order to utilise our current human resources, we need to invest in improving its quality. In addition, provision of market-oriented technical education, healthcare facilities and employment generation should be ensured'.
Populations are also growing slowly or even declining in other wealthy, industrialised countries that have contributed mightily to the world's warming for more than a century. But meeting the world's climate targets means all countries need to move away from burning fossil fuels for energy, the main cause of human-driven climate change. Therefore, helping poorer countries is a key focus of the international climate summit – the 27th Convention on Climate Change (COP27) that concluded recently in Egypt – as is paying reparations for the climate damage they have already incurred, which was a major flashpoint in the climate talks.