Malaysia has been beset by political instability over the past couple of years. The political crisis began when the members of parliament began switching parties or coalitions and thus contributing to the collapse of three successive coalition governments since 2020. Early election was called in the hope that it will solve the political instability. Ironically, the election resulted in a hung parliament. After days of uncertainty, Anwar Ibrahim, the leader of Pakatan Harapan coalition, came out successful to hold the country's premiership. After all these, many wonder whether Ibrahim will be successful to soothe political chaos? writes MOHAMMAD RAFIUL HASSAN
Malaysia's political situation has been going through a period of instability over the past few years while its economy is trying to recover from a pandemic-induced slowdown. For more than half a century since independence in 1957, Malaysia enjoyed a strong government and political stability. But the situation started to change when the long-time ruling political party, United Malays National Organization (UMNO) led coalition Barisan Nasional, underwent a change in political leadership and was shaken by various scandals of its leaders. Consequently, UMNO/Barisan Nasional saw its defeat for the first time in 60 years in 2018. Pakatan Harapan that won the 2018 election formed the country's government. But the political crisis intensified in February 2020 when members of parliament were switching party support contributing to the loss of a parliamentary majority.
This resulted in the collapse of three consecutive coalition governments with the resignation of their respective Prime Ministers. In an effort to end the messy politics, early election was called. On October 10, 2022, Malaysian then Prime Minister Ismail Sabri Yakob dissolved the country's Parliament, paving the way for a general election, scheduled for November 19, 2022, about a year ahead of schedule. Malaysian voters went to the polls on November 19, but no clear message was given by them to guide the politicians. To form the government, a party or coalition has to win at least 112 out of 222 parliamentary seats. Unfortunately, no party was able to secure a simple majority in the election which resulted in Malaysia's first-ever hung parliament.
This opened the door for all sorts of potential horse-trading as parties tried to form a governing coalition. After days of haggling and monarch's intervention, veteran politician Anwar Ibrahim, the leader of Pakatan Harapan coalition, was sworn in as Malaysia's 10th prime minister; a man who incredibly came back to politics after he was jailed and forced to stay out of politics over a decade.
WHO ARE THE MAJOR PLAYERS
In the recent election, there were three major coalitions fighting for the country's top spot – the Pakatan Harapan of the incumbent PM Anwar Ibrahim; the Perikatan Nasional led by former PM Muhyiddin Yassin; the long ruling UMNO/ Barisan Nasional (BN) led by former PM Ismail Sabri Yakob.
PAKATAN HARAPAN (PH)

Pakatan Harapan was the largest opposition coalition and fielded some 206 candidates. It is more diverse than the other coalitions and is seen as more progressive on social and political issues. The coalition comprises the People's Justice Party, the Democratic Action Party and the National Trust Party. It has alsoformed an electoral pact with new-comer Malaysian United Democratic Alliance, which won a single seat this year. Initially, it seemed that the coalition, led by reformist leader Anwar Ibrahim, could be the winner. However, it did not secure a majority of seats on its own, though it did win the most seats with 82 along with an allied party. This is fewer seats than it had in the prior parliament. Though the voting age was lowered to 18, and so, many thought the younger voters often would support Anwar's Pakatan Harapan coalition and that probably has not happened in reality.

It seemed hard at first to believe that Anwar would make an alliance with either Barisan Nasional or Perikatan Nasional to form the government, for whose values are so divergent from Anwar's coalition. To make the situation worse, Barisan's leader also initially declined to support its rivals. Interestingly, the long ruling Barisan Nasional's dominance was brought to an end by Pakatan Harapan in the previous election held in 2018. The victory then was hailed as a milestone for transparency, accountability and racial tolerance. This time Barisan's leaders changed their mind later to extend their support for Pakatan Harapan to form the unity government. The coalition ended five days of post-election crisis, thanks to Barisan but still many believes that could usher in further instability in future.
ELECTION MANIFESTO
• Managing cost of living by eliminating cartels in the food sectors, ensuring sufficient food supplies and providing incentives to increase production
• Combating corruption and strengthening democracy
• Saving the lost generation in education
• Building disaster mitigation measures and enhancing protection for the Rakyat (the poor)
• Eliminating gender inequality and enhancing women's socioeconomic participation
• Improving the competitiveness of all Malaysians especially vulnerable groups
• Preserving the environment for the future generation
• Protecting media freedom and promoting free speech
• Creating job opportunities and attracting investment in Sabah and Sarawak
• Greater democracy accountability and participation at all levels of government
PERIKATAN NASIONAL (PN)

Former prime minister Muhyiddin Yassin's Perikatan Nasional is a pro-Malay alliance that brings together two parties – the Bersatu and the Pan-Malaysian Islamic Party (PAS). The alliance did quite good in the election, winning 79 seats along with its allied party which has increased from 39 lawmakers in the last parliament. 43 of those seats were won by the Pan-Malaysian Islamic Party (PAS), giving it the single highest total of any one party. The strong performance of PAS shows the rising appeal of more extreme pro-Malay sentiments in parts of the country where people are definitely becoming more supportive of Islam in politics. The coalition signals a new era of potentially more overlap between politics and Islam, possible racial tension, and potentially a less pluralistic Malaysia.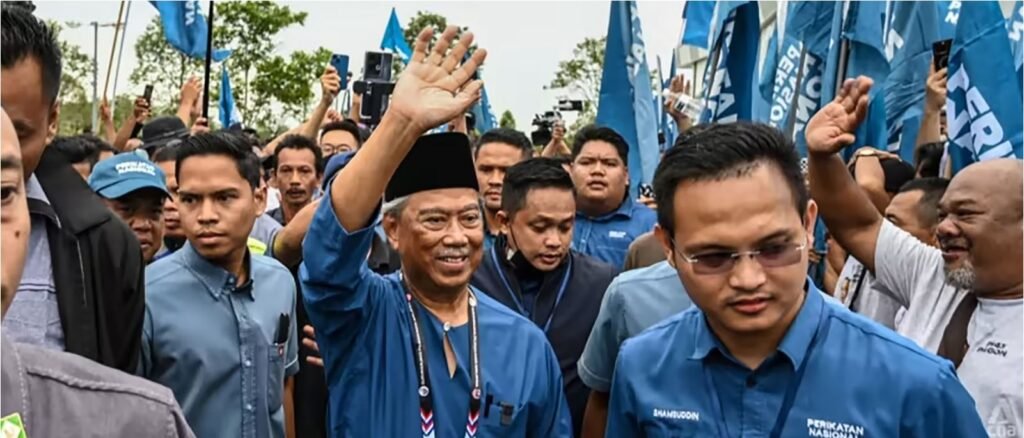 ELECTION MANIFESTO
• 1 million high-paying jobs in the digital economy sector over the next 5 years
• A more effective SME loan moratorium to help small traders
• Encouraging business to provide employees with flexible work schedules through incentives
• Allocate RM5 billion special fund to encourage foreign investment and make Malaysia an attractive market in Southeast Asia
• Empowering youth by establishing affordable youth micro housing schemes in major cities and increasing senator quota for youth
• Budget allocation for the Ministry of Health will raise to 5% of the county's GDP to strengthen the quality of health services
• Provide access to digital devices for students across the country
• Empower the Sariah and judicial system
UMNO/BARISAN NASIONAL (BN)

The traditional powerhouse, Barisan Nasional, did quite poorly for a coalition that has ruled Malaysia for most of its existence. It fielded 178 candidates for the election. Barisan Nasional appeared to have taken only around 30 of the 222 seats in parliament. The massive graft scandal of the then-Prime Minister Najib Razak (2009-2018) finally turned voters against the alliance. It shows the sign that Malaysians have had enough of the coalition's years of corruption and authoritarianism.

The alliance, despite suffering its worst at the polls, suddenly has emerged as the deciding factors for its rivals to form government. Without the support of the coalition, neither the Pakatan Harapan nor the Perikatan Nasional will be able to secure the minimum majority of 112 seats needed to form a government. Though initially declined to support either of the parties, Barisan coalition was compelled to take part in the unity government with Anwar's coalition after much bargaining and the king's involvement in the government forming process that ended the unprecedented post-election crisis.

At the height of its power, BN consisted of 14 parties, but BN now consists of Ismail Sabri's United Malays National Organization (UMNO), the Malaysian Chinese Association, the Malaysian Indian Congress and the United Sabah People's Party.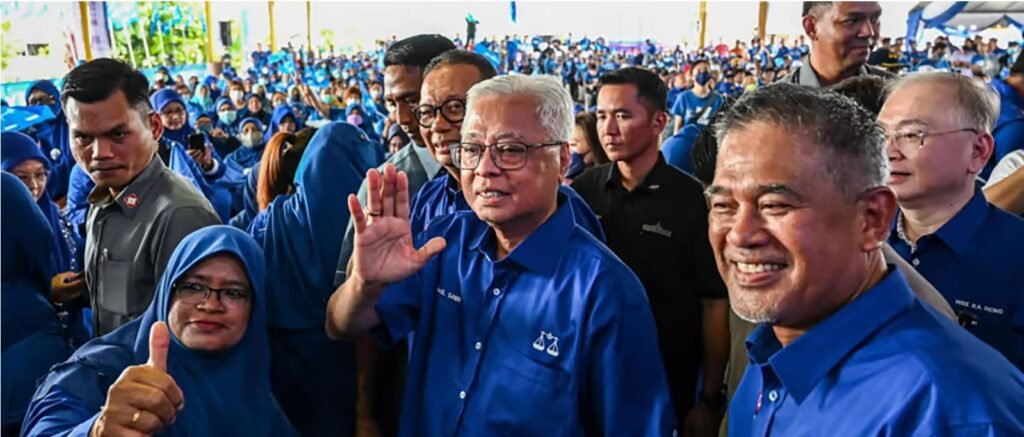 ELECTION MANIFESTO
• Addressing cost of living through Assistive Basic Income Scheme for low-income household by 2025
• 2% income tax cut for M40 group, for those earning below RM100,000 per year
• Address the challenges of food insecurity, over-reliance on imports, and costly and inefficient food supply chains.
• Ensure political stability and stable government through progressive politics and performance oriented government
• Modernize early childhood, primary, secondary and tertiary education
• Devote proactive attention to the environment with a target of 30% renewable energy generation by 2030
• Improved social and financial security for migrant workers
• Giving more opportunities for private companies to grow
KEY ISSUES IN THE ELECTION
Political instability and economic slowdown, in addition to rising prices, were the main issues in voters' minds. A survey by the Merdeka Centre said, like everywhere else, inflation and cost of living pressures is the top issue, followed by corruption in government, and political instability.
ECONOMIC UNCERTAINTY:
Malaysian economy was badly damaged by the pandemic. As reflected by global trends, Malaysia is seeing a rise in the cost of living. Many of the country's low-income households have complained that they are unable to meet their basic monthly needs. About 74% of Malaysians surveyed by the Merdeka Centre said the country's biggest problems were to do with the economy. The ringgit has weakened by around 11 percent against the dollar and Malaysia's central bank has raised its policy rate by a total of 75 basis points so far this year.
POLITICAL INSTABILITY:
Malaysia has been experiencing the political instability for couple of years. It was caused by several members of the 14th parliament changing party support. This led to the loss of parliamentary majority and the collapse of three successive coalition government. The crisis ultimately called the 2022 snap general election. Every party now promises to end the political squabbling that followed Mahathir's resignation in 2020.
CORRUPTION:
In 2015, Malaysia's then-Prime Minister Najib Razak was accused of channelling over RM 2.67 billion (approximately US$700 million) into his personal bank accounts from 1Malaysia Development Berhad (1MDB), a government-run strategic development company. The 1MDB scandal, as they named it, was a large corruption, bribery and money laundering scandal of Najib's government. The scandal is expected to take a backseat following Najib's prison sentence. Still, it remains ready ammunition for opposition parties as UMNO leaders including party president Ahmad Zahid Hamidi face dozens of pending corruption charges.
ETHNIC RELATION:
Malaysia is a multi-ethnic and multi-religious country with a majority Malay population, who are Muslim as well as the country's indigenous people, accounting for about 60% of the population. Also, the country has a large community of people of Chinese and Indian origin. The communities coexist in relative peace and harmony, but there are also racial, cultural and religious tensions. Malay Muslim younger people are in favor of the Perikatan Nasional coalition, while non-Muslims tend to support the Pakatan Harapan coalition. The ethnic divide has been compounded by decades of policies favoring the politically dominant Malays. Some believe the ethnic relations will actually become worse because Malaysia is experiencing the rise of political Islam.
YOUNG VOTERS:
There are 5.8 million new voters after the government decided to lower the voting age from 21 to 18 last year. The influx of millions of young voters voting for the first time posed a challenge to political parties, as it was not entirely clear who they would favour. "Younger voters tended to favour opposition parties but their choice seems to go along ethnic lines," said Ibrahim, the director of the Merdeka Centre.
Anwar Ibrahim's more than two-decade wait as opposition leader for the post of prime minister has come to an end but he is going to take over as Prime Minister at a time that will put his leadership skills to the test.
It is because the global economy is heading towards recession and the county's economic situation is expected not to be comfortable for him. Besides, Malaysia's political environment is divided by factional infighting.
Coalition governments fell in 2020 and 2021 due to factional struggles for power. Again, Anwar is leading a coalition government which means he will have to rely on the support of one-time rivals Barisan Nasional and other parties. His party Pakatan Harapan, which failed to win a single majority in the election, may face a difficult situation in the days ahead. Importantly, Anwar is known for his idealism, commitment to good governance and democracy and reform mindset. But the challenges of the economic situation and the unity government composed of divided political parties will limit his scope of work.
It is true that politically and economically Malaysia is on the brink of becoming a dominant middle power in the world stage. Liberal and visionary steps are needed at this time to transform the country's economy, politics and ethnic tension. Many consider Anwar Ibrahim to be a beacon of hope in establishing pluralism, freedom of the press, and transparency, which the former governments of Malaysia have not been able to ensure so far. Now it is to see how successful he will be in fulfilling their expectations; we may know it soon.