Bangladesh is going to buy Bayraktar TB-2 drones from Turkey that are capable of carrying military weapons and launch attack. Recently, the armed forces of Bangladesh have signed an agreement with the drone manufacturing company. Through this, the drone era is going to begin in the military field of Bangladesh. Confirming the matter, Mustafa Osman Turan, the ambassador of Turkey in Bangladesh said, "Bangladesh Armed Forces have recently signed an agreement with Baykar Technology, the manufacturer of Bayrakter TB-2 drone." Earlier, last year, BanBangladesh's ambassador to Turkey, Mosud Mannan said in an interview to Turkey's state news agency, "The drones made by Turkey are of international standards.
So, we can consider buying modern equipment in the future keeping in mind the needs of our armed forces." Also, Bangladesh's military cooperation relationship with Turkey has been increasing for the last few years. Bangladesh has bought artillery shells, rocket defence systems, armoured vehicles, mine protection vehicles from the country. In view of that, Bangladesh made this latest agreement with Turkey.
WHO MAKES BAYRAKTAR TB-2 DRONE?
A Turkish company called Baykar manufactures two types of drones, the Bayraktar TB-2 and the Bayraktar Akinchi. The Bayraktar TB-2 drone is similar in size to a small aircraft. The drone is equipped with cameras and can also carry laser-guided bombs. Bayraktar TB-2 drone can climb up to 25,000 feet in the sky and rain down laser-guided rockets on the enemy. The price per unit of the Bayraktar TB-2 has not been made public but according to sources, the company sells per drone at $1 million. Selçuk Bayraktar, the drone's designer, was born in Turkey's Istanbul, and studied at the Massachusetts Institute of Technology. In 1980, Özdemir Bayraktar, Selçuk Bayraktar's father, founded Baykar Technologies. After his death, his younger son Selçuk became the chief engineer of the company. Another identity of Selçuk is that he is the son-in-law of Turkish President Recep Tayyip Erdogan. Since 2005, the company started investing in the unmanned aerial vehicle industry. Selçuk told Reuters in an interview, "Bayraktar TB-2 is doing exactly what it does – destroying some of the world's most powerful anti-aircraft systems and armoured vehicles. That's why the whole world is now interested in buying this drone. " He also mentioned that more than five hundred Bayraktar TB-2 drones have already been delivered to different countries of the world.
THE DEMAND FOR THE DRONE IS INCREASING
Bayraktar TB-2 drones have previously come into the news due to their successful use in Libya, Syria, and the Azerbaijan–Armenia wars. The role of this drone in Ukraine's fight against Russia has caught the attention of the whole world. An analysis by Middle East Eye, a news outlet that monitors the situation in the Middle East, said Bayraktar TB-2 drones have been proven effective in fighting Russian forces inside mainland Ukraine. Even last April, this drone went into Russian territory and attacked two oil depots. The attack also called into question the effectiveness of Russia's air defence system. Haluk Bayraktar, Selçuk Bayraktar's brother and CEO of Bayraktar Company, said their company has sold such drones in 14 countries. He said, "Seeing the activities of these drones in the battlefields of Syria, Libya, and Nagorno-Karabakh, the demand for these drones is increasing in many countries from Africa to Europe. Poland has also signed an agreement to buy our drones."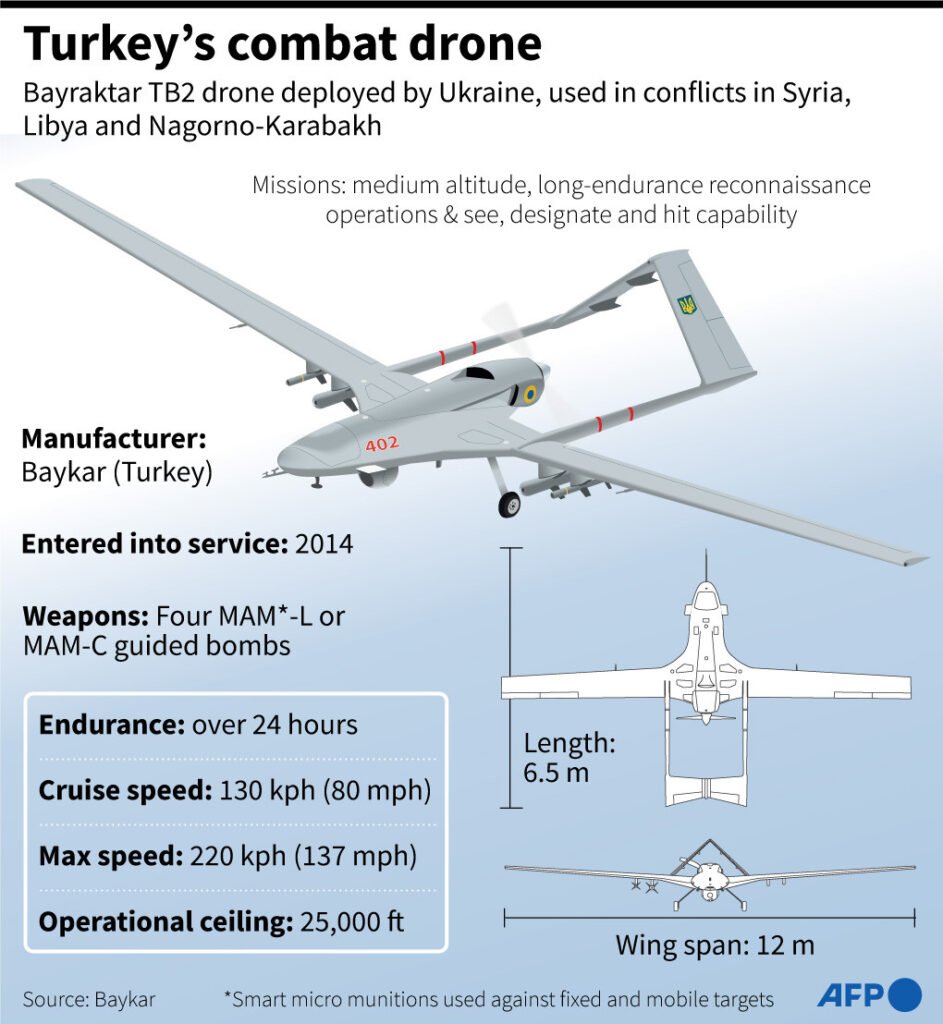 KEY INFORMATION ABOUT BAYRAKTAR TB-2 DRONE
The Bayraktar TB-2 drone can be equipped with four laser-guided smart rockets, which can hit targets with precision.
This drone can fly at speeds ranging from 129 km per hour to 222 km per hour.
The drone can be operated up to 300 kilometres from the base station.
It has sensors inside that can navigate without relying entirely on GPS.
The drone can fly with a maximum weight of 700 kg. It has a total fuel capacity of 300 litres.
It is capable of collecting military-level intelligence.
The take-off and landing of the drone can be fully automated. Its core system has three autopilot programs.
Bayraktar TB-2 can operate from an altitude of 18,000 feet. It can fly up to 25,000 feet in the sky and holds the record for a maximum flight time of 27 hours and 3 minutes.
The real imagery time transmission system on the drone allows multiple users to view high-quality video simultaneously
Being a web-based application, it is possible to monitor it through a tablet or mobile using the internet.
However, one weakness of these drones is that they are large in size. As a result, the enemy can easily detect the drone. Again, due to their relatively low speed, they are easy to shoot down. Russian forces have destroyed several Bayraktar drones used by Ukraine.
WHY IS BANGLADESH BUYING IT?
A security analyst and president of Bangladesh Peace and Security Studies Major General ANM Muniruzzaman (Retd) said, "Drones are becoming a key technology in the modernisation of military capabilities in all countries of the world. It's a very interesting tool. Especially after witnessing the role of it in the Nagorno-Karabakh war, many countries are now attracted to drones. It has also proven how drones play a significant role in war." "That's why Bangladesh is also leaning towards it. Especially the Turkish Bayraktar drone is a very good choice in terms of capability and budget. This kind of drone will be very useful in the process of modernising the equipment of the Bangladesh Army with the budget allocated," he says. The specialist also said, "Even if there is no war with any country, the military forces need to be prepared. Regional peace can be ensured by maintaining the capabilities of the military forces. As part of that preparation, Bangladesh needs to buy drones, so I think this is a right step.
" Explaining how drones help in warfare, Dr Martina Myron, a researcher in defence studies at King's College, London, said, "Ukrainians have been able to greatly increase the capabilities of their limited forces with the help of these drones. In the past, if you had to attack enemy positions, the only way to do it was sending in special commando forces; and carrying out such an attack would have killed numerous soldiers. But now it is possible to do the job only by risking a drone.
" To end, ongoing crisis situations around the world have highlighted the importance of military capabilities. In this regard, experts believe that buying drones from Turkey is a timely decision by Bangladesh. They assumed that Turkey can be a useful resource for Bangladesh in its efforts to increase military strength and modernise the army.
According to diplomatic sources, Bangladesh has previously purchased mine protection vehicles, armoured vehicles and multi-dimensional rocket defence systems from Turkey under the existing defence cooperation between the two countries. Last year, the Turkey signed an agreement to sell automatic guided artillery shells to the country. Apart from this, Turkey is also interested in selling military helicopters and tanks to Bangladesh