Beijing and Islamabad pursue their geo-strategic interests within a framework that is slowly being transformed by geopolitics. Both oppose hegemony, unilateralism and a zero-sum approach to international affairs and support the cause of developing countries for a just and equitable global order, writes Dr Mohammad Tarikul Islam
It is not difficult to predict that China will make every effort to promote a neighborhood diplomacy that emphasizes peaceful development, as countries in the region have invested heavily in improving their internal and border infrastructure, significantly reducing trade costs. As a neighbor of China, Pakistan is clearly reaping the economic benefits by leveraging on its reliable bilateral relations. During the recent visit of Pakistan's Prime Minister Imran Khan in February 2022 to China, Pakistan and China signed various agreements worth $ 10-15 billion, including $ 4 billion in deposits and $ 4 billion in new loans along with other projects. During multiple meetings with Imran Khan, Chinese state-owned and private corporate sector executives, Pakistan is offering a favorable environment for investment in special economic zones under the China-Pakistan Economic Corridor (CPEC). Khan praised the deep interest of Chinese companies in investing in Pakistan as Chinese corporate leaders briefed the Prime Minister on the progress of their ongoing projects in Pakistan.
The purpose of CPEC is to rapidly improve the necessary infrastructure of Pakistan at the same time strengthen its economy by building modern transport networks, numerous energy projects and special economic zones. The core purpose of CPEC is however a different one. The essence of the CPEC revolves around improving the livelihoods of the people of Pakistan and China by promoting bilateral connectivity based on creating & enhancing peopleto- people relations for regional connectivity. The CPEC slowed down due to the COVID-19 epidemic and the change of government in Pakistan. But now those obstacles have been removed. The scope of CPEC has been expanded to include cooperation in agriculture, industry, oil and gas, science and development, information and communication technology, education, tourism and various socioeconomic projects.
China is the second largest export destination for Pakistan and the government is making every effort to increase exports to China by promoting industrialization in the country, providing special subsidies to the business community, and working closely with the Chinese government alongside its initiatives. All while learning about the requirements of the Chinese market.
Beijing and Islamabad pursue their geo-strategic interests within a framework that is slowly being transformed by geopolitics. China's role and interest in building a regional security system is growing. Geopolitical instruments are being deployed in a region to achieve geopolitical objectives, which are already characterized by conflict and instability.
Analyzing the opinion of experts, it was revealed that the interest of Imran Khan's government with this visit indicates Islamabad's financial dependence on China because Western powers have been ignoring Islamabad for some time now. Islamabad's relations with the United States were somewhat strained in the 1990s, but after the September 11, 2001 attacks, the country again became an ally of Washington in the "war on terror". However, following the US pullout from Afghanistan, Pakistan is now looking to the East for strategic alliances.
China has advantages and expertise in technology, financing, and industrial capabilities, while Pakistan enjoys favorable conditions for natural resources, adequate labor manpower, quality infrastructure, access to international markets and an optimal policy for industrial development. Pakistan's foreign ministry has claimed that Khan's visit has strengthened the all-weather strategic cooperation partnership between the two countries in addition to advancing the objective of building a closer China-Pakistan bond with a shared future.
Islamabad is also seeking Chinese investment in the industries of textiles, footwear, pharmaceuticals, furniture, agriculture, automobile and information & communication technology. Pakistan relies heavily on China for economic assistance and cooperation. Critics of Imran Khan believe that Pakistan is now 100% dependent on China for financial and economic assistance. This speculation has been followed with some criticism as well as appreciation. However, experts from a neutral standpoint offer a completely different insight. From the perspective of the depth of Pakistan-China bilateral relations, it can be see that Pakistan will require China's assistance to strengthen its economy, stabilize Afghanistan, promote trade in the region and consolidate its defense. Additionally, this alliance going forward will open further development potential for Pakistan in relatively newer sectors while at the same time opening the gates of more investment flow from China and trade opportunities benefiting all the stakeholder corporations opting for it. However, considering the completion of the current initiatives the dimension of China-Pakistan relationship will be experiencing new dynamics where Pakistan might not remain as dependent on China as it is now.
Clearly, Pakistan sees China as the voice of reason and restraint in international affairs. It is in the common interest of both countries to build a cooperative partnership that is in line with the fundamental interests of both countries. This friendship has withstood all storms due to its unique nature and will contribute constructively to regional peace and stability. At the same time this relationship will facilitate business corporations in either country increasing further economic flow and growth.
Pakistan can reciprocate by giving China access to the Indian Ocean and supporting the country in the international forums. However, for Pakistan, the stronger its relationship is with China, the greater of a challenge it will face when it comes to rebuilding its relationship with Washington, which is embroiled in a growing confrontation with Beijing. Currently, Islamabad is struggling to navigate between the emerging tensions in US-China relations.
Few people in the world take Khan's claim seriously that he can help mediate between the United States and China tensions. But his decision to reject US President Joe Biden's invitation to attend the Democracy Summit in December 2021 and to support Chinese criticism of US efforts to politicize the Winter Olympics indicates a continuing tendency towards China. This creates a question in interest of Pakistan weakening its claim to resolve of mediate the US-China tensions. China has always taken Pakistan as a "priority" in its neighbor's diplomacy and supported Pakistan's pursuit of prosperity.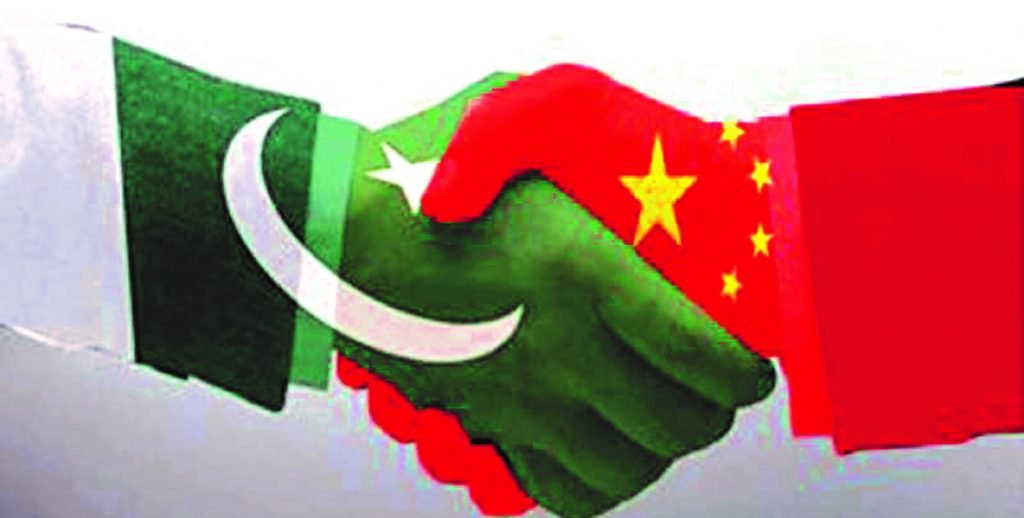 This is the reason; China has a very close strategic ties with Pakistan. Their alliance turned geopolitical interests on the front even if only remains for mutual economical interest, draws a negative attention from Washington. Foreign Policy Experts opine that, the two countries show not only the reciprocity of interests, but also the sincere desire to further expand this partnership. Pakistan views its relations with China as the cornerstone of its foreign policy, while China considers it its highest priority. The level of mutual trust in their support of each other on the core issues of national interest is clear. Pakistan has supported China on the Xinjiang, Taiwan, Hong Kong, Tibet and South China Sea issues and in the Human Rights Council. Proving time to time, that China will receive their support over any international conflict regardless of the opposition from the international community.
Mutual support and cooperation between Pakistan and China are driven not only by geopolitical considerations but also by their shared vision for upholding the principles of non-interference, peaceful coexistence, multilateralism, fairness and justice in international relations. Both oppose hegemony, unilateralism and a zero-sum approach to international affairs and support the cause of developing countries for a just and equitable global order. The best part of the neighborhood diplomacy is to promote regional cooperation by preventing common benefits. From the perspective of China, the country must belief that the key driver in international politics should be trust and cooperation, rather than confrontation.