Highlights:
Mobile Financial Services (MFS) opens a new era of financial inclusion for unbanked marginalized people.
Bangladesh Bank introduced MFS in 2011 and over the years, MFS has led the FinTech industry
Currently, 13 MFS providers operate in the country with around 198 million users.
Financial inclusion in the country has risen from 31% to 50%.
Bangladesh heading towards a 100% cashless economy under Vision 2041
MFS significantly helped poverty alleviation in the country
From anywhere, any moment, just dial a simple code on your mobile phone and transact money wherever you want— this is how we can define mobile financial services (MFS). In a significant step towards financial inclusion, MFS is reshaping the banking sector in Bangladesh, edging towards digital banking and a cashless economy.
In recent years, Mobile financial services (MFS) have revolutionized access to banking for previously unbanked millions of people, empowering them with the financial means to improve their lives. These populations, residing mostly in rural areas, were long hesitant to traditional banking services for paper works and lack of literacy.
According to Bangladesh Bank, MFS refers to the products and services provided by financial institutions through mobile devices, enabling enhanced customer access to financial services. Through MFS, individuals can conveniently withdraw cash, and send or receive money without the need to visit a physical bank.
The Rise of MFS and Digital Banking
The journey of mobile financial services began a decade ago in the country when Dutch Bangla Bank Limited pioneered the services in 2012.
The central bank also started issuing licenses for MFS to boost financial inclusion of all. Currently, 10 banks and 3 subsidiary companies are providing MFS as an alternative payment channel.
The MFS providers include Rocket, bKash, MYCash, Islami Bank mCash, Trust Axiata pay (tap), FSIBL FirstPay SureCash, Upay, OK Wallet, Rupali Bank SureCash, TeleCash, Islamic Wallet, Meghna Bank Tap `n Pay, and Nagad.
Bangladesh has achieved significant progress toward becoming a "Digital Bangladesh" by digitizing government services, simplifying financial transactions, and expanding internet and mobile access.
The launch of Bangladesh's first National Financial Inclusion Strategy (NFIS) 2021-2026 is a major step towards achieving financial inclusion for all.
As per the latest insights from a2i, the multinational digital organization founded by the Government of Bangladesh, financial inclusion has risen from 31% to 50%.
According to the 'Monthly Economic Trends – February 2023' report by the Bangladesh Bank, as of December 2022, the number of internet banking customers has crossed 6.2 million, seeing 40.83% growth over December 2021.
On the other hand, the number of mobile banking subscribers grew by 12.57% over the same period, crossing over 191 million as of December 2022.
The central bank has long been actively promoting digital banking, but COVID-19 accelerated the adoption of financial technologies at an unprecedented rate, with mobile financial services (MFS) leading the charge.
As of April this year, approximately 198 million users are registered with 13 MFS providers in Bangladesh, a country with a population of 170 million, as many individuals maintain multiple MFS accounts.
However, despite the rapid growth in registered MFS users, inactive accounts remain significantly high.
Rural people, including a significant number of women, have played a pivotal role in driving the growth of MFS.
The government's decision to distribute funds through MFS as part of its social safety net programs and stimulus packages extends the reach of the formal financial system to more unbanked individuals.
One of the most significant applications is taking place in the case of the Primary Education Stipend Programme. Some 13 million primary-level students get government stipends amounting to a total of Tk 4,000 crore through MFS.
During the pandemic, the use of MFS has increased in the education sector, from paying college admission and tuition fees to disbursement of salaries.
Over the last four years, inward remittance through MFS increased. Recently, Bangladesh has recorded its first blockchain-based instant cross-border remittance service.
The facilitation of remittance inward through MFS further boosted the booming industry and its volume of transactions. And there is potential for MFS providers to further partner with cross-border payment solutions providers for convenient and cost-effective remittance disbursement.
With the country having adopted a 100% cashless economy as a goal under its Smart Bangladesh Vision 2041, the time is ripe for MFS providers in Bangladesh to develop innovative payment mechanisms for smart cities including person-to-person transfers, business-to-person transactions, government incentives, and allowance payments, merchant payments, as well as microfinance and insurance premium payments.
Over the years, digital payment channels have seen significant traction, including the adoption of QR codes, mobile banking apps, and digital wallets.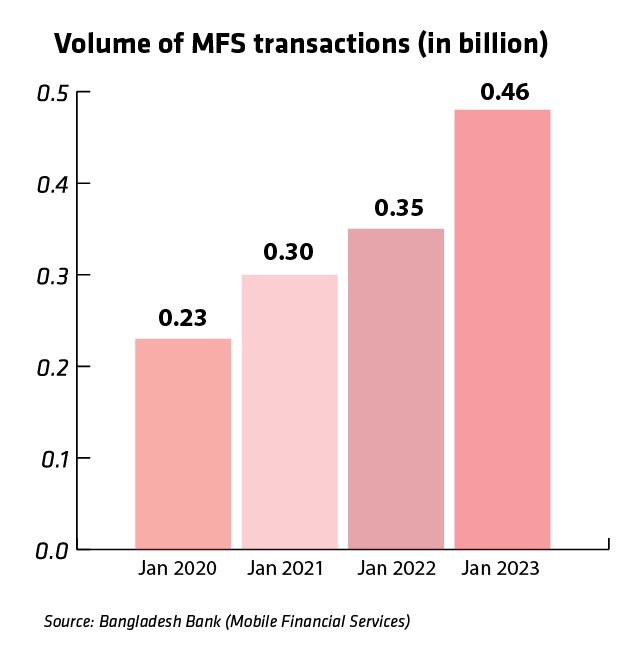 As Financial Technology (FinTechs) and MFS players continue to innovate and disrupt the Bangladesh FS landscape, banks have also looked to transform digitally through partnerships. In the ABB Digital Transformation Survey 2023, 77% of respondents mentioned that they were actively partnering with MFS players. FinTechs have been contributing innovative ideas to the start-up industry, while banks have been supporting start-ups with customer base access and their regulatory expertise. In November 2022, Bangladesh Bank launched an interoperable digital transaction platform (IDTP) to make transactions across banks, MFS players, and payment service providers seamless, and boost digital financial transactions.
Key initiatives contributing to digital payments in Bangladesh
Interoperable 'Bangla QR' pilot was launched by the Bangladesh Bank in January 2023, enabling users to pay via mobile banking apps, MFS and payment service providers (PSPs).
Launch of Interoperable Digital Transaction Platform (IDTP), 'Binimoy', in November 2022, an electronic/digital payment system, through which all the banks, MFS and PSPs can be connected.
National Digital Payments Roadmap 2022–2025 was unveiled in 2022. It provides a high-level plan to expand the adoption of responsible digital payments in a way that is agile and inclusive.
Cash recycling machines have been introduced to facilitate faster deposits and withdrawal services.
Challenges to a Cashless Economy
Despite the remarkable growth and adoption of MFS in Bangladesh, several challenges need to be addressed to achieve a seamless cashless experience. These challenges include digital literacy, fear of fraud, high costs, businesses' reluctance to digitize transactions and security concerns.
Of them, Digital Literacy is the key. We often hear about fraud activities in the name of bKash, Nagad, and other MFS providers. Thousands of people lose their money by being trapped in these fraudulent activities.
Additional steps are needed to expand MFS coverage area across the country. These include improving network coverage in rural areas, offering affordable internet services to low-income groups, promoting awareness and financial literacy, and mitigating security risks associated with using MFS through intermediaries.
By promoting economic diversification, encouraging women's labor force participation, reducing the cost of internet and smartphones, and supporting informal sector workers, the potential for MFS growth can be further enhanced.
As MFS continues to evolve and address challenges, it holds immense promise for Bangladesh's financial landscape, driving the nation towards a more inclusive and digitized future. 
The Role of MFS In Poverty Alleviation
The transformative impact of Mobile Financial Services (MFS) in Bangladesh in terms of poverty alleviation has been widely recognized. MFS providers have played a crucial role in facilitating financial access and microcredits for marginalized communities, especially the large unbanked population in rural regions.
This has empowered these communities to launch small enterprises and make significant contributions to the local economy. Among the most commonly utilized MFS services are bKash, Nagad, Rocket, Upay, SureCash, mCash, MyCash, and others.
MFS has significantly contributed to poverty alleviation through its efforts to enable unbanked individuals to engage in financial transactions and obtain microcredits, which play a crucial role in stimulating small-scale enterprises and entrepreneurial endeavors. Individuals are now able to generate income and contribute to the expansion of the local economy, thereby elevating their communities, due to their access to capital.
The potential benefits of implementing MFS in microfinance institutions include enhanced financial inclusion and improved access to finance for micro and small enterprises, which in turn could contribute to the reduction of poverty, according to a study conducted in Bangladesh in 2020. The efficacy of microfinance systems (MFS) in mitigating poverty is further underscored by the international acclaim received by Bangladesh's pioneering microcredit initiative, which has been acknowledged by both the World Bank and the United Nations.
Furthermore, a 2022 research article titled "The impact of mobile money on long-term poverty: evidence from Bangladesh" and published in Springer Nature provides further evidence that the bKash system, a prominent mobile financial services (MFS) platform, has effectively mitigated the poverty rate in Bangladesh. The study finds that a 0.71 percent decrease in poverty corresponds to an additional 1 billion Taka in mobile money transactions. This finding highlights the considerable influence of MFS on endeavors to reduce poverty and emphasizes the necessity for focused policies that extend the advantages of MFS to the most deprived segments of the population.
Former World Bank President Jim Kim lauded the MFS revolution in Bangladesh in particular for its capacity to empower women and enhance livelihoods, thereby contributing significantly to the alleviation of poverty.
In addition, the extensive implementation of MFS has expedited the disbursement of social benefits and assistance, guaranteeing that the most marginalized sectors of society have entry to vital financial support.
In addition to mitigating the effects of economic disruptions and uncertainties, this has furnished individuals experiencing financial difficulties with a safety net, allowing them to endure unanticipated obstacles and enhance their general welfare.
The various impacts of MFS, which encompass enhanced loan accessibility, insurance provision, and financial stability, have made substantial contributions to poverty alleviation and the advancement of economic and social development in Bangladesh.