Australian Prime Minister Anthony Albanese has announced notable advancements in diplomatic relations with China following extensive discussions with Chinese President Xi Jinping in Beijing.
This landmark visit began with Mr. Albanese's arrival in Shanghai, marking a significant historical milestone as the first Australian leader to undertake an official visit to China since 2016. It is perceived as a critical turning point in thawing relations, particularly in the aftermath of a series of trade and security disputes that have strained ties.
Trade issues took center stage during the four-day state visit. Prime Minister Albanese emphasized the pressing need for the removal of Chinese tariffs on Australian goods, underscoring the economic implications for Australia.
Simultaneously, President Xi Jinping expressed a mutual interest in expanding China's access to key sectors within the Australian economy. These discussions underscored the shared commitment to working in the "mutual interests" of both nations, marking a significant step forward after years of tension.
China and Australia continue to work toward reconciliation, the world observes with anticipation, hoping for a renewed era of cooperation and stability in the Asia-Pacific region.
What did Xi and Albanese say? 
During the meeting, Albanese underscored the steps taken by Beijing to alleviate certain restrictions on Australian products since their initial meeting with President Xi in Indonesia last year (2022). In his opening remarks to President Xi before the assembled media, Albanese conveyed his satisfaction with the unmistakable positive progress made in advancing the bilateral relationship.
Xi said bilateral ties had now "embarked on the right path of improvement and development", adding that exchanges had resumed and some problems had been worked out, according to state broadcaster CCTV.
As Beijing holds a preeminent position as Australia's primary trading partner, the focal point of Mr. Albanese's visit predominantly revolved around trade-related discussions. These dialogues encompassed the alleviation of barriers that have notably affected Australian exports, leading to substantial economic consequences. Additionally, the discussions aimed to forge a consensus on effective mechanisms for addressing potential trade disputes in the future.
Subsequent to their meeting, Mr. Albanese conveyed his satisfaction with the constructive dialogue between Australia and China. During their deliberations, they also delved into global conflicts, including the situation in Ukraine and the Israel-Hamas conflict, underscoring the imperative of promoting peace and security within their region. Mr. Albanese further broached the topic of guardrails and military cooperation between the United States and China, highlighting its significance in the context of regional stability.
What is the significance of Albanese's trip to China?
Australia and China's diplomatic relations have been marred by increasing tensions since 2017, primarily stemming from Canberra's apprehensions of Chinese involvement in Australian political affairs. Subsequently, the Australian government took the decision to exclude the Chinese tech behemoth, Huawei, from involvement in 5G contracts. Moreover, Australia's call for a comprehensive inquiry into the origins of the COVID-19 pandemic further strained relations with China.
In retaliation, Beijing imposed punitive tariffs on a range of Australian commodities, exacerbating the already mounting tensions, which were further compounded by the detention of Australian citizens within China. An additional point of contention between Australia and China pertains to Beijing's territorial claims in the South China Sea, where Australia aligns itself with a United Nations ruling that rejects China's territorial assertions.
However, since Anthony Albanese assumed office in May 2022, there has been a noticeable shift in China's stance. Beijing has, in a significant reversal, lifted a substantial portion of the restrictions that had placed considerable financial strain on Australian exporters, potentially costing them up to 20 billion Australian dollars.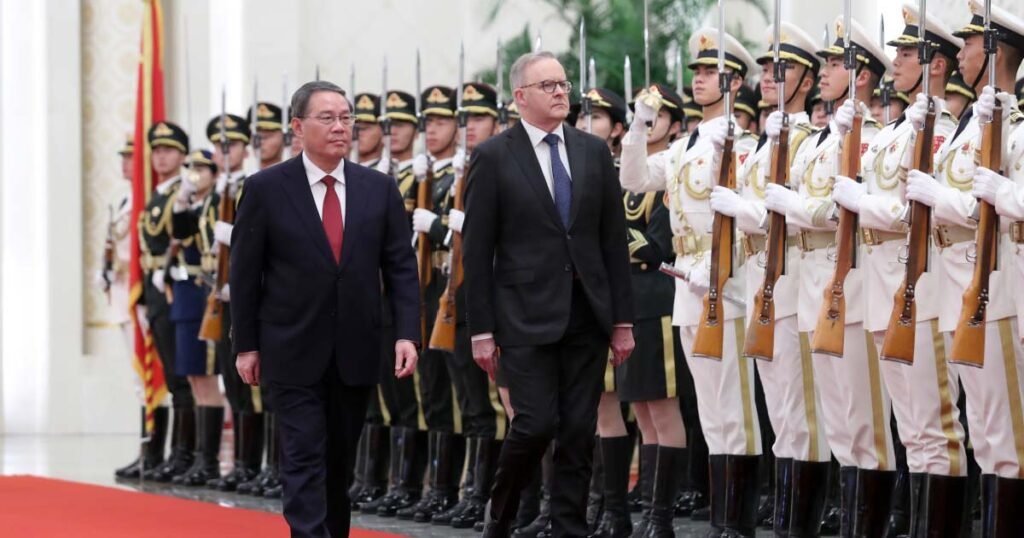 Australia-China Bilateral Relations
In 1972, Australia established diplomatic relations with the People's Republic of China, and subsequently, in 1973, opened an embassy in Beijing. The bilateral relationship between Australia and China is characterized by robust economic and trade ties, as well as deep-rooted cultural and community connections.
In 2014, the leaders of both countries agreed to elevate their relationship to a "comprehensive strategic partnership." Despite recent challenges that have strained this relationship, the Australian government remains committed to fostering a mutually beneficial and respectful partnership with China, aligning with their shared interests while safeguarding Australia's national sovereignty.
Recognizing the fundamental disparities in history, society, and political systems between the two nations, as well as differences in perspectives on critical issues, Australia adheres to a one-China policy, refraining from recognizing Taiwan as a separate country. Nevertheless, Australia maintains unofficial contacts with Taiwan to promote economic, trade, and cultural interests.
Regional security
China and Australia face remaining obstacles in their relationship, particularly concerning security issues in the Asia Pacific, where China has become more assertive regarding its South China Sea claims. Australia's involvement in the Quad and AUKUS groups, which includes cooperation with the US and the UK on nuclear submarine technology, is a point of contention. Australia has also expressed concerns about Beijing's influence in the Pacific Islands. Additionally, Prime Minister Albanese emphasized the importance of regional stability, guardrails, and military-to-military cooperation between the United States and China during their discussions.
In conclusion, Prime Minister Albanese's visit to China signifies a critical step towards mending relations and fostering a climate of cooperation between two nations that hold immense significance in the Asia-Pacific region and the world at large. As the world watches these developments with optimism, the hope for a more stable and harmonious future in the region remains a beacon of possibility.