"We hold strong belief that this effort will equip nations like Bangladesh to combat climate change, address infrastructure shortcomings, foster investments in renewable energy, digital innovation, healthcare, education, and many other areas." – Prime Minister Sheikh Hasina
Prime Minister Sheikh Hasina and President of the European Commission Ursula von der Leyen joined forces at the Global Gateway Forum on Wednesday to kickstart negotiations for a new Partnership and Cooperation Agreement. The EU, the European Investment Bank (EIB), and Bangladesh have, formalized agreements totaling €400 million for renewable energy projects, with the primary objective of promoting a sustainable, green transition within Bangladesh's power sector and helping the country meet its climate mitigation goals.
Five other initiatives, valued at €70 million, were introduced to promote education, sustainable employment, eco-friendly construction, digital governance, and the combatting of gender-based violence.
The Global Gateway Forum marks the inaugural gathering of government officials representing the European Union and countries worldwide, joining forces with influential figures from the private sector, civil society, thought leaders, financial institutions, and international organizations. This convergence aims to foster worldwide investment in both physical and intangible infrastructure, all with the goal of advancing the Sustainable Development Goals (SDGs) and ensuring global sustainable growth and resilience.
Moreover, there's a supplementary project called the Green Energy Transition, with a budget of €12 million, of which €7 million is jointly funded by Germany. Its objective is to streamline the policy framework, legal structure, and investment conditions in order to foster an inclusive transition to green energy.
Effects on Bangladesh's energy domain
The projects are anticipated to have a positive impact on energy access and rural development throughout Bangladesh, focusing on utility-scale solar photovoltaic and onshore wind installations, potentially incorporating battery energy storage systems. This operation aims to contribute to the addition of an estimated 750 MWp of new renewable energy capacity in Bangladesh.
Furthermore, these investments have the potential to advance power distribution and decentralization, leading to increased national and, possibly, regional connectivity and resilience.
Technical assistance and innovation
As part of technical aid, the EU will facilitate the examination of project ideas focused on the coexistence of energy generation and agricultural production on a common land area. These projects may involve solar energy, hybrid solar or wind setups, and solar systems coupled with energy storage technologies.
Solar and onshore wind initiatives will be linked to the national grid, with regulatory oversight from the Ministry of Power, Energy, and Mineral Resources. The Partnership for Green Energy Transition aims to establish a legal framework in Bangladesh that encourages investment in the green energy sector, while simultaneously enhancing job prospects for women working in the energy industry.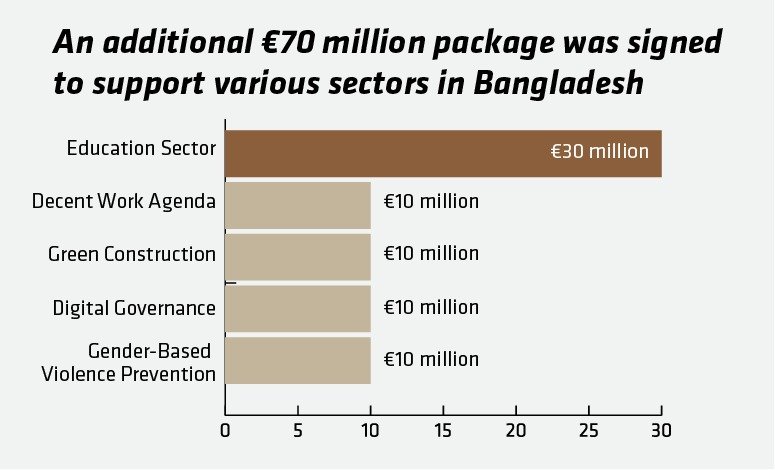 50th Anniversary of EU-Bangladesh Relations
Addressing the audience in Brussels, President Ursula von der Leyen emphasized, "The EU and Bangladesh have shared a dependable and enduring partnership spanning five decades. Today, we embark on a journey to deepen this collaboration, seizing the prospects presented by the Global Gateway's green transition. The European Commission, the EIB, and Bangladesh will collaborate to promote renewable energy and combat climate change. This €400 million investment will have a meaningful impact on both the people of Bangladesh and its economy."
EBA has been instrumental in Bangladesh's journey to becoming the European Union's top trading partner. Currently, over 50% of Bangladesh's exports find their way to the EU, and the nation has even surpassed China as Europe's primary supplier of garments. Over time, this collaboration has broadened to encompass additional focal points, including climate change, green energy, and, notably, security concerns.
In 2022, a landmark moment was reached in the relationship between Bangladesh and the European Union, as they initiated their first-ever political dialogue, reinforcing their commitment to cooperation in various domains. One of the notable areas of collaboration is Bangladesh's active participation in the EU CRIMARIO project, which seeks to enhance maritime security and safety in the wider Indian Ocean.
On the global platform, the EU expressed its appreciation for Bangladesh's backing during these critical moments. In October of the previous year, Bangladesh demonstrated its commitment to the principles of the UN Charter by voting in favor of the EU-sponsored UN resolution in support of Ukraine's territorial integrity.
2023 could mark a pivotal moment. The pandemic and the conflict in Ukraine, despite the hardships and ongoing struggles, have acted as a driving force for the EU's "green and digital double transformation," signifying the upgrade of our worldwide energy and digital infrastructures to align with a carbon-neutral economy. The EU's Global Gateway initiative, aimed at linking nations and regions, lends vital support to this transition. This year commemorates the 50th anniversary of diplomatic ties between the EU and Bangladesh. Over these five decades, the relationship has deepened and broadened, encompassing politics, trade, development, climate change, and connectivity.
The dynamic collaboration between Prime Minister Sheikh Hasina and President Ursula von der Leyen at the Global Gateway Forum sets a promising course for the future. Their joint commitment to a new Partnership and Cooperation Agreement, along with substantial investments in renewable energy and various other initiatives, reflects a shared vision for a greener, more sustainable Bangladesh.
These endeavors are not only a significant milestone in EU-Bangladesh relations but also a testament to the power of international cooperation. As we celebrate the 50th anniversary of this enduring partnership, it's clear that the Global Gateway Forum represents a gateway to a more sustainable, interconnected, and resilient world. Together, they aim to tackle climate change, empower communities, and advance the Sustainable Development Goals, embodying the spirit of friendship, partnership, trust, and symbiotic interdependence on a global scale.