A recent meeting between Prime Minister Sheikh Hasina and the President of the European Investment Bank (EIB) took place in Brussels. During their exchange, Prime Minister Hasina took pride in highlighting the accomplishments achieved in providing safe water and sanitation to nearly 97% of Bangladesh's population.
With vision and foresight, Prime Minister Hasina urged the EIB to consider extending support for crucial initiatives like river dredging, water conservation, and surface irrigation, aimed at fortifying the nation's water resources.
Bangladesh composed to lead in vaccine production
In addition to these vital infrastructure projects, the PM shared the government's commitment to developing a dual-track railway system that would facilitate cost-effective passenger and container traffic. She commended the keen interest shown by multilateral development banks in financing such transformative connectivity projects.
Dr. Werner Hoyer, President of EIB, conveyed his profound appreciation for the prudent deployment of a Euro 1 billion loan portfolio in Bangladesh since 2000. This substantial contribution has significantly advanced shared priorities in the country. He particularly noted the commendable progress in projects related to water treatment and rail link upgrades, projects that are currently underway.
Notably, President Hoyer referred to the Euro 250 million loan package signed in 2021, marking a significant milestone. He announced that disbursements for this allocation would soon commence, with the aim of strengthening the health system—a crucial priority, especially in the context of the ongoing global health challenges.
President Hoyer recognized Bangladesh's unique position to embark on vaccine production initiatives and expressed his view that the nation was ideally positioned for such endeavors.
Prime Minister Hasina, in response, detailed the government's initiatives to establish a vaccine production facility and a molecular testing laboratory. She made a compelling case for EIB to extend its support for the essential infrastructure development required for these critical projects.
Bangladesh poised to play vital role in EU's pharmaceutical diversification
Prime Minister Hasina highlighted Bangladesh's potential to aid the European Union in diversifying pharmaceutical, vaccine, and medical equipment production, fostering the prospect of fruitful collaboration. Discussions also addressed the pressing need for tackling dengue outbreaks, including vaccine development and distribution, demonstrating both parties' dedication to strengthening their partnership. The European Investment Bank, the world's largest multilateral public bank, has been a leader in transformative investments. Since its inception in Bangladesh in 2000, it has supported six significant projects, investing over Euro 670 million in water, transportation, and healthcare initiatives. This enduring partnership underscores their joint commitment to positive change.
PM's high-level engagements in Brussels unveiled
On Wednesday, October 25, 2023, Prime Minister Sheikh Hasina passionately appealed to the European Union (EU) for an extension of business facilities under the Generalized System of Preferences Plus (GSP+) program for Bangladesh, similar to other developing nations. This fervent request aims to support Bangladesh in its journey towards prosperity after its recent graduation from the status of a Least Developed Country (LDC).
During her visit to Brussels, Belgium, starting on the evening of October 24th, Prime Minister Hasina actively participated in nine significant events. These included her involvement in the opening plenary session of the Global Gateway Forum, along with various crucial side events and bilateral dialogues. She engaged in talks with prominent figures such as EC President Ursula von der Leyen, Trade Commissioner and Executive Vice President of EC Valdis Dombrovskis, Commissioner for Crisis Management of the EC Janez Lenarcic, Vice-President of the European Parliament Nicola Beer, European Investment Bank President Dr. Werner Hoyer, and Commissioner for International Partnerships of the EC Jutta Urpilainen.
In these discussions, each participant expressed deep admiration for Bangladesh's remarkable development under Prime Minister Hasina's visionary leadership. In return, Prime Minister Hasina expressed her heartfelt gratitude to the EU for its pivotal role in fostering socio-economic development in Bangladesh.
Crucially, the discussions between Prime Minister Hasina and EU leaders focused on elevating the existing 50-year bilateral relations to new heights. She also agreed to engage in negotiations for a partnership agreement with the EU, signifying a significant step forward in the relationship.
In her address, the Prime Minister also requested the EU's continued support, particularly in the form of trade preferences for Bangladesh, to ease the nation's transition after its recent LDC graduation. She praised the EU as a reliable partner in trade, development, and humanitarian efforts, making a fervent plea for their ongoing trade preferences as Bangladesh pursues economic growth.
Sustainable economic development at the heart of PM Hasina's vision
Prime Minister Hasina further called upon the EU member countries to consider making substantial investments in Bangladesh, with a special focus on the country's burgeoning special economic zones and high-tech parks. She painted Bangladesh as an attractive investment destination in South Asia and extended a warm invitation to EU investors to explore the abundant opportunities within the Special Economic Zones and Hi-Tech Parks, offering them a glimpse of the nation's investment-friendly environment.
The Prime Minister also highlighted the scope for collaboration on matters related to decent work and the circular economy, laying the groundwork for sustainable economic development.
Moreover, Prime Minister Hasina expressed Bangladesh's eagerness to collaborate with the EU in the promotion of green hydrogen. She emphasized the potential benefits of tapping into the EU's expertise in the sustainable use of marine resources and the importance of investing in cold chain networks to preserve agricultural outputs.
Prime Minister Sheikh Hasina conveyed the readiness of Bangladesh's dynamic and youthful population to participate in the European Union's skills and talent partnership programs, further cementing the bonds of collaboration. With unyielding confidence, she expressed her belief that the Global Gateway initiative will play a pivotal role in realizing Bangladesh's vision for a 'Smart Bangladesh' by the year 2041.
The Prime Minister proudly highlighted Bangladesh's remarkable economic growth, noting that it has ascended to become the world's 34th largest economy. Over less than 15 years, Bangladesh's economy has surged from 70 billion dollars to an impressive 465 billion dollars. She emphasized the incredible progress made in poverty alleviation, with extreme poverty declining from 25.1 percent in 2006 to just 5.6 percent.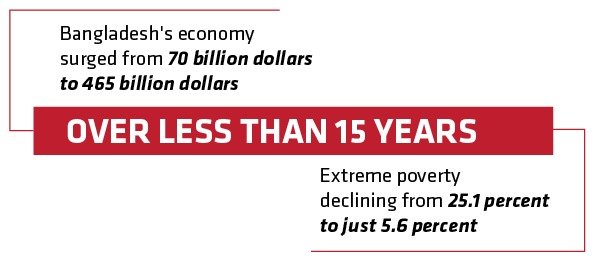 Prime Minister Hasina outlined the comprehensive efforts undertaken by her government to ensure food security, universal school enrollment, community-based healthcare, access to safe water and sanitation, cost-free housing, rural communication, disaster resilience, climate adaptation, nationwide electricity coverage, universal internet access, industrial growth, infrastructure development, and, most significantly, the empowerment of women. She emphasized their transition from climate vulnerability to resilience and prosperity.