The first organized ice cream shop in Dhaka was established in Gulistan by the Baby Ice-Cream Company in the late 1950s or early 1960s.
Ice-cream is a universally beloved treat, enjoyed by people both near and far, in small towns and bustling cities alike. This delightful frozen dessert holds a special place in the hearts of people worldwide. While many relishes its sweet and creamy goodness in Bangladesh and beyond, not everyone is well-acquainted with the fascinating history of this beloved frozen delight.
Throughout the annals of history, prominent individuals from diverse cultural backgrounds have exhibited a penchant for frozen confections. Notable examples include Alexander the Great, who favored honeydew ice cream, King Solomon from the Bible, known for his appreciation of iced water, and the Roman Emperor Nero Claudius Caesar, who delighted in the practice of collecting mountain snow to drizzle over fruit.
Advancing to more recent times, following his return from China to Italy, Marco Polo documented a dessert akin to sherbet. Additionally, in the 17th century, King Charles I of England made a habit of featuring ice cream at his dining table.
The earliest documented ice cream advertisement in America graced the pages of the New York Gazette in 1777. During the summer of 1790, President George Washington of the United States invested a substantial sum, close to $200, in the indulgence of ice cream. Up until the 19th century, ice cream remained a luxurious treat reserved for the upper echelons of American society, remaining out of reach for the common populace.
Historical Insights
The Mughal Influence: Kulfi
Nevertheless, Dhaka-based historian Hashem Sufi points out that the Mughals were instrumental in introducing ice cream, particularly Kulfi, to the world. It remains highly popular in India today and has an equal level of acceptance in Bangladesh. Kulfi was crafted in Emperor Akbar's royal kitchen in rectangular metal moulds. It was a favorite among the elite. Additionally, when frozen, it could be turned into a dessert known as Tutti Frutti by adding Faluda.
Baby Ice Cream and Dhaka's Frozen Legacy
Notably, in Dhaka, after the partition, there was a development in the ice cream industry. Filmmaker Zaheer Raihan produced Pakistan's first color film, Sangam, featuring Harun as the hero. Harun's father, an industrialist, established the Baby Ice Cream Factory in the 1950s, located in Azimpur. Baby Ice Cream was among the first in Dhaka to introduce attractive packaging for ice cream in various shapes such as angular, square, or round. Initially, they sold ice cream in the local neighborhoods and near school gates through street vendors. At that time, ice cream was stored in portable foam-lined wooden boxes, keeping it frozen for most of the day but melting by the afternoon. In East Pakistan, ice cream businesses were mainly run by people from the Agakhani, Gujarati, or Mumbai communities.
Ice Cream Factories in India
According to historian Hashem Sufi mentions that ice cream factories were established in India during the British East India Company era. This provided employment opportunities for Christian converts, who would ferry ice creams on the streets. Anglo-Indians also made cakes and ice creams at home, which were then transported and sold by locals. It's not difficult to imagine that mass production was challenging during those times.
Sufi also extensively explores a distinct type of ice cream known as "Pankha ice cream." To create this ice cream, ice was placed in a leather bag and crushed using a wooden stick. Various shapes, such as fans and umbrellas, were molded, resulting in ice cream with unique designs.
First Organized Ice-Cream Shops
The first organized ice cream shop in Dhaka was established in Gulistan by the Baby Ice Cream Company in the late 1950s or early 1960s. In 1950, the government acquired the Gulistan area, and plans were made for cinema halls, markets, and more. In 1954, Gulistan began to take shape, and the Baby Ice Cream parlor undoubtedly added to its appeal. Ice cream was also available in the Gulistan Cinema Complex along with coffee.
Additionally, there was a well-known ice cream shop called "Novel" in the southeast corner of New Market, possibly introduced in the mid-1960s. It was popular among ice cream enthusiasts and served as a recreational spot for upper-middle-class families. During that era, New Market was considered an upscale and fashionable area.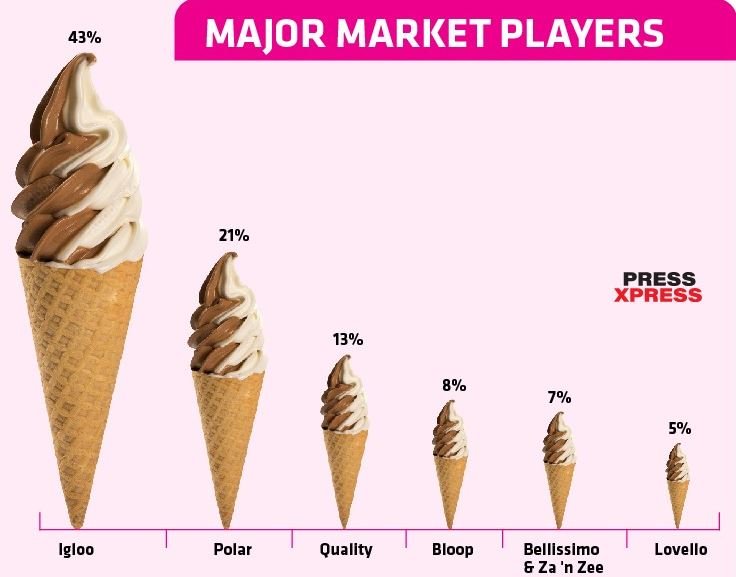 Booming Ice-Cream Market in Bangladesh
A recent study indicates that the ice cream industry is experiencing rapid growth in Bangladesh, driven by rural consumers and an increase in per capita income across the nation. This expansion has been facilitated by extensive electrification, particularly in rural areas, where the widespread use of refrigerators has significantly boosted the demand for ice cream.
The study also points out that the overall socio-economic progress in the country has influenced the food preferences of millions, leading to the considerable expansion of the ice cream market. In fact, Bangladesh has now surpassed neighboring India and is competing with the global market in terms of market size. According to the study, "In comparison to the overall GDP, Bangladesh's ice cream industry is on par with Europe and the global market as a whole, and it is notably larger than neighboring India."
Turning attention to the domestic ice cream market, it has witnessed consistent annual growth of 12-15% in Bangladesh since 2010. While it faced a temporary setback due to the COVID-19 pandemic, the market swiftly recovered.
This expansion can be attributed to several factors, including climate changes, longer summers, a burgeoning middle class, evolving tastes of the new generation, and urban sprawl.
The ice cream market in Bangladesh now boasts a value exceeding Tk 2000 crore, with branded companies commanding a dominant 97% share. The remaining slice is occupied by locally made ice cream.
Among these brands, three major players capture 75% of the market. Notable ice cream brands in the country encompass Igloo, Polar, Quality, Bellissimo, Savoy, Bloop, Lovello, Za 'n Zee, and Mi Amore.
Igloo holds the distinction of being the oldest ice cream brand in the country since Baby Ice Cream is no longer in production. In 1964, K Rahman & Co. initiated ice cream production on a small scale at the Coca-Cola bottling plant in Chittagong. In the same year, they established an ice cream parlor in Dhaka.
After the country's independence, this institution was nationalized but later acquired by Abdul Monem Limited in 1983, following the government's foreignization policy. According to a report on May 19, 2022, Igloo holds 43%, Polar 21%, Quality 13%, Bloop 8%, and Bellissimo and Za 'n Zee together holds 7%, while Lovello secures 5% of the domestic ice cream market in the country.
Igloo primarily targets the upper and middle classes. For instance, Igloo Vinetta caters to the upper class, while products like Snow Ball and Mango Magic are designed to appeal to children with attractive packaging.
Igloo also offers cartoon-themed ice cream for kids. In addition to Macho and Mega for the youth, the company presents the heart-shaped Sweet Heart ice cream, ideal as a special gift for loved ones.
For chocolate enthusiasts, Igloo offers Ego, Igloo sandwiches, and more. In retail grocery stores, Igloo provides freezers for storing and displaying their products. Moreover, hundreds of Igloo trolleys can be found across the country, primarily in schools, colleges, parks, and recreational centers.
The dependence on foreign ice cream brands like Baskin Robbins or Movenpick is dwindling due to the accelerated production of high-quality ice cream in the country.
Nonetheless, certain raw materials, such as milk fat, still require importation from countries like Australia, New Zealand, or Denmark. There is an optimistic anticipation that these raw materials will soon be domestically produced.
Conclusion
In conclusion, ice cream is more than just a sweet treat; it embodies a delightful fusion of history, culture, and innovation. From its ancient origins to its evolution into a global dessert sensation, ice cream has continually adapted and delighted generations of people worldwide. Whether enjoyed on a hot summer day or a cozy winter evening, its universal appeal transcends time and borders. The ice cream industry's growth, driven by diverse consumer preferences and economic factors, reflects its resilience and capacity for adaptation.