Bangladesh is gaining prominence as a prominent global sourcing hub for leather products and footwear.
Bangladesh has emerged as a key player in the global leather goods and footwear industry, offering high-quality products at competitive prices. Country's second-largest export sector is having a remarkable transformation in the first half of FY 2023-2024 attributing to the diversification of leather products and expanding market reach.  The Government of Bangladesh has declared the leather industry as a thrust sector for its labor-intensive industry and growing global demand. Defining the leather's significance, The Government of Bangladesh has declared leather as a priority sector and even declared the FY 2016-17 as the "Leather Year".
One of the oldest industries in Bangladesh, the leather industry is the country's second-largest contributor to Bangladesh's export earnings after the RMG sector. Bangladesh accounts for 3% share in the global leather and products market, with 1.8% of global cattle stock and 3.7% of goat stock. By 2020, the country has become the 8th largest global footwear producer in the world, contributing 2.1% to the global shoe production. The industry has employed around 0.85 million people in which 60% of this workforce is women. Where Bangladesh has Global Leather & Products Market Share of 3% and Global Footwear Products Market Share of 2%.

The Leather Industry of Bangladesh
At present, the Bangladesh leather industry is segmented into different categories, with one such segment being the "Tanning & Finishing" sector. The leather goods and Footwear Manufacturers & Exports Association of Bangladesh (LFMEAB) has reported the presence of 200 tanneries and 3,500 Micro, Small, and Medium Enterprises (MSMEs) in Bangladesh. Within this domain, tanneries are involved in manufacturing crust leather, finished leather, and wet blue leather. Additionally, the "Footwear" sector, alongside footwear component manufacturing, makes a significant contribution to the overall leather industry. With 2,500 footwear units and 90 large firms, this segment plays a pivotal role in meeting both domestic and outside demand.
Downfall of Early 2023
The leather footwear exports from Bangladesh have faced challenges in the fiscal year 2022-2023 due to the economic impact of the Russia-Ukraine war, resulting in a meager year-on-year growth of 4.12% in export earnings, totaling $458.59 million from July to February. Meanwhile, leather product shipments performed better, with a 22.23% growth, generating $246.07 million. However, finished leather exports slumped by 8.87% to $77.27 million. In the latter part of the fiscal year, leather footwear exports further declined by 4.28% year-on-year due to reduced orders from Europe, the primary market, resulting in $644 million in shipments, down from $756 million in the previous year. Overall, exports from the leather and leather products sector, the second-largest export-earning industry after garments in Bangladesh, saw a modest 0.42% increase, reaching $1.12 billion in July-May 2023. This decline is attributed to Europeans reducing consumption amid a cost-of-living crisis, with the trend expected to persist until the European economy stabilizes.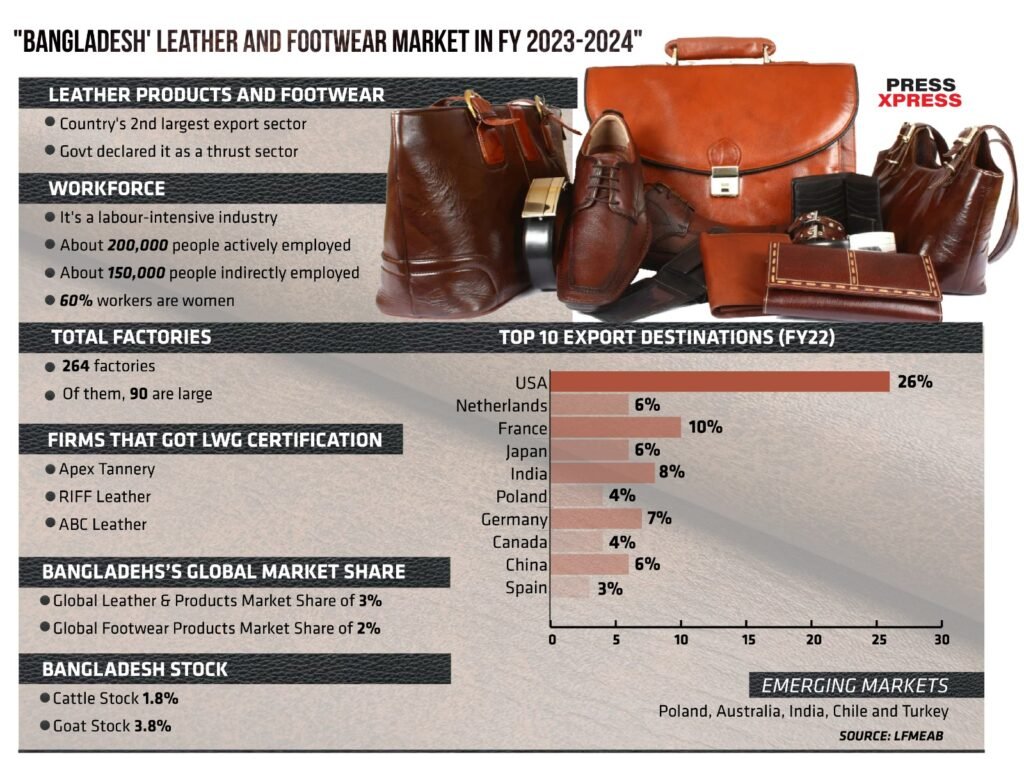 Recovery: Twin Pillars of Success
Soon after with the help of apt policies, the Leather Industry of Bangladesh started showing immense progress as they are enforcing Bangladesh's 200 Tanneries and 3,500 Micro, Small, and Medium Enterprises. Through the well implementation of the policies and increasing market price, after meeting the domestic demand, the surplus footwear has been exported worldwide at the end of August. Consequently, globally distinguished brands such as ABC Mart, Adidas, Aldo, Esprit, Hugo Boss, H&M, Kate Spade, K-Mart, Michael Kors. Marks & Spencer, Nike, Steve Madden, Sears, Timberland, and others source their necessary leather goods and footwear from Bangladesh. Moreover, the production of leather accessories including belts, bags, jackets, suitcases, wallets, and various decorative items has become a key segment within Bangladesh's leather industry generating 17,000 Crore more just from the Domestic Footwear Market also acquiring competitive price for good quality and affordability in global market. This is a result of a comprehensive approach that combines skilled labor, efficient manufacturing processes, and a robust supply chain as it is a labor-intensive industry where 60% labors are female. With quality products offered at affordable rates, international buyers have turned their attention to Bangladesh, diverting their sourcing from countries like China and Vietnam

The Rise and expansion of Bangladesh in the Leather & Footwear Industry
Over the years, Bangladesh has evolved into a dependable source for leather goods and footwear. This transformation is primarily driven by the diversification of leather products and the expansion of market reach. This shift is exemplified by the introduction of new products, such as sneakers, backpacks, leather homeware, and molded luggage, in markets like India, Turkey, Algeria, Poland, and Chile. In addition, the collaborative efforts of the public and private sectors have played a significant role in upgrading the leather industry.
 According to Syed Nasim Manzur, president of the Leatherwoods and Footwear Manufacturers & Exporters Association of Bangladesh (LFMEAB), "Bangladesh is growing as an important sourcing destination for global leather footwear and leather goods."
Key policies played a pivotal role in the industry's resurgence:
Leather Industry Development Policy (LIDP) 2019-24: This policy offered incentives such as tax benefits, reduced import duties on machinery and raw materials, access to financing, and support for participation in international trade fairs. It also focused on environmental sustainability and the enhancement of product quality.
National Leather Industry Master Plan 2016-25: This plan aimed to improve the quality of leather products, increase market access, and promote sustainable production practices.
Leather and Leather Goods Development Policy 2019: This policy encouraged a more sustainable, compliant, and environment-friendly industry, emphasizing compliance, waste management, and innovation.
Ten-Year Perspective Plan: The Ministry of Commerce set a target to increase the sector's export earnings to $10-12 billion by 2030, positioning Bangladesh among the top global exporters of leather.
Global Reach and Renowned Buyers
Bangladesh has successfully ventured into supplying various leather products, including shoes, wallets, sandals, belts, accessories, flip-flops, and various types of boots, to prominent global retailers. Brands like Fila, Deichmann, Timberland, Aldo, H&M, Marks and Spencer, S.Oliver, and Wolverine have become avid consumers of Bangladesh's leather goods and footwear. The country now exports more than 18 million pairs of shoes worth $453 million to the United States, establishing a 26 percent share in the market. Additionally, Bangladesh has witnessed a substantial 434 percent increase in footwear exports to India over the past five years. This expansion of the market signifies a bright future for Bangladesh's leather industry.
Impressive Export Growth
 Currently Bangladesh has about 264 factories, where approximately 120 new factories have opened in Bangladesh, with many international buying houses establishing offices in the country to source footwear. This shift is due to the quality products available at competitive prices in Bangladesh. These exporters are transitioning from sourcing products from traditional manufacturing hubs like China and Vietnam to tapping into the emerging potential of Bangladesh's leather industry. Bangladesh's leather sector has come a long way in terms of export numbers. From sectoral exports worth $224 million in FY 2009, the industry has surpassed the $1.7 billion mark in FY 2023. These figures highlight the remarkable growth and transformation of the industry, which has diversified beyond traditional leather items.
Diverse Product Range
Bangladesh is now supplying a wide array of leather products, including shoes, wallets, sandals, belts, accessories, flip-flops, and various types of boots to leading global retailers like Fila, Deichmann, Timberland, Aldo, H&M, Marks and Spencer, St. Oliver, and Wolverine. This diversification has been pivotal in expanding Bangladesh's reach in the global market. While raw leather once dominated the industry with over 50 percent of the market share, finished leather products now account for more than 90 percent of the sector's exports. This shift underscores Bangladesh's progress in manufacturing value-added, finished products that cater to diverse consumer demands.
Challenges and Opportunities
Despite its impressive growth, Bangladesh's leather industry faces challenges, including longer lead times compared to competitor countries. Domestic producers take 90 to 100 days to fulfill orders, compared to 45 to 60 days in other countries. To overcome this, the industry is focusing on higher value addition, product diversification, and emerging design capabilities, aiming to shift from volume-based to value-based exports. Several footwear manufacturers in Bangladesh are investing in the sector's future. Companies like ABC Footwear Industries Limited and Maf Shoes Limited are expanding their export volumes and adopting the latest technology in their factories. Additionally, some companies are investing in setting up industrial parks for leather goods and backward linkage industries, further strengthening Bangladesh's position in the global market.
Prime Minister Sheikh Hasina announced the formation of a leather industry development authority to enhance the sector's growth. This move aims to develop area-based tannery industries, which would boost the preservation, processing, and use of leather, ultimately turning it into a major industry for Bangladesh. Bangladesh's leather industry has come a long way, diversifying its product range, expanding its global market share, and improving the quality of its goods. The industry's growth and transformation are remarkable, with Bangladesh now emerging as a leading sourcing hub for leather goods and footwear on the global stage. While challenges persist, the industry's ability to adapt, invest in technology, and focus on value-added exports positions it for a promising future in the global market.