In a world where leadership often falls short of expectations, Sheikh Hasina, the Prime Minister of Bangladesh, shines as a beacon of hope and inspiration. Her unique blend of visionary leadership and diplomatic finesse has not only transformed her nation but has also earned her a place of respect and admiration on the global stage.
At the heart of Sheikh Hasina's leadership lies a vision of a prosperous and developed Bangladesh. When she assumed office in 2009, she brought a clear roadmap for the nation's progress. This roadmap, known as "Digital Bangladesh," aimed to harness technology's power to uplift ordinary citizens' lives. It was a vision that many doubted, but Sheikh Hasina's determination turned skepticism into reality. And now, Bangladesh has embarked on a journey towards becoming a "Smart Bangladesh." This ambitious initiative envisions integrating technology and innovation into governance, economy, society, infrastructure, and services to citizens.
The beauty of her leadership lies not just in grand plans but in tangible results. Under her guidance, Bangladesh has made remarkable strides in reducing poverty, improving healthcare and education, and ensuring access to electricity for all. These achievements have improved the lives of millions and garnered international recognition for the nation's socio-economic advancements. Her leadership in advancing the Sustainable Development Goals (SDGs) has not gone unnoticed. In 2021, she received the prestigious "Champions of the Earth" award from the United Nations for her exceptional environmental preservation and sustainable development efforts. This accolade reaffirms her status as a global advocate for positive change. It underscores her dedication to creating a more sustainable and prosperous world.
One of the most striking aspects of Sheikh Hasina's leadership is her commitment to inclusivity. She champions the cause of the marginalized and vulnerable segments of society. Her government's initiatives to provide housing for people experiencing homelessness, ensure food security, and promote employment opportunities exemplify her dedication to improving the quality of life for all citizens. In a world where the gap between the haves and the have-nots is widening, Sheikh Hasina's inclusive policies serve as a beacon of hope. Her vision of a Bangladesh where no one is left behind resonates deeply with her people, instilling a sense of belonging and empowerment.
Diplomacy and Statesmanship
Sheikh Hasina's charisma extends beyond her national borders. Her diplomatic finesse has earned Bangladesh a respected place in the global community. She has skillfully navigated the intricate web of international relations, strengthening bilateral ties and positioning Bangladesh as a responsible and influential player on the world stage.
One of the defining moments of her diplomatic career was the resolution of long-standing disputes with neighboring India. Through her statesmanship and commitment to peaceful coexistence, she oversaw the settlement of the enclave issue and the demarcation of maritime boundaries. These achievements brought stability to the region and showcased her ability to foster diplomatic solutions.
But Sheikh Hasina's diplomacy goes beyond dispute resolution. She actively engages with global leaders on critical issues such as climate change, migration, and sustainable development. Her leadership on climate change, mainly, has earned her international acclaim. Bangladesh, a country vulnerable to the impacts of climate change, has become a strong voice in advocating for climate action thanks to Sheikh Hasina's passionate and persuasive advocacy. One cannot help but notice the respect and praise Sheikh Hasina garners from world leaders. Their admiration for her continued leadership and Bangladesh's economic growth is a testament to her impact on the global stage. Her interactions with global leaders have not been mere formalities but genuine expressions of admiration. Endorsements from international peers underscore the profound influence Sheikh Hasina wields.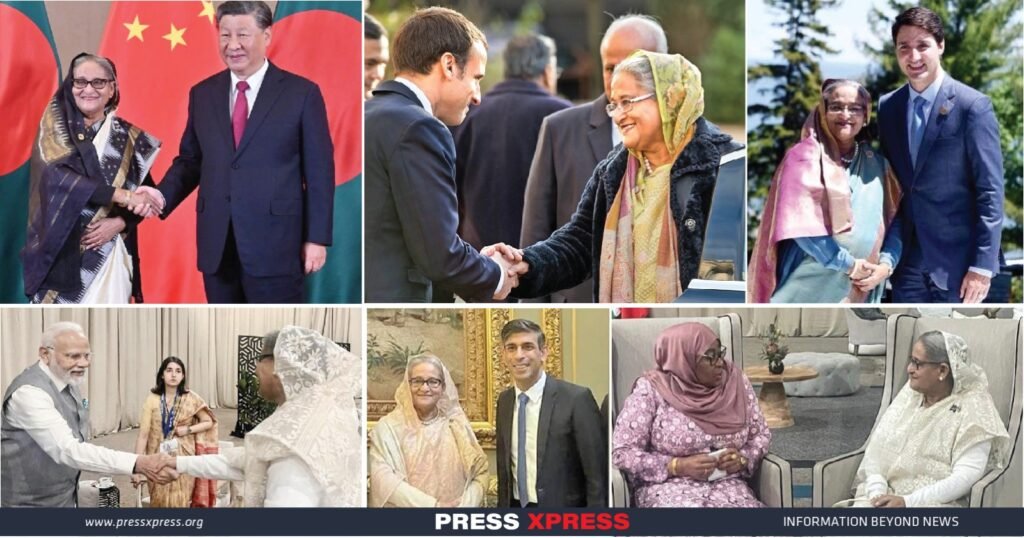 Sheikh Hasina's leadership journey has not been without its challenges. She has faced adversity with resilience and determination. Her bold actions in bringing war criminals to justice and maintaining a "zero-tolerance" policy on terrorism and corruption have demonstrated her commitment to upholding justice and security. These actions have contributed to the nation's healing process and stability. Sheikh Hasina's leadership in the Rohingya crisis exemplifies her dedication to upholding human rights and offering a haven to those in desperate need, even in the face of overwhelming challenges. Under her leadership, Bangladesh has navigated the challenges of the pandemic with resilience and a focus on safeguarding the health and well-being of its citizens.
Moreover, Sheikh Hasina's leadership is marked by a rare quality—her willingness to hold her party members accountable for their actions. Her actions of removing party leaders for misconduct send a powerful message that no one is above the law, not even within her ranks. This commitment to accountability is a beacon of hope for transparent governance and the rule of law.
A Leader of the People
Beyond her policies and diplomatic successes, Sheikh Hasina's personal qualities endear her to her people and global leaders. Her humility, accessibility, and genuine concern for the well-being of her citizens are qualities that set her apart as a leader who connects with the hearts of her people.
Sheikh Hasina's leadership is not confined to her nation; it extends to advocating for global peace and progress. Her dedication to sustainable development and climate action has earned her a place of respect among leaders worldwide.
As a leader of a nation vulnerable to the impacts of climate change, Sheikh Hasina has been a passionate advocate for climate action on the global stage. She understands the urgency of addressing climate change and its potential to devastate communities, especially in low-lying coastal areas like Bangladesh.
Under her leadership, Bangladesh has made significant strides in climate resilience and adaptation. The country has implemented innovative solutions to mitigate the effects of rising sea levels and natural disasters. Sheikh Hasina's commitment to climate action serves as an inspiration to other nations facing similar challenges.
Sheikh Hasina's leadership has shaped the present and inspired a new generation of leaders. Her resilience in adversity, commitment to justice, and dedication to inclusive development are potent examples for young leaders worldwide.
Young Bangladeshis look up to Sheikh Hasina as a role model. Her journey from adversity to leadership is a testament to the possibilities of hard work and determination. She encourages young people to dream big, pursue education, and actively participate in the nation's progress.
A Legacy of Leadership
As Sheikh Hasina completes her 15th consecutive year in office, her legacy of leadership and diplomacy becomes more apparent. Her unwavering commitment to Bangladesh's progress, her ability to navigate complex international relations, and her genuine concern for the well-being of her people define her as a leader for the ages.
In a world where leadership is often marred by self-interest and short-term gains, Sheikh Hasina symbolizes moral leadership. Her vision for a prosperous, inclusive, and sustainable Bangladesh is a beacon of hope in a challenging world.
Looking ahead, we can only anticipate more remarkable achievements under her leadership. Sheikh Hasina's charisma, determination, and commitment to the welfare of her nation and the world continue to inspire and uplift spirits. She is a leader, visionary, diplomat, and advocate for a better world.
In conclusion, Sheikh Hasina's leadership and diplomatic charisma have transformed Bangladesh into a beacon of progress and earned her a place of respect and admiration on the global stage. Her visionary approach, commitment to inclusive development, and adept diplomacy have propelled Bangladesh forward, making it a role model for other nations.