Russian Foreign Minister Sergey Lavrov alleged in Jakarta that the United States and its allies were endeavoring to transform the Indo-Pacific region into a militarized zone. Later, during his visit to Dhaka on Thursday afternoon, he articulated his viewpoint more explicitly, stating, "Upon scrutinizing and evaluating the situation in the Asia-Pacific region, it becomes evident that the United States and its allies are unmistakably pursuing the preservation of their interests under the guise of the so-called Indo-Pacific strategy. It is evident that their objective is to encircle China and isolate Russia within the region."
The Russian foreign minister remarked, "On a broader scale, the Indo-Pacific strategy is seen as a component of NATO's expansionist endeavors." A year ago, NATO, the Western military alliance, declared its global responsibility in the Indo-Pacific region." Russian Foreign Minister referenced military cooperation alliances such as the AUKUS and Quad.
AK Abdul Momen, speaking during a joint press conference following a meeting between the foreign ministers of both countries in Dhaka, emphasized Bangladesh's stance against any covert conflicts in the region.
The foreign minister also highlighted several challenges stemming from the Ukraine conflict resulting from Russia's actions in Ukraine. He stated, "We do not seek war; our preference is for all crises to find resolution through dialogue. That is our position."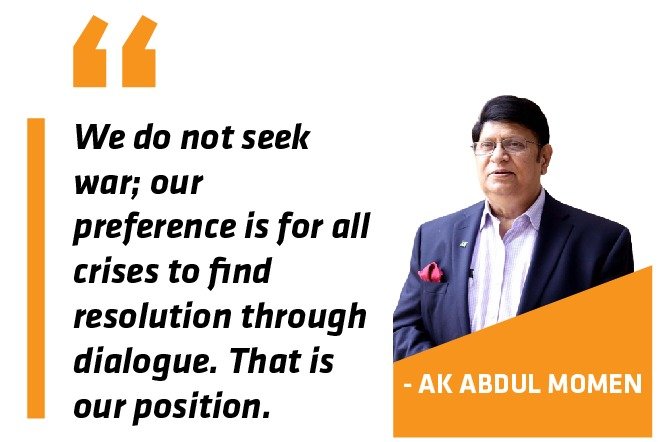 NATO's stance
NATO is intensifying its dialogue and collaboration with its counterparts in the Indo-Pacific region, namely Australia, Japan, the Republic of Korea, and New Zealand. In today's intricate security landscape, fostering relationships with like-minded partners across the globe is increasingly crucial for addressing multifaceted security matters and global challenges. The Indo-Pacific alliance holds particular significance, as developments in this region could directly impact Euro-Atlantic security. Furthermore, NATO and its regional partners share a common objective of collaboratively reinforcing the rules-based international system.
Augmented political engagement
NATO has bolstered cooperation with its Indo-Pacific partners in recent years, including their first participation at the 2022 Madrid Summit at the level of Heads of State and Government. In July 2023, leaders from NATO's Indo-Pacific partners convened for their second NATO summit in Vilnius.
These historic summits build upon a series of high-level meetings held with Indo-Pacific partners over the years. These interactions encompassed the involvement of their foreign ministers in various NATO foreign ministerial gatherings starting in 2020, regular meetings of the North Atlantic Council, and discussions in a military context, such as the principal defense session of the NATO Military Committee in the spring of 2022.
This continuous dialogue ensures that NATO and its partners maintain a heightened awareness of security developments in both the Euro-Atlantic and Indo-Pacific regions. This includes issues such as Russia's conflict in Ukraine, shifts in the global balance of power, the rise of China, and security dynamics on the Korean Peninsula. Indo-Pacific partners also offer unique perspectives during NATO's policy deliberations on shared security challenges, such as cyber defense, the security implications of climate change, maritime security, and arms control.
Key policy documents
In conjunction with this dialogue, two pivotal documents were adopted in 2022 to enhance collaboration with Indo-Pacific partners. In April 2022, NATO and its partners agreed on an agenda to address common security challenges and deepen cooperation in areas like cyber defense, new technologies, and hybrid threats. Additionally, at the Madrid Summit in June 2022, NATO Heads of State and Government endorsed the NATO 2022 Strategic Concept, a foundational policy document outlining NATO's strategic direction for the years ahead. Notably, this strategic concept acknowledges the significance of the Indo-Pacific, recognizing that developments in the region have a direct bearing on Euro-Atlantic security. The 2022 Strategic Concept also affirms NATO's commitment to bolstering dialogue and cooperation with both new and existing partners in the Indo-Pacific to address regional challenges and shared security interests.
Bilateral relations
Each Indo-Pacific partner maintains bilateral relations with NATO, guided by a jointly agreed Partnership Framework document that identifies areas of mutual interest for cooperation. NATO's bilateral relationships with Indo-Pacific partners have evolved over the past two decades, encompassing collaboration in areas such as cyber defense, gender issues, the peace and security agenda, military interoperability, and NATO's involvement in Afghanistan.
Critique: NATO's engagement in the Asia-Pacific
Ever since Russia's invasion of Ukraine, global attention has been closely monitoring NATO summits. This year, the security alliance is seeking to extend its reach into the Asia-Pacific region, a development dissected by Dr. Gorana Grgic from the Faculty of Arts and Social Sciences.
Although NATO's efforts to establish a foothold in the Asia-Pacific are relatively nascent, they have faced criticism in recent days. Former Australian Prime Minister Paul Keating went so far as to label NATO Secretary-General Jens Stoltenberg as "the ultimate idiot" for his efforts to bolster the alliance's ties with the region. Additionally, French President Emmanuel Macron reportedly opposes the opening of a proposed NATO liaison office in Tokyo.
NATO's current preoccupation with Ukraine raises pertinent questions about its newfound interest in a region situated halfway across the globe. Why are leaders from these four countries now becoming regular participants in a summit traditionally focused on European and North American nations?
The answer to this question lies in several factors. Firstly, these nations represent some of the most prominent members of the international coalition that supports Ukraine and imposes sanctions on Russia. Therefore, their presence at a security conference discussing Ukraine is reasonable and expected.
More significantly, the Indo-Pacific region takes a central role in NATO's 2022 Strategic Concept, a pivotal document delineating the alliance's values, objectives, and role. For the first time, this document last year identified China's aspirations and policies as a significant challenge to NATO's security, interests, and values. It also explicitly acknowledged the deepening collaboration between China and Russia, a development perceived by NATO as a threat to the established rules-based international order.
Consequently, the strategic concept underscores the Indo-Pacific's importance to NATO, highlighting that events in this region can directly impact Euro-Atlantic security. This imperative underscores NATO's determination to fortify existing partnerships in the region while forging new ones.
Why is this occurring now?
The deepening relationship between NATO and its partners in the Indo-Pacific can be elucidated through two key lenses. Firstly, these partnerships constitute a significant component of the expanding network of diplomatic and security relations connecting the United States, its Western allies, and the Indo-Pacific region. They complement existing partnerships such as AUKUS and the Quad. Moreover, viewed in the broader context, these agreements align with NATO's broader efforts to engage with the global community over recent decades.
Historically, NATO's collaboration with Indo-Pacific nations that were not members of the alliance often revolved around resource-sharing for security operations, such as those in the Balkans during the 1990s and Afghanistan in the 2000s. In contemporary times, strengthening these partnerships is deemed vital in addressing emerging challenges and threats emanating from Russia and China.
It's important to note that this doesn't imply the permanent deployment of NATO military assets or troops in the Indo-Pacific. Likewise, it is unrealistic to expect that the military contributions of Indo-Pacific nations to Ukraine will lead to a lasting presence in Europe.
Furthermore, while these efforts are aimed at bolstering security cooperation among U.S. allies in the Indo-Pacific, they should not be interpreted as a precursor to establishing a NATO-like collective defense pact in the region.
Nevertheless, given the intricate nature of current tensions with Russia and China, there exists a clear imperative for enhanced coordination and cooperation among a broader array of nations. These new partnerships can prove effective in addressing a spectrum of issues, spanning from countering disinformation and enhancing maritime security to strengthening cyber defense capabilities and managing competition in space.
Notably, both Chinese President Xi Jinping and Russian President Vladimir Putin have expressed reservations about these partnerships, with China criticizing the proposed NATO liaison office in Tokyo as a move to "destabilize regional peace and stability."
Despite variations in the four partners' desired levels of engagement with NATO, they unanimously recognize one fundamental reality: they anticipate increased competition with both China and Russia in the future, rather than a reduction of such tensions.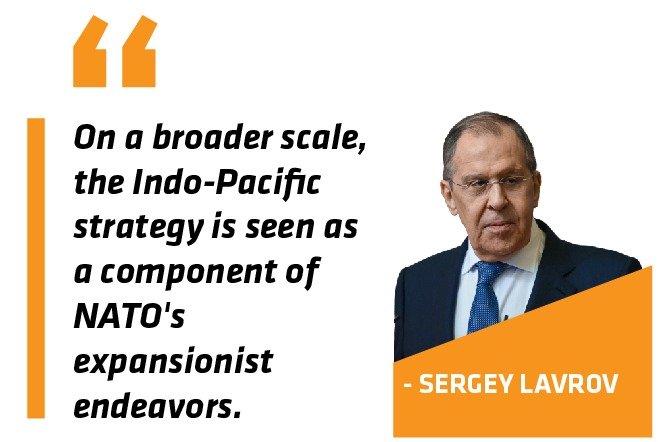 In a rapidly evolving geopolitical landscape, the deepening engagement between NATO and its Indo-Pacific partners has become a focal point of international scrutiny. Russian Foreign Minister Sergey Lavrov's recent statements underscore Moscow's apprehensions about the alliance's growing interest in the region, particularly in light of perceived efforts to militarize the Indo-Pacific. Meanwhile, Chinese and Russian leaders have voiced their reservations regarding NATO's outreach, with concerns about the proposed NATO liaison office in Tokyo adding to the tension.
While the Indo-Pacific region increasingly features in NATO's strategic considerations, it is not a prelude to establishing a NATO-like defense pact in the area. Instead, these partnerships seek to enhance cooperation on shared security challenges, from cyber defense to maritime security, in a world marked by complex tensions with China and Russia.
As global dynamics continue to shift, these developments highlight the imperative for greater coordination among nations to address evolving security threats. Despite differences in their desired levels of engagement with NATO, the Indo-Pacific partners unite in recognizing the growing competition with China and Russia, emphasizing the need for cooperative efforts to navigate the intricate challenges of the future.