With the emergence of Over-the-Top (OTT) platforms, Bangladesh's media and entertainment landscape has undergone a significant transformation during the past decade. These platforms have revolutionized the way in which people consume content by providing a vast array of entertainment options. OTT platforms are rewriting the rules regarding how audiences in Bangladesh access and consume their favorite films, television programs, and digital content.
Currently, the media industry has adapted to online streaming platforms, which have overtaken traditional television due to arguably far better content, a wider variety of programs, faster premieres, and, most important factor for many, the absence of advertising breaks. Viewers can access content on their own timetable and have a variety of options to choose from; all they need to do is subscribe and enjoy. In addition, over the past two years, the rise of OTT platforms has not only provided audiences with a breath of fresh air but also enabled a number of well-known actors and creators to rediscover and redefine their creative abilities and investigate the magic of relative independence from censorship.
By providing direct streaming services over the internet, OTT platforms have transformed the media landscape by eliminating the need for traditional cable or satellite TV. With the rise of platforms such as Netflix, Amazon Prime, OTT has acquired worldwide recognition and popularity. A robust infrastructure, including cloud storage and high-speed internet, is required to establish an OTT platform. In addition, if the platform employs a subscription-based video-on-demand service (SVoD), a secure and convenient payment mechanism is required.
Following the global success of platforms such as Netflix and Amazon Prime Video, the concept of OTT platforms slowly gained traction in Bangladesh during the early 2010s. Bangladesh reached a significant milestone in 2013, with "Bongo" and in 2015, when Grameenphone, one of the country's leading telecommunications companies, launched its OTT platform called "Bioscope Live".
Moreover, local producers have benefited from the emergence and profitability of local OTT platforms. Due to the substantial investments made by OTT platforms, producers receive a substantial portion of the revenue from their productions. It is essential to note, however, that this financial gain is contingent on meeting the utmost quality standards established by these platforms. This encourages producers to strive for excellence and ensure that viewers receive high-quality content.
GROWTH OF OTT PLATFORMS IN BANGLADESH
A timeline of platform launches reveals the development of the OTT industry in Bangladesh. Its growth has begun in 2013 with the launch of "Bongo," the country's first OTT platform. In 2016, "Banglaflix," and "Teleflix" expanded the availability of online streaming services by entering the market. In 2018, "Cinespot" emerged as a platform focused on showcasing Bangladeshi films. In 2020, "Binge" debuted with diverse content that catered to the preferences of the audience.
With the introduction of "Chorki" in 2021, the OTT platform landscape in Bangladesh underwent a significant transformation. This platform introduced significant developments, such as original films, web series, and videos featuring Bengali and foreign content. Deepto TV launched "Deepto Play" in 2022, expanding the options available to viewers with a vast selection of television programs, films, and live events. More recently, in 2023, Channel I joined the ranks by unveiling "iScreen," which offers a variety of films, television programs, and exclusive content. Additionally, "Hoichoi" is a prominent company in the industry because of its extraordinary success, which was launched in 2019 in Bangladesh. Hoichoi currently has 500,000 subscribers via mobile and internet banking alone, with subscription packages beginning at Tk599. Kaiser, Karagar, Unoloukik, Unish Bish, Taqdeer, YouTumor, Networker Baire, Pett Kata Shaw, Bodh, Shaaticup, Sabrina, Punorjonmo, Syndicate, etc. are some of the most popular content on these platforms.
Notably, Toffee, the only digital entertainment app in Bangladesh that live-streamed the FIFA World Cup Qatar 2022 achieved remarkable success. On December 18 of last year, Banglalink, the platform's operator, reported that 15.5 million unique viewers tuned in to witness the final between Argentina and France on Toffee. Toffee also reached a major milestone, amassing approximately one billion views for "the greatest show on earth." This was the first time in Bangladesh that millions of viewers chose a digital platform to observe the tournament, which had previously been broadcast exclusively on television. This preference shift exemplifies the growing popularity and acceptance of digital platforms for accessing important sporting events, which exceeds the usual use of OTT for drama or film content. Rabbithole, another OTT platform has also seen significant success by broadcasting international cricket and football tournaments.
FACTORS CONTRIBUTING TO THE GROWTH OF OTT PLATFORMS
The growth prospects for OTT platforms in Bangladesh and beyond are promising, stimulated by increasing demand for on-demand content and the availability of high-speed internet. The future of OTT media consumption appears fascinating, with an increasing number of viewers choosing this new method of media consumption. The OTT market in Bangladesh was valued at Tk440 billion in 2020, according to market research firm Dataxis. This market is anticipated to achieve a value of Tk1,000 crores by 2030, indicating a robust growth rate and substantial opportunities for industry stakeholders. The factors include-
IMPACT OF THE COVID-19 PANDEMIC:
The Covid-19 pandemic and the following lockdowns have had a significant impact on Bangladesh's OTT industry. Due to the closure of public entertainment venues and the postponement of new releases and productions, audiences turned to OTT platforms for their entertainment needs. This change in consumer behavior has accelerated the expansion of the OTT market even further.
INCREASING INTERNET PENETRATION:
Increased Internet penetration in Bangladesh has been a significant factor in the expansion of the OTT market. Bangladesh's internet users grew from 1.8 crore in 2012 to over 12.61 crore in early 2023. This has significantly increased the number of OTT users by making it simpler for individuals to access streaming services. Accessibility and quality of internet services will continue to improve as Bangladesh makes further investments in expanding its internet infrastructure, including the introduction of 5G technology.
CONVENIENCE, ACCESSIBILITY, AND DIVERSE CONTENT LIBRARY:
The convenience and accessibility provided by these platforms enable users to stream their preferred movies, television shows, and web series on their smartphones or other connected devices at any time, from any location. Moreover, OTT platforms offer a substantial and varied library of content that caters to a variety of genres and preferences. This availability of diverse content has increased viewers' options, allowing them to investigate and discover new shows and films beyond what traditional media channels provide.
Moreover, producing and showcasing local content not only attracts a larger audience but also contributes to the expansion of the local entertainment industry. By providing a variety of local and international content, platforms such as Bongo, Hoichoi, and Bioscope Live have gained enormous popularity. The success of these platforms has prompted additional local and international competitors to enter the market, thereby accelerating competition and innovation.
BUDGET, CREATIVITY AND QUALITY CONSTRAINTS OF TV DRAMAS:
The decrease in the quality of television dramas in Bangladesh has pulled the viewers away from TV dramas. With the abundance of shows being churned out, good directors and performers had little choice compared to the amount of content being produced, resulting in a decline in the overall quality. The strict budget and time constraints imposed on television dramas have also hindered their creativity and narrative abilities. The limited time slots for advertisements and fixed episode durations further limit the opportunities for directors and actors to produce their best work. As OTT platforms became popular, numerous talented directors, actors, and crew members shifted their attention to them. With sufficient time and well-written scripts, actors can also develop their characters to their fullest potential, whereas directors are free to tell stories on a scale that reflects their creative ambitions.
TECHNOLOGICAL ADVANCEMENTS:
In addition to quicker Internet connectivity, smart televisions and smartphones have played a significant role in OTT platform adoption. Due to the widespread availability of smart TVs and smartphones, consumers can access and enjoy OTT content directly on their television screens. This convenience and seamless incorporation of OTT services on smart TVs has made adopting OTT as the preferred mode of entertainment consumption more accessible and appealing to users.
CHALLENGES FACED BY OTT PLATFORMS IN BANGLADESH
The OTT industry in Bangladesh has gained popularity worldwide, but it faces certain challenges that need to be addressed for its continued growth and success. A major obstacle is the lack of an effective payment gateway system, which prevents foreign viewers from accessing Bangladeshi premium content. Redoan Rony, the chief executive officer of Chorki, emphasized the company's efforts to provide multiple payment options, but the incapacity to accept payments through platforms such as PayPal hinders their market penetration.
Another obstacle encountered by the industry is piracy. Renowned filmmaker Shihab Shaheen observed that his OTT productions are not garnering as many views as his TV and YouTube work. Undocumented viewing occurs when individuals download content from counterfeit websites and FTP servers or even watch it on the channels of local cable operators. This issue raises questions about the accuracy of viewership statistics and revenue generation. The Information Ministry has been criticized for introducing the OTT content-based service provision and management policy-2021 without consulting industry experts. While regulations are necessary, the incorporation of expert opinions is essential to ensure a businessfriendly environment and prevent excessive state control.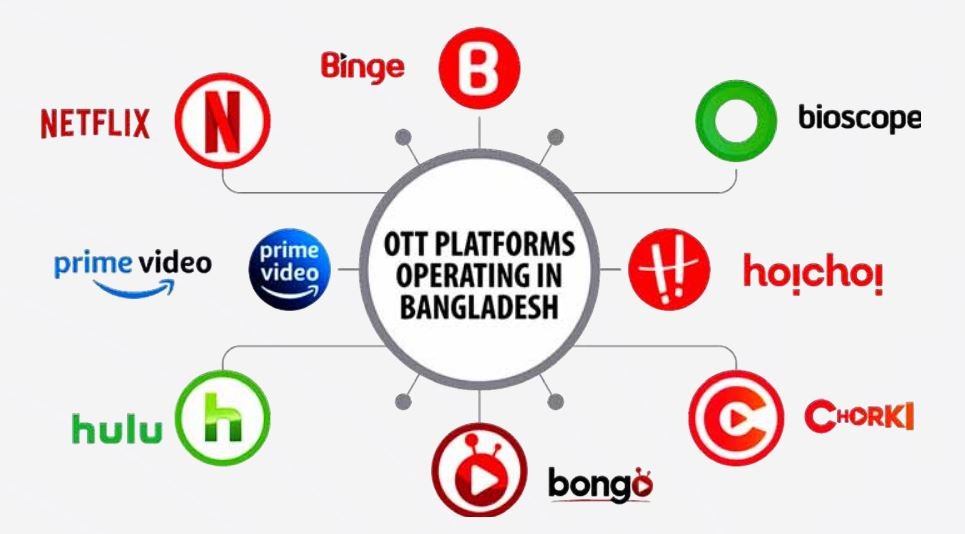 UTILIZING OTT'S FULL POTENTIAL
Bangladesh's local OTT platform industry is experiencing rapid expansion, with a total of 20 million subscribers. The market size has reached Tk300 crore annually, indicating a promising future for the industry. Despite the expansion of OTT services in Bangladesh, the industry still confronts a number of obstacles that limit its full potential. These obstacles include a scarcity of government dissemination, user-generated content creation, high-quality engaging content, AI and blockchain utilization, collaboration, and content aimed at citizens who are future-ready.
In light of these obstacles and the global demand for OTT platforms, the Human Development Media (HD Media) team of the Aspire to Innovate (a2i) program under the ICT Division has taken the initiative to establish a government-backed OTT platform in the post-Covid era. This platform aims to serve as a comprehensive source of data and information on Smart Bangladesh, while also providing educational and engaging content. It is consistent with the government's vision and development initiatives and aims to reduce crime, combat extremism, promote nationalism, and provide optimism through the dissemination of uplifting stories.
The "OTT Platform Innovation Challenge 2022" was initiated in order to develop a sector-specific OTT platform to meet the needs of education, agriculture, skills, children, government information, and entertainment. This initiative aims to capitalize on the potential of a multimillion-dollar market and deliver personalized content to all Internet consumers, especially young people.
The OTT industry experts in Bangladesh remain optimistic about the industry's future. With an increasing number of internet consumers and a growing demand for local content, it is anticipated that the market will continue to expand over the next few years. While the industry is still in its early stages, Bangladesh's large population, increasing internet penetration, affordable smartphones and smart TVs, and consumer demand for entertainment are positive indicators for the future of the over-the-top (OTT) industry in the country.
Overall, as the OTT industry continues to evolve, it has the ability to shape the entertainment landscape in Bangladesh and accommodate to viewers' changing preferences. OTT platforms can contribute to the country's digital revolution and establish a vibrant and dynamic entertainment ecosystem by resolving the challenges and seizing the opportunities.