Yasutoshi Nishimura, the Minister of Economy, Trade, and Industry of Japan, shared in a video message during a parallel session titled "Japan-Bangladesh Trade and Investment: Opportunities and Way Forward" at the Bangladesh Business Summit 2023 that approximately 70% of Japanese companies operating in Bangladesh are keen on expanding their investments by establishing one to two new units.
Approximately 70% of Japanese companies operating in Bangladesh are keen on expanding their investments by establishing one to two new units
The summit, organized jointly by the Japan External Trade Organization (Jetro), Bangladesh Investment Development Authority (Bida), and the Federation of Bangladesh Chambers of Commerce and Industry (FBCCI), took place yesterday at Pan Pacific Sonargaon in Dhaka. During the event, Bangladesh expressed its interest in signing trade agreements with key partners to ensure the retention of duty-free export benefits after its graduation from the group of least-developed countries (LDCs) in 2026.
Excerpts of the Meeting
According to Commerce Minister Tipu Munshi, there is considerable interest among Japanese companies to invest in Bangladesh. Notably, in 2021, foreign direct investment (FDI) from Japan reached a substantial sum of $910 million. Beyond the textile industry, these companies are also diversifying their investments in Bangladesh, focusing on sectors like automobile, motorcycle, energy, and IT to foster the growth of various industries in the country.
The Japanese minister highlighted the contributions of many Japanese companies towards the development of Bangladesh's infrastructure. Projects such as the Jamuna Bridge, Matarbari Deep Seaport, and the expansion of the Dhaka International Airport have been made possible with their support. During the keynote presentation, Takeshi Mamiya, managing executive officer of Marubeni ASEAN Pet Ltd, emphasized that numerous Japanese companies are offering valuable technological support to enable the production of high-value products, including outerwear and suits.
"We are working on EPA to take the bilateral relations to new heights. The problems faced by Japanese investors will be solved in the light of EPA"

– Tipu Munshi
In April of this year, Dhaka and Tokyo signed a memorandum of understanding on the proposed Economic Partnership Agreement (EPA) during Prime Minister Sheikh Hasina's visit to Japan. The two countries have set a target to finalize the EPA by the end of 2025 or early 2026, coinciding with Bangladesh's expected graduation to become a developing country. This agreement aims to strengthen economic ties and further enhance bilateral trade between the two nations.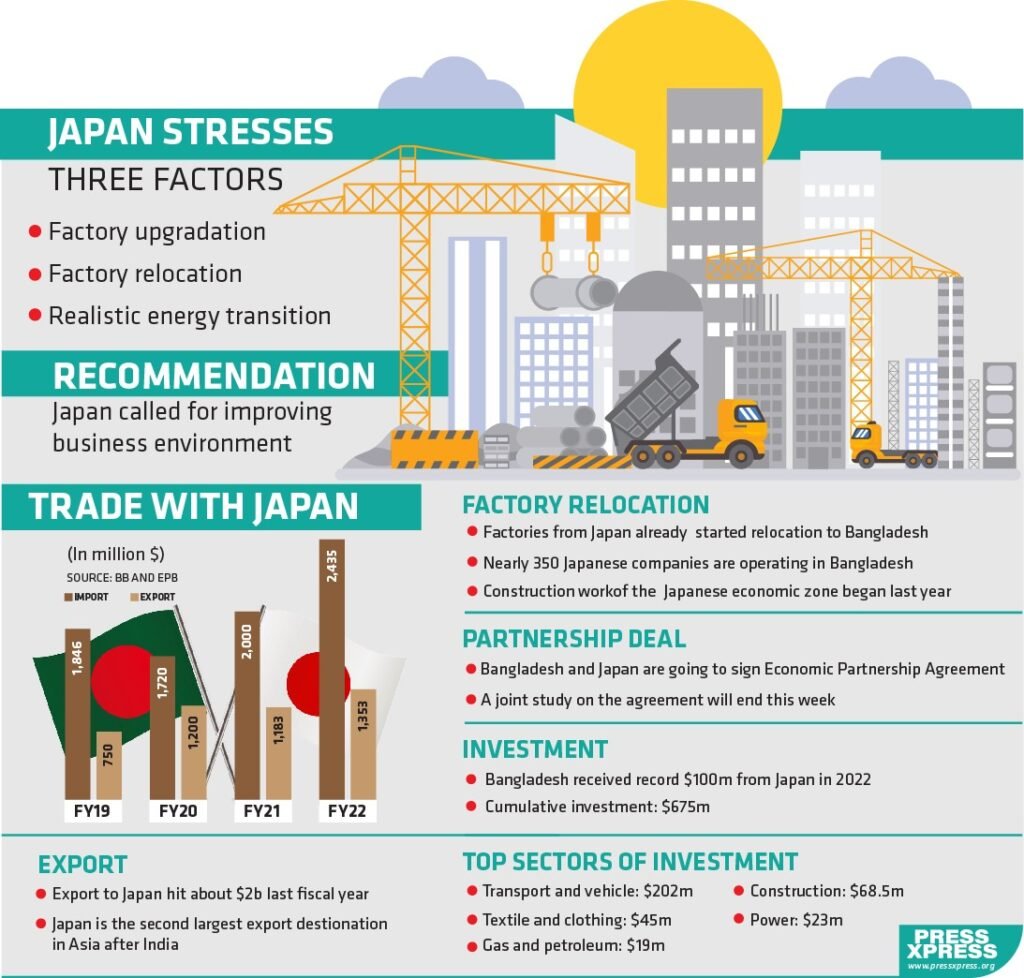 Japanese Investment Plan
The commitment of the Japanese government and Japan International Cooperation Agency (Jica) to support Bangladesh's infrastructure development through concessionary loans was emphasized, as they recognize that robust infrastructure serves as the backbone of a nation's progress.
Comparing the number of Japanese companies in Bangladesh to other countries in the region, the managing executive officer of Marubeni noted that while there are over 5,000 Japanese companies in Thailand, 2,000 in Vietnam, and 1,500 in Indonesia, only 340 are registered in Bangladesh due to what he referred to as "physiological distance." He expressed hope that the business summit would help bridge this gap and foster closer business ties.
He urged the government to create policies that ensure a level playing field, making Bangladesh an attractive destination for foreign investment. He also suggested that Bangladeshi companies collaborate with Japanese counterparts to invite them to Bangladesh, facilitating knowledge and technology transfer.
Taro Kawachi, managing director of Bangladesh Special Economic Zone (SEZ) Ltd, shared that within the last year, their SEZ has welcomed visits from 175 Japanese companies, marking a remarkable 400% increase compared to the previous year. The economic zone aims to introduce Japanese standards and quality in Bangladesh to attract more investment. Already, three Japanese companies, including Singer, have made investments in the zone since its inception in December of the preceding year.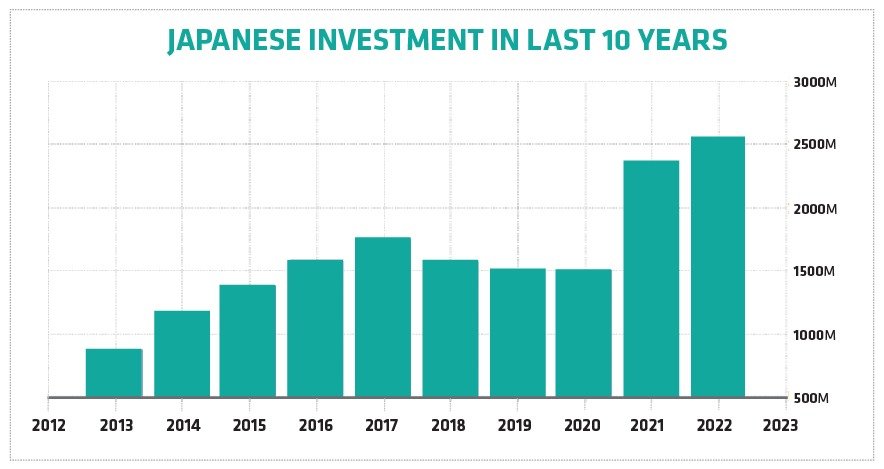 Opportunities for Bangladesh
Bangladesh stands as one of the fastest-growing economies and the second-largest economy in South Asia, with a promising vision to become a top-choice investment destination. The government's focus on creating a favorable business environment, maintaining a stable macroeconomy, and promoting the growth of a dynamic private sector reinforces this optimistic outlook. Modernization, structural transformation, economic diversification, technological progress, accelerated growth, employment generation, women empowerment, and improved living standards are key priorities for the country.
Recognizing the pivotal role of investment in economic growth, the government has designated investment promotion as a special initiative. Bangladesh offers numerous advantages, such as a large domestic market, low production costs, strategic business location, high profitability, demographic dividend, and conducive policy incentives, making it an increasingly preferred destination for global investors. Consequently, both local and Foreign Direct Investment has witnessed a significant rise in recent years, further propelling Bangladesh towards its aspiration of becoming an economic tiger in Asia by 2025.
According to a survey by JETRO, there are presently around 340 Japanese companies operating in Bangladesh. However, 67 percent of these companies are facing challenges in finding skilled workers, even as they intend to increase their investments.
To address this opportunity for more Japanese investment in various sectors, the Japan Institute of Manufacturing could play a vital role by establishing a skills development center to train skilled workers, including cross-cultural management. Additionally, 70.30% of Japanese companies in Bangladesh are looking to expand their operations in the next 1 to 2 years. Japanese trading companies are also eyeing investments in economic zones, which could lead to job creation through manufacturing and significant investments.
Since Bangladesh's independence, the Japanese government, through various developing organizations like ADB, JETRO, JICA, and Japanese-owned MNCs, has been committed to supporting the country's business sectors. This includes substantial financing for projects in transportation, infrastructure, green buildings, renewable energy, water and waste management, climate-smart agriculture, and logistics. These investments align with Bangladesh's efforts towards sustainable development and harmonize the interests of Japanese investors.
Bangladesh: A Safe Investment Destination
Bangladesh aims to become a developed country by 2041, and Japanese investment will play a crucial role
Bangladesh's Investment environment has remained stable over past decades, with policies and procedures designed to make it more favorable for Japanese investors there has been much improvement seen in infrastructure over recent years, especially the transport network, power network, information technology infrastructure, logistic services, and particularly, human resource quality.

Bangladesh is steadfastly moving forward in materializing the vision of 2041 to become a developed country in this Journey Japanese investment will play a pivotal role which is also recognized in the smart policies of the Government in collaboration with the public and private stakeholders, spearheading the promotion and creation of a congenial environment for investments.
In conclusion, Bangladesh is poised to remain a destination of immense potential for Japanese investors, thanks to its robust economic growth, supportive government initiatives, and attractive investment opportunities across various sectors.