The theme of the summit: "Sustainable Food Systems for People, Planet and Prosperity: Diverse Pathways in a Shared Journey"
Prime Minister Sheikh Hasina proposed a five-point proposal at the United Nations Food Systems Summit 2023 on Monday to ensure a sustainable, safe, and nutritious food system worldwide, with an emphasis on coordinated measures to lift export restrictions on food and fertilizer.The premier made these proposals while addressing the official opening ceremony of UN Food Systems Summit+2 Stocktaking Moment (UNFSS+2) in Rome, Italy.The summit, themed "Sustainable Food Systems for People, Planet and Prosperity: Diverse Pathways in a Shared Journey," commenced at the Food and Agriculture Organization (FAO) headquarters.
The summit comprised of a high-level opening ceremony attended by approximately 2,000 participants from over 160 countries, including over 20 heads of state and government, and a forceful call to accelerate efforts to transform global agrifood systems.
What are the 5-point proposals placed by PM?
"We need to activate the Coalition for Climate-Resilient Food Systems that Bangladesh agreed to co-lead during the UN Food Systems Summit in 2021," Sheikh said as she laid out a five-point proposal.
"If we can collectively adopt and implement the necessary action plans, we'll be able to achieve sustainable global food security," PM said.
PM highlights the need for sustainable food management
…as many as 785 million people worldwide are hungry, one-third of all food produced is lost or wasted, and more than three billion people cannot afford healthful diets
In addition, Sheikh Hasina urged the international community to implement inclusive and sustainable food management for all, as two billion people still lacked access to food security. In addition, she emphasized the importance of encouraging multilateral development institutions and private investors to invest in modern agriculture.
"Food, fertilizer, energy and financial crises induced by the ongoing Ukraine war and sanctions and counter-sanctions have intensified the problem of hunger and malnutrition around the world," she said.
However, the premier stated that the price of agriculture and food products is not the only obstacle to acquiring nutritious food. "It needs the introduction of inclusive and sustainable food management for all," she said.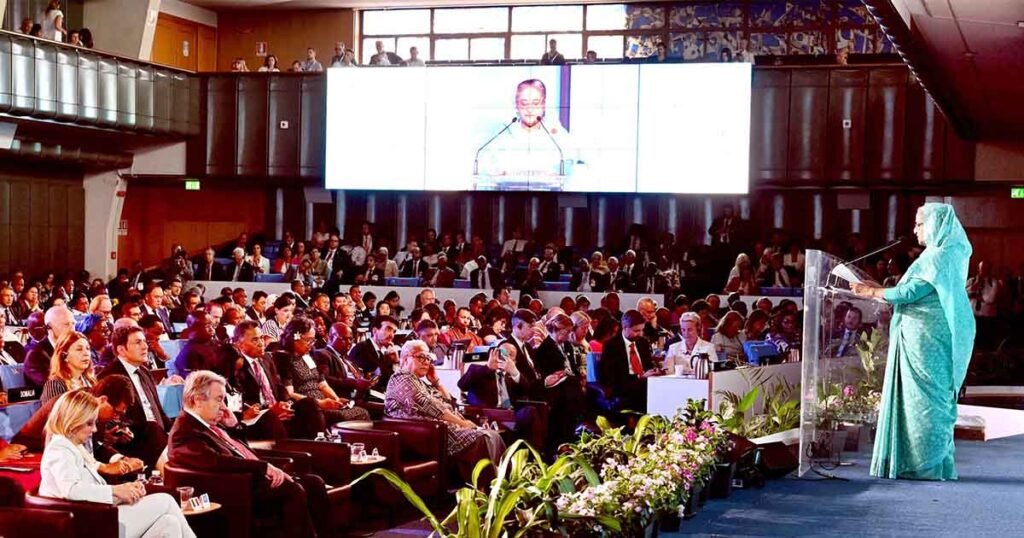 Sheikh Hasina added that approximately 690 million people still suffer from malnutrition and nearly three billion lack access to a balanced diet.
The high-level event occurs at a time when as many as 785 million people worldwide are hungry, one-third of all food produced is lost or wasted, and more than three billion people cannot afford healthful diets. Unsustainable methods of food production, packaging, and consumption exacerbate the climate crisis by contributing one-third of all greenhouse gas emissions, consuming 70 percent of the world's freshwater, and causing significant biodiversity loss.
Sheikh Hasina showcases Bangladesh's achievements on the global stage
Tuning to Bangladesh's food sector, the Bangladesh premier said her government, being elected for a second term in 2009, started with a food deficit of 2.6 lakh metric tones and then it took various steps including providing subsidy for agricultural mechanization, opening bank account for farmers at Taka 10, ensuring a disciplined fertilizer distribution system.
"As a result, we not only achieved food self-sufficiency, but also became a food surplus country by 2013," she said.
According to a report of FAO, Bangladesh is one of top-ten food producing countries in the world. The country's production of food grains increased to 49.4 million metric tons in 2022-23 fiscal year from 32.9 million metric tons in the 2008-09 fiscal year, the Bangladesh Prime Minister said.
"Now Bangladesh ranks 3rd in rice and fish production, 2nd in jute production, 3rd in vegetable production and 6th in potato production in the world," she said.
The contribution of agriculture sector to the GDP of Bangladesh is 11.66 percent. But some 40.6 percent of the country's workforce is engaged in agriculture. The contribution of the fisheries sector to the GDP is 2.43 percent, while that of livestock sector is 1.90 percent, Sheikh Hasina added.
"Our government has attached top priority to agricultural research and innovation…. 690 improved and high-yielding crop varieties have been developed in the last 14 years. Our scientists have developed salinity-tolerant rice and they are continuing research to develop drought and waterlogging-tolerant rice," she continued.
Sheikh Hasina said her government passed the Food Safety Act in 2013 and established the Bangladesh Food Safety Authority in 2015. She stated that the current food grain storage capacity at the government level in Bangladesh is approximately 21.59 million metric tons. The country's edible grain stock has increased to over 16 lakh tonnes from 10 lakh tonnes in 2007. She added that approximately 5 million family silos were dispersed in 63 upazilas within 19 disaster-prone districts of the country.
The prime minister stated that Bangladesh has expressed an interest in exporting its agricultural innovations and experiences to Africa and other regions of the globe.  She has also encouraged foreign investment in Bangladesh's maritime areas in the Bay of Bengal for sustainable deep sea fisheries.
While Sheikh Hasina was delivering her speech in the plenary room and a few other halls of the FAO headquarters, a large number of individuals were present. Participants applauded in agreement with her remarks.
At the summit's official opening ceremony, Italian Prime Minister GiorgiaMeloni, Ethiopian Prime Minister Abiy Ahmed, Nepalese Prime Minister Pushpa Kamal Dahal, Prime Minister of Samoa Fiame Naomi Mata?afa, United Nations Secretary-General António Guterres, and Director General of Food and Agriculture Organization (FAO) Dr. Qu Dongyu all spoke.
There will be a series of high-level events, dialogues, and side events related to transforming agrifood systems on topics such as food waste, climate change, healthy diets, partnerships, science and technology, indigenous people's knowledge, and transportation until Wednesday, July 26.
Photo Credit: Yeasin Kabir Joy