Since Bangladesh's independence, the agricultural sector has played a significant part in the country's overall socioeconomic development. The industry makes a significant contribution to the growth of other industries, GDP, and employment. According to the Bangladesh Bureau of Statistics (BBS) for FY 2021-22, crops, livestock, fisheries, and forest products accounted for around 11.5% of Bangladesh's GDP and employed approximately 40% of the people.
However, its contribution has decreased over the past decade, from 17% in 2010 to 12.6% in 2020. The agricultural sector is vital to our economy, as it reduces poverty and ensures food security. Despite the ever-increasing population, which has increased from 147.6 million in 2010 to 164.7 million in 2020, and the impact of the pandemic and climate change, the sector has maintained its profitability and productivity.
In Bangladesh, traditional subsistence farming accounts for the majority of agricultural production. Bangladesh is a producer of a wide range of agricultural goods, including rice, wheat, corn, legumes, fruits, vegetables, meat, fish, and dairy goods. The lack of arable land and the degradation of natural resources highlights how crucial it is to create innovative agricultural technologies to assist the farmers who labor relentlessly.
By 2050, 230-250 million people are expected to live in Bangladesh. According to a UNDP report, the country loses 1.0% of its agricultural land per year while its population grows by two million people annually. Therefore, it is evident that increased production and supply of nutrient-dense foods are crucial. 
Government initiatives to digitalize agriculture
Digital technology has mostly reached people in Bangladesh and other developing countries through mobile phone and mobile internet services, businesses, and the exchange of information. Realizing that digitization was a possibility, the government of Bangladesh came up with the "Digital Bangladesh" plan more than a decade ago.
Since then, they have successfully digitized several sectors, mostly through policy changes and subsidies, intending to make services more efficient, transparent, and accountable for the good of their citizens. Such regulations and strong private sector initiatives have advanced the digital transformation of Bangladesh's agricultural and food value chain.
According to the agriculture ministry, in 2016 the ministry launched several projects and programs to digitalize agriculture with the tech support of A2I. The government has established several digital projects to reduce farmers' workloads. Utilizing new technology, a variety of agricultural projects have been adopted. The government is still working on certain projects and has further ones in the works. According to experts, these programs have substantially benefited farmers and the agricultural industry.
The E-agriculture and its benefits
There is no substitute for using information technology to deliver modern farming techniques to farmers. E-agriculture has proven crucial in this aspect. E-agriculture is a modern way to share agricultural knowledge via electronic flow. Where farmers, extension workers, customers, and others may dependably get agriculture information via the internet, radio, television, and mobile phones.
Farmers can now video call agriculture officers directly if they have crop difficulties, which allows the officers to quickly offer solutions after virtually inspecting the problem. Farmers are able to solve their issues in a simple way in this manner. Additionally, numerous apps are being developed in our nation that farmers use to understand their crop-related issues and find answers.
Farmers who previously employed conventional farming methods are becoming more digitally aware by adopting such technologies. Although internet-based technology is making people's lives robotic and mechanical, its beneficial aspects can be used to improve their everyday lives and job.
Various apps to support the farmers
Detecting disease of crops:
Previously, when crops contracted various diseases, farmers had to contact agriculture officers for guidance or solutions. They had to provide samples of the affected crop and describe the disease's symptoms to the officers. The experts have compiled images of the most common crop diseases and disorders in the nation into a database in order to find a simple answer.
Now, farmers and agricultural service providers can diagnose the problem with the crops by only reviewing images of similar crops. They can get a comprehensive answer to the issue and a description of the problem itself after clicking on the image.  Farmers can quickly find digital answers to their crop-related difficulties in that by downloading the app "Krishoker Janala" or Farmer's Window. There are tens of thousands of possible solutions for more than 120 types of crops on this platform. 
Figure 1 Krishoker Janala
Correct application of pesticides:Using the right pesticides was one of the hardest things for farmers to do. Before, they used to go to the store and buy pesticides at the storekeeper's suggestion.  In this way, they often bought the wrong pesticides. Now there is an app called 'Balainashok Shohaika' that allows a farmer to select the appropriate pesticide for his crop, either independently or with the assistance of an agro-officer.
In addition to government-approved pesticides, the app provides information on which companies sell pesticides on the market, and farmers can see which companies sell a pesticide created by a single group under several names. Farmers are able to find the product's approval status by using the API number.
Figure 2 Balainashok Shohayika
Apart from Krishoker Janala and Balainashok Shohaika, there many apps have helpful by being a one-stop solution for farmers. Not just agriculture, similar apps are available for livestock and fisheries as well. Some of them are, Fosholi (agro), Khamarguru (livestock), Rupali (fisheries), and Shurokkha (livestock).
The weather forecasting facility:
The Department of Agricultural Extension (DAE) made five apps to help farmers in rural areas. One of them is a weather forecasting app. Given that the majority of Bangladeshi farmers lack access to smartphones and the internet, the weather forecasting app can also be accessed by text messaging. 
Weather is an important part of crop production, and it's important to know about both big and small changes in order to plan when to plant and harvest crops. The weather forecasting application displays key information about a region on a micro-scale, allowing users to determine the changes and accordingly schedule agricultural planting and harvesting.
Digital agricultural programs have received acclaim from around the world, but they have also had a good influence on nearby farming communities, and farmers are now receiving the benefits. The farmers' life has been greatly facilitated by this.
Various websites to support farmers
Krishi Batayon:
This is a central database with information about farmers and farming. Meanwhile, 82 lakh farmers' data had already been kept. The government is planning to increase the app's coverage to encompass almost 26 million farmers across the nation.  
The database contains information about the retailers who sell fertilizers and pesticides throughout the nation, including their names, addresses, and phone numbers. Additionally, the website offers information on more than 5,500 "haats and bazaars." Using the site, a farmer may determine the location of nearby markets and fairs.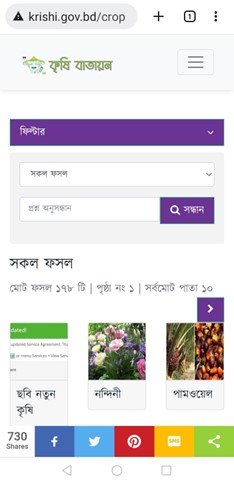 Figure 3 Krishi Batayan
The website offers a range of information including the distribution of farmland around the nation, the locations where crops are grown, the names of the farmers who cultivate the crops, and the names and phone numbers of those interested in farming.
The names and phone numbers of the various farming organizations and their affiliations in each district and upazila are also provided. Additionally, dates and amounts of government subsidies are provided. There is also information on the latest agricultural diseases. In addition, the government-manufactured agricultural products, production process specifics, and other pertinent information are included. 
AICC:
The Agriculture Information and Communication Centre (AICC) is an ICT-based information services center run by farmers and developed at the local level. Farmers trade information services through the center. Expert advice on problems in agriculture is given through this platform by holding video conferences. Currently, there are 499 of these information centers in Bangladesh.
There are some similar websites that support agriculture, fisheries, and livestock. They are- Agriculture Information Service (AIS), Department of Fisheries (DOF), and Department of Livestock Services (DLS), Department of Agricultural Extension (DAE). These websites are an attempt by the government to empower farmers with digital solutions. They also include hotline numbers and contact information for relevant fields.
Call Centers
The most popular and convenient ways to communicate are call centers and hotline numbers. A farmer can reach his local agro officer by dialing 3331. In this approach, farmers may readily communicate problems and get faster solutions due to local dialect differences in crop and pest names. Farmers can contact the Krishi Call Centre at 16123 to receive expert advice on agriculture, fishery, and livestock and cattle-related issues immediately and free of charge.
DAE Office Directory:
The majority of farmers in rural Bangladesh are illiterate and dependent on centuries-old methods of agricultural farming. The Department of Agricultural Extension assigns Agricultural Extension officers in different regions of Bangladesh in order to initiate and implement technical progress. These officers serve as a guide for farmers, instructing and educating them on new processes and innovations that contribute to higher crop production.
The DAE office directory app was created to make communication with officers simpler and more personalized. The name and contact information of the appropriate officer in the user's area can be accessed instantly. In addition, farmers can make direct calls from the app, which makes the process much less difficult.
Over the course of time, constant efforts are being made to digitalize the agricultural sector. As it is a big measure of a nation's economy, a greater output in agricultural products will accelerate the country's GDP. Moreover, with the risk of global food shortage, we need to strengthen and further develop this sector to support our farmers in producing at a larger scale.
Relentless efforts by the Government
The government of Bangladesh has made some truly innovative and fruitful strides in the field of e-agriculture. Young farmers in particular have welcomed this and are easily utilizing the different web offerings. But the lack of knowledge in using smartphones has been an issue in the development.
The adoption of agricultural cutting-edge technology is advancing the nation's development. The impossibility is made achievable by integrating technology in this way in the agriculture industry. According to agro specialists, just as the use of modern technologies in agriculture has increased agricultural output. Additionally, the use of internet apps and websites by farmers has increased and reduced their fear and uncertainty of the technology. In the last three or four years, people have begun using agricultural applications. However, this technique must be utilized more frequently by the agricultural community. It needs to be time and user-effective even more.
The government has future intentions to improve technology in fields such as mapping of agricultural land, weather prediction/agriculture forecast, crop insurance, etc. If these are adopted, the development of our agriculture will advance significantly. The government's vision is being turned into increased support and investment on the digital front across Bangladesh. The agriculture and food value chain are likely to see a faster digital transformation.
Still a long way to go
E-agriculture has experienced enormous growth, creating a new avenue for helping and assisting our farmers. However, farmers' lack of e-literacy for using mobile-based applications could be a stumbling block that must be addressed. The developments won't be successful without digital literacy.
Short-term literacy campaigns delivered through government-sponsored initiatives engaging farmer organizations depending on crop cycles, agricultural areas, and livelihood circumstances could kick start the process right away. There are a number of government and non-government initiatives to digitally educate farmers. Training sessions are being conducted, but their effectiveness might be enhanced with continual monitoring.