In a tense runoff election in Georgia, Democrat Raphael Warnock defeated Republican Herschel Walker to retain his seat in the United States Senate.
The outcome gives the Democrats a 51-49 advantage in the upper house of Congress.  Warnock has a 50.8% to 49.2% lead over Walker with 99% of the votes being cast. 
You can also read: US MIDTERM ELECTIONS AMID CHANGING GEOPOLITICAL SCENARIO
The victory solidifies Georgia as a key swing state in the 2024 presidential race. The Democratic President Joe Biden carried the state in 2020, and Democrats have now won three Senate seats in the former Republican bastion in the last two years.
A setback for Walker and Trump
Out of over 4 million votes cast in the election last month, Warnock had a lead over Walker of 37,000 votes, but he was unable to reach the 50% mark to avoid a runoff. Walker's loss is also a setback for Donald Trump, who is seeking the Republican candidacy for the 2024 presidential election. Despite endorsing Walker and numerous other prominent Republicans in this year's midterm elections, the former president ended up with a mixed record in his most difficult races.
Numerous gaffes had hampered Walker's election campaign. Being a strong opponent of abortion, he was also plagued by claims that he had paid for abortions for several of his ex-girlfriends. However, he vigorously rejected the allegations. 
Warnock emphasized those issues in campaign appearances and a barrage of television advertising, which cost more than $400 million during the 2022 midterm election season.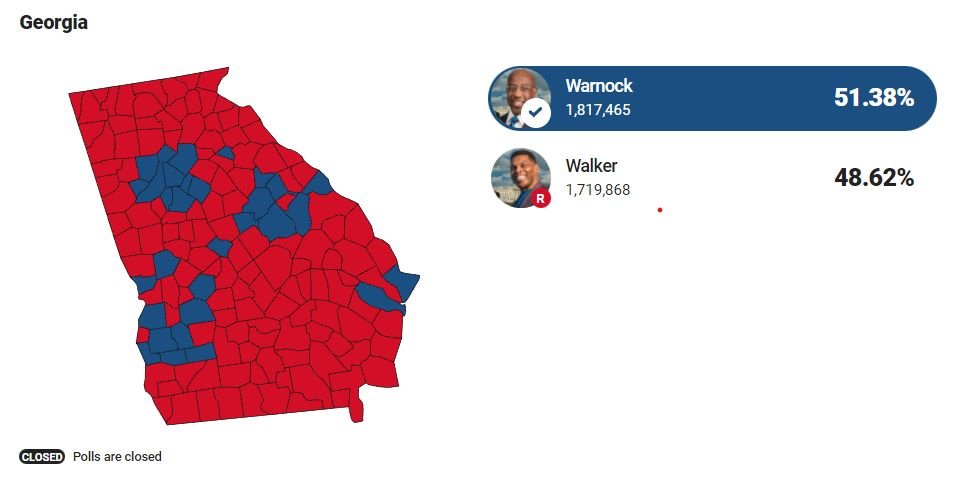 Raphael Warnock: 'Your voices will not be silenced'
In the midst of celebrations and acclaim, the re-elected Democrat Raphael Warnock reminded the jubilant crowd that voter suppression has not ended because he won the election. "It simply means that you the people have decided that your voices will not be silenced," he remarked.
In his concluding remarks, Warnock repeated his campaign's policies on cutting the cost of prescription pharmaceuticals, reforming the criminal justice system, and protecting women's rights. " You've got me for six more years", Warnock declared just before leaving the platform, drawing a round of cheers.
After neither candidate received 50% of the vote on November 8, the election was decided in a runoff. Warnock's triumph was driven by a strong showing in urban and suburban areas, such as Atlanta's Fulton County, where the incumbent Democrat received 77% of the vote. It was a larger percentage than he received in November. 
Warnock will be a senator for six years, or until 2028.
What can be the aftermath?
The Democrats' win in Georgia strengthens the state's place as a battleground in the Deep South. Two years ago, Warnock and fellow Georgia Democrat Jon Ossoff won runoffs that gave the party control of the Senate. This happened just a few months after Biden became the first Democrat presidential candidate in 30 years to win Georgia. Voters re-elected Warnock to the Senate during the same election cycle in which they re-elected Republican Governor Brian Kemp by a comfortable margin and elected an all-GOP slate of state constitutional officers.
Now that the Democrats are poised for a 51-seat majority in the 100-seat Senate, it will be marginally simpler to advance Biden's nominations for judicial and administrative positions. Still, Republican support is necessary for a lot of the legislation. Democrats may no longer require the support of centrist senators Joe Manchin and Kyrsten Sinema. They were frequently at odds with their party as they attempted to pursue Biden's ambitious legislative agenda over the past several years.
The Democrats will, however, confront a more severe hurdle in the U.S. House of Representatives, where Republicans secured a small majority on November 8, while falling short of the "red wave" predicted by some in their party.