The aviation or airline sector is emerging in Bangladesh. The country's export and import activities are growing rapidly due to the increasing effects of globalisation. Additionally, Bangladesh has strengthened its political and diplomatic initiatives to establish stronger ties with other nations. These development activities will surely pave the way for aviation industry's growth. The government states, "Aviation in Bangladesh will almost triple in growth over the next 15 years." To make the various airport facilities technically sound, secure, and user-friendly for travellers, the government is enhancing the quality of service. There are some completed and many ongoing projects on the development of aviation industry. It includes- construction of new airports, increasing the airport terminals, extension, and renovation of existing airports for both passengers and cargo flights. To stay up with the world's quickly evolving aviation technology, Civil Aviation Authority of Bangladesh (CAAB) is advancing swiftly by consistently adopting initiatives and launching timely development projects.
AN OVERVIEW OF AVIATION INDUSTRY
Evolving Reality
The history of Bangladesh's independent civil aviation industry began on January 1, 1972, by Captain A. Rahim's Cessna 150 aircraft. Biman Bangladesh Airlines was the first commercial passenger airline in the newly independent nation. Domestic operations began with the purchase of four Fokker F27 aircraft to transport passengers between Dhaka, Chittagong, and Sylhet. The aviation industry of Bangladesh started its international journey by operating a weekly flight to London by a Boeing 707 charted from British Caledonian on January 4, 1972. Bangladesh Biman held a monopoly over the aviation sector up until 1993.
The airline gradually increased both its fleet and destinations throughout the years. Bangladesh has registered at least 34 airlines since, many of which have begun operations, some have never conducted flights, and few had to discontinue. Several additional private airlines began operating including GMG in 1996, United in 2005, A Royal Bengal in 2006, Regent in 2010, NovoAir in 2012, and US-Bangla in 2013. After Covid-19 pandemic be- gun, Regent has discontinued its activities. Only NovoAir and US-Bangla are now running among the private airlines in the country.
Current Airports
In total, Bangladesh has 8 airports in operation, 5 of which are domestic and 3 are international. Hazrat Shahjalal International Airport in Dhaka, Shah Amanat International Airport in Chittagong, and Osmani International Airport in Sylhet are all international airports. Cox's Bazar, Rajshahi, Jessore, Syedpur, and Bari- sal, all have domestic airports. Most of the airports are currently being modernised and extended.
Airlines
There are currently 3 scheduled airlines in this sector, including Biman Bangladesh. 45 aircraft are now in use by the country's airlines, including 21 aircraft operated by Bangladesh Biman, 17 by US Bangla, and 7 by NovoAir. Bangladesh Biman is the largest airline in the country. It has the service agreement with 42 countries and provides international passenger and cargo services to different destinations. US-Bangla has accumulated half of the private airlines market.
There are now 8 domestic flight destinations served by US-Bangla and NovoAir: Dhaka, Chittagong, Jessore, Cox's Bazar, Syedpur, Sylhet, Rajshahi, and Barisal. Two more domestic airlines are joining the industry soon. Due to poor business practices, ineffective market- ing strategies, a poor brand image, violations of air agreement rules, and financial difficulties, many airlines have ceased operations in Bangladesh.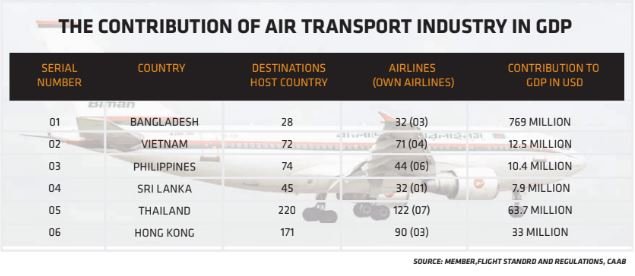 Charter airlines and cargo carriers
The domestic aviation business is divided into two groups along with scheduled airlines: charter airlines and cargo carriers. The technique of renting a full aircraft on an unscheduled basis is known as air chartering. There are now ten operators for Charter Airlines, the most well-known are R&R Aviation, South Asian Airlines, BRB Air Limited, Square Air Limited, and Bashundhara Airways. Air ambulance services are also offered by some airlines. Cargo airlines specialize in transporting cargo.
These airlines work as agents for the larger passenger transporting airlines. There are currently four airlines in the nation that offer both domestic and international cargo service. These are Skyair, Easy Fly Express, Hello Airlines, and Bismillah Airlines.
The booming sector
With the growth in both passenger and freight transportation of roughly 10% over the previous ten years, the country's aviation market had almost doubled be- tween 2010 and 2017. Additionally, more Bangladeshi students than ever before are studying overseas. Businesses have grown on international level.
As a result, a significant amount of cargo and passengers enter and exit the country through airplanes every day. Moreover, there are more domestic planes carrying passengers and goods than ever before. CAAB has taken steps to improve the standard of passenger services as well as upgrade and develop all domestic airports in the nation. According to the 2018 trend, the Bangladeshi aviation industry was predicted to rise by 168% during the following 20 years.
However, the number of passengers on the domestic route fell by 25- 30% immediately following the Covid-19 outbreak. Yet, the nation's tourism as well as the aviation business started to recover steadily when the lockdown was lifted, and flights resumed. CAAB states that domestic aviation increased by 75% to 80% between October 20 and Novem- ber 20 compared to the pandemic situation. In the subsequent two months, the number of passengers traveling by air climbed from 2.21 lakh in December 2020 to 2.34 lakh in February 2021 (an increase of 5.88%). Daily Star reported, during October 2021, the number of travellers nearly tripled.
Aviation development projects by CAAB and SDG 2030
All aviation-related activities in Bangladesh are governed by the Civil Aviation Authority, Bangladesh or CAAB. There are multiple completed, ongoing, and upcoming projects that are under CAAB. It claims that the terminals of seven airports nationwide are being modernised and expanded. In addition, the improvements and developments are being fast-paced by keeping the Sustainable Development Goals (SDG) -2030 in mind. The number of passengers on domestic flights is rising daily as more foreigners, businesses, and tourists are preferring to travel by air to save time. Because of this, the project has placed a strong priority on all domestic airport construction. Development projects are part of significant achievements of CAAB during FY 2021-22. Progress of some key projects are:
SECURITY DEVELOPMENT PROJECT OF INTERNATIONAL AIRPORTS IN BANGLADESH
The project was undertaken with the objective of upgradation of the security system to international standards. Passenger and cargo security screening capacity was increased. 6 body scanners are already installed in the 3 international airports of Bangladesh. 2 EDS (Explosive Detection System) have been installed and are being run in the Hazrat Shahjalal International Airport. The project completed in December 2021.
CONDUCTING DETAILED FEASIBILITY STUDY OF BANGABANDHU INTERNATIONAL AIRPORT PROJECT
The project was undertaken for the economic development of Bangladesh along with making the country an Airport". The project costs Tk 13,658.66, and the feasibility study was finished in June 2022. international aviation hub, connecting east and west.
The feasibility study was done for "Bangabandhu International Airport". The project costs Tk 13,658.66, and the feasibility study was finished in June 2022.
LINK PROJECT FOR LAND ACQUISITION FOR CONSTRUCTION OF KHAN JAHAN ALI AIRPORT UNDER PUBLIC PRIVATE PARTNERSHIP (PPP)
Khan Jahan Ali International Airport is a planned airport in Bagerhat. Under this project, 626 acres of land has been acquired and 26250 ft boundary wall has been constructed for the airport. It was completed in June 2020.
STRENGTHENING OF EXISTING RUNWAY & TAXIWAY AT OSMANI INTERNATIONAL AIRPORT, SYLHET
The project has finished the installation of seven layers of the runway overlay which is 10250 ft. long. The airport is currently undergoing the necessary runway development to accommodate full-load Boeing 777 flights. The project will cost around BDT 45,197.73 and project progress over time is 98%.
GENERAL AVIATION HANGAR, HANGAR APRON AND NORTH SIDE OF FIRE STATION'S APRON CONSTRUCTION PROJECT OF HAZRAT SHAHJALAL INTERNATIONAL AIRPORT
The authorities are implementing the project with an estimated cost of BDT 42,452.06. The work of 10 hangars has been completed under the project. So far 6 hangars have been allotted and allottees have started their operational work. Thai section of a 5-storied multipurpose flying club building and gas works are in progress. The new apron construction is completed. About 97% work of the entire project has already been completed.
HAZRAT SHAHJALAL INTERNATIONAL AIRPORT EXPANSION PROJECT (PHASE 1)
Development of 2,30,000 sq. m. third terminal building, 63,000 sq. m. export-import cargo complex, and other infrastructure is currently in full swing at Hazrat Shahjalal International Airport. It is being implemented with loan assistance of Tk 2,139,906.33 from GOB and JICA. Implementation period is till June 2025. 3049 piles and 684 pile caps of the building construction section have already been completed. Basement area, 1st and 2nd floors of this section have been completed. Cumulative actual progress of the project is 40%.
COX'S BAZAR AIRPORT DEVELOPMENT PROJECT (PHASE 1)
Considering the growing tourism industry of the country, the authority is upgrading Cox's Bazar Airport to an international airport. The existing length of 6775 feet is increasing to 9000 feet. The existing 6775 feet runway has been increased in thickness by 20 inches in strength. Width of the existing runway has increased from 127 feet to 200 feet. Altogether, it is costing approximately Tk 201564.61 lakh (GOB 159369.78 lakh + own funds 42194.84 lakh).
INTERNATIONAL PASSENGER TERMINAL BUILDING CONSTRUCTION PROJECT AT COX'S BAZAR AIRPORT
As part of modernization of Cox's Bazar Airport, CAAB is constructing Interim International passenger terminal so that international flights at the airport can proceed. The project is costing around TK. 27788.00 lakhs. Almost 80% of the project is finished.
STRENGTHENING EXISTING RUNWAY AND TAXIWAY AT SHAH AMANAT INTERNATIONAL AIRPORT, CHATTOGRAM:
The project is ongoing at a cost of Tk 54,052.01 to increase the capacity of runway and taxiway of Chattogram's Shah Amanat International Airport. The 7th layer of the overlay has already been completed. At present the work of 8th layer is going on.
CAAB'S CAPACITY INCREASE TO ENSURE PUBLIC SAFETY AT HAZRAT SHAHJALAL INTERNATIONAL AIRPORT
The project has been undertaken to ensure the safety of all passengers traveling through Hazrat Shahjalal International Airport. 5 Petrol Cars and 4 Access Control System (Flap Barrier Human) supplied under the project are currently in operation. JICS have been invited for the supply and installation of around 450 CCTV cameras by tender.
SYLHET'S OSMANI INTERNATIONAL AIRPORT EXPANSION PROJECT (PHASE 1)
To increase the passenger and cargo handling capacity of Osmani International Airport, the project has been undertaken at a cost of Tk 230,979.14 lakhs. 34919 sq. m. passenger terminal, 6892 sq. m. cargo building, control tower and other infrastructure will be developed. Site survey, soil investigation and test piling works, ground excavation work of landside area including passenger terminal building have been finished. Out of total 1938 piles, 1384 piles have been completed (71.41%). In cargo terminal 76 out of 85 pile caps have been completed. There are 12 more upcoming projects planned for achieving SDG-2030.
Socio-Economic Impact
Asia-Pacific is experiencing the world's highest growth in the air transport sector. The Asia-Pacific Aviation industry Market was estimated to be worth $50.92 billion in 2020, and it is anticipated to increase by 8.75% annually to reach USD 97.13 billion by 2026. A few key drivers for the expansion of this industry include the quick development of the business environment, increased purchasing power, and the need for time savings. Along with the growth of the industry, the sector contributes to the country's GDP, increases job opportunities, contributes to the businesses, makes traveling convenient for passengers.
The sector created 129,000 employments and contributed 449 million to GDP in 2018, which is around 0.18% of Bangladesh's overall GDP (from domestic aviation alone). Now, aviation and tourism combined contribute 3% to the GDP. The airlines, however, have the option of increasing the figure to 10%. Monthly, the airlines can keep USD 100 million foreign remittances with the help of the government. Nearly 50 aircrafts, including freighters, are presently flown by Bangladesh's commercial airlines. Biman Bangladesh Airlines hopes to have a USD 1 billion annual revenue.
At the moment, it has a 700 million USD yearly turnover. In the meantime, Bangladesh Biman just launched its first direct trip to Canada, a long-awaited destination that will significantly increase the airline's income. Aviation experts have claimed that Biman might earn over $2 to $3 billion annually in revenue if all foreign employees (about 10 million) made regular use of it as their preferred mode of travel. Additionally, Bangladesh Biman is ready to fly flights on the Dhaka- New York route.
Furthermore, it will soon begin flying to China and other foreign locations, which will aid in increasing the amount of money it collects. US-Bangla Airlines is the first airline from Bangladesh to begin direct flights to Maldives in November 2021, with three flights per week. It now runs four weekly flights (Sunday, Tuesday, Wednesday, and Friday) between Dhaka to Male` with the intention of increasing that to daily service soon. Moreover, two further local airlines, Air Astra and Fly Dhaka will soon take a flight to capitalize on the expanding domestic aviation industry sector, which is being bolstered by the economic recovery and mobility boom. Thus, we can expect further increase in revenue, GDP, and economic contributions from the growing sector of domestic aviation companies.
Youth's opinion on the airport services
Youths have been very sceptical towards airports, especially for international travel. Facing the horrific traffic of Dhaka city and reaching the airport is a panic for travellers. Moreover, during the new normal phase after the pandemic, it was challenging to fly international flights by keeping all the safety regulations in the process. The long lines, extended procedures for safety measures, immigration lines due to slow process, limited space at terminals, erratic parking, etc. have frustrate them more towards the services.
All of these have created a negative image in the minds of the country's youth. Moreover, they often complain about the airports not being big and services not being modernized. Civil Aviation Authority is sincere, efficient, and considerate about the problems, and we can see the actions. Already CAAB is doing multiple projects to extend the capacity of the airports. New airports are being built, more terminals are getting ready, technologies are being modernized, and systems are getting smoother. More technologies are being introduced to enable the highest security and services. The aviation industry is evolving to be better than ever. With the evolvement, the youth will get the solutions to their complaints. We can expect a transformed aviation sector with happier domestic customers soon.
Increased connectivity
The government has launched numerous development initiatives to support the industry, assisting Bangladesh in becoming a hub for aviation. The upgrading of infrastructure and related facilities is being done to ensure the desired growth of the air transportation industry in Bangladesh. Air travel encourages tourism, but in Bangladesh, we could not see these two sectors successfully merge. By building infrastructure, regional nations like Singapore, Thailand, and even Sri Lanka have been able to secure significant economic benefits. Doha, Dubai, Sharjah, and Istanbul are all major contributors to their own economies as aviation hubs.
There is currently no aviation hub in Bangladesh. Additionally, the lack of infrastructure and development in the aviation sector was hindering the operations of foreign airlines. The country's unique geographic location positioned between the East and the West presents a tremendous opportunity to capitalize on the advantages of air travel. Bangladesh has even greater potential to serve as a bridge for the transit of cargo because of its close proximity to China, Hong Kong, Korea, Macao, and other countries. Currently, many international airlines are serving in Bangladesh.

They are United Airways, Jet Airlines, Malaysia Airlines, Singapore Airlines, Sri Lankan Airlines, Thai Airlines, Emirates Airlines, Etihad Airlines, Qatar Airlines, Air Arabia, Saudi Arabia Airlines, Turkish Airlines, Kuwait Airways etc. With our increased modernized and upgraded airports, more airlines will be connected with us. As all Bangladeshi domestic airplanes have expanded their wings internationally, we can see more connectivity with the world. The route map is expanding and 2 more airlines are starting to support the de- mand of domestic flights. The development projects will increase connectivity among all over the world.
The Hazrat Shahjalal International Airport's Third Terminal is taking shape, and by 2023 it is anticipated to be operational. As a result, it will be able to handle the increasing demand for air travel, particularly in the Asia Pacific region. It is crucial that we have 3 working international airports in our little nation, and Cox's Bazar will soon be added to that list. Moreover, the govt. plans to upgrade Syedpur Airport to regional airport status so that Bhutan, Nepal, and other Indian states can use it. To conclude, with a holistic strategy and a forward-looking vision, the aviation sector is likely to flourish in the near future and contribute to the country's economic progress.
The government has put a lot of thought in improving the infrastructure of the airports that are already there and is making sure that there are enough operational facilities. The industry creates a lot of jobs, helps businesses to grow, pro- motes tourism, and boosts the economy by collecting tax, VAT, excise duties, and other fees and depositing them to the government. Asia-Pacific has the most air travel growth. Bangladesh's unique position be- tween East and West can assure growth by becoming travellers' safest destination and transit point. If Bangladesh can act as an aviation centre with the necessary transit infrastructure, we will see a historical change in the aviation industry.
WHAT ARE THE MAJOR IMPACTS YOU ARE HOPING FROM THESE DEVELOPMENTS?
Airport Development works to improve the air transport system of the country reliably and efficiently which will have some positive impacts as follows: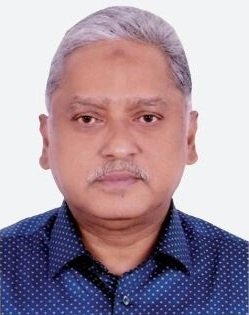 General impact:
Facilitate fast, efficient, flexible, safe, secure, and cost-effective access to destinations across the country and around the world.
Facilitate safe movement of modern new-generation wide-body Aircraft.
Ensure proper safety and security of the airport and associated structures, installations, aircraft, passengers, cargo, etc. meeting ICAO regulations.
Facilitate fast, smooth, and efficient high-quality international standard Passenger, luggage, and
cargo handling services up to the satisfaction of Passengers and related customers.
Help boost global business and the tourism sector.
Reduce poverty through the development of tourism and job opportunities.
Increased cargo handling systems will increase trade & commerce in the country and abroad.
Increase in economic growth (GDP) and tax/revenue collection.
Economic Impact:
Direct impact- Employment and activity within the air transport industry including airline and airport operations, aircraft maintenance, air traffic control and regulations, and activities directly serving air passengers, such as check-in, baggage handling, on-site retail, and catering facilities.
Not all of these activities necessarily take place at an airport, with some taking place at the head office. Direct impacts also include the activities of the aerospace manufacturers selling aircraft and components to airlines and related businesses.
Indirect impact- These include employment and activities of suppliers to the air transport industry, for example, jobs linked to aviation fuel suppliers; construction companies that build additional facilities; the manufacture of goods sold in airport retail outlets, and a wide variety of activities in the business services sector. (call centres, IT, accountancy, etc.)
Induced impact- These include spending by those directly or indirectly employed in the air transport sector that supports jobs in industries such as retail outlets, companies producing consumer goods, and a range of service industries. (banks, restaurants, etc.)
Environmental Impact:
Improve air quality.
Reduce noise and congestion in the vicinity of the airport. 
Impact on Global Business:
Enable easier and cheaper trade with distant markets and marketing of goods and services on a
global basis.
Improve the efficiency of the supply chain by shortening delivery time to ensure just-in-time delivery
systems, enabling delivery of products quickly and reliably and thus reducing costs.
Facilitate fast and reliable delivery of high-value products especially in modern-dynamic industries, such as the pharmaceutical/biotechnology and telecommunication equipment sectors.
Increase the range of product markets by the development of e-business that helps companies identify low-cost suppliers and air transport helps connect buyers and suppliers.
Improve companies' handling of returns and complaints by allowing a quick turnaround of repairs or delivery of replacement parts.
Facilitate the development of e-commerce by enabling companies to transport online shopping orders quickly and reliably between countries, allowing products to be stored in large warehouses and reducing retail and distribution costs.
Facilitate improved stock management and production techniques by reducing companies' storage costs, losses due to stock outages, and disruption caused by failure of machinery on production lines
Facilitate the development of the express carrier industry by providing guaranteed, rapid, door-to-door delivery services and logistics support for companies.
Impact on business operations: 
Enable companies to serve and meet clients, and promote the efficient organization of production. 
Air services allow better contact and more effective communication between buyers and sellers, which contributes to companies making new sales and meeting the needs of their exist- ing customers. 
Some 50% of businesses rely on air services for production efficiency. Passenger services enable managers to visit over- seas sites and other sub-sections of their business in other countries, enable a choice of the best suppliers from a range of competitors, facilitate the spread of new production techniques and make it easier for companies to attract high-quality employees. 
Social impact: 
Improve the quality of life by broadening people's leisure and cultural experiences. 
Provide a wide choice of holiday destinations around the world and affordable means to visit distant friends and relatives. Help improve living standards and alleviate poverty, for in- stance, through tourism. 
Provide the only transportation means in remote areas, thus promoting social inclusion.
Contribute to sustainable development by facilitating tourism and trade which in turn generates economic growth, provides jobs, increases revenues from taxes, and fosters the conservation of protected areas. Facilitate the delivery of emergency and humanitarian aid re- lief anywhere on earth and ensures the swift delivery of medical supplies and organs for transplantation.
WHAT ARE THE LONG-TERM GOALS FOR BANGLADESH AVIATION INDUSTRY? 
The long-term goals for Bangladesh's Aviation Industry are as follows: 
To turn Bangladesh into a global aviation hub connecting east and west. 
To develop and implement a regional and national aviation safety plan. 
To ensure fast, efficient, flexible, safe, secure, and cost-effective access to destinations across the country and around the world. 
To ensure high-quality international standard passenger, luggage, and cargo handling services up to the satisfaction of passengers and related customers/ businessmen. 
To facilitate economic growth and enhance revenue and tax collection by establishing a worldwide transportation network both for passenger and cargo, thus promoting global business and tourism 
To ensure infrastructural facilities for smooth operation and maintenance of airports and modern new-generation aircrafts. 
To mitigate the environmental impact by improving air quality, and reducing noise and congestion in the vicinity of the airport area.
To maximize social, economic, and financial benefits as far as possible using airport infrastructures. 
To develop human resources fit for the aviation industry to meet the national, regional, and global demand in this sector. 
To develop and grow the aviation industry of Bangladesh as a major contributor to support the national goal of joining the ranks of the developed countries by 2041.