Russian troops entered Ukraine in the month of February in order to 'demilitarise' and 'de-nazify' Ukraine as claimed by the Russian President Vladimir Putin. The special operation was launched believing that it would result in a quick victory on part of Russia. But it proved to be a gross miscalculation. Russian forces failed to destroy resilient Ukrainian forces. Throughout their campaign, the Russian military has been continually forced to reassess its strategic objectives and positioning. Which way this war is heading, what consequences this war may result in, and what are the possible implications of this war, writes MOHAMMAD RAFIUL HASSAN WITH NASHIR UDDIN
Russia's war in Ukraine is the most disruptive conflict that Europe has seen since 1945. In Ukraine, there is no question that Putin lit the match when he ordered Russian troops to invade on the fateful February 24. He probably believed that it would be a short, sharp war with a quick victory and that airborne troops would capture the airport, while advancing tanks would seize Kyiv – thereby removing Ukrainian President Volodymyr Zelensky and install- ing a puppet government.
Russian President Vladimir Putin told his people that he was conducting a special military operation to 'de-nazify' Ukraine and prevent NATO from expanding to Russia's border. But little has gone to his plan since Putin ordered his tanks across the Ukrainian frontier. Russian blitzkrieg failed and the conflict became bogged down in months of grinding stalemate before Ukraine successfully launched counter-offensives in the east and south. This has put outcome of the war highly uncertain, and the embattled Russian president un- der pressure.
THE WAR INSIDE PUTIN'S MIND
It's necessary to understand what's actually happening in Ukraine is the result of a vision of Russia that's deeply embedded in the mind of Putin. What we know from his own writings, and various biographers is that the intermediate cause was refusal to see Ukraine as a legitimate state. Putin lamented the breakup of the Soviet Union, which he had served as a KGB officer. Owing to Ukraine and Russia's close cultural affinities, he considered Ukraine a phony state.
He also thought Ukraine had been ungrateful – thereby offend- ing Russia with its 2014 Maidan uprising that removed a pro-Russian government, and Ukraine's growing trade ties with European Union. In 2008, he punished Georgia for its desire to leave the orbit of the old imperial power. In 2014, he annexed Crimea and prevented Ukraine from joining NATO by sparking Donbas conflict. But that's not enough for him.
Now Putin says he wants to 'de-nazify' Ukraine, but the senselessness of that claim should be obvious – not least because Ukraine's President Volodymyr Zelensky is Jewish. So, what's Putin's endgame? Does he want to punish NATO by destroy- ing Ukraine's military infrastructure? Does he intend to install a puppet Ukraine government by replacing Zelensky?
The answer to these questions might be yes. But Putin's real reason for invading Ukraine seems to be far less pragmatic, and more alarming. He seems to have succumbed to his ego-driven obsession with regard to restoration of Russia's status as a great power with its own clearly defined sphere of influence.
THE WAR AND THE UKRAINIAN RESISTANCE RUSSIA-UKRAINE WAR: WHERE IS IT HEADED?
A spirited defence by Ukraine has already foiled Russia's primary plan to seize Kyiv and other key points. Russia has also failed to force Ukraine into submission anyway. Having been unsuccessful, Russian forces had to shift their plan to capture Donbas and create a "land bridge" from Russia to Crimea. On the other hand, defending the sovereignty of their nation has proven to be enough for Ukraine. The Ukrainian military, steadfast in their goal, has demonstrated consistency throughout the war. A well-trained and efficient army is necessary to conduct strategic war properly.
Over the past six years, Ukraine with the help of Western allies has been able to build a military capable of such a war. As part of the war, Ukrainian military has done wherever resistance has been needed, such as Kyiv. Similarly, the military withdrew itself from where it's been necessary to retreat, such as Donetsk and Luhansk. Adopting simple military strategy, Ukraini- ans continue attacking the Russians wherever they can hurt most – thereby making the latter exposed. Ukraine prefers attacking the weakest physical support systems of the invading army in the field – communications networks, logistic supply routes, rear areas, artillery, and senior commanders in their command posts – resulting in the successful defence and restoration of some territories.
The Russians also somehow handicapped themselves by launching the invasion during the muddy season – thereby confining themselves to small concrete roads and severely restricting their mobility. Experts, however, think Russia's initial strategy in the war was marred by poor planning coupled with worse tactics, which is why, Russian army was forced to withdraw from Kyiv in March and Ukrainian army was able to recapture a large area around Kherson, Kharkiv, Luhansk and Donetsk from occupation forces.
To make matters worse, the Crimea Bridge that connects the annexed Crimean peninsula with mainland Russia was partially blown up in a dramatic explosion thought to be orchestrated by Ukraine forces. Russia accused Ukraine of attacking the bridge in an act of terrorism and retaliated immediately with missile and drone strikes.
The loss- es have been huge, as it seems, on the battlefronts in Ukraine. Russia thereafter announced a partial mobilisation of reservists and declared martial law in the recently annexed regions. Russia also warned of nuclear options. After faltering in the early days, Russian commanders now realise that they lack skills to win a manoeuvrestyle war. Accordingly, they have changed the style of war to 'war of attrition.' In such wars, movement of troops and military equipment is restricted.
These are deployed targeting certain areas so that enemy can be completely de- stroyed. It's thus clear that Ukraine seemingly fared better than Russia in terms of military strategy de- spite being much smaller as force. Russia's military budget in 2022 is $4,580 crore, whereas Ukraine's $470 crore. This implies that Russia's defence budget is 10 times bigger than that of Ukraine's. De- spite its enormous difference in defence budget and force size, there're a number of apparent miscalculations that actually made Russia seemingly unsuccessful.
THE WAR MISCALCULATIONS
Previous instances blatantly show that geopolitical arrogance has fatally accelerated political stupidity and it's been proven again and again starting from the ancient Greek and Roman empires to the invasions of the French, German and British powers of recent history. Putin's arrogance can be blamed for the failure to achieve the Krem- lin's dream of a quick victory when the tide turned against Russia in the Ukraine war. Experts of international relations thought of five fatal mistakes behind this:
First mistake
President Putin overestimated the military's readiness for a protracted war. Along with that, he has wrongly considered the desire of the citizens to establish the Russian Empire. Against a backward but determined enemy, Russia is now paying a heavy price and is also in a humiliating situation in the conflict. Russian soldiers are deserting their units. Russian men also began to flee after citizens were urged to join the war. On the other hand, Ukrainians are willingly fighting and sacrificing themselves for the country.
Second mistake
Putin's second assumption was that Kyiv would capitulate within days of the attack. He made the same mistake as other imperialists. He belittled the Ukrainians' resistance to occupation and their commitment to freedom. Ukrainian patriotism has been awakened in a way never seen before and it has been fully aided by Western support.
Third mistake
Another estimate that Putin likely made is that the West would not come to the aid of Ukraine, since the West did not react much to the 2008 invasion of Georgia or the 2014 annexation of Crimea. He might have thought that NATO is now weakened due to Donald Trump's 'America First' policy on Western security. But the reality is, over the course of time since the war began, weapons continue to flow into Ukraine from western allies.
Fourth mistake
Putin also believed that Europe's dependence on Russian oil and gas would make it difficult for them to break ties with Moscow over the Ukraine issue. Here too he was proved wrong. Europe's rejection of a bold and aggressive Russia and US assertiveness have brought the two sides of the Atlantic closer together.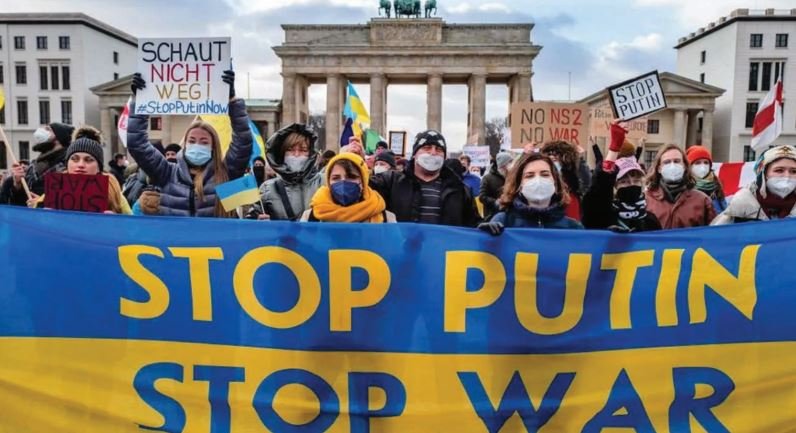 Fifth mistake
Putin assumed the United States was now in total decline, bogged down by mistakes in Afghanistan and Iraq, economic and domestic problems, and the rise of China. Due to which Washington will not react much to the Ukraine crisis. He was wrong again. The US has used Russia's Ukraine campaign as an opportunity to mobilize Western power against Moscow and cripple Russia's economy.
THE RETURN OF NUCLEAR THREAT
With more than 6,300 nuclear warheads, Russia has the world's largest nuke arsenal. President Putin therefore said, "If the territorial integrity of our country is threatened, we will, of course, use all means at our disposal to protect Russia and our people. This is not a bluff." Putin added. "And those who try to blackmail us with nuclear weapons should know that the weather vane can turn and point at them." Many have interpreted Putin's statement as a threat to use nuclear weapons.
Wolfgang Richter, a senior research associate for international security with the German Institute for International and Security Affairs (SWP), thinks that the idea behind this is probably a message to Western states, which is, if you interfere in the war or attack Russian territory, then a nuclear strike becomes more likely.
In response, US President Joe Biden vehemently warned Putin against using nuclear or chemical weapons. "Don't do it!" Biden said. "It would change the face of war like nothing else since World War II." US Senator Lindsey Graham declared that any nuclear at- tack on Ukraine by Russia would be equivalent to a nuclear attack on NATO itself that would pro- duce an overwhelming and catastrophic reply. However, Wolfgang Richter thinks that the nuclear war is unlikely.
It is because if Russia breaks the nuclear taboo that has existed since 1945, he said, the country would also be isolated and ostracised throughout the world and would lose all allies that would have incalculable consequences for the political, economic, and social survival of Russian Federation.
NATO'S REVIVAL
French President Emmanuel Macron in an interview in 2019 claimed that NATO was experiencing a "brain death." He attributed this at the time to Donald Trump's refusal to work with Europe on security, and amongst several other reasons. But today, almost three years later, NATO has turned things around and is currently undergoing a revitalisation.
Russia's willingness to go to war has forced the hand of several countries like Finland and Sweden into taking step towards joining NATO. Even a famously neutral country like Switzerland has reconsidered their neutrality. Sweden was neutral
throughout the Cold War when Soviet power was at its height. Finland, however, fought two wars against Soviet Union during World War II. But they've maintained good relations since then. Although neutral as of now,

they've been stepping away from Russia's influence for quite some time. Finland and Sweden have been parts of NATO's partnership for peace. They were essentially associate members, but now they've submitted formal applications to join NATO. Moreover, with the war ongoing, the rest of the member states in Europe is on heightened alert and have bolstered their security.
NATO member states are reportedly planning to increase their defence budgets of approximately $208 billion. Despite this hike, most of NATO's military might come from the United States, and Biden is at the moment fully committed to NATO. He even termed Swe- den and Finland's applications as a "revived NATO." NATO has condemned the war and while they are not sending any troops to Ukraine, they are assisting the Ukraine military. NATO is bolstering the eastern flank by supplying battlegroups, an increased number of jets and carrier strike groups, submarines, and combat ships deployed on a permanent basis.
A NEW GEOPOLITICAL FAULT-LINE
After the Ukraine invasion, the US and its allies have circled the wagons against Russia as their common enemy in Europe. The Soviet Union of the Cold War era does not exist anymore, but Russia which was a major portion of the USSR is no less a threat to the West. In a unique common stance, the US, the EU, the UK, Canada, and Australia have applied sanctions on Russia – thereby drawing a decisive line with the giant of a country.
Unable to directly join the Ukraine war for fear of escalating the conflict into a wider bloodbath and also because Ukraine is not a NATO member, they now want to choke Russia economically. China, on the other hand, has not applied sanctions. It's been maintaining neutrality on the issue. So does India. Brazil, Mexico, and South Africa also refused to apply embargoes. China has considerable sway over Africa and South America.
So, the countries in these regions are likely to follow China. However, it seems Saudi Arabia now has found its own mind by refusing to hold talks with the US on augmenting oil supply – thereby giving away its sentiment on the US stance on Jamal Khashoggi murder. So, whatever turns out to be the outcome of the war, this fault-line is likely to develop even deeper. The new blocks are likely to work in closer collaboration on geopolitical issues.
FRESH MILITARISATION ON THE RISE
The war exposed new realities for both sides of the new fault-line. Europe feels its security is no longer assured. It's felt more acutely by NATO's tiny nations that have limited resources and population. Such ground realities and its own security concerns have forced Eu- rope to rethink its defence strategies and to increase its military spending. Germany, which has always favoured the principle of pacification, has also dramatically upped its military spending.
An initial injection of €100 billion will be followed by a guaranteed sum of at least 2% of GDP to be spent for bolstering defence in each budget. Germany has also side-stepped its policy of not selling weapons in war zones and has offered military aid to Ukraine. It's sending troops to Lithuania and Slovakia, while air and sea deployments have been made to Romania, the Baltic and the Mediterranean. Sweden, Romania, Denmark, and Poland are also driving up military spending, while the UK, France and Canada are also proceeding with increased defence spend- ings.
On the other hand, Russia and China are working on a new dawn of relationship. The Asian giant has decided to increase its military spending by 7.1% in 2022. To sign off, the Russia-Ukraine war shows no signs of slowing down or ending anytime soon. The way the Moscow forces are moving now, it'll take them at least a decade to take over Kyiv. With money and men constantly run- ning out, it doesn't look like Russia will be able to drag this war out that long.
It can, therefore, be said that such a war can continue until one of the two sides is completely defeated or destroyed. In that case, the Russia-Ukraine war may continue for years. Neither Russia nor Ukraine has so far shown the ability to defeat each other. A possible consequence is that this war is going to be another disastrous war for Russia. Earlier, they had the same situation in the 10-year war in Afghanistan. It seems Ukraine will not agree to give up any territory occupied by Russia. Another possibility is that as time goes on, this war can go in favour of Ukraine. Because they are getting new weapons from the West. In fine, it can be said that pride and arrogance tend to cancel each other out that results in even greater blows and the eventual downfall of the power what we may see in the coming future.