The pre-pandemic situation, coupled with the long-drawn Russia-Ukraine war has given rise to an unprecedented economic crisis, derailing the growth trajectory of nations across the globe – both developed and underdeveloped. It has dislodged the investment environment affecting the culture of service provision and sustainable manufacturing.
It is apparent that the economic and socio-political ramifications of the COVID-19 pandemic plus the war in Europe will be manifold and long-term. What is required at this stage is a changed order dictated by this 'new normal', which will be characterised by a higher level of preparedness within countries and a stronger international partnership to ease the situation.
The two most important areas which have become a cause of global concern are food and energy security. The rise in prices of food products and disruption of its long-established supply chain has impacted many regions of the world, especially Africa, pushing it to a verge of serious doom. More than 61 million people across Africa are in direct need of food and nutrition, and the crisis of such a large scale has not been witnessed in the continent in the recent past. Nations have been taken hostage by Russia's war in Ukraine as those dependent on grain import from these two farming powerhouses remain at risk. While the Western world blames Russia for disrupting the safe functioning of the grain corridor, Russian leadership is blaming the sanctions imposed by the G-7 countries and others for the energy crisis. Enhanced and coordinated global action is necessary, which includes multilateral assistance to the World Food Program (WFP), national programs, regional frameworks and support through bilateral assistance.
The WFP has an immediate funding requirement of $22.2 billion to scale up its response. To meet the present situation, initiatives must also be taken to ensure that trade in food, fuel, pesticides and fertilizers are open with restrictive trade policies removed.
Political solutions and experts "can ensure humanitarian access to affected populations, including immediate reopening to Black Sea ports." It may be recalled that climate change, soaring cost of living, coupled with fertilizer price hike had already pushed countries to a vulnerable circumstance when the Ukraine-Russian war further exacerbated the situation.
Another sector that has been largely hit by the Russia-Ukraine conflict is the energy sector. Apart from causing noticeable change in demand and supply patterns, it has also disrupted long-standing trading relationships. As energy budgets go topsy-turvy, households, industries and entire economies have to rethink their energy planning as per the new global norms and make choices that are well informed on energy-related investments that continue to support secure and affordable energy supplies.
Russia was the world's largest supplier of oil and natural gas in 2021. The disruption, therefore, has not only affected Europe, but has catapulted into a crisis with global ramifications. Energy experts keeping in view the skyrocketing crisis of fossil fuel are deliberating on the need to invest in alternative energy and its viability in the long run. This is also important keeping in view the established goal of net zero emissions worldwide by 2050.
Apart from investing in low emission technologies, there is also a need to invest in hardware away from Russia in the form of new LPG terminals to reduce Europe's dependence on Russia-controlled oil supply. This is especially important for the West, in particular the EU, which sermonizes the Asian countries to adhere to sanctions against Russia and continues to depend on Russian natural gas for its own consumption.
Keeping in view the fast-altering contours of geopolitics and crisis hitting hard the global food and energy market, it is interesting to deliberate on the preparation being made by India, the South Asian economic giant, to meet these challenges on a short and long-term basis. China and India both have more than 1 billion people, which puts considerable strain, posing challenges to both countries.
Government sources reveal India and China together have in store half of the world's total wheat stocks and a very large stock of rice. India, therefore, plays a major role in the world's food security system and in the international food and nutrition security mechanism.
Food security is one of the prominent UN-mandated Millennium Development Goals (MDG), the purpose of which is to ensure that people across board have access to "sufficient, safe and nutritious food at all times to lead a healthy and active life". It is a combination of food availability, food excess, and food utilization and it is very closely related to "household resources, disposable income, and socio-economic status".
India passed the National Food Security Act 2013 to provide food and nutritional security at affordable prices to 75% of the rural population and 50% of urban population. Generally, for a large country like India, buffer stock and Public Distribution System (PDS) constitute the effective mechanism to ensure food security.
India runs the largest PDS in the world, which has over the years been the most effective instrument of public policy to ensure stability of prices and effective distribution of food. It has also ensured the transfer of food from deficit to surplus areas. Apart from this, several schemes like ICDS, AAY and Midday Meals in Schools are used to ensure a balanced nutritious diet for the marginal sections of the population. This is especially important because as per the Global Hunger Index, India's position continues to remain a matter of concern.
In this context, it may be mentioned that the federal government of India took special measures to ensure food security since the outbreak of the COVID-19 pandemic under the Pradhan Mantri Garib Kalyan Anna Yogana, in which 800 million plus beneficiaries were given 5 kilograms of food grains per person per month at no additional cost, for which the government spent Rs 43,335 crores estimated total subsidy.
It also implemented a $22.6 billion economic stimulus plan providing direct cash transfers and food security measures to give relief to the poor people hit by nationwide lockdown. Vulnerable families were buffered by a robust and targeted public distribution system to protect them from losses suffered during the pandemic.
After having taken care of domestic requirements, India helped the world with supplies. Prime Minister Narendra Modi, while talking to the Indian community in Denmark recently, said, "When India has become self-reliant in food grains, it has offered (food grains) with an open mind to save the world from hunger".
India surpassed Brazil in food exports to Arab League nations in 2021 for the first time in 15 years, as per data of the Arab-Brazil Chamber of Commerce. India registered excellent growth in agriculture exports in 2021. Exports of agriculture and allied products during 2021 jumped to $41.25 billion, indicating an increase of 17.34%.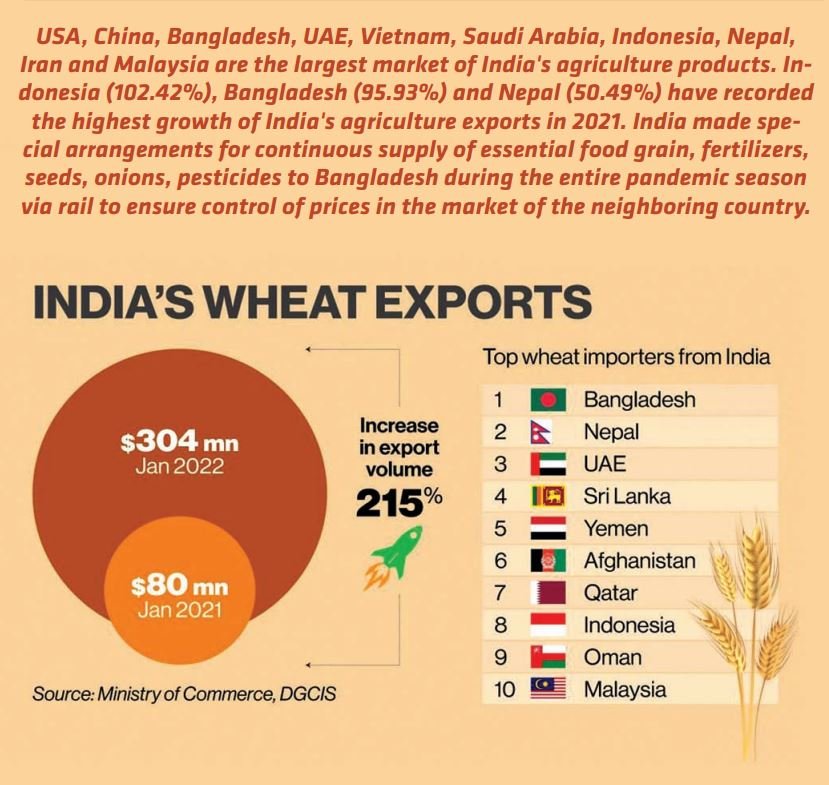 India has donated 90,000 metric tons of wheat to Afghanistan through the World Food Program from 2020 to June 2022 in spite of not having formal diplomatic relations with the Taliban administration there. Similarly, in crisis-ridden neighbouring Sri Lanka, India has extended an emergency $1.5 billion line of credit to buy food, oil, and medicines. Indian traders sent 40,000 tons of rice for prompt shipment in April 2022 in the first major food aid to Colombo.
Similarly, India today is a big player in the petroleum sector, and under Prime Minister Modi's dynamic leadership and active private participation, and foreign direct investment, it is going to emerge as the most important hub of oil export, import, and refining in the next five years. The country has undertaken major initiatives to address the emerging energy scenario of the 21st century, including future fuels. The National Hydrogen Mission is an important step in making India a major center for emerging green fuels. At the recently held G-7 Summit in Germany, PM Modi acknowledged that energy security has become a very challenging issue in the wake of the Russia-Ukraine conflict and declared that India would continue to do what it thinks is best in the interest of its own energy security when it comes to the question of global oil trade.
Addressing a meeting in Bangkok a fortnight ago, India's External Affairs Minister, Dr. S. Jaishankar categorically reiterated that "we are being very open and honest about our interests. I have a country that has a per capita income of $2,000. These are not people who can afford higher energy prices. It is a situation today where every country will try to get the best deal possible for its citizens, to try to cushion the import of high energy prices".
In spite of the US and Europe's disapproval, India is buying discounted Russian oil and has built a buffer stock of petroleum products to meet any future emergency eventuality. Indian diplomatic sources reveal that India's crude oil imports from Russia have catapulted 50 times since April this year. Russia has earned $285 billion this year from its oil and gas sales to Asian countries. Oil shipments to India averaged 877,406 barrels per day in the months of June and July this year. In the face of stiff competition, Saudi Arabia has been forced to reduce its official selling price to Asian customers in July-August. With the aim to become a regional refining hub, India is taking necessary steps to augment its capacity from present 230 million tons per annum to about 480 million tons per annum by 2040. India is also setting up the world's largest integrated refinery-cum-petrochemical complex of 60 million tons per annum capacity in its western coast.
Reliance Industries Limited, a big player in the private sector in India, is working towards positioning the country as a global leader in photovoltaic manufacturing in order to reap the benefits of solar and other types of renewable energy. As electric vehicles' sales gain momentum, plans are afoot to manufacture 100% Made in India "lithium ion batteries" whose demand is expected to witness exponential growth in the near future.
India is fast-tracking the manufacturing of biofuels, which are "renewable, biodegradable, sustainable and environmental-friendly and is an alternative to conventional fossil fuel". At present, ethanol-blended petrol of 5% to 10% range is being promoted in India. India's energy demand, as per estimates, shall witness a compounded annual growth rate of 3.5% till 2040, an IEA report states that India has tripled ethanol demand an estimated 3 billion litres during 2017 to 2021.
An IEA report states that "a combination of a growing and industrialising economy and an expanding and increasingly urban population with higher energy use, raising the question of how best to meet the swelling demand without exacerbating issues like costly energy imports, air pollution, and greenhouse gas emission". It is expected that India would require an additional funding of $1.4 trillion for clean energy.
By 2040, as indicated by current consumption trends, dependence on imported oil would rise from 75% to 90%. India's crude oil bill at the end of this fiscal year on 31st March 2022 doubled to $119 billion as energy prices soared globally. India, therefore, needs to chart a measured path, executing a well-calibrated energy policy that would be balanced to meet its growth potential and maintain environmental sustainability. India is doing extensive work in its neighborhood to strengthen energy security, especially in Bhutan, Nepal, Bangladesh and Sri Lanka. For Bhutan, hydropower is a "strategic renewable energy source". It contributes 17.74% to its GDP. India, through a mix of grants and loans together with technical support, is involved in a big way in Bhutanese hydropower projects for decades.
However, the economic, social and environmental impact needs to be introspected in detail, especially accounting for increasing "public debt" due to the capital-intensive nature of these projects. With the initiation of the Jaldhaka hydropower project in the 1960s to the joint venture 600 megawatt Kholongchu hydroelectric project, cooperation in this sector has come a long way providing clean energy to India and augmenting the national income of Bhutan.
Nepal and India, too, are working together in the power and energy sector under the sub-regional BBIN (Bangladesh, Bhutan, India and Nepal) framework. Cross-border transmission infrastructure is being developed on both sides and "coordination between national grids and institutional sharing of latest operational information, technology and know-how". Nepal has appreciated India's "recent cross border electricity trade regulations that have enabled key partners like Nepal to access India's market and trade power with India".
South Asia's first cross-border petroleum products pipeline from Motihari (Bihar) in India to Amlekhgung in Nepal was inaugurated in 2019, which led to savings of $1 billion for Nepal Oil Corporation. This pipeline will now be expanded to Chitwan and a new one is under construction between Siliguri (India) to Jhapa (Nepal). With $1.2 billion Indian investment in power and energy sector in Myanmar, it is the highest in any Southeast Asian country by India.
Also, India is extending assistance to Sri Lanka by sending emergency relief in the form of petrol and diesel during the present crisis situation in the island nation. It has implemented the LNG-based 300-megawatt Kerawalapitiya power plant and also provided $100 million line of credit for development of solar power projects in Sri Lanka.
Thus, food and energy security continues to be very high on India's list of priorities. Not only to meet domestic requirements, but for the general wellbeing of people in its entire neighborhood in South Asia.