There are many questions appearing in public minds across the country with the fast approaching of next general election scheduled in December 2023: How a participatory election by all political parties can be ensured and activated next time? Will the Election Commission be able to achieve any such goal with regard to the national election? A deeper look into the present political culture and EC's challenges as well as abilities to hold elections asd desired may help answer the questions, reports PRESS XPRESS
Electoral participation in Bangladesh is currently one of the most discussed topics in the country. Although it depends on various factors, an election in a democratic setting is considered a process to transfer the power and rule of service towards the elected party with political gestures and attitudes by showing mutual respect and positional status. The culture of democracy is assessed through an election and related dialogue, which determines strength of the people and institutional capacity to practice democracy and hold transparent elections.
ELECTIONS IN BANGLADESH
In case of Bangladesh, it has had more than five decades of existence with a parliamentary form of governance albeit interrupted by a short tenure of military governance. Bangladesh since its inception has hardly missed any scheduled general election date or to elect a government with voters getting opportunities to freely vote for candidates of their choice. However, the major political parties were not always in good terms or cooperative enough during previous polls – especially in recent years. So, a question has appeared in public minds of late as to how a participatory election by all political parties will be ensured and activated in the ensuing parliamentary polls of Bangladesh in view of the current situation. Another question often appears in public minds is, will the EC be able to convince all political parties to join the election and ensure fair polls with the fast approaching of scheduled December 2023 national polls. There are 39 registered political parties in Bangladesh as per the documents of the election authority. In recent times, ruling Awami League's (AL) arch-rival BNP (Bangladesh Nationalist Party) contenders gained victory in four municipalities while independent candidates won eight. During the first phase of polls on December 28, AL contenders achieved success in 18 municipalities out of 24, BNP candidates in two municipalities and independent candidates in three. It was notable that the EC was trying harder to conduct non-partisan polls. If this trend continues, then some observers in the country are optimistic that it could lead to a situation when EC would be able to claim too that it presided reasonably, fairly over the polls or polls process. And the photo-finish sort of results in many constituencies would shore up the EC stand.
CHANGING NATURE OF ELECTION WORLDWIDE
Some political analysts observed that the nature of election and preparation for a free-fair election in the global context has been changed due to many factors and grounds. The democratic orientations and settings of many countries have misplaced their previous tradition and heritage. The analysts say that the concepts of the election, people, democracy, and participatory politics have been explained in different ways according to the desire of interest groups and parties. By considering the election context of foreign countries including Bangladesh, the people who have voting power have changed their mentality and interest to fight for democracy and they view it as a threat to politics and to the people who are expecting services for the political parties and wings. In line with the above view, Tawohidul Haque, Assistant Professorof Dhaka University, says a culture of political alliance or coalition has been practiced in Bangladesh to participate in the election and to face political affairs. As a result, the ideological strength of the two major parties has been decreasing and negotiating. The strong supporters of the two major parties like Bangladesh Awami Leagueand the Bangladesh Nationalist Party have been demoralized in some cases to see the mentality of compromising and negotiation, he said.
Senior journalist Enayet Rasul points out that the incumbent AL candidates would still win preponderantly in most
of the parliamentary constituencies with spontaneous support of voters. It would be enough if the EC could show
that tough two-way contests actually occurred, that a sufficient number could come to the polling centres and vote
unintimidated. With election violence kept reasonably low by policing and voters' turnout in the neighbourhood of
50 percent, the EC would be in a strong position to meet any criticism that it failed to preside over fair elections.
INVOLVEMENT OF SUPPORTERS AND CHALLENGE OF POLITICAL CAPITALISM
The involvement of supporters and well-wishers of any political party is their resource and strength. A participatory election depends on many issues including the eagerness to welcome democratic phenomena everywhere and to allow the common people to decide 'what will be going in the state in the name of development and progress.' According to some critics of the government, this theoretical corner has been displaced and forced to accept the new ideas and thoughts which have been controlled by power and ruled by audacity. They also observed that a noticeable difference has happened in Bangladesh in the political settings and power-oriented movements. The trust and confidence of the voters and the people of the country by political parties have been exiled and an era of a new materialistic stage has been entered in Bangladesh which the critics call it political capitalism or corporate politics.
CHALLENGE OF RESTORING TRUST
It is therefore the first challenge before the EC is to restore the trust of all electoral stakeholders in the electoral process and bringing people back to the elections. How people feel about election is also consequential. When people have confidence in elections, it grants legitimacy to the election outcome and the political system. However, it is tough to build or restore trust in the electoral process in a country like Bangladesh, where there are high levels of political polarization. Another challenge is transforming the unopposed elections into contested ones. Unopposed elections are not illegal in Bangladesh. But such elections are only accepted when someone is elected uncontested as per the will of the people.
RESTRICTING VOTE ENGINEERING & MANIPULATION
A voice has been spoken in global politics and that is -voting engineering and manipulation. Opponents of AL assumed that this situation has made two dimensions that have hurdled to conducting a participatory election for any country like Bangladesh. One of the significant dimensions is that the selection of the candidates has been chosen considering the weight of money and power to control the opposition. The second dimension is that influenced by family and nepotism has divided democratic practice and policy. As a result, as they said, the opportunities for a participatory election have been pocketed and controlled by someone. This culture has made a controlled democracy. The concept of controlled democracy has kidnapped the strength of participatory election.
INVOLVING ALL POLITICAL PARTIES IN ELECTORAL PROCESS
The challenge here would be to involve all the political parties, including BNP, in the electoral process. They have not only boycotted the EC appointment process with the allegation of voting engineering and manipulation, but they have also continuously criticized the president's dialogue with political parties and enactment of the law on the formation of a search committee to appoint the EC. One of the important factors for a participatory election is the voice of the political parties to mention the opinions regarding political affairs. By contrast, dialogue declared by the election authority has not been welcomed by all and criticized according to the previous history. It is another obstacle to arranging a participatory election including all registered political parties.
ENSURING FAIR PLAYING-FIELD FOR POLITICAL PARTIES
Some say the culture to allow the opposite opinion is more or less absent in Bangladesh. The forced decision in political affairs is welcomed more instead of democratic practice and values. Democratic values and customs are the prerequisite to conducting a participatory election. The challenge for EC is to ensure a level 'playing field' for all parties and candidates. In a report on the 2018 polls in Bangladesh, the UK House of Commons stated that "the 'playing field' remains far from level. Official harassment of political opponents remains intense. Awami League enjoys the advantages of incumbency." This was mostly true in most elections held under political and authoritarian governments in Bangladesh since 1973. Therefore, addressing this will be quite challenging for the EC.
MAKING EC A COHESIVE BODY
Another challenge is to make the commission a cohesive body. Although the constitution authorizes the CEC to chair the commission meeting, and exclusively empowers him to defer the date of elections due to reasons that are acts of God, all the decisions should be made unanimously. The Supreme Court of Bangladesh said unequivocally that "for exercising and performing any powers and functions under this Order, he (the CEC) must get authorization from the commission itself, otherwise his action would be coram non judice and without jurisdiction." Due to a lack of consensus, a rift in the immediate past commission not only hampered its cohesion, but it also eroded citizen trust in the electoral process.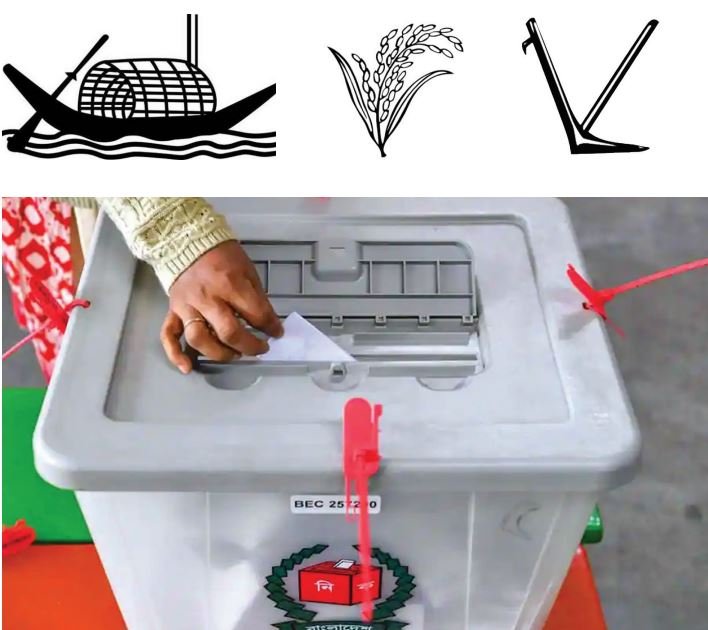 HOW CAN EC OVERCOME CHALLENGES?
Officially, the EC is not answerable to the president, prime minister, speaker of parliament, or the judiciary, which means they are accountable to the citizens. They could develop an accountability mechanism that may include various citizen engagement strategies in every step of the electoral process. This could include regular issue-based reporting, rigorous public scrutiny, and keeping the electoral stakeholders and the public periodically updated on their strategies and policies, intended outcomes, performance and the financial resources. Accountability to the citizens and its stakeholders would promote transparency and good governance, and positively influence the public's perception of the commission's professionalism and impartiality. The EC could prepare a two-year strategic plan as well as an action plan targeting successful outcomes from credible elections, to be achieved by organising local body elections scheduled for 2022-24, and of course the 12th parliamentary election next year. With intensive interaction with electoral stakeholders, the commission should fix its two-year vision and mission, analysing what its current position is and where it wants to be in two years, identifying its focus, strategies, and roadblocks to conducting credible elections that may arise along the way.
The Commission could start organising "model elections," which could be held in selected unions or upazilas or municipalities. To do that, the commission could revise the electoral code of conduct, considering the current context and the challenges faced in recent years, deploy security forces from other districts, provide comprehensive trainings to all temporary poll officials, allow stationary election observers who can remain at any polling station from poll opening till the announcement of results.
The EC should set up a high-level effective monitoring cell led by a commissioner, which must register all complaints coming from anyone, even the media, and address those quickly through investigation, leaving no complaint untouched. Pertinent to gazette notification of election results, if there is any minor complaint, the commission should withhold such notification until it completes relevant inquiry.
Also, there is a point on using electronic voting machines (EVMs).The new EC leadership is pushing for the use of EVMs as widely as possible in the scheduled 2023 polls. Human failings, errors or deliberate slipups may occur. But the machines are said to be almost flawless and this can be claimed from election experiences in many countries. Thus, their additions should be considered as a positive addition in conducting elections than the opposite. The EVM needs to be seen as a positive addition to the election process.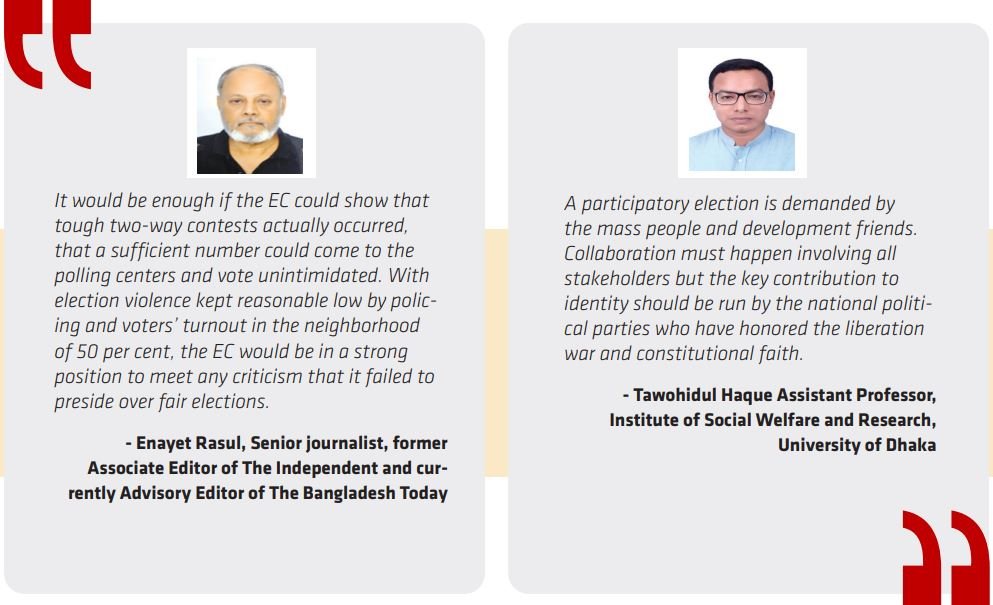 EC'S DIALOGUE WITH POLITICAL PARTIES
EC started holding dialogue with registered political parties on July 17. All 39 registered parties were invited for
dialogue, said EC Secretary Ashok Kumar Debnath. The commission traditionally holds dialogue with political
parties prior to holding parliamentary polls and it is a continuation of that tradition, he added. A schedule for
dialogue was also followed as listed below:
ON 17 JULY, EC sat with Jatiyatabadi Ganotantrik Andolan from 10:30 am to 11:30 am, Bangladesh Nationalist Front (BNF) from 12:00 pm to 1:00 pm, Bangladesh Congress from 2:30 pm to 3:30 pm and Bangladesh Muslim League from 4:00 pm to 5:00 pm.
ON 18 JULY, dialogue was held with Bangladesh Islami Front from 10:30 am to 11:30 am, Bangladesh Sangskritik Mukti Jote from 12:00 pm to 1:00 pm, Khelafat Majlish from 2:30 pm to 3:30 pm, Biplobi Workers Party, Bangladesh from 4:00 pm to 5:00 pm.
ON 19 JULY, the dialogue was held with Bangladesh Kalayan Party, Islami Oikya Jote, Bangladesh Khelafat Majlish, and Bangladesh Samyabadi Dal–ML.
ON 20 JULY, dialogue took place with Ganotantri Party and National Awami Party.
ON 21 JULY, the EC sat with Bangladesh Tarikat Federation, Bangladesh Jatiya Party, Jatiya Samajtantrik Dal (Jasad), and Gonofront.
ON 24 JULY, dialogue was held with Bangladesh Khelafat Andolan, Jatiya Party-JP, Jatiya Samajtantrik Dal–JSD, and Islamic Front.
ON 25 JULY, Bangladesh Muslim League took part in the dialogue, followed by Workers Party of Bangladesh, Bangladesh Samajtantrik Dal and Liberal Democratic Party
ON 26 JULY, the EC sat with Jamiyate Olamaye Islam Bangladesh, Bikalpadhara Bangladesh, Islami Andolan Bangladesh, and National People's Party.
ON 27 JULY, dialogue took place with Bangladesh Jatiya Party-BJP, Zaker Party, and Krishak Sramik Janata League.
ON 28 JULY, the EC held talks with Gonoforum, Bangladesh National Awami Party-NAP, and Communist Party of Bangladesh.
WHO SAID WHAT ABOUT NEXT PARLIAMENTARY POLLS
To conclude, nowhere in the world electoral authorities can conduct credible elections alone. In general, the role of an election commission is mainly to make policy decisions along with strong monitoring for effective enforcement of the decisions. All electoral stakeholders—the government, political parties, candidates, voters, the media and international communities—are required to support the electoral authorities.
However, the Election Commission of Bangladesh possesses some extraordinary powers, including cancelling candidature, suspending polls at any time, supervising, directing and controlling the activities of returning officers, and withdrawing any officer from poll duty. By addressing the aforementioned challenges and exercising its powers, the newly restructured commission will be able to conduct credible elections in the country.
For the political party, as Tawohidul Haque pointed out, collaboration must happen involving all stakeholders but the key contribution to identity should be run by the national political parties who have honoured the liberation war and constitutional faith. The non-communal culture should be maintained and advertised by the political parties for the interest of the country in a broad context.
Two things must be prepared before a participatory election that is – political party with a democratic attitude and people with democratic features. As per the constitutional conditions, the forthcoming election will be held at the proper time which is expected by the common people but how much it will have participated depends on the eagerness and election-oriented behaviour of the political parties. A remarkable observation should be remembered by the voters and the common people by raising their voices in favour of the country and development. The pro-people for a participatory election is must and necessary to offer an election that will be granted by the majority of political parties and welcomed by common people.