Japan's longest serving Prime Minister Shinzo Abe was shockingly assassinated whilst making a campaign speech in Nara prefecture on July 8. Around 11:30am in the morning, he was shot using a home-made weapon by an unemployed Tetsuya Yamagami. Abe San, as he was fondly called by his constituents, suffered two gunshot wounds. Upon airlifting to Nara Medical University Hospital, where he was confirmed dead five hours later, doctors found two wounds towards the front of Abe's neck on the right side – with one deep enough to reach his heart. There was also damage to Abe's shoulder, but no bullets were found during surgery.
The whole incident had a profound impact not only in Japan but across the globe. Shinzo Abe's contribution as leader of Japan for almost 8 years has made him a standout statesman and global leader. His domestic policies revived Japanese economy from a long downtrend of growth. He asserted a new role of Japan by revisiting, reinterpreting Japan's post-war "pacifist" constitution and introducing a new state secrecy law. Abe repeatedly called the importance of being an equal ally to United States and other western nations in regional security issues. Thus, the loss of Shinzo Abe brings his legacy in Japanese domestic and international footprint into conversation.
EARLY LIFE
Shinzo Abe was born in a prominent political family in 1954 to Shintaro Abe and Yoko Kishi in Tokyo. His father, Shintaro Abe, joined naval aviation force and volunteered to become a kamikaze pilot in World War 2. But the war ended before he finished his training. Shintaro was a member of parliament in 1958 until 1991. He served as Japan's foreign minister from 1982 to 1986. He also held important portfolio such as Chief Cabinet Secretary, Minister of International Trade and Industry and Minister of Agriculture and Forestry. Shinzo Abe's grandfather, Kan Abe, was also a member of parliament. Kan was a pacifist who opposed the Hideki Tojo's militarist government and war in East Asia.
Shinzo's mother, Yoko Kishi, is daughter of prime minister of Japan Nobosuke Kishi. He held the prime minister office from 1957 to 1960. But Nobosuke infamously served as Minister of Commerce and Vice Minister of Munitions under Hideki Tojo's war cabinet during second world war. He was also the 'Economic Manager' of the Japanese invaded land of Manchuria in China during this period. But despite controversy, he politically maneuvered himself into upper echelon of Japanese politics in postWorld War 2 and created a close working relation with the Americans. He also survived an assassination attempt through a knife attack in1961. It is safe to say the versatility of political background of his family has always been an influence on young Shinzo Abe. He completed his graduation from Seikei University on political science in 1977. He then went to University of Southern California to study English but left after taking three semesters. He started his professional career for Kobe steel in 1979. He left the company in 1982 to pursue a political and government career. He worked as a secretary to his father who was the foreign minister and visited 81 countries.
He got married to Akie Matsuzaki, a socialist and radio DJ, in 1987. The couple had no children despite going through fertility treatment. She is often cited as "Domestic Opposition" due to her socialist point of view which often contradicted Shinzo Abe's conservatism.
INCUBATION TO DOMESTIC POLITICS
Shinzo Abe, his father Shintaro Abe and maternal grandfather Nobosuke Kishi all were part of Liberal Democratic Party(LDP). In Japanese domestic politics LDP has kept power almost every year since 1955, except between 1993-94 and 2009-12. On paper it might look like that Japan is a de-facto one party state under a political maneuver known as the "1955 system". But inside the party there are multiple factions which are much more powerful ones than that of many other parties. Shinzo Abe was part of Mori faction (Seiwa Seisaku Kenkyukai), which generally described as a pro-classical economics, nationalist, conservative and neo-Japanese conservative faction. His father Shintaro Abe was an ex-leader, and his maternal grandfather Nobosuke Kishi was one of the founding members of the faction. Shinzo Abe said, "Some people used to point to my grandfather as a 'Class-A war criminal suspect,' and I felt strong repulsion. Because of that experience, I may have become emotionally attached to 'conservatism,' on the contrary".
Shinzo Abe became a member of the parliament in 1993 from the same seat as his father after his death. Abe became the chief negotiator for the Japanese Government for the Japanese abductees by North Korea and gained national popularity for his tough stance. He raised through the rank quickly and became the chief cabinet secretary under prime minister Junichiro Koizumi in 2005. He became the president of the ruling Liberal Democratic Party in 2006.
FIRST STINT AS PM, DOWNFALL, AND REBIRTH
Shinzo Abe became Prime Minister of Japan for the first time on 26th of September 2006. With that he made history by becoming the first PM to be born after second world war. He was also the second youngest PM at age 52, bested by Fumimaru Konoe in 1941. After getting elected he reshuffled the entire cabinet with only one member keeping his position. He also restructured the cabinet which was compared with USA's White House administration.
He showed his strong conservative views in both domestic and international policies. He took policy of balancing the budget through spending cuts. He sought to re-interpret or broaden the interpretation of the Article 9 of Japanese constitution. But before he can achieve his targets the government was embattled in a controversy regarding Agriculture Minister Toshikatsu Matsuoka in a series of political funding scandal. Mr. Matsuoka soon committed suicide, a case first since second world war. Beside that Abe's rejection of a female successor for Imperial Crown diminished his supporting base. LDP lost control of the upper house of the parliament for the first time in 52 years. Despite Abe's insistence that he will fight on, he announced his resignation on 12th September 2007, less than a year in the office.
He continued to serve in National Diet and was re-elected despite LDP loosing to Democratic Party of Japan in the national election in 2009. He was re-elected as president of LDP in September 2012 again. In the aftermath of a massive earthquake, tsunami and nuclear disaster in Fukushima; Shinzo Abe and LDP came back to power in December 2012. He reshaped Japanese politics in a historical manner as the longest reigning PM by keeping office until 2020. He dominated Japanese politics, took unusual economic policies and revisualized Japan's footing in international arena.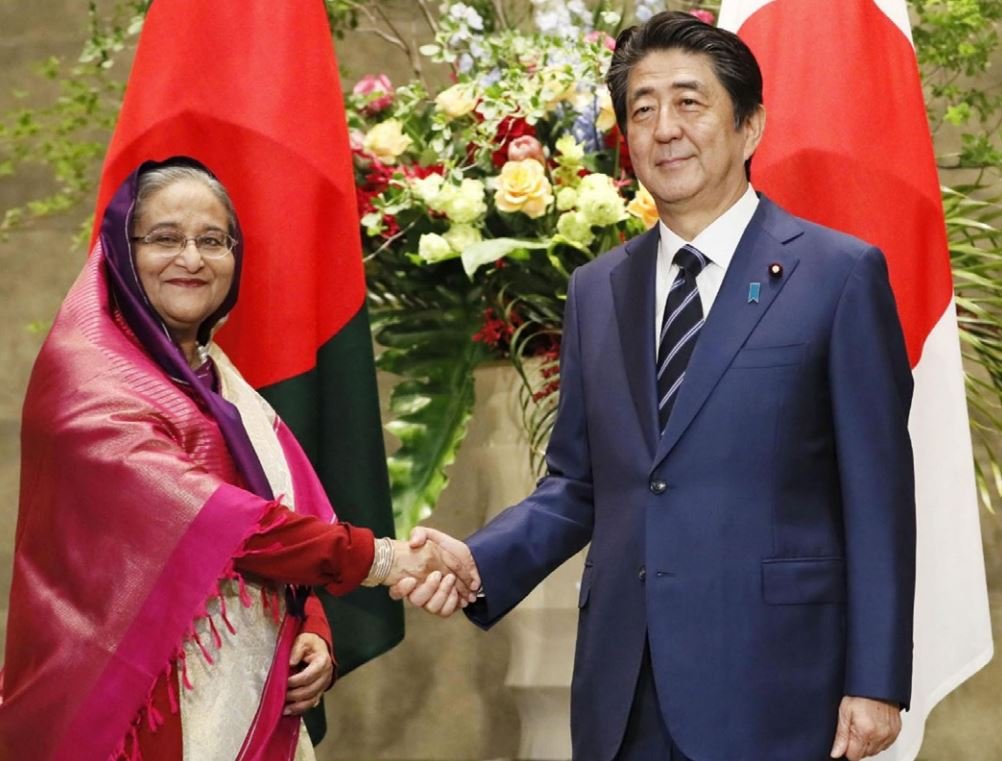 TIME-TESTED PARTNERSHIP
Japan and Bangladesh have always been true friends and partners in their bilateral ties. Shinzo Abe visited Bangladesh in September 2014, becoming the first Japanese PM since 2000 to visit Dhaka. Despite his economic policy to cut foreign funding, he pledged to provide $6 billion for infrastructural development of Bangladesh and signed agreement for funding seven mega projects. The gruesome terrorist attack on Holey Artisan Bakery in 2016, where 7 Japanese nationals lost their lives, could have been a diplomatic disaster for both the countries. But Mr Abe called his Bangladesh counterpart Sheikh Hasina offering support for her fight against terrorism and termed the incident "unfortunate". Prime Minister Sheikh Hasina paid homage to the great man in a cabinet meeting on July 25 saying, "Shinzo Abe stood beside Bangladesh for its development while ensuring Japan's socio-economic advancement. He was a very sensitive, patriotic and real politician."
ABENOMICS
After taking office Abe announced an economic policy to counter Japan's downtrend of growth since the stock market crash of 1992. The policy which later become popular as 'Abenomics' has three stages, more commonly known as 'the three arrows' with line of a Japanese folklore. The three arrows are
While many economists and opposition parties criticized the achievement of Abenomics, the stock market soared, employment picked up and the man in the prime minister's office appeared to know what he was doing.
REINTERPRETATION OF ARTICLE 9 OF JAPANESE CONSTITUTION
After the defeat of Second World War, occupying United States imposed the present pacifist constitution, which came to effect in 1947. The article 9 of the constitution says,
ARTICLE 9.
Aspiring sincerely to an international peace based on justice and order, the Japanese people forever renounce war as a sovereign right of the nation and the threat or use of force as means of settling international disputes.
In order to accomplish the aim of the preceding paragraph, land, sea, and air forces, as well as other war
potential, will never be sustained. The right of belligerency of the state will not be recognized.
This article is often debated in Japanese political and social spectrum. The conservatives view as an obstacle for Japan to regain its control of national and international security. To change or revise any part of the constitution, two-thirds of majority is needed in both houses of the parliament and then it need to be ratified by a national referendum.
The Abe government, instead of changing or amending the article, approved a reinterpretation of the article which gave power to Japan Self Defense Force to defend other allies in case of war declared upon them. The controversial move is often criticized by opposition and pacifists as illegitimate. But United States and other allies of the region supported such stance. The nationalists assert that Japan should remilitarize and build nuclear capabilities to regain pride and independence.
THE ABE DOCTRINE
Another legacy of Japan's defeat of second world two is Japan's postwar prime minister Shigeru Yoshida's foreign policy strategy which is popularly known as 'Yoshida Doctrine'. The policy emphasized formost on Japan's economic gain and relied heavily on the security concerns with the USA. The article 9 of the constitution was a large contributory factor of the Yoshida doctrine. The conservative factions of Japan have always wanted to revisit this policy.
With reinterpretation of the article 9 under Abe's leadership, Japan took a more assertive foreign policy focusing on stability and security. With China's rise as an economic and military superpower, Abe wanted its own independent security strategy not overtly relied on USA. He wanted to counter the Chinese threat by building an alliance of what he called "like-minded democracies", including India and Australia. He was also instrumental in the founding of the Quad, an alliance between the US, Japan, India, and Australia, which is known as the Asian NATO. This shift of foreign policy is often described by academicians as 'Abe doctrine"
CONSERVATISM AND CONTROVERSIES
Reinterpretation of article 9 and the 'Abe Doctrine' foreign policy was the biggest points of the Japanese Conservative movement. But Shinzo Abe will go down as a staunch conservative, often taking controversial steps to regain Japanese honor. Many steps often provoked Japan's neighbors who were the worst sufferer of Japanese atrocity of the second world war. He most controversially visited the Yasukuni Shrine, dedicated to enshrining of Japan's war dead. The shrine dedicates to many class A war criminals as well. He was a historical negationist by denying many proven atrocities by Japanese forces in World War II. A new public event, the Restoration of Sovereignty Day, was held in Tokyo to mark the 61st anniversary of the end of the US occupation of Japan since 2013.
Domestically Shinzo Abe had to confront a scandal named 'Moritomo Gakuen' connecting his wife, Akie Abe. Akie was appointed as an honorary president for Moritomo Gakuen, a private elementary school. It was found in a newspaper investigation that Japanese Government sold a piece of land to school for about 14% of the estimated value. Even in his unfortunate demise his families' controversial link up with Japanese Unification Church might have played a passive role.