In a glorious career spanning nearly eight decades, Lata Mangeshkar has sung in more than two thousand
Indian films. She holds the record of singing more than 30,000 songs in 36 different languages. In addition to
her skyrocketing fame, she won numerous prizes and honours including Bharat Ratna, Padma Bhusan etc and
got the love of countless people. She took part in Bangladesh's liberation war by way of playing an important
role in raising funds for the greater cause back in 1971, writes SK Mehbub Hassan
Every household throughout the Indian subcontinent came to a standstill with the death of the "Nightingale of India", the legendary singer Lata Mangeshkar proving her unparalleled towering status as a melody queen. The voice that resonated with people from all walks of life sighed away its last breath and with that she took away the hope of hearing her majestic voice in person ever again. Two days of state mourning was observed across India over her death. But just like her voice her mourning was not observed only within the borders of India. Every soul across the globe who ever had the opportunity to hear her voice from the state of Maharashtra in India to the New York State in the US observed her mourning alongside India. Likewise, the hearts of every audiophile in Bangladesh bled in the mourning of Lata Mangeshkar, crying over the reality that her voice will now forever remain an echo of the past recorded in technologies. The President of Bangladesh, Abdul Hamid alongside the Hon'ble Prime Minister Sheikh Hasina have expressed their deepest condolences over the death of this songstress. News portals throughout Bangladesh featured this grief filled news to the masses of the country. Afterall, the magical voice of Lata Mangeshkar has always been an integral part of the life of Bangladeshi people. Only those who listened to her songs knew the beauty that bloomed from that music. 'Music Queen' Lata Mangeshkar breathed her last on the morning of February 6, 2022 at Breach Candy Hospital in Mumbai. The 92-year-old artist passed away at the hospital after suffering from coronavirus (Covid-19) for about four weeks. Although she recently contracted pneumonia after recovering from the Covid-19. However, the singer died due to complications from Covid-19 infection. She dominated the world of melody and music alone for over seven decades. As a playback singer, her unique voice has taken her to the peak of popularity and fame. Lata Mangeshkar has sung in roughly more than two thousand Indian films. She also has a record of singing in 36 regional languages of India and foreign languages. She also holds the world record for singing more than thirty thousand songs. Lata Mangeshkar was born on 28 September, 1929 in Indore, the capital of Madhya Pradesh in India to a Marathi family. Her father Dinnath Mangeshkar was a famous classical musician and playwright. Her mother Shevanti was a Gujarati woman. Lata was the eldest of five siblings. Her other siblings are Asha Bhosle, Usha Mangeshkar, Meena Mangeshkar and Hridaynath Mangeshkar.
'HEMA' TO 'LATA'
Lata Mangeshkar's name was not 'Lata' at her birth. At first, Lata was named Hema. Five years after Hema's birth, she was renamed with Lata after her father's favorite character named 'Latika' in a play named 'Bhao Bandhan'.
LATA IN ALL SORTS OF MUSIC
Lata was not allowed to sing anything except songs of Saigal during her childhood. Her father wanted Lata to sing only classical songs. At the age of 5, Lata learned classical music. Later, she also received training from talented people like Ustad Aman Ali Khan and Ustad Amanat Khan. She has worked with almost all of India's leading composers. She has sung with every type of music. From classical music to romantic songs, she even sang hymns. She also holds the record of singing in more than 30,000 songs. She has received applause for every type of songs she gave her voice in – sometimes from the audience, sometimes from critics.
LATA'S MUSICAL JOURNEY
She shaped the beginning of her harsh career with perseverance and dedication. Lata Mangeshkar started her career at the age of only 13 in 1942, singing a Marathi song, for the Marathi film "Kiti Hasal". However, the sad fact is that, the song was omitted in the final edit. Yet she did not give up. In 1946, she first sang for a Hindi movie. She sang "Pa Lagu Kar Jodi" in Basant Joglekar's "Aap Ki Seba Mein". Two years later, composer Ghulam Haider gave her the first big chance. From that point onwards She didn't have to look back after singing the song 'Dil Mera Tora' in the movie 'Majboor'. The song she sang for the movie "Andaaz" in 1949 turned her life around. This was the song that made the Bollywood industry think about this new singer. Generation after generation was immersed in the magic of Lata's melodious voice. Starting with Nargis, Waheeda Rehman, Lata Mangeshkar has sung for many heroines of the next generation including Kajal and Preity Zinta. In 1959, she had to record an average of thirty songs per week. By 1971, Lata Mangeshkar had recorded about 25,000 songs for 1,600 movies. The films; Mahal (1949), Barsaat (1949), Satyam Shivam Sundaram (1986) and Maine Pyar Kiya (1989) were huge commercial successes because of her songs. On one occasion, Lata's patriotic song "Aye Meri Watan Ki Log" brought tears to the eyes of that time's Indian PM Jawaharlal Nehru.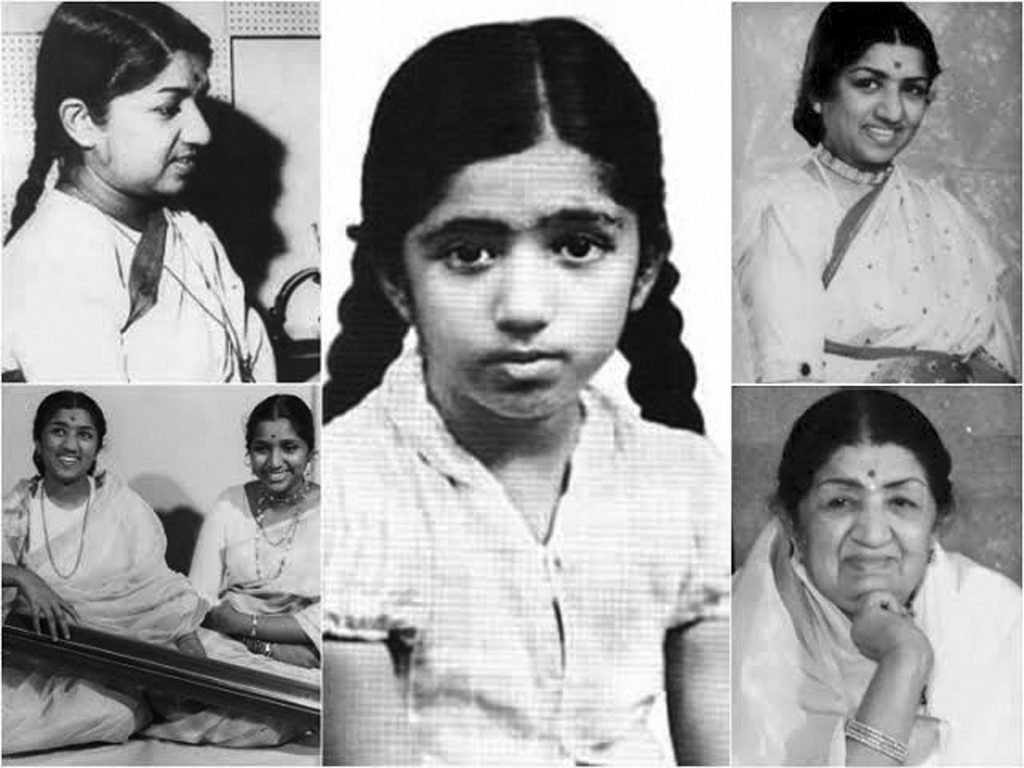 BEGINNING WITH 25 RUPEES
This famous Indian singer came from a very ordinary family. Singing at the age of 13, she first earned only 25 rupees. Lata Mangeshkar's father Dinnath Mangeshkar was a well-known face on the drama stage. She got acquainted with dramas and songs at a very young age. From there till now, her melodious voice has won the hearts of the people of many countries crossing various borders. According to various Indian media reports, the current monthly income of the musician was around 4 million rupees. She gets about 6 crore rupees a year. The money came from the royalties of her songs. Besides, according to some reports, the net worth of the Nightingale of India is around 370 crore rupees. Although she was a millionaire, she was very humble and used to live a simple life. Everyone who knew her well said so. But, Lata was very fond of cars. She had a great collection of cars in the garage of her house 'Prabhukunja'.
SINGING IN 36 LANGUAGES
Not only in India, But, she has won the hearts of music lovers all over the world with her magical voice. Lata Mangeshkar holds the record for singing in 36 regional languages of India and other foreign languages. Bangla is also among them. She has sung as many as 200 famous Bengali songs including 'Prem Ekbar Eshechilo Nirobey', 'Ashar-Shraban Mane Na Toh Mon', 'O Mor Moyna Go', 'O Palash O Shimul', 'Akash Pradeep Jele', 'Shaat Bhai Champa Jago re".
GLORIOUS, ENVIABLE FEATS
In addition to her skyrocketing fame, Lata Mangeshkar has been awarded numerous prizes and honors. Got the love of countless people. She has received honorary doctorates from three Indian universities. India's highest civilian honor, the Bharat Ratna (2001), the second highest civilian honor, the Padma Bibhushan (1999), and the third highest civilian honor, the Padma Bhushan (1969). She has won the Best Playback Singer award 23 times. India's Madhya Pradesh government awarded her the "Tansen Award". The Government of India awarded her the highest honor in the field of film, the Dadasaheb Phalke Award (1989). She has won three National Film Awards in the Best Female Vocalist category. She won the Filmfare Award for Best Female Playback Singer from 1959 to 1967. In 1970, she declined the Filmfare Award for Best Female Playback Singer for developing new talent. She later won the Filmfare Lifetime Achievement Award in 1993 and Filmfare Special Award twice in 1994 and 2004. She was also the first Indian to have performed at the Royal Albert Hall, London in 1974. The musician was was also conferred with France's highest civilian award, 'Officier de la Legion d'Honneur' in 2009.
MEMBER OF PARLIAMENT
In 1999, she was nominated as a member of the 'Rajya Sabha', the upper house of the Indian Parliament. Supported by the Bharatiya Janata Party (BJP), she was elected on November 22, 1999, and was part of the House till November 21, 2005. She rarely attended the Rajya Sabha proceedings and believed that she was a misfit in Parliament. It was learned from Indian media reports that, during her term, she never touched the allowances and checks she received as a parliamentarian.
LATA IN BANGLADESH'S LIBERATION WAR
Apart from the people who are fascinated by Lata Mangeshkar's songs, the people of Bangladesh will remember this musician for another special reason. She played an important role in raising funds for the liberation war in 1971 and in shaping the international public opinion. The war against Pakistan was spearheaded by Bangabandhu Sheikh Mujibur Rahman. During the difficult time of war, a cultural troupe called 'Bangladesh Sahayak Samiti' was formed by actress Waheeda Rahman and Pran and Shammi Kapoor to raise funds for the war-raged country. Lata was also a part of the group that toured across India to raise funds for the cause. At that time, Lata, Asha Bhosle, Kishore Kumar, Hemanta Mukherjee, Mohammad Rafi, Manna Dey and others performed songs to raise funds for Bangladesh. After the war ended in 1971, Lata travelled to the newly-formed country as a member of the Indian cultural delegation called upon by Bangabandhu and his family in Dhaka. She also sang in Bangladesh's liberation war-based film 'Raktakto Bangla', which has a special place in every Bangladeshi's heart. On her death, Prime Minister Sheikh Hasina paid her respects. She quotes, "A great void has been created in the subcontinent's musical arena with the demise of the music empress. Lata Mangeshkar will live forever in the hearts of the people of this region through her deeds."
ADIEU LEGEND
February 6, 2022. A Sandalwood pyre burned in India's Shivaji Park. Legendary singer Lata Mangeshkar's last rites were performed. Her funeral was held in the evening. Her body was covered with the national flag. Countless people gathered to pay their last respects. Lata's sister and legendary singer Asha Bhosle was also present at the funeral. Indian Prime Minister Narendra Modi, celebrities from the country's film and sports world including Shah Rukh Khan, Aamir Khan, Vidya Balan, Ranbir Kapoor, Sachin Tendulkar came to pay their last respects to the famous 'Nightingale of India'. In the end, the music queen may overcome the illusion of the world and went to the journey afterlife. But with the melody she left in this world, Lata Mangeshkar will live in everyone's heart for ages to come.