The government should take concerted efforts to further the acceptance of Bangladeshi passport in greater areas and scales. This'll not only safeguard the rights, privileges and prides in Bangladeshi citizens traveling abroad with respective passports, but also will help recognize our culture, economy, society and country image abroad. This can come through greater diplomatic efforts and carefully forging closer ties with other countries, writes Nashir Uddin
As the first country in South Asia to issue e-passport for all eligible citizens, Bangladesh has taken an ambitious move in the right direction for quite some time now. The issue has come to the fore once again with the country's passport making five-step progress in the latest Henley Passport Index (HPI), which is an annual global ranking of countries according to the travel freedom of their citizens.
The latest HPI ranking shows that Bangladesh has jumped five notches to 103rd position in its 2022 list of the most and least powerful passports of the world. As is the case, the strength of a passport is determined by how many countries the passport can garner access without a visa. For any traveller, this essentially means for how many countries he/she can buy a ticket, carry a valid passport and just show up at the immigration counter in airports (or water and land borders).
This time in South Asia, Bangladesh is ahead of Pakistan (108th) and Nepal (105th). According to the index, Bangladeshi passport holders are granted visa-free access to only a handful of nations and sovereign states. Neighboring India improved its passport power ranking getting placed in 83rd place. It now has visa-free access to 60 destinations worldwide.
Afghanistan has the least powerful passport ranked 111th position with its citizens being allowed to enter only 26 states without a visa while the passport of the Maldives is the most powerful in South Asia (58th) enabling visa-free entry to 88 countries. Singapore and Japan topped the ranking with visa-free access to 192 countries. Germany and South Korea jointly retained 2nd place, having access to 190 destinations.
HPI was introduced 16 years back by British firm Henley and Partners. This annual index takes data from the International Air Travel Association (IATA) and covers passports of 199 countries in 111 spots and 227 travel destinations. Since 2006, HPI has been compiling and issuing the list, which ranks and lists passports representing countries from all seven continents across the globe taking into consideration the number of destinations the citizens of these countries can visit without obtaining a prior visa.
The baffling fact that draws attention is Bangladesh's passport has continuously found itself lingering in the bottom half of the list. In 2006, Bangladeshi passport's ranking was 68th in the world, and since then it has continued to weaken, with the highest rise being marked by eight places between 2012 (93rd) and 2013 (85th). However, Bangladesh's passport holders can still travel to 40 foreign destinations without prior visas, as in last year, although the number was 41 in 2020.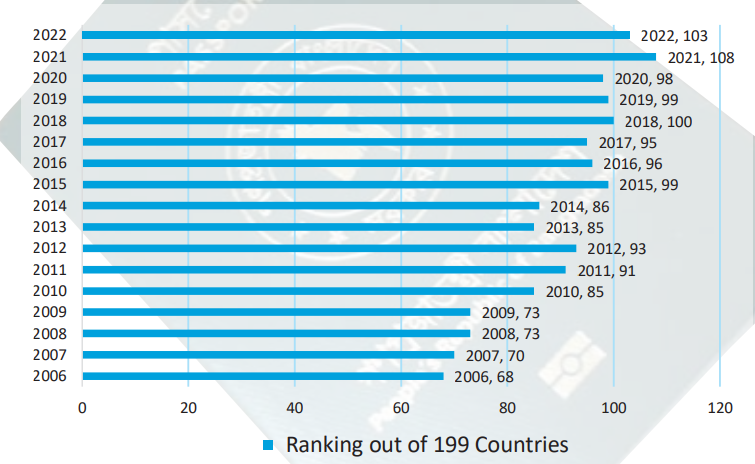 Year-by-year HPI ranking of Bangladeshi passport
The evolving phases of Bangladeshi passport
After the nation's War of Independence, Act Number 9 of 1973 (titled The Bangladesh Passport Order 1973), which was signed into law by the President on 8 February 1973, led to the issuance of the first passport of the newly-independent Bangladesh. These passport booklets were traditional, handwritten or manual, passports and were compliant with the relevant international laws and regulations in force at the time. Subsequently, additional laws were enacted in Bangladesh in the years that followed to improve the passport application process; enforce the ineligibility to hold multiple valid Bangladeshi passports; citizenship requirement for a passport; etc.
The Department of Immigration and Passports (DIP) used to issue traditional handwritten or manual passports before the introduction of the machine-readable passports. In 2010, Prime Minister Sheikh Hasina announced a plan to replace over 6.6 million handwritten passports with new biometric machine-readable passports. All traditional handwritten passports were successfully withdrawn from circulation before ICAO's international deadline of November 2015.
In 2016, Prime Minister Sheikh Hasina-led government announced new plans to issue e-passports. It's hoped that this would ease immigration, travel and visa procedures for Bangladesh passport holders. The new Bangladeshi e-passport is provided in collaboration with a German company along with fifty e-gates at all major ports of entry. Machine-readable passports (MRPs) are being phased out gradually. E-passports will completely replace all MRPs. However, all MRPs are bona-fide and valid travel documents until the expiry date mentioned therein.
Bangladesh remains the 119th country in the world to issue an e-passport for all eligible citizens after taking a significant step in its digital transformation with the much-anticipated launch of electronic passports or e-passports under the leadership of PM Sheikh Hasina. Despite the repeated HPI ranking conundrum, the DIP has continued its endeavours to do better with regard to the passport's global access and acceptance. It issues three different types of passports: Diplomatic passports with a red cover; Official passports with a blue cover; and Regular or Ordinary passports with a green cover.
Passport applicants' puzzle
Allegations remain rife pointing to the apparent cases of systematic delay in sending police verification report and issuing passports, which result in applicants' continued sufferings despite years of government efforts to smoothen and quicken the process. As the passport issuing authority, the DIP has introduced in recent years three separate schemes to issue e-passports based on the degree of applicants' necessity, service time and charge.
The fastest passport delivery scheme is titled Super Express Delivery that requires Tk 10,350/= for a 48-page and 10-year-validity passport to be issued within 2 working days, then comes Express Delivery scheme requiring Tk 8,050 to issue passports in 7 working days and finally comes the Regular Delivery scheme requiring Tk 5,750 to issue the book within 15 working days/ 21 days from the biometric enrolment date. The fees are even higher for a 64-page e-passport with same validity period.
As for a practical case of sufferings, this journalist submitted his e-passport application on 19/12/2021 depositing Tk 10,350 for a 48-page and 10-year-validity passport with a delivery slip received after biometric enrolment noting 21/12/2021 as the tentative collection date. But quite surprisingly, the passport is yet to be received although more than a month has already elapsed since submitting the application with intention to make an urgent tour abroad.
Repeated attempts were made talking to different layers of the DIP authority for immediate issuance of the passport – only with no result thus far! However, this has not been any isolated case to refer to as applicants in far greater number still continue to suffer in case of getting the passport service in time.
Closing note
Whether it's for business, education, or entertainment, Bangladeshis these days visit different countries more often. But it's really disheartening that whenever they go out to visit the foreign destinations of their choice and necessity, they're faced with undue hurdles and harassments pretty often due mainly to the passport's inferior ranking as a least powerful one. It's time now the government takes concerted efforts to further the acceptance of Bangladeshi passport in greater scales and areas.
This will not only safeguard the rights, privilege and pride of all Bangladeshi citizens traveling abroad, but will also help boost our culture, economy, society and country image abroad. This can come through greater diplomatic efforts, and carefully forging closer ties with other countries. Bangladesh already has plenty of development partners; hence it is entirely sensible for the next step in our partnership to help have visa-free access for Bangladeshis to those countries.
For its part, Bangladesh already announced the launch of online passport system nearly three years ago. From the comfort of their homes, one can avail the services of passport offices. Despite manpower shortage and lack of infrastructural capacity, the process, launched amid much fanfare as another shining jewel on the crown of Bangladesh's promising path to digitalisation, was meant to greatly quicken the process of obtaining passports locally while garnering greater acceptance globally.