Highlights:
HC declared Jamaat's registration illegal on August 1, 2013
EC revoked Jamaat's registration on December 7, 2018
Jamaat was banned in Bangladesh for its association with the 1971 genocide
It later reappeared in politics during Military General President Ziaur Rahman's rule
The Supreme Court (SC) has upheld a High Court verdict that had earlier cancelled religious radical group—Bangladesh Jamaat-e-Islami's registration as a political entity.
A full bench of the Appellate Division headed by Chief Justice Obaidul Hassan passed the order upholding the High Court's verdict to cancel the Bangladesh Jamaat-e-Islami's party registration.
On August 1, 2013, the High Court declared Bangladesh Jamaat-e-Islami's registration as a political party with the Election Commission as illegal.
The verdict was announced after Bangladesh Tariqat Federation's Secretary General Rezaul Haque Chandpuri and 24 others filed a writ petition on January 25, 2009.
In the petition, they said Jamaat is a religion-based political force and it does not believe in the country's independence and sovereignty.
In compliance with the High Court order, the Election Commission on December 7, 2018, revoked the registration of Bangladesh Jamaat-e-Islami as a political party.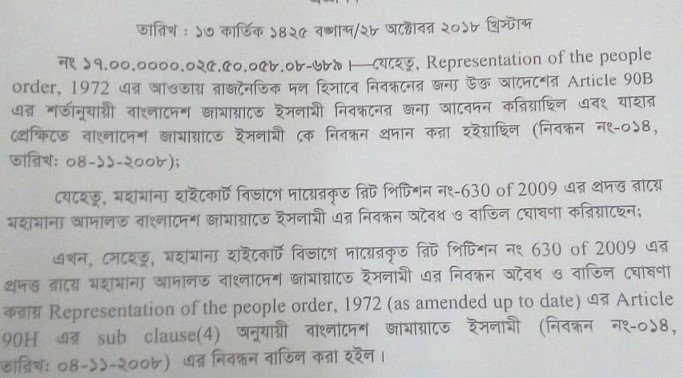 Controversial Islamic scholar Sayyid Abul A'la Maududi founded the Jamaat in British colonial India in 1941.
Jamaat opposed Bangladesh's liberation war and played a key role in creating anti-liberation terror groups like Al-Badr, Razakar, Al Shams, and Peace Committee which actively took part in committing genocides and atrocities on Bangalees during the liberation war.
Following the independence of Bangladesh, the government took its first action by prohibiting five communal organizations, including Jamaat for their atrocities.
These banned groups were later allowed into politics during the rule of Military Dictator President Ziaur Rahman after the assassination of Bangabandhu Sheikh Mujibur Rahman in 1975.
Jamaat's Genocide Involvement In Bangladesh
Given the backdrop of Awami League's landslide victory in the 1970s election of Pakistan and West Pakistan's brutal crackdown against Bangalees to prevent AL to sworn in power, the world reels in the horror of an unfolding genocide in 1971 Bangladesh.
Pakistani army and paramilitary forces fought unarmed Bangladeshi civilians. Joining this coalition, Jamaat created an 'action section' called al-Badar.
"The operation was designed to disarm and liquidate Bengali policemen, soldiers, and military officers, to arrest and kill nationalist Bengali politicians, soldiers and military officers, to arrest and kill and round up professionals, intellectuals, and students. Afterward, actions in concert with its local collaborator militias, Razakar, al-Badar, and the key pro-Pakistan political organization Jamat E Islami (JEI) were intended to stamp out the Bengali national liberation movement and to mash the national feelings and aspirations of the Bangalee nation." (The Chief Prosecutor v Ali Ahsan Muhammad Mujahid, point 9, p. 5.)
Jamaat formed 'peace committees' to root out our heroic freedom fighters.
Jamaat further organized its members and supporters in auxiliary paramilitary forces called razakars, al-Badar, and al-Shams, all of which supported the Pakistani army. Supplied with weapons and ammunition by West Pakistani forces and acting in coordination, the JeI helped to carry out one of the largest Genocides in recent history. (Hossain and N.A. Siddiquee, 'Islam in Bangladesh Politics: the role of Ghulam Azam of Jamaat-I-Islami', Journal of the Inter-Asia Cultural Studies Society, Vol. 5, Issue 3, 2004, p. 387.)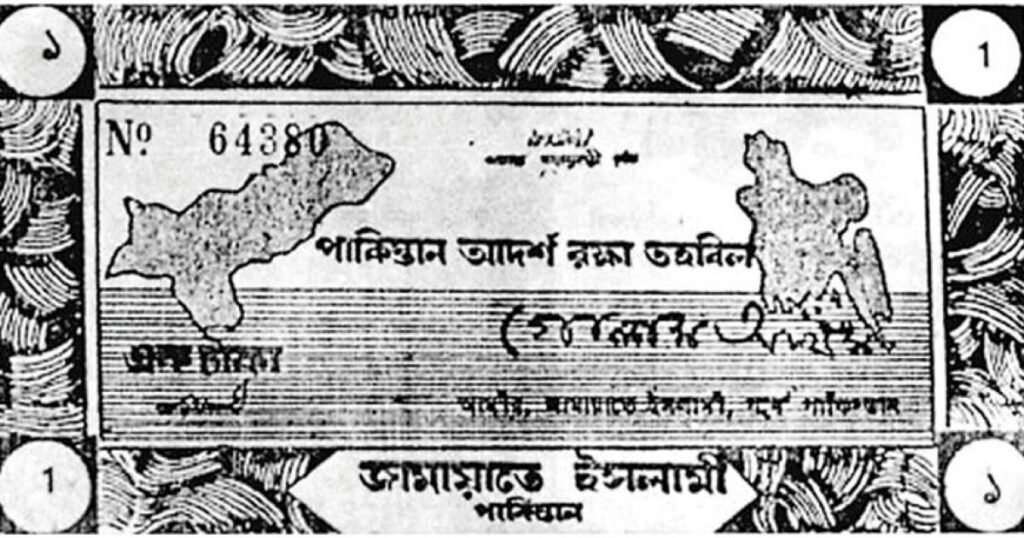 Whereas the Pakistani army and Jamaat's paramilitary forces were defeated in 1971, an armed coup and the assassination of Bangabandhu Sheikh Mujibur Rahman in 1975 prevented the course of justice and allowed Jamaat to reappear in the Bangladeshi political landscape.
Jamaat In Independent Bangladesh
After the 1975 tragedy, Lt. Gen. Ziaur Rahman seized state power and removed the 'prohibition of communal organizations and use of religion for political purposes' under the constitutional Article 38 (ban of religious parties).
This finally paved the way for the reinstatement of jamaat and its members had the opportunity to join the Islamic Democratic League (IDL) led by Mawlana Abdur Rahim.
Despite changing its name from Jamaat-e-Islami of East Pakistan to Bangladesh Jamaat-e-Islami, it never apologized for its part in the Bangladeshi Genocide during the liberation war.
Jamaat also campaigned to reject the narrative of Bangladesh's 1971 freedom struggle and emphasized 'that their anti-Bangladesh role in 1971 was not a mistake'.  (S.A. Ahsan, 'Islamization of the State in a Dualistic Culture: The Case of Bangladesh', Ph.D. Thesis, McGill,1990, p. 185.)
This proved that Jamaat denied the notion of Bangladesh's independence and sovereignty.
Patronizing Islamic Fundamentalism
Religious extremist groups assumed a high profile during the BNP-Jamaat alliance government in 2001.
The government downplayed the existence of Islamist violence in the country and authorities – in particular those under the direct control of JeI – silenced reports of such violence. (Datta, 'Islamic Militancy in Bangladesh', pp. 156, 160.)
Government support for extremist violence also took the form of material and financial support. (A. Riaz, Islamist Militancy in Bangladesh: A complex web, London, Routledge, 2008, p. 45)
US's Love with Jamaat
Radical religious outfit Jamaat-e-Islami remains the key Islamic fundamentalist party in Bangladesh. But it maintains an interesting relationship with the Western countries, especially with the US.
At one point in time, Jamaat was even promoted as a moderate Islamic party.
In a confidential note, as revealed by Wikileaks, the US Embassy in Dhaka in January 2010 wrote, "Mission Dhaka will continue to engage with Jamaat and Shabbir [Chhatra Shibir] and track their efforts to transform Bangladesh into a more Islamic state."
On July 24, the US ambassador met with the main party functionaries of Jamaat.
The US State Department in its '2022 Country Reports on Human Rights Practices: Bangladesh' statement showed its love for the notorious Jamaat, saying, "Leaders and members of Jamaat-e-Islami (Jamaat), the largest Muslim political party in the country, could not exercise their constitutional freedoms of speech and assembly because of harassment by law enforcement authorities."
Right activists and freedom fighters criticized the US human rights report saying that Jamaat strongly opposed the independence of Bangladesh and committed widely reported genocide in Bangladesh.
Jamaat lost validity—What next?
With the landmark verdict, Jamaat is not welcomed in our political scene anymore and will not be. Bangladesh finally got relieved from one of its stigmas and the verdict will significantly check radical newcomers coming in the party.
But as a dogmatic ideological party, Jamaat and its thousands of supporters can't be erased and neither their belief.
The government and pro-liberation forces must remain cautions about giving Jamaat an opportunity to rebranding itself and baptize it into democracy.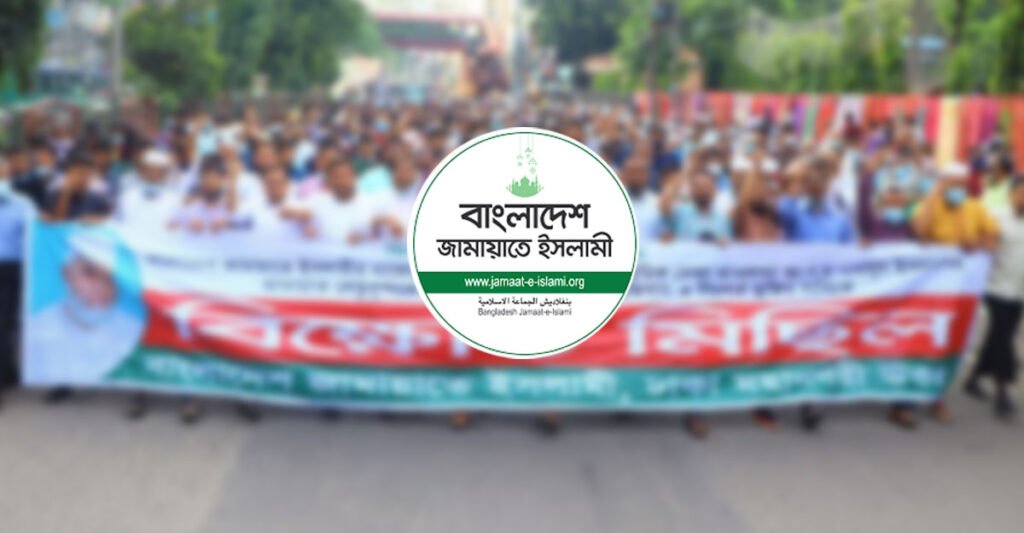 The stigma-free Jamaat's newbie entity would have unwarranted access to many areas where it is considered a political outcast. With its new look, Jamaat would consolidate its position in public universities, cultural institutions, the judiciary, media, and wherever else it had relatively weak presence all these years.
Another worrying thing, Many Jamaat supporters would melt into leading parties, deteriorating further the fragile ambience of political coexistence and the rest will rally behind far right-wing extremist groups. So, taking off the caution label from the poison bottle does not make it safe.
Jamaat-e-Islami, however enjoys a significant but decaying proportion of vote bank in Bangladesh. On December 30, 2018 elections, Jamaat obtained 6,93,077 votes in 22 constituencies. In 2008, it obtained 32,89,967 votes, merely 4.7% of the total count. In the 1996 election, it bagged 36,53,013 votes that counts to 8.61%, winning in three constituencies.  
So, keeping these statistics in mind, the government should ensure that it is not just do plastic surgery on Jamaat's face but have to encounter their ideology in all fronts including cultural, political, economic and phycological level to check the dogmatic ideology.