India has long outlawed Khalistan, a movement that started decades ago to build an independent nation for the Sikhs, or the Khalsa, religious community. Traditionally, the so-called country of Khalistan sought to establish itself geographically in India's northern state of Punjab, where 18 million Sikhs live – the largest in the world. But the movement has been lying dormant for years. Why then, is Khalistan suddenly at the centre of a flare-up between India and Canada?
DEEP-ROOTED VIOLENCE
India's Punjab has always been a troubled state. It was East Punjab at the time India and Pakistan gained independence in 1947 and saw more than 100,000 Sikhs killed in partition violence. This brewed the demand for an independent state. Sikh historian Harjot Singh Oberoi, professor of Asian Studies at the British Columbia University in Vancouver, says that the Khalsa leaders at that time felt that the Hindus will dominate India and Muslims will dominate Pakistan.
"The justification for an independent Khalsa state stemmed from this realization," Oberoi points out in his book, The Construction of Religious Boundaries: Culture, Identity, and Diversity in the Sikh Tradition
This led to the Punjabi Suba (autonomous state) political agitation, which was the forerunner of the present Khalistan movement.
Punjab never gained autonomy, and despite emerging as one of the most prosperous states of post-independent India, witnessed unprecedented violence for a decade and a half since the 1970s.
The notion of Khalistan gained strength during this time with a large-scale militant uprising, which peaked in the 1980s, when at least three different factions of Sikh militant groups started operating out of a sacred shrine, the Golden Temple Complex, according to the South Asia Terrorism Portal. Thousands of people were killed, including many civilians, in a crackdown initiated by the then-Congress-ruled government. But even the so-called armed and political "solutions" by the Congress government of that time, couldn't contain the extremistinspired violence.
"Actually, the main genesis of this violence can be traced to 1977-78," says GBS Sidhu, who worked for 26 years in the Research and Analysis Wing (R&AW) of India and handled several sensitive assignments related to Punjab terrorism.
"It was the time when the central ruling Congress party lost power in Punjab to a regional party," adds Dr. Suvrokamal Dutta, an acclaimed international conservative, political, economic, and foreign policy expert aligned with the Modi government.
"They felt dejected and started promoting a hardliner Sikh Sant (saint) to attack the local government's grassroots moderate policies.
The idea was to destabilize the local government, plant the fear of Khalistan terrorism among the majority of Indians, and then emerge as the strong central leadership who saved the country, says Sidhu, in his book The Khalistan Conspiracy. Between May 1987 and April 1988, for example, terrorists killed 1,533 people in Punjab, data from the South Asia Terrorism Portal indicates. That is a monthly average of over 127
Punjab was labelled a "Problem Province" with its majority community a "Problem People", according to the Committee for Information and Initiative on Punjab, a New Delhi-based human rights group in 1989. One of the biggest incidents during this period was also the bombing of an Air India flight in 1985.
It is known to be the world's deadliest act of aviation terrorism until the 9/11 attacks in 2001 in the United States. This flight was travelling from Canada to India when a mid-air explosion killed all 329 people on board. It was traced to Sikh separatists
This incident brings into focus the origins of Sikh separatism in Canada and the country's involvement with pro-Khalistan supporters.
THE CANADA ANGLE
Punjab's long-drawn insurgency lasted till 1995. By then, the bulk of the population had turned against the militants and India was heading towards economic liberalisation. A large number of Sikhs had already migrated to Canada for better economic opportunities. Even Sikh separatists – including those responsible for the deadly Air India flight bombing – fled to Canada and found easy political asylum there.
Over the years, the Sikh community in Canada grew to become the largest outside India. More than 770,000 Sikhs now live in Canada, comprising 2% of the total population, according to the 2021 census. There are also 15 Sikh parliamentarians, constituting 4.3% of the Canadian parliament – more than that of India, according to the US-based Wilson Centre think-tank.
The Sikhs therefore, make up a significant voting bloc in Canada and carry both business and political clout. Meanwhile, even though the Khalistan movement completely died in India, it remained alive in Canada through its many sympathisers in the Sikh community there. Here's a look at some of Canada's top Khalistani leaders and their outfits, as profiled by India's National Investigative Agency and the Khalistan Extremism Monitor, a part of the non-profit Institute of Conflict Management.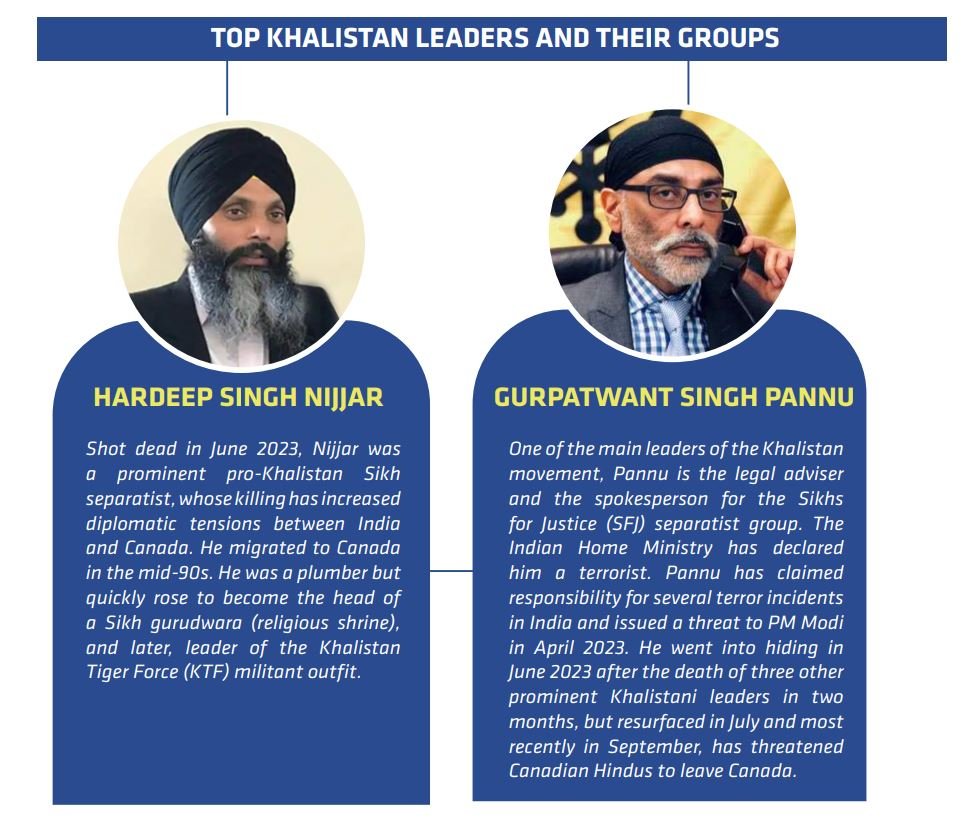 TRUDEAU AND KHALISTAN
In 2015, when Canadian PM Justin Trudeau came into power, pro-Khalistan supporters started becoming more politically powerful. "They were able to mobilize a lot of money and a lot of numbers for Trudeau," says Ajit Someshwar, the Toronto-based Chair of the Canada India Foundation (CIF) in an India Today report. "It's not easy to shake them off easily." Arguably, Trudeau assured Canadian Sikhs of their rights to free speech and to organize freely as long as they adhere to Canadian laws.
However, the leniency led to a revival of calls for Khalistan. Trudeau, who is often seen attending pro-Khalistan parades and charities, is also heavily dependent on its political ally, the New Democratic Party (NDP) to maintain a stable government. In the 2021 elections, Trudeau's Liberal Party failed to get a majority and was supported by the NDP to form its current government. NDP's leader Jagmeet Singh is a well-known Khalistan supporter. Trudeau, whose popularity has seen a dip in recent years, cannot afford to "not support" Singh's stance on Khalistan, as it might lead to a withdrawal of support from Singh's NDP – eventually toppling up Trudeau's government.
"The present government is in the minority and Trudeau's government is hanging on balance," says Dr Dutta. "With the dependence on Singh's party, it becomes almost an obligation to support the extremist ideology."
There is also the question of the 2025 Canadian elections coming up, for which Trudeau has indicated his clear intentions of going for a straight third term.
In fact, Trudeau's recent comments accusing India of a Sikh separatist's killing in Canada, are also connected to NDP's Singh. Trudeau alleged India's direct involvement in shooting dead Hardeep Singh Nijjar on Canadian soil. Nijjar was a Canadian citizen but a wanted Khalistani terrorist in India. Soon after Trudeau's allegations, Singh released a statement saying "To all Canadians, this is my vow. I will leave no stone unturned in the pursuit of justice, including holding Narendra Modi accountable."
MODI'S ANTI-TERROR STANCE
Since coming to power in 2014, Indian PM Narendra Modi has talked tough on terror. "The fight against terrorism and extremism, against radicalization is not a fight against any religion. It is a fight against mentality," Modi said in 2018 A year ago, in 2017, the Indian leader also made a significant policy shift advocating the elimination of terrorism from the Indian sub-continent. Since then, a big part of this strategy relies on countering indoctrination and terror financing networks. "Uprooting terrorism needs a larger pro-active response," Modi said last year at the New Delhi-held "No Money for Terror" conference of 72 countries and 15 international organizations. "We cannot wait till terror comes to our homes."
This is the basis of the Modi government's increasingly hardened stance towards Khalistan supporters in Canada in the last few years. India views Khalistan as a national security threat. "Khalistan has tried to destroy India's sovereignty. It advocates India's dismemberment. So obviously it is a big threat," says Dr Dutta. "The main backer of the Khalistan movement is the Pakistani Army and the ISI intelligence agency. For India therefore, Khalistani militant outfits are just as serious a threat for Punjab, as there are Al Qaeda, Pakistani Taleban, Harkat ul Ansar, ISIS Khurasan, or J&K Liberation Front for Jammu and Kashmir and Ladakh regions." As the Khalistan movement has largely retreated in India, Modi's government has started pursuing other countries to do more to root out groups and individuals involved with Khalistan militancy and activism.
Other than Canada, Indian authorities have also reached out to governments in the UK, Germany, Australia, and the US. On its part, Trudeau's administration accuses Modi's government of this hardened stance against terror – which it alleges includes India sending "covert operators" to spy on the Sikh diaspora in Canada, according to Michel Juneau-Katsuya, a former intelligence officer with the Canadian Security Intelligence Service (CSIS). Katsuya told Al Jazeera in a report that this is what led Trudeau to mention "foreign interference" recently. Now with tensions between India and Canada reaching fever pitch, the big question is what lies next.
"The fight against terrorism and extremism, against radicalization is not a fight against any religion. It is a fight against mentality,"

Modi said in 2018.
WHAT NEXT?
Is it just the tip of the iceberg? After Trudeau's allegations that India is involved in the recent killing of Nijjar, India-Canada future relations are clouded in uncertainty.
Both the countries have kicked out diplomats in a tit-for-tat and Trudeau has failed to provide any proof of allegations so far.
The ripple effect is also being seen in other countries. On 29 September, some Sikh activists blocked the Indian High Commissioner to the UK, Vikram Doraiswami from entering a gurudwara in Scotland saying he was "not welcome".
While the US has said it is keeping a close eye on these developments and asking both countries to cooperate, many countries feel Canada has a "habit" of harboring hardliners. Earlier this month, a Ukrainian and a World War II Nazi veteran Yaroslav Hunka was applauded in the Canadian parliament with a standing ovation.
The incident drew global condemnation. Trudeau's father and former PM Pierre Trudeau was also said to be a Khalistan sympathizer. Closer home, Bangladesh foreign minister AK Abdul Momen recently spoke to India Today on the issue. "Canada must not be a hub of murderers," Momen said.
He was hinting at Canada's refusal to extradite the self-confessed killer of the founding father of Bangladesh, Sheikh Mujibur Rahman. "We have been requesting the Canadian government to send (him) back. Unfortunately, Canada is not listening to us and they have come up with a variety of excuses."
Meanwhile, Canada has now hinted at continuing to build closer ties with India, despite the ongoing tensions. "India is a growing economic power and important geopolitical player. We're very serious about building closer ties with India," Trudeau was quoted as saying by local daily National Post.
India hasn't so far given any official response to this statement, but Foreign Minister S Jaishankar did come out with a strong statement on 29 September. "Let's not normalize what is happening in Canada," he said, referring to cases of threats, violence, and intimidation against Indian diplomats and missions by Khalistani activists in Canada, at a press briefing in Washington DC. The US, UK, and Australia have also urged Delhi and Ottawa to cooperate but have maintained a guarded distance, given that India is seen by them as critical to countering China's rise in Asia. Of particular concern here is the future of the Indo-Pacific strategy, which commits $2.3 billion over five years, with a whopping $492.9 million to be spent on just military priorities.
Canada has said that it will continue to pursue a partnership with India in the Indo-Pacific strategy. "Canada already has bad relations with China and Russia," says Dr Dutta.
"In view of the Indo-Pacific strategy, the China factor will propel the allies (US, UK, Australia) to choose India over Canada. And Canada will have to pay the price.
"Canada must not be a hub of murderers," Momen said. He was hinting at Canada's refusal to extradite the self-confessed killer of the founding father of Bangladesh, Sheikh Mujibur Rahman. "We have been requesting the Canadian government to send (him) back. Unfortunately, Canada is not listening to us and they have come up with a variety of excuses."