The Maldives, a picturesque archipelago renowned for its sun-drenched islands and luxurious tourist retreats, is now at a strategic crossroads of geopolitical interests between regional powerhouses.
The recent inauguration of President Dr Mohamed Muizzu has brought forth a shift in the country's foreign policy, particularly regarding the presence of foreign military forces on its soil.
Dr Mohamed Muizzu's ascent to power following his victory in the September presidential election brought a departure from his predecessor's "India first" policy. The president's electoral promise to remove a small Indian military contingent, numbering around 75 personnel, reflects a significant divergence in the Maldives' foreign policy trajectory.
In his inauguration speech, President Muizzu made it clear that national security is non-negotiable, drawing a "thick red line" against foreign military presence. He emphasized the use of diplomacy to ensure the country's sovereignty, stating that his utmost loyalty lies with the Maldives.
However, this strong position doesn't mean isolation. Muizzu aims to strengthen investment ties with India and China, both significant investors in the Maldives, without backing away from engagement with global powers.
Geopolitical Tensions: Maldives' Delicate Balancing Act
The Indian Ocean region has become a focal point for strategic maneuvering, with India and China vying for dominance and actively investing substantial sums in the Maldives. This geopolitical rivalry, while providing economic opportunities, has also led to concerns regarding the Maldives' growing public debt.
The country's financial state remains a pressing issue, with public debt soaring to $7 billion, equivalent to 113.5% of the GDP at the end of 2022, as per World Bank data. Muizzu has acknowledged this as a looming danger and has pledged to undertake swift and decisive measures to address the escalating debt.
Maldives' Financial State – Public Debt Snapshot
Visual Element: A bar graph with two bars:
GDP – $6.17 billion figure for accuracy).
Bar 2: Represents the Public Debt – $7 billion
Public Debt: $7 billion
GDP: $6.17 billion"
Public Debt as Percentage of GDP: 113.5%
Public debt equals 113.5% of GDP at the end of 2022.
The presence of prominent state officials from key nations during Muizzu's inauguration highlights the global attention on the Maldives. US Agency for International Development Administrator Samantha Power and Chinese State Councilor Shen Yiqin were among the notable attendees, underscoring the international significance of the Maldives' evolving political landscape.
To address the financial challenges, the Maldives has resorted to a delicate balancing act, prioritizing sovereignty while building economic partnerships with global powers. President Muizzu's diplomatic overtures signal a foreign policy approach that aims to safeguard the nation's interests while navigating the currents of international geopolitics.
As President Muizzu steers the Maldives into a new era, the nation stands at a critical juncture, poised to assert its sovereignty, tackle geopolitical pressures, and address economic vulnerabilities while deploying diplomacy as the cornerstone of its strategy.
Maldives Presidency Sparks India-China Diplomatic Strain
Muizzu's presidency in the Maldives has stirred diplomatic tensions with India which historically influences the region. His victory marked a shift away from the pro-India policies of his predecessor, raising concerns over sovereignty and security.
Muizzu's alliance leans towards China, a major investor in the Maldives, but India has also heavily invested in the country. The presence of Indian military personnel, ostensibly for operating aircraft given as gifts, has sparked suspicion and resentment among the country's people, with fears of growing Indian military involvement.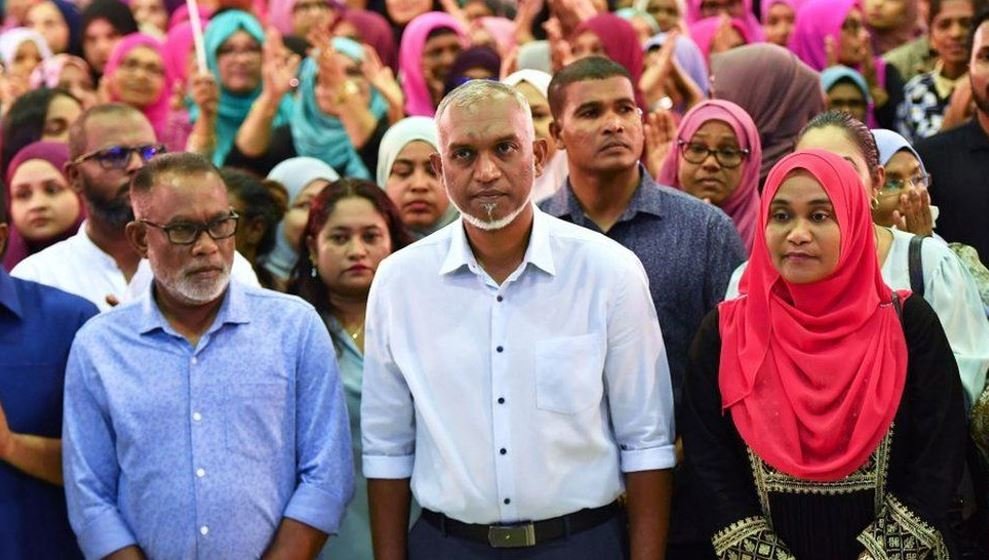 The escalating India-China tensions have raised concerns voiced by Muizzu, who sees the presence of Indian troops as a risk to the Maldives. His alignment with China is evident from swift congratulations by the Chinese ambassador and positive remarks about Chinese infrastructure projects.
Despite distancing himself from being solely "pro-China," Muizzu's coalition includes former President Yameen's party, instrumental in strengthening ties with China. Yameen, facing corruption charges, turned to Beijing when India and Western lenders withdrew support.
This geopolitical tug-of-war involves India's interest in the Maldives for strategic positioning in the Indian Ocean and China's Belt and Road Initiative aiming at global connectivity.
As the Maldives charts its course amidst these geopolitical intricacies, Muizzu's diplomatic approach serves as a linchpin in balancing sovereignty with strategic partnerships.