Leader of the opposition and Jatiya Party (JP) chief patron Raushan Ershad has welcomed the announcement of the schedule of the 12th Jatiya Sangsad elections on November 15, but another faction of the party led by GM Quader is still confused about whether they would take part in the election.
A day before the announcement of the election schedule for the 12th national election, JP Chairman GM Quader called for a dialogue to resolve the ongoing political stalemate arguing that the US may impose sanctions if they boycott the election.
In this article, we will present our analysis of why it is beneficial for the Jatiya Party to participate in the election.
Cooperative relationship with neighbouring India
"I can't say who I talked to or what I discussed"
— GM Quader said to the media on his arrival from Delhi several months ago.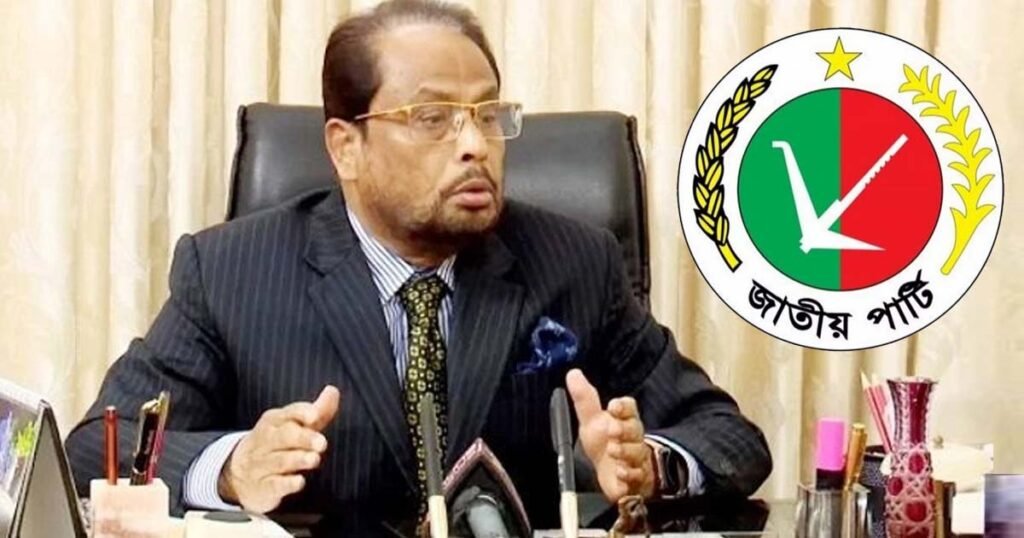 The demeanour exhibited by a politician of Quader's standing, in which he appears apprehensive about revealing information to the public, especially those from whom he seeks votes, has the potential to resonate with politically informed citizens.
Who is in power in Bangladesh is important to India because Bangladesh is its closest neighbor. It is natural that India's strategies revolve around Bangladesh to ensure national security, stability and geopolitical interests in the region.
Recently Jatiya Party Secretary General Mujibul Haque Chunnu told BBC Bangla that Bangladesh is important for India for many reasons as Bangladesh is its closest neighbour.
"It is true that India has an interest in the politics of Bangladesh. Because Bangladesh is surrounded by India on three sides. Naturally, India would want to have a good relationship with whichever government is in Bangladesh," said Mujibul Haque.
He said, "There are many issues including border, law and order and there are strategic issues. As India has interest in these matters, Bangladesh also has interest. From this point of view, India can think about Bangladesh for its own political and strategic reasons."
It is notable that Bangladesh ranks as the fourth-largest remittance contributor to India, with over $10 billion sent from Bangladesh to India in 2020 alone. The two nations have significantly profited from their longstanding bilateral trade. We should keep in mind India's extensive support during the 1971 War for Liberation.
Awami League known for friendliness towards minorities
Generally, the people of Bangladesh disapprove of communal politics. India's perception of Bangladesh often leads it to favour the ruling Awami League, known for its friendliness towards minorities and promotion of secularism, over its primary opponent, the Bangladesh National Party (BNP), which has longstanding alliances with far-right parties, including the Jamaat-e-Islami.
Given this, it is in India's interest to support an opposition party with a credible outlook, particularly in the absence of the BNP, and JP is the best option in this regard. Since 2013, the Jatiya Party, the third-largest political force in Bangladesh, has emerged as India's preferred choice for preparing them for general elections.
With India seen as a strong supporter of the ruling party, a scenario without the BNP benefits both India and the Jatiya Party. The Awami League's historically favourable relationship with India further solidifies this. However, the Jatiya Party must navigate its relationship with India carefully, as appearing too influenced by India could undermine its image as a genuine opposition.
From the Jatiya Party's perspective, taking advantage of the BNP's absence and strengthening its position in Parliament makes strategic sense. India's support for the Awami League depends on the Jatiya Party's behaviour, and past collaborations have proven advantageous for both parties.
Alliance with BNP poses existential crisis for JP
The Jatiya Party is cautious about forming an alliance with the BNP due to philosophical differences and the risk of losing control. The prospect of the BNP absorbing the entire Jatiya Party leadership poses not only a power struggle but also financial challenges and an existential crisis for the Jatiya Party.
It's crucial to acknowledge that India prioritizes its own interests, and it may not necessarily be concerned about Bangladesh's global image. The Jatiya Party faces a decision: aligning with India's perceived interests as the opposition in the parliament or risking everything and potentially fading into oblivion.
In conclusion it can be noted that India's direct or indirect contact with political parties in Bangladesh is not a secret. Meetings and discussions are also held with party during bilateral high-level visits. Besides Jatiya Party Chairman GM Quader, high level leaders of Awami League have also visited India recently ahead of the general election.
General Secretary of Jatiya Party Mujibul Haque Chunnu thinks that it is not possible to take part in politics or exercise power in Bangladesh considering India as an enemy.