Bangladesh's garment industry, a cornerstone of its economy, is well-prepared to deal with any kind of unrest. Recent collaboration between factory owners, industry leaders, and the government underscores their commitment to ensuring business continuity.
It's also essential for buyers to consider the bigger picture and historical context, as misinformation and distorted information can sometimes cloud the situation. Bangladesh, like other sourcing hubs, has its unique cultural context, and not all countries handle challenges in the same way as Western nations.
Furthermore, Bangladesh's impressive performance in the global apparel market, as indicated by its export earnings and market share, highlights its resilience and competitiveness. The recent passage of the "Bangladesh Labour (Amendment) Bill, 2023," which aligns labor laws with international standards and recommendations, signifies the government's commitment to improving labor rights and further enhances its appeal as a sourcing destination.
Bangladesh's Garment Industry's Preparedness for Unrest
Experienced buyers who are familiar with Bangladesh understand that the country doesn't always enjoy the same level of political stability as some Western nations. Since its inception in 1971 following the Liberation War with Pakistan, Bangladesh has seen periods of political volatility, particularly during elections. Protests, demonstrations, and sporadic incidents of violence are not uncommon. However, despite these challenges, Bangladesh has managed to resolve its political differences and maintain relative stability over the last 15 years.
Bangladesh's garment industry is well-prepared to navigate unrest during election periods and minimum wage reviews. In recent weeks, factory owners and industry leaders have collaborated to ensure business continuity. The government recognizes the critical role of the garment export industry and is committed to its smooth operation. This collaboration is crucial for maintaining stability in the sector.
The Impressive Advancements in the Bangladeshi Garment Sector
In 2020, Bangladesh ceded its position as the world's second-largest apparel exporter to Vietnam, earning $27.47 billion in contrast to Vietnam's $29.80 billion. However, in 2021, Bangladesh reclaimed the second spot, boasting export earnings of $35.81 billion, a position it successfully defended in 2022. Currently, Bangladesh holds a 7.9 percent share of the global apparel market.
As per the World Statistical Review 2023 released by the WTO, Bangladesh secured the second position globally in garment exports, recording $45 billion in apparel exports in 2022, while China maintained its top position.
The World Trade Statistical Review 2023 report offers insights into the top 10 countries in apparel exports. China continued to dominate the global clothing export market in 2022, with apparel exports worth $182 billion, although its market share decreased from 32.8% in 2021 to 31.7% in 2022. Vietnam retained its third place with $35 billion in apparel exports and a 6.1% market share. Turkey emerged as the fourth-largest apparel exporter with a 3.5% market share and $20 billion in exports. India closely followed with a 3.1% market share and $18 billion in apparel exports.
The WTO report also highlighted fluctuations in the market share of leading countries in global apparel exports, comparing statistics from 2000, 2005, 2010, and 2022. China's market share increased from 18.2% in 2000 to 36.6% in 2010 but declined to 31.7% in 2022.
Bangladesh Labour (Amendment) Bill, 2023
On November 2, 2023, the Bangladesh Parliament passed the "Bangladesh Labour (Amendment) Bill, 2023," ushering in significant changes to the country's labor laws. One notable alteration pertains to maternity leave, an essential aspect of workers' rights. Previously, female employees were entitled to 112 days of maternity leave, divided into eight weeks before and eight weeks after childbirth. The new bill extends this leave to a total of 120 days, approximately 17 weeks, granting women greater flexibility to choose when to take this leave based on their individual needs.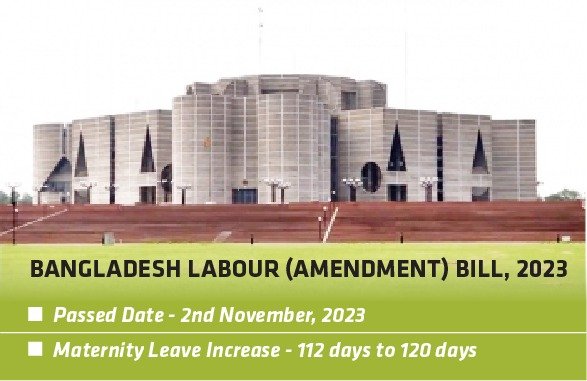 This extension acknowledges the physical and emotional demands of pregnancy and early motherhood, allowing mothers more time to recover, bond with their newborns, and prioritize their well-being during this critical period. The bill also addresses trade union formation, a longstanding concern. It modifies the requirement for workers' signatures to establish a trade union, reducing it from 20% to 15% in companies with over 3,000 employees, while keeping it at 20% for companies with fewer than 3,000 workers.
This adjustment facilitates trade union formation in larger companies, reflecting a more balanced approach to labor rights and the importance of collective bargaining. Additionally, the bill simplifies the process for challenging the decisions of the Labor Appeal Tribunal, allowing challenges to be brought before the Appellate Division rather than solely in the High Court Division, making it more accessible and efficient.
These amendments demonstrate the government's commitment to aligning labor laws with international standards and recommendations from the European Union. They aim to improve the well-being and rights of the workforce and represent a significant step forward in the evolution of labor laws in Bangladesh. These changes are part of an ongoing effort to enhance labor regulations that began in 2006, and they address concerns raised by Western countries regarding labor rights in Bangladesh.
Despite the recent BNP's demonstrations and anarchy, Bangladesh remains a world-class sourcing destination known for its quality, responsiveness, and price competitiveness. The challenges faced by the country are, in perspective, a temporary bump in the road. Buyers should have confidence in placing orders in Bangladesh, as the country's resilience, preparedness, and the broader context of its history all indicate that it remains open for business.