The settlement of land borders between India-Bangladesh led to the exchange of enclaves, but the residents of these enclaves had the option to remain in either India or Bangladesh
Between September 19 and 20, 2023, Azerbaijan launched a major military offensive against Artsakh, a self-proclaimed breakaway region. This move violated the 2020 ceasefire agreement and took place in Nagorno-Karabakh, a disputed territory mainly populated by Armenians but recognized as part of Azerbaijan. The offensive followed Azerbaijan's blockade of Artsakh, causing severe shortages of essential supplies.
Only one day after the offensive began, a ceasefire was brokered on September 20, mediated by Russian peacekeepers in Nagorno-Karabakh. A meeting between Azerbaijan and Nagorno-Karabakh Armenian representatives occurred on September 21, with another scheduled for October. However, ceasefire violations were reported by Artsakhi residents and officials.
In this critical context, the "Land Pact" between Bangladesh and India could offer a potential solution.
Background of Nagorno-Karabakh Conflict
The Nagorno-Karabakh conflict is an ongoing ethnic and territorial dispute between Armenia and Azerbaijan over the Nagorno-Karabakh region. This area was primarily inhabited by ethnic Armenians until the 2023 offensive. While the breakaway Republic of Artsakh has claimed the entire Nagorno-Karabakh region, it is internationally recognized as part of Azerbaijan. Azerbaijan currently controls one-third of the Nagorno-Karabakh region and the surrounding districts.
The conflict began in 1988 when Karabakh Armenians sought to transfer the region from Soviet Azerbaijan to Soviet Armenia, leading to the First Nagorno-Karabakh War, which concluded in 1994 with Azerbaijan losing control of around 13.6% of its territory, including Nagorno-Karabakh. The United Nations Security Council adopted four resolutions in 1993 supporting Azerbaijan's territorial integrity and demanding the immediate withdrawal of Armenian forces.
In late 2020, the Second Nagorno-Karabakh War resulted in a significant Azerbaijani victory and an armistice established through a tripartite ceasefire agreement. This resulted in Armenia and Artsakh ceding territories surrounding Nagorno-Karabakh and one-third of Nagorno-Karabakh itself. Ceasefire violations continued, causing casualties in the region.
After the 2020 war, Azerbaijan abandoned its offer of special status or autonomy for its indigenous Armenian residents, insisting on their integration into Azerbaijan.
International Response to Nagorno-Karabakh Conflict
None of the responses were evident when nearly 100,000 ethnic people from Nagorno-Karabakh were forced to migrate to Armenia due to offensive actions by Azerbaijan in September 2023.
Regional and international countries did not respond at the expected level for such a significant event in Nagorno-Karabakh, which constituted ethnic cleansing by all accounts.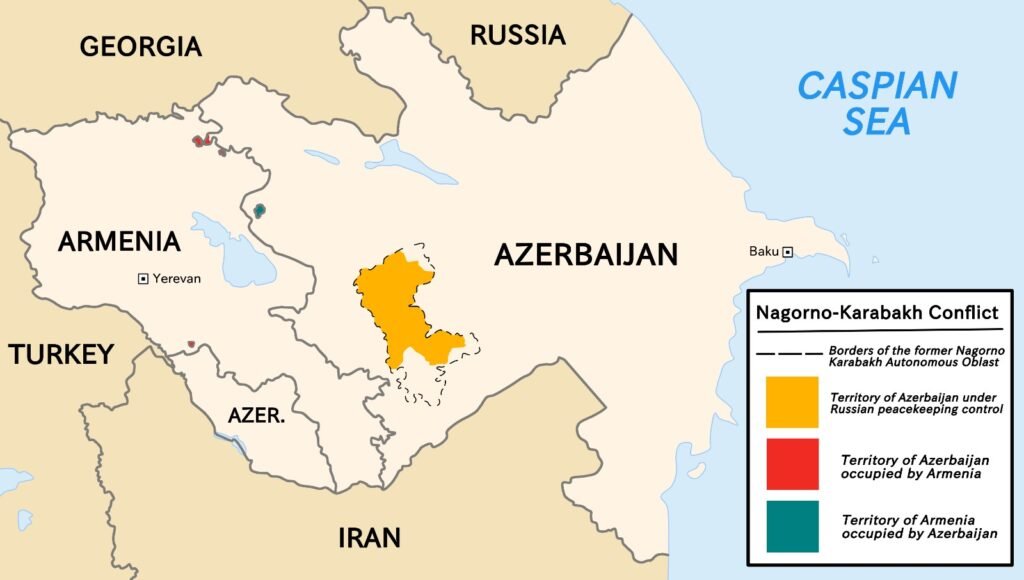 India-Bangladesh 'Land Pact' Can Be Solution
The "Land Pact" between Bangladesh and India can offer a viable solution in this context. The settlement of land borders between the two countries led to the exchange of enclaves, but the residents of these enclaves had the option to remain in either India or Bangladesh.
Additionally, Bangladesh was granted a long-term lease on the Teen Bigha corridor to address the concerns of its population.
Ideally, a political resolution reached through direct negotiations between the two countries would be the best solution. However, considering the historical conflicts and mutual distrust, it may be necessary to seek support from regional and international countries.
Simultaneously, Armenia must bolster its military capabilities. Despite having less than half the size of the Azerbaijani defense forces, Armenia achieved a decisive victory in the first Nagorno-Karabakh war that spanned over six years from 1988 to 1994.
Nonetheless, starting in 2008, Armenia faced setbacks in military conflicts, ceding significant territory to Azerbaijan during the second Nagorno-Karabakh war in 2020. Ultimately, in September 2023, nearly the entire enclave was lost, leading to a mass exodus of the ethnic Armenian population from Nagorno-Karabakh.
What is in the India-Bangladesh 'Land Pact'?
In 1974, the Prime Ministers of India and Bangladesh signed the Land Boundary Agreement to swap enclaves and simplify their international border. A revised version of the agreement was adopted on May 7, 2015, through India's 100th Amendment to the Constitution, and it came into effect on June 6, 2015. Under this agreement, India received 51 Bangladeshi enclaves in its mainland, while Bangladesh received 111 Indian enclaves in its mainland. The residents of these enclaves were given the choice to stay in their current location or move to their preferred country. The exchange of enclaves occurred between July 31, 2015, and June 30, 2016, with the actual transfer happening on July 31, 2015, and the relocation of enclave residents completed on November 30, 2015. India lost approximately 40 square kilometers to Bangladesh as a result of this agreement. Following the Land Boundary Agreement, the only remaining enclave is Dahagram-Angarpota, which is an exclave of Bangladesh.
Conclusion
In the face of the ongoing Nagorno-Karabakh conflict, the India-Bangladesh Land Pact emerges as a beacon of hope for potential resolution. While this territorial dispute between Armenia and Azerbaijan continues to create unrest, the successful exchange of enclaves between India and Bangladesh sets an inspiring precedent. The Land Pact allowed enclave residents the freedom to choose their new home, fostering harmony and cooperation.
The Nagorno-Karabakh conflict, born from complex historical roots, remains a contentious issue. The international response has often fallen short, failing to address the gravity of events on the ground. However, in the spirit of collaboration, the India-Bangladesh Land Pact offers a valuable template for dialogue and peaceful resolution in Nagorno-Karabakh.