Bangladesh to partner with France and Airbus for its first Earth Observation Satellite, joining the Earth Observation (EO) Satellite Countries in 2023
Bangladesh is about to take another step towards the sky with the very first Earth Observation Satellite of Bangladesh, the Bangabandhu-2. The government is expecting to launch the country's second satellite- Bangabandhu Satellite-2 2023. With the accomplishment of Bangabandhu Satellite – 2 launching, Bangladesh will join the select group of countries with sovereign earth-observation satellites.  This endeavor represents a significant milestone for Bangladesh, as it marks the nation's entry into the domain of autonomous satellite operation.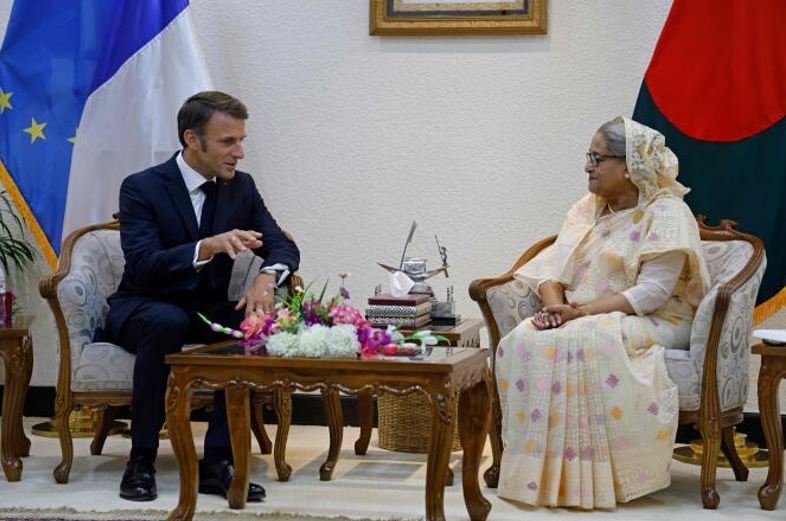 For the implementation of Bangabandhu Satellite – 2, Bangladesh Satellite Company Limited (BSCL) has signed an agreement with a France-based company, PricewaterhouseCoopers (PwC) Advisory, SAS for consultancy services to launch Bangabandhu Satellite-2 on 17th January,2023. Bangladesh Satellite Company Limited (BSCL) Managing Director Shahriar Ahmed Chowdhury and PwC Space Practice Leader Dr Luigi Scaria signed the agreement. The agreement has been strengthened with alignment with the 'AIRBUS' company as bilateral treaties, when French President Emmanuel Macron visited Bangladesh on September 11,2023 and signed a series of bilateral agreements and initiatives, encompassing various domains such as satellite technology, aerospace, climate change, and economic cooperation.
Satellite Sovereignty: Bangabandhu-2 and France's Contribution
The collaboration between the Bangladesh Satellite Company Ltd (BSCL) with Airbus, a European aerospace giant, has paved the way for this project. Airbus has been a key player in the development and launch of the satellite. The signing of a Letter of Intent (LOI) took place during the visit of French President Emmanuel Macron to Dhaka. The Bangabandhu-2 satellite is poised to be Bangladesh's first earth-observation satellite, joining the ranks of a few nations worldwide with similar capabilities. This satellite will contribute to a constellation of satellites, enhancing Bangladesh's position as a spacefaring nation.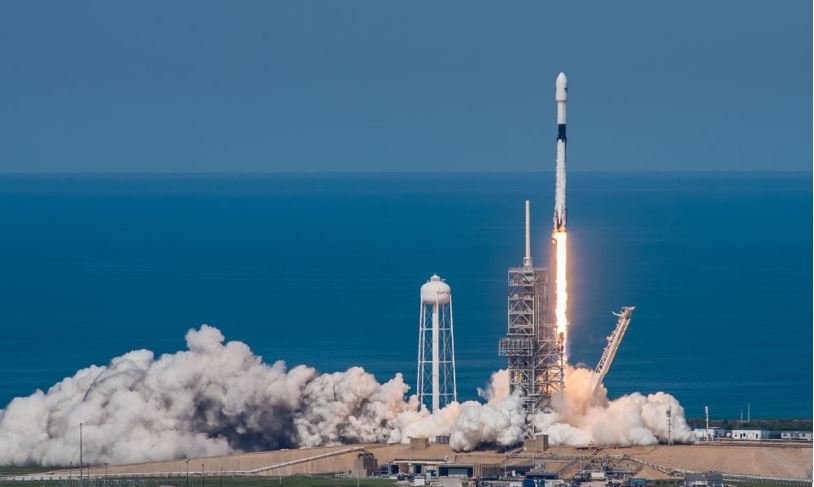 François Royer, the sales, and marketing director of Airbus Defence and Space Systems assured about the agreement on a press brief on 10th October,2023 by stating "We are collaborating with BSCL to establish the right approach."
He notified that, "Only a few nations worldwide possess such autonomy, and Bangladesh will hopefully be one of them."
"You will be able to acquire images from anywhere once you have the satellite," he added.
With the right approach and international collaboration, Bangladesh has the potential to further develop its capabilities in satellite technology. François Royer, Sales and Marketing Director of Airbus Defence and Space – Space Systems, expressed the belief that Bangladesh could manufacture satellites in the future. This prospect holds the promise of not only enhancing technological sovereignty but also potentially entering the commercial satellite manufacturing sector.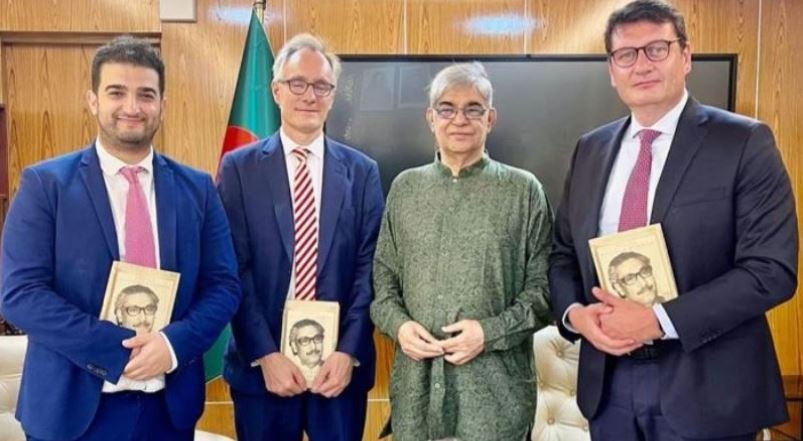 What is an Earth Observation Satellite?
An Earth observation satellite or Earth remote sensing satellite is a satellite used or designed for Earth observation (EO) from orbit, including spy satellites and similar ones intended for non-military uses such as environmental monitoring, meteorology, cartography, and others. Among the 1192 satellites in the space, about 119 are EO satellites.  The Bangabandhu-2 will form a constellation of satellites, enhancing Bangladesh's position as a spacefaring nation, according to the Airbus director.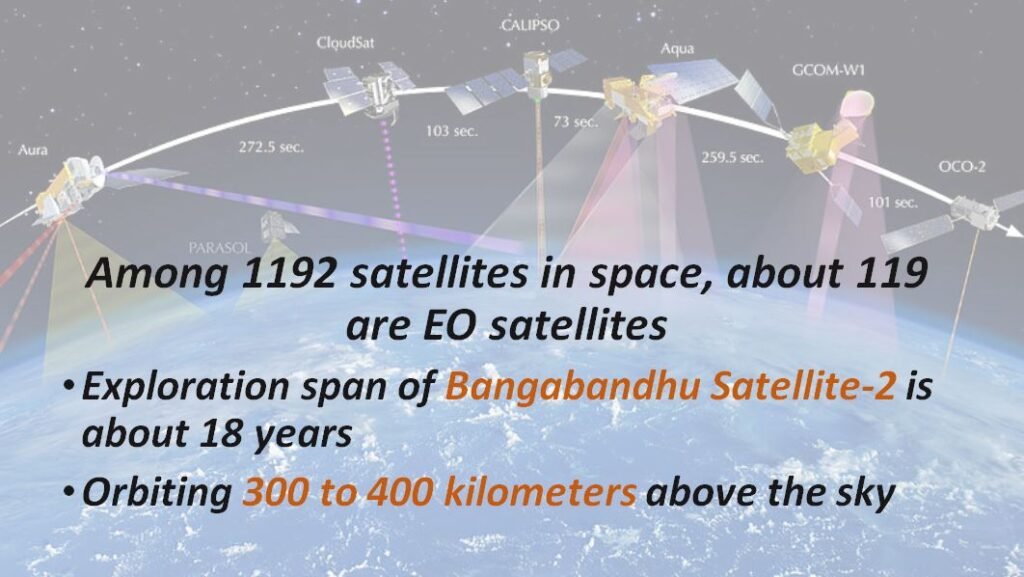 Unlike Bangabandhu-1, which was a communications satellite, Bangabandhu-2 will be a Low Earth Orbit (LEO) observation satellite. The exploration span of Bangabandhu Satellite-2 is about 18 years and it will be orbiting 300 to 400 kilometers above the sky.
Earth-observation satellites have a wide range of applications, which extend beyond the boundaries of space exploration. They play an integral role in various aspects of modern life like agricultural analysis, environmental monitoring, urban planning, Optical Imaging, Meteorology, Earth Observation, Electronic intelligence, Radar imaging, Earth Science, Hyperspectral/Multispectral imaging, Automatic Identification System (AIS), Infrared imaging and Video adaptation. François Royer addressed Earth observation as a game changer as it provides objective data on a global scale with local precision at an unprecedented pace. It feeds automated analyses that drive decision-making and actions on the ground.
France's Contribution and Bangladesh's Aerospace Aspirations
France has played a pivotal role in Bangladesh's foray into the satellite and aerospace sectors. Airbus, with its vast experience and expertise, has assisted Bangladesh in realizing its ambition of launching an earth-observation satellite. Beyond the satellite project, the cooperation between the two countries has broader implications for aerospace and aviation.
Furthermore, the partnership includes technology transfer regarding satellite production and the establishment of a satellite manufacturing plant in Bangladesh. Bangladesh's goal is to not only achieve satellite self-sufficiency but also explore the possibility of selling satellites to other nations, thereby contributing to the nation's economy.
The recent developments in the Bangladesh-France partnership demonstrate the breadth and depth of their collaboration. The joint ventures in satellite technology, aerospace, climate action, and cultural exchange reflect the commitment of both nations to a multi-dimensional partnership that extends beyond conventional diplomatic relations. Cultural exchange and educational cooperation play a significant role in fostering people-centric connectivity. Both countries acknowledge the value of multilingualism and express their commitment to promoting the learning of each other's languages. France will provide diplomatic and French language training for young Bangladeshi diplomats. Furthermore, Bangladesh and France intend to encourage more student, teacher, and academic exchanges, particularly in priority fields such as architecture, engineering, medicine, and climate action. This academic collaboration aims to further mutual understanding and strengthen the bonds between the two nations. These initiatives hold the promise of economic growth, technological advancement, and meaningful contributions to addressing global challenges. As Bangladesh and France work together to deepen their strategic cooperation, they set an example of how nations can come together to achieve shared goals and aspirations.