According to the report, depending on the specific scenarios considered, the BRI projected to create an additional 1.8 million to 3.6 million employment opportunities
China and Bangladesh have forged a strong and enduring partnership through the Belt and Road Initiative (BRI), a global project aimed at fostering connectivity and cooperation among nations. As the BRI celebrates its 10th anniversary, Chinese Ambassador to Bangladesh, Yao Wen, has underscored the significance of this initiative in deepening the friendship and collaboration between the two countries. His remarks at a recent event commemorating the BRI's decade of progress highlight the mutual benefits, economic growth, and poverty alleviation achieved through this visionary endeavor.
A recent report, titled 'The Belt and Road in Bangladesh Achievements and Way Forward,' has shed light on the remarkable impact that BRI has had on Bangladesh's economic landscape. The Belt and Road Initiative (BRI), a monumental global infrastructure development project spearheaded by China, has been making waves around the world. Its influence extends far and wide, reaching nations in Asia, Europe, Africa, and beyond. Among the countries experiencing the transformative effects of BRI, Bangladesh stands as a notable example.
According to the report, BRI activities in Bangladesh primarily revolve around three key areas:
infrastructure development
cooperation in energy and power
fostering social and cultural exchange
BRI's impact on Bangladesh's economy
The BRI's impact on Bangladesh's economy has been profound. According to the report, estimations based on various modeling approaches reveal significant positive effects across multiple dimensions. Ambassador Yao Wen noted that the initiative can contribute to a real GDP growth of at least 2.1 percent and a reduction in extreme poverty by 1.3 percent. Moreover, it is expected to generate an additional 2.5-5.1 percent in employment opportunities. These statistics reflect the tangible benefits that the BRI brings to the people of Bangladesh.
The trade volume between Bangladesh and China has surged from $15.3 billion in 2016 to $27.8 billion in 2022, demonstrating the growing economic ties between the two countries. Furthermore, Chinese investment in Bangladesh has seen a substantial increase, rising from $241 million in 2016 to $1.346 billion. These numbers underscore the trust and confidence that both countries have in each other's potential for growth and development.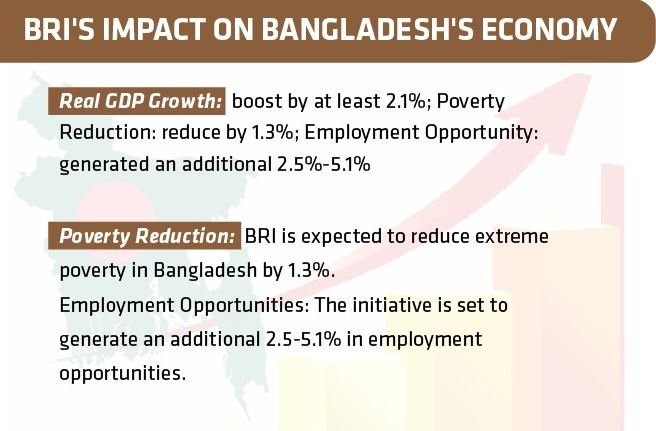 China's Commitment to Bangladesh
China's commitment to Bangladesh's development under the BRI has been substantial, with a pledge of $40 billion. Ambassador Yao Wen highlighted that this commitment has not only injected momentum into Bangladesh's economic growth but has also improved the lives of its citizens. Looking ahead, he expressed confidence that the BRI will continue to foster cooperation and prosperity for both China and Bangladesh.
Ambassador Yao Wen emphasized that the Belt and Road Initiative is founded on principles that stand in stark contrast to hegemony, interference in internal affairs, or expansionism. Instead, it embodies the spirit of peace, cooperation, openness, inclusiveness, and mutual benefit, harking back to the ancient Silk Road's core values. This aligns seamlessly with Bangladesh's aspirations as outlined in its 'Vision 2041' and 'Sonar Bangla' dreams. It is no wonder that Bangladesh became the first South Asian nation to join this transformative initiative when it was launched in 2013.
Remarkable Progress
Over the past ten years, the BRI has seen remarkable success. It has garnered participation from over three-quarters of countries worldwide and engaged 32 international organizations. This collaborative effort has resulted in nearly 1 trillion US dollars of investment and the realization of more than 3,000 cooperation projects. Most significantly, it has lifted approximately 40 million people out of poverty, a testament to its positive impact on participating nations.
'Vision 2041.'
Bangladesh Vision 2041, led by Prime Minister Sheikh Hasina and formulated by the National Economic Council, is a strategic plan to boost Bangladesh's socio-economic status. It's part of a 5-year perspective plan spanning 2022 to 2041, aiming to attain high-income status via industrialization. The initiative promotes expanding manufacturing and investing in human capital to boost exports. As Bangladesh celebrates 50 years of independence, it strives to become poverty-free and economically advanced by 2041. While challenges are significant, Bangladesh's track record proves its capabilities. Notably, its exemplary immunization efforts, with 38 million children immunized since 2003, earned it global recognition, including the polio-free status achieved in 2006 and the elimination of neonatal tetanus.
In conclusion, The Belt and Road Initiative is not merely a collection of infrastructure projects; it's a pathway to economic prosperity, employment generation, and poverty reduction. Bangladesh's experience with BRI serves as a compelling example of how international cooperation and infrastructure development can drive sustainable growth and transform nations. As both China and Bangladesh continue to work together, the prospects for a brighter, more prosperous future for Bangladesh remain promising, setting the stage for a transformative journey towards 'Vision 2041.'