The suspension of visa services for Canadian citizens further exacerbates the already strained relations between India and Canada.
Amid a growing dispute over the killing of a Sikh separatist in Canada, India has suspended visa services for Canadian citizens, escalating tensions between the two countries. The situation has escalated as Canada investigates allegations linking India to the separatist leader's murder, while India vehemently denies any involvement, labeling the accusations as 'absurd.'
The decision to suspend visa services for Canadians was conveyed through BLS, a visa service provider that posted a message from India's mission. The message cited "operational reasons" for the suspension, effectively halting the issuance of Indian visas to Canadians until further notice. This announcement was initially made on the BLS website, leaving many Canadian travelers and Indian nationals in Canada in a state of uncertainty.
Canada-India relations have deteriorated significantly in recent years, hitting a new low as both countries exchange accusations and expel each other's diplomats in connection with the assassination of Sikh separatist leader Hardeep Singh Nijjar. While experts contemplate the potential long-term consequences of this rift between the two nations, it poses a challenging situation for Western countries seeking to strengthen ties with New Delhi as a counterbalance to China and gain India's cooperation in addressing the Ukraine conflict.
Just five years ago, Canadian Prime Minister Justin Trudeau drew attention for his enthusiastic embrace of Indian culture during a weeklong visit with his family. However, those days now seem distant as tensions persist between the two nations, with no immediate prospects for resolution.
Tit-for-tat move
The Indian foreign ministry has instructed a senior Canadian diplomat to depart from India within a five-day timeframe. This directive comes shortly after Ottawa expelled an Indian diplomat, marking an intensification of tensions surrounding the assassination of a Sikh separatist earlier this year.
The decision from New Delhi reflects growing concerns about Canadian diplomats' interference in India's internal affairs and their alleged involvement in activities against India, as stated by the ministry in an official statement.
These reciprocal expulsions have further strained relations between Canada and India. Trade negotiations have been disrupted, and Canada has recently canceled a planned trade mission to India later this year.
Allegations of Indian Involvement in Murder
The current crisis escalated when Canada publicly acknowledged that it was investigating 'credible allegations' that linked India to the murder of Hardeep Singh Nijjar, a Sikh separatist leader and Canadian citizen. Nijjar was fatally shot by two masked gunmen in British Columbia on 18 June, near a Sikh temple. India had designated Nijjar as a terrorist in 2020.
Canadian Prime Minister Justin Trudeau, addressing the Canadian parliament, raised concerns about the possible involvement of 'agents of the government of India' in the murder. He emphasized that any foreign government's involvement in the killing of a Canadian citizen on Canadian soil was a grave violation of sovereignty and would not be tolerated
What is the Khalistan Movement?
India responded swiftly and resolutely to Canada's allegations, rejecting them outright. Indian officials criticized Canada for attempting to "shift the focus from Khalistani terrorists and extremists" who they claim have found shelter in Canada. The Indian government has historically been strongly opposed to the demands of Sikh separatists in Western countries who seek the creation of Khalistan, a separate Sikh homeland.
The Khalistan movement, which saw its peak in India during the 1980s, involved a violent insurgency primarily centered in Punjab, a Sikh-majority state. The Indian government successfully quelled the movement through force, and it has since lost significant support within India. However, it still garners backing from some members of the Sikh diaspora in countries like Canada, Australia, and the UK.
The killing of a Sikh separatist leader in Canada has reignited the demand for Khalistan, an independent Sikh homeland separate from India. This movement traces its roots back to the pre-1947 partition discussions between India and Pakistan regarding the Punjab region. Sikhs, despite being the majority in Punjab, constitute only 2 percent of India's vast population. They advocate for Khalistan, a separate Sikh state. This demand has resurfaced multiple times, notably during a violent insurgency in the 1970s and 1980s. The Indian government views the Khalistan movement as a security threat, with the 1984 assassination of Prime Minister Indira Gandhi by Sikh guards marking a tragic turning point.
Who was Hardeep Singh Nijjar whose killing triggered India-Canada tensions?
The killing of Sikh separatist leader Hardeep Singh Nijjar, who resided in Canada, earlier this year has led to a heated exchange of accusations between India and Canada. Canadian Prime Minister Justin Trudeau implied that Indian government agents might have been involved in the assassination. Nijjar, aged 45, was fatally shot outside a Sikh temple in Surrey, a Vancouver suburb with a significant Sikh population. India had labeled him a "terrorist" three years prior to his death. Nijjar was a proponent of establishing a separate Sikh homeland in Punjab, a northern Indian state bordering Pakistan, and was allegedly organizing an unofficial referendum for an independent Sikh nation in India at the time of his assassination.
Canada's Sikh Community and Protests
Canada boasts the largest Sikh population outside of Punjab, making it a focal point for Sikh-related issues and activism. The country has witnessed numerous pro-Khalistan protests and demonstrations over the years. India's concerns over the safety of its diplomats in Canada were brought to the forefront in June when reports surfaced about India filing a "formal complaint" regarding their security.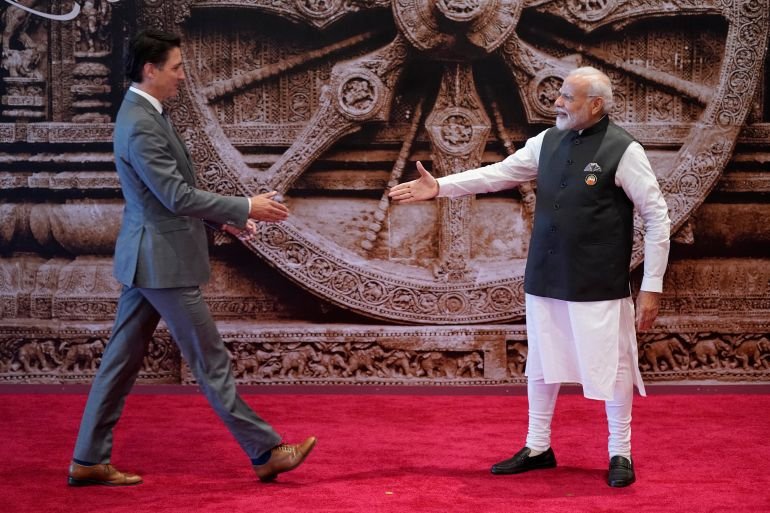 Growing Diplomatic Tensions
The suspension of visa services for Canadian citizens further exacerbates the already strained relations between India and Canada. The public accusations and counter-accusations concerning the murder of Hardeep Singh Nijjar have led to a sharp deterioration in diplomatic ties. The situation remains fluid, with both nations closely monitoring developments and awaiting the outcome of Canada's investigation.
As the world watches this diplomatic row unfold, the implications for the Indian and Canadian Sikh communities, as well as the broader relationship between the two countries, are significant. Both sides face the challenge of finding a resolution to this dispute while navigating complex domestic and international considerations.