The 2022 SDG Progress Report, published by the Bangladesh Planning Commission, comprehensively documented significant initiatives and practices from both global and regional perspectives. It provides a detailed update on indicators, highlights key challenges, and outlines the way forward, encompassing good practices, challenges, and areas requiring support.
The report indicates a reduction in the poverty rate to 20.5 percent, with the extreme poverty rate dropping to 10.5 percent in 2019. Furthermore, the Global MPI Report for 2022 reveals a decline in multidimensional poverty, from 41.7 percent of the population in 2014 to 24.6 percent in 2019.
The government has adopted a 'whole-of-the-society approach' in its policies and programs to combat multidimensional poverty, fostering inclusive, responsive, and adaptable growth in the country. To mitigate the impact of COVID-19, the government has initiated and implemented several stimulus packages, totaling BDT 1,877 billion, aimed at safeguarding the incomes of vulnerable populations and reviving economic activities.
Dr. Md. Kawser Ahmed, a member (Secretary) of the General Economics Division (GED) at the Bangladesh Planning Commission, highlights Bangladesh's significant achievements in reducing maternal mortality. The Maternal Mortality Ratio (MMR) has plummeted to 163 per 100,000 live births in 2020, down from 447 in 1995. The country has also witnessed a continuous decline in the Under-five mortality rate, dropping from 125 in 1995 to 28 in 2020, positioning Bangladesh on track to attain the 2025 U5MR target of 27.
Sustainable Development Goals (SDGs)
The Sustainable Development Goals (SDGs), also known as the Global Goals, are a set of 17 interlinked global objectives established by the United Nations in September 2015. The total number of targets is 169. A wide range of social and economic development challenges are covered by the SDGs. These include social justice, environmental preservation, gender equality, climate change, hunger, poverty, and health issues.
The Rio+20 conference (the United Nations Conference on Sustainable Development) in Rio de Janeiro, in June 2012, galvanized a process to develop a new set of Sustainable Development Goals (SDGs). In July 2014, the UN General Assembly Open Working Group (OWG) put forth a document outlining 17 goals. These goals formed the basis of the global development agenda for the period between 2015 and 2030.
These goals were created to address a wide range of global challenges and to guide nations, organizations, and individuals toward a more sustainable and equitable future by the year 2030. The SDGs build upon the Millennium Development Goals (MDGs) but are more comprehensive and inclusive, addressing not only poverty and basic human needs but also social, economic, and environmental sustainability.
Goals of SDG
There are 17 goals in SDGs. They are:-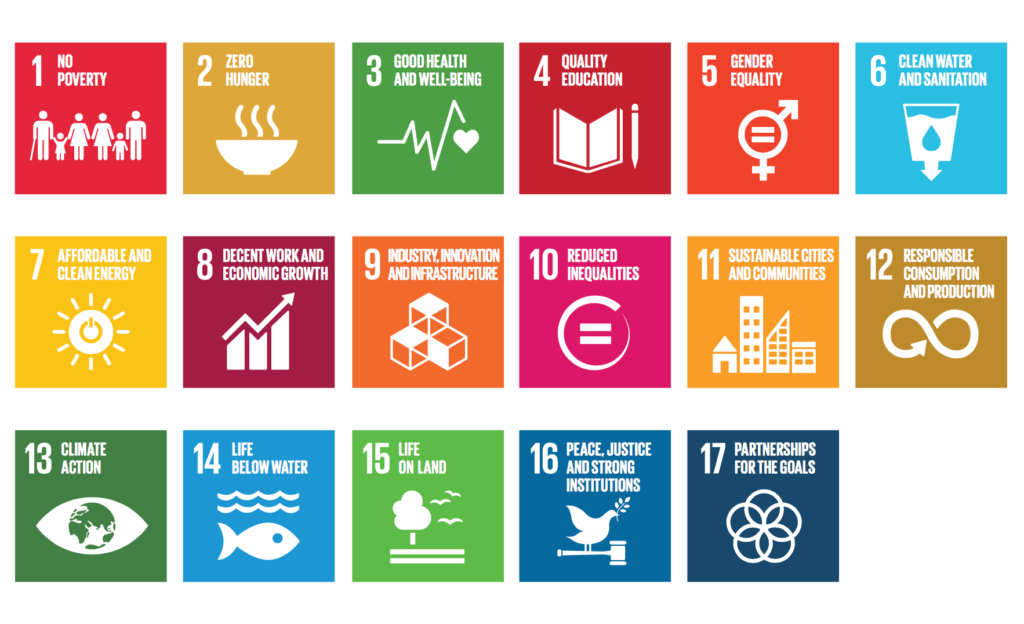 Bangladesh's progress on SDG
Bangladesh's progress on SDGs is discussed below:
SDG 1: No Poverty
According to the primary results of the Household Income and Expenditure Survey 2022, The poverty rate in the nation declined to 18.7 percent at the national level, with rural areas registering a rate of 20.5 percent and urban areas at 14.7 percent.
In 2016, the poverty rate in the country stood at 24.3 percent, with an extreme poverty rate of 12.9 percent.
SDG 2: Zero Hunger
According to the Food and Agriculture Organization (FAO), the prevalence of undernourishment in Bangladesh dropped from 34.7% in 2000 to 14.7% in 2019.
According to the Global Hunger Index, the country's score has improved from 30.0 in 2000 to 20.4 in 2021, indicating a substantial reduction in hunger.
SDG 3: Good Health and Well-being
According to the Bangladesh Bureau of Statistics (BBS), In 2023, Bangladesh has an infant mortality rate of 21.556 deaths per 1,000 live births, reflecting a decrease of 4.68% compared to 2022. Similarly, in 2020, the infant mortality rate for Bangladesh stood at 24.730 deaths per 1000 live births, showing a 4.1% reduction from 2019.
Another BBS study revealed that there was a decrease in the maternal mortality rate (per 100,000 live births) from 168 in the previous year to 156 in 2022.
SDG 4: Quality Education
One notable achievement is the increase in literacy rates, which stood at approximately 73% in 2000 and has risen to over 74.23%. in 2023.
The government's biggest initiative in education expansion is the free book distribution on January 1st of every year.
SDG 5: Gender Equality
In the 2022 Global Gender Gap Index, it was reported that female labor force participation in Bangladesh has been on a steady rise. From 2021 to 2022, it saw a substantial increase, climbing from 32.4% to 42.7%.
SDG 6: Clean Water and Sanitation
According to MICS 2019 and BBS, 44.7 percent of the population currently uses services for safely managed drinking water (or 47.9 percent overall). Also, in 2019, 42.8 percent of household members used safe management facilities for sanitation (MICS 2019, BBS).
SDG 7: Affordable and Clean Energy
Bangladesh has achieved another milestone as it has brought 100 percent of the population under electricity coverage by March 2022.
SDG 8: Decent Work and Economic Growth
Bangladesh's economy has been on an upward trajectory, driven by the garment industry, remittances, and the growth of the IT sector. The country's proactive investment policies have attracted foreign direct investment (FDI) and created job opportunities, contributing to decent work and economic growth.
SDG 9: Industry, Innovation, and Infrastructure
The nation has been making strides in developing its infrastructure and promoting innovation. Projects like the Padma Bridge and the Dhaka Metro Rail are set to transform transportation networks. The government has also encouraged innovation through initiatives like the "Digital Bangladesh" program.
SDG 10: Reduced Inequalities
Bangladesh is ranked 119th out of 169 nations in the 2022 Social Progress Index, which gauges a nation's performance on a variety of social and environmental performance metrics.
SDG 11: Sustainable Cities and Communities
The government has expanded infrastructure spending dramatically. The longest infrastructure project in Bangladesh is the 6.15 km long Padma Multipurpose Bridge, which began accepting traffic in June 2022. In addition, the long-awaited metro rail project is finally a reality thanks to the debut of the nation's first overhead electric train in December 2022.
SDG 12: Responsible Consumption and Production
Bangladesh has created a 10-year SCP framework with the goal of achieving SDG 12 by 2030. Despite a large growth in the standard of life, Bangladesh's consumption-to-GDP ratio is trending downward, according to the aggregate consumption footprint.
A rising convergence can be seen between per capita consumption and consumption expressed as a percentage of GDP (constant prices). This shows the economy is moving in the direction of sustainable consumption.
Additionally, the decrease in energy usage per unit of production shows that the economy is moving towards a sustainable path thanks to efficient energy resource use and sustainable production. Bangladesh's primary energy usage per $1000 of GDP is falling over time, indicating growing manufacturing energy efficiency.
SDG13: Climate Action
The effects of climate change are particularly dangerous for Bangladesh. The country has taken proactive measures to address this challenge, including the formulation of the Bangladesh Climate Change Strategy and Action Plan. Investments in climate-resilient infrastructure are ongoing.
SDG 14: Life Below Water
Bangladesh has given its approval to the Blue Economy initiative, which serves as the maritime cornerstone of the nation's future strategy. This initiative aims to foster intelligent, inclusive, and sustainable growth, as well as generate employment opportunities in the maritime sector, both in the near and distant future.
SDG 15: Life on Land
The World Travel and Tourism Council (WTTC) estimates that in 2019, tourism in Bangladesh accounted for approximately US$ 9.11 billion, or about 3% of the country's overall economy. The first four years of the 7FYP (2016-2020) saw an average growth rate of 6.1 percent for the forestry subsector.
SDG 16: Peace, Justice, and Strong Institutions
Compared to baseline data, there was a significant decrease in the number of victims of intentional homicide. Appropriate action by the Government of Bangladesh has greatly improved the situation in terms of youth abuse and human trafficking.
SDG 17: Partnerships for the Goals
Bangladesh actively engages in partnerships with international organizations, donors, and neighboring countries to achieve the SDGs. These collaborations help mobilize resources, share knowledge, and address global challenges collectively.
Delta Plan and SDG
In 2018, the Government of Bangladesh approved the Delta Plan 2100 to safeguard water resources and mitigate the potential impacts of climate change and natural disasters. The government allocates approximately US$ 1 billion annually for climate change adaptation, constituting 6 to 7 percent of its annual budget.
The majority of these resources are derived from the government, with additional support from international development partners. Bangladesh has made positive strides in 20 out of 92 environment-related SDG indicators, although six indicators require accelerated action, highlighting the urgency of addressing environmental challenges.
Nonetheless, Bangladesh faces challenges in specific critical areas, such as reducing inequality, lowering carbon emissions, and mitigating climate change impacts, which may impede SDG implementation. The report underscores the pivotal importance of high-quality data availability, which can aid decision-makers in optimizing resource allocation. To achieve this, increased data financing from both global and domestic sources is imperative.
Bangladesh has made remarkable progress on multiple Sustainable Development Goals (SDGs). The nation has significantly reduced poverty, improved food security, and enhanced healthcare and education. It has also taken substantial steps towards gender equality, clean water, and clean energy.
However, challenges remain in reducing inequalities, addressing environmental concerns, and ensuring sustainable consumption. Bangladesh's commitment to partnerships and proactive measures to combat climate change demonstrates its dedication to achieving the SDGs by 2030. Continued efforts and global support are crucial to overcoming the remaining obstacles and building a more equitable and sustainable future for all.