On Wednesday, September 13, 2023, the Cabinet Committee on Government Purchase (CCGP) decisively endorsed 14 proposals in a notable meeting. Among these, the import of 300,000 metric tons of wheat from Russia is the pivotal one to be discussed of. Under this mandate, the Food Ministry will procure this wheat from the Russian Federation. This import will incur a total cost of Tk 10.329 billion through the G2G method, translating to Tk 33.43 per kilogram.
The meeting further sanctioned contracts for the asphalt concrete overlaying of runway surfaces at three local airports, along with the establishment of 2 solar power and 1 wind power plants. Presiding over this virtual session of the Cabinet body was Finance Minister AHM Mustafa Kamal.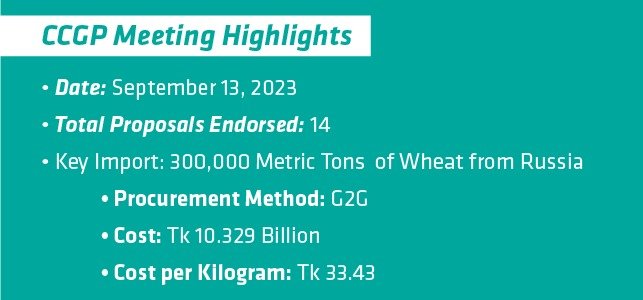 Chinese and local companies secure key contracts
A significant milestone was reached as a Shandong-based Chinese company secured the contract for asphalt concrete overlaying on the runway surface of Jashore airport as the lowest bidder. While the Syedpur airport's runway surface asphalt concrete overlaying contract was awarded to the local company, Abdul Momen Limited. Adding to this crescendo, the contract for the Shah Makhdum airport in Rajshahi was granted to the Chinese company China Civil Engineering Construction Corporation, clinching the lowest bid.
The Civil Aviation Authority of Bangladesh orchestrated these three critical contracts across three lots. All these culminate in a substantial total contract value of Tk 7.72 billion.
Further, the CCGP approved the establishment of two grid-tied solar power plants and one wind energy project in Dinajpur, Thakurgaon, and Cox's Bazar. All these will operate under the innovative principle of "No electricity-No payment
Top of Form
The Consortium of Green Progress Renewable B.V. and IRB Associates Ltd. is poised to usher in a ground-breaking era, erecting colossal 100 MW (AC) solar power plants in the heart of Bangladesh. These energy titans will grace Bochaganj Upazila in Dinajpur District and Pirganj Upazila in Thakurgaon District with their celestial power.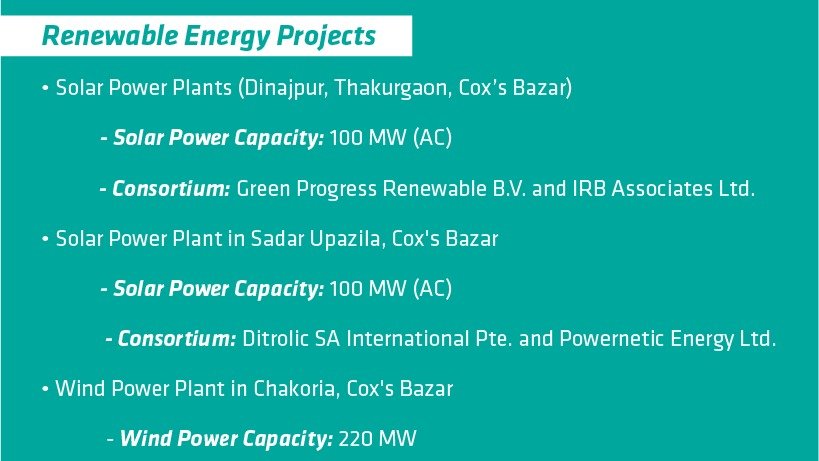 The Bangladesh Power Development Board (BPDB) stands as the harbinger of change, ready to embrace this electrifying vision. Over the span of two decades, they shall purchase the electricity generated, embarking on a journey that demands a fiscal commitment of Tk 35.25 billion. With a tariff rate standing firm at Tk 10.8782 per kilowatt-hour, the government is poised to power the nation.
Infrastructure for a connected future
Meanwhile, the Consortium of Ditrolic SA International Pte. and Powernetic Energy Ltd. casts its gaze upon Sadar Upazila in Cox's Bazar district. A symphony of solar panels will rise there, swelling to a harmonious 100 MW (AC) solar power plant. The BPDB, a fervent supporter of this endeavour, pledges allegiance for two decades. A sumptuous treasury outflow of Tk 35.42 billion accompanies their commitment, illuminated by a tariff rate of Tk 10.9281 per kilowatt-hour.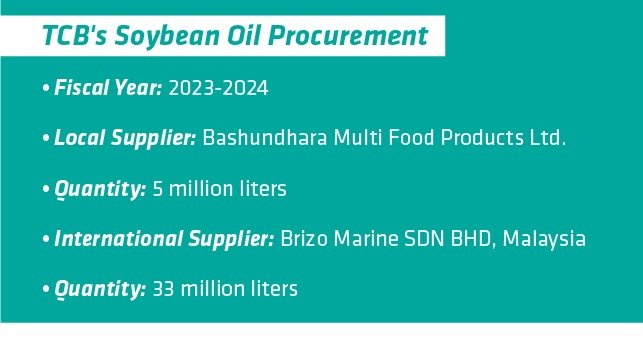 JT New Energy Company Ltd is poised to erect a formidable 220 MW wind power plant in the coastal realm of Chakoria, nestled within Cox's Bazar district. The Bangladesh Power Development Board (BPDB) stands as a steadfast patron of this ambitious venture. Over the course of two decades, they pledged to procure the electricity generated, signifying a substantial financial commitment of Tk 124.08 billion. This partnership shall be governed by a tariff rate standing firm at Tk 13.414 per kilowatt-hour.
The Cabinet body approved yet another proposal of the BPDB. This time, the Joint Venture of Oculin Tech Bd Ltd., NuriFlex Co., and SQ Trading & Engineering will sculpt the future with their ingenious hands. They are tasked with the monumental design, supply, and installation". These organisations will be testing Commissioning of Advanced Metering Infrastructure, including Upgradation of Unified Prepaid System on Turnkey Basis." This ambitious endeavour bears a price tag of Tk 4.6 billion.

The Commerce Ministry, too, found favour in the eyes of the CCGP, securing nods for three of its proposals. Among these, the Trading Corporation of Bangladesh (TCB), a loyal subordinate, will embark on an endeavour of culinary import. A bountiful 6,000 metric tons of lentils will be sourced through open tender from Sabnam Vegetable Oil Industries Ltd. At the heart of this venture, Tk 580 million shall flow, with each kilogram of lentils gracing the table at a cost of Tk 96.85.
TCB and BADC's import plans get green light
The Trading Corporation of Bangladesh (TCB) is set to procure a substantial quantity of soybean oil. In the fiscal year 2023-2024, they will acquire a whopping 50 lakh (5 million) litres of soybean oil through an open tender process from Bashundhara Multi Food Products Limited. Investing a substantial sum of Tk 800 million, each precious litre shall bear a cost of Tk 159.85.
The TCB will also engage in international trade, importing a staggering 33 million litres of Soybean Oil. Brizo Marine SDN BHD, Malaysia, in collaboration with the local agent Sena Edible Oil Industries Dhaka, will play a pivotal role in this endeavour. The expenditure for this import stands at Tk 4.33 billion, with each litre bearing a price tag of Tk 155.93.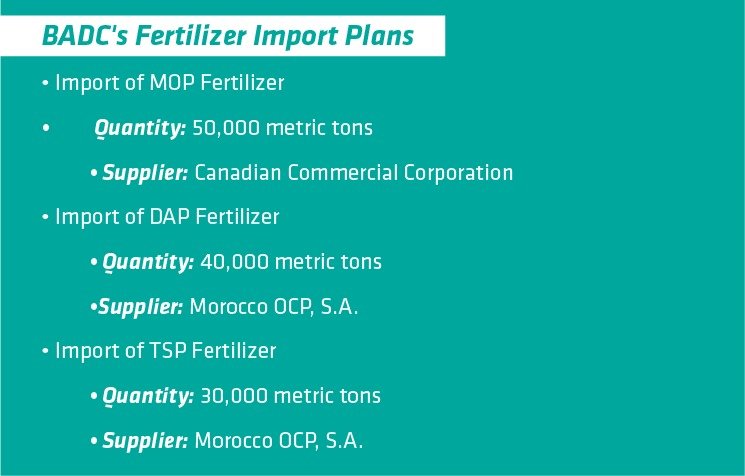 Meanwhile, the CCGP lent their approval to four proposals presented by the Agriculture Ministry. Bangladesh Agricultural Development Corporation (BADC), a vital subsidiary of the Agriculture Ministry, will oversee the import of 50,000 metric tons of muriate-of-potash (MOP) fertilizer from the Canadian Commercial Corporation. The financial outlay for this endeavour stands at Tk 177.65 million under a state-level contract, with each metric ton costing $323.
Additionally, BADC will procure another 50,000 metric tons of MOP fertilizer from the same Canadian Commercial Corporation, mirroring the cost at Tk 1.7765 billion under a separate lot of the state-level contract.
Not to be outdone, BADC extends its reach to Morocco OCP, S.A., securing the import of 40,000 metric tons of DAP fertilizer at an expenditure of Tk 2.3144 billion under the state-level contract. Each metric ton of this essential fertilizer will be acquired at a cost of $526.
Morocco's OCP, S.A. continues to lend a helping hand by supplying 30,000 metric tons of TSP fertilizer under the state-level contract to BADC. This contribution, valued at Tk 128.61 crore, where each metric ton of TSP fertilizer is secured at a rate of $289.75.
The Cabinet body has sanctioned a proposal from the Roads and Highways Department. The contract for the "Upgradation of Hatirjheel-Rampura Bridge-Bansree-Shekharjaiga-Amulia-Demra Highway to 4-lanes" project will be awarded to LEA Associates South Asia Pvt. India. This transformative project involves an investment of Tk 533 million.