In what may be the war's most extensive single attack, Sevastopol witnessed catastrophic damage to large ships and submarines, according to confirmation from intelligence officials
After months of arduous engagement on the southern front, Ukraine launched a decisive assault on the Russian-occupied Crimean peninsula overnight on Tuesday. This region had recently hosted remnants of the Russian Black Sea Fleet, but now finds itself in a precarious situation. In the waters surrounding the dry dock, an advanced diesel submarine and an amphibious ship are barely operational, representing little more than a salvage operation for Russia, further eroding its international standing.
This strike carries immense significance, not only for reducing Russia's naval presence off the southern Ukrainian coast, which has faced a nearly 500-day blockade with limited opportunities for exporting goods like grain. Moscow had consistently warned that a significant attack on the Crimean peninsula, the first part of Ukraine it unlawfully seized in 2014, would trigger broader retaliation, possibly even nuclear responses.
Andriy Yusov, a Ukrainian military intelligence official, confirmed that a sizable landing craft and a submarine fell victim to the attack, characterizing the damage as "significant" in televised statements. He remarked, "It is now highly probable that these vessels are irreparably damaged."
Russia's Defense Ministry reported that Ukraine had targeted a Black Sea naval shipyard with ten cruise missiles and three unmanned speedboats during the early morning hours. This assault resulted in damage to two military vessels undergoing repairs. The Ministry claimed to have intercepted seven of the incoming missiles, and Russian attack boats allegedly destroyed a Ukrainian patrol vessel. Contrary to Kiev's account, it later announced that two of its ships would be fully repaired and returned to service.
Ukrainian military analyst Volodymyr Zablotsky, speaking to the news outlet RBK Ukraine, identified the damaged ships as the "Minsk," a Ropucha-class large landing craft, and the "Rostov-on-Don," a Kilo-class attack submarine capable of carrying Kalibr cruise missiles. Zablotsky noted, "It carries six torpedoes or four caliber missiles in one salvo. So we can calculate that Russia has now lost at least four caliber missiles and appears to have suffered damage to its missile launcher, potentially rendering it partially inoperable for months."
Most Significant Assault
In a phone interview with Reuters, retired Ukrainian navy captain Andriy Ryzenko referred to the recent event as "undoubtedly the most significant attack on Sevastopol since the war's outset."
This city serves as the headquarters for the Black Sea Fleet, a crucial asset for the Kremlin's power projection in the Middle East and the Mediterranean. Throughout the conflict in Ukraine, it has also been instrumental in enforcing a de facto blockade on Ukraine's seafood exports via the Turkish Straits.
Ukraine has previously attempted to counter the naval supremacy of the Russian fleet by employing explosive-laden maritime drones. However, Russia has persisted in deploying its warships to launch missile strikes against Ukraine throughout the ongoing 18-month-long war.
The precise nature of the missile used by Kiev in the Sevastopol attack remains unclear. Sevastopol is located approximately 300 kilometers (185 miles) from the Black Sea port of Odessa, Ukraine. Andriy Ryzenko speculated that Ukraine may have utilized domestically developed Neptune anti-ship missiles, possibly modified for land targets. Another possibility mentioned was the use of Storm Shadow cruise missiles supplied by Britain. According to Britain's Sky News, unnamed sources confirmed the use of Storm Shadow missiles in the attack.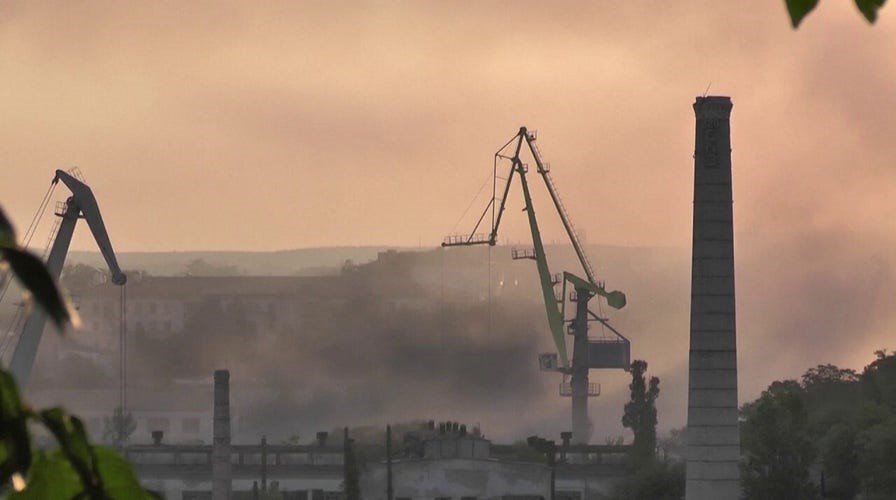 The Western world has supplied Ukraine with billions of dollars worth of arms to confront Russian forces that have occupied parts of the country since their full-scale invasion in February 2022, maintaining control over the southern and eastern regions.
In a departure from its usual practice, the Ukrainian military publicly claimed responsibility for the strike, a move typically reserved for attacks on Russia or the Crimean peninsula.
A statement released via telegram declared, "On the morning of September 13, the armed forces of Ukraine executed a successful assault on the naval assets and port infrastructure of the occupiers within the docks of temporarily occupied Sevastopol."
Mikhail Razvozaev, the Moscow-based governor of Sevastopol, Crimea's largest city and a major Black Sea port, reported at least 24 injuries in a telegram message. He also posted a nighttime photograph showing port infrastructure on fire. Russian Telegram channels shared additional videos and photos depicting the blaze at a waterfront facility.
Residents of Sevastopol described how the attack had abruptly awakened them as they went about their daily routines on Wednesday afternoon.
Challenges for the Kremlin
Despite the Kremlin's assurances that the damage inflicted on the two ships during Wednesday morning's attack could be swiftly addressed, experts contend that the incident, which left 24 people injured, casts doubts on the effectiveness of Russia's operations in Sevastopol. Moreover, it raises concerns about Russia's unchallenged control over the Black Sea.
This development coincides with Ukraine's efforts to fend off a looming counter-offensive on land. Ukrainian officials disclosed on Wednesday that Russia had initiated the fortification of a third defensive line in the Zaporizhia region, which includes the installation of anti-tank barriers and roadblocks to the south of Robtyn, a town liberated by Ukrainian forces in August.
Kiev is expected to maintain pressure on Crimea for an extended period, potentially even longer. Western officials view the Russian-held peninsula as a legitimate target for military actions. Ukraine possesses a limited supply of British-made Storm Shadow cruise missiles and their French-made SCALP counterparts. Previous Ukrainian attempts to target Russian bridges across the Kerch Strait, east of Crimea, in October 2022 resulted in parts of the span collapsing in July, highlighting the vulnerability of the peninsula as a critical resupply hub for Russian forces.
Should the Ukrainian offensive continue to advance southward, it could pose challenges for Kremlin military planners. They may need to relocate command and control elements out of missile range, and the possibility of a decision by the Biden administration to send long-range U.S. military strategic missile systems to Ukraine, capable of hitting Russian targets up to 200 miles away, adds a new dimension to the equation.
Observers suggest that Ukraine is enhancing its naval capabilities through unconventional means, including riverine operations and Western commando training for drones. These developments underscore that Ukrainian forces are not to be underestimated. As Jim Townsend, former U.S. Deputy Assistant Secretary of Defense for Europe and NATO, noted, "These individuals are highly resourceful and engaged in battles across multiple fronts."