Prime Minister Sheikh Hasina has extended a resounding invitation to investors hailing from the Commonwealth nations to embrace Bangladesh on a grand scale. Addressing the "Commonwealth Trade and Investment Forum Bangladesh 2023," a two-day event that marked a historic first for Bangladesh as host, she ignited the event with her visionary words. This took place at the Bangabandhu International Conference Centre in the heart of the capital.
In a display of unyielding confidence, Prime Minister Hasina emphasized Bangladesh's pivotal geographic location. Bangladesh is situated at the nexus of a colossal market encompassing a staggering three billion individuals. This compelling statement was coupled with a reminder that Bangladesh's current population, standing at a formidable 170 million, is on track to grow exponentially. The population is on the verge of reaching an astounding 35 million of affluence by the onset of 2030. In this remarkable trajectory, Bangladesh is destined to ascend to the ranks of the world's third-largest market, eclipsing nations like Germany and the United Kingdom.
Bangladesh's diverse sectors beckon commonwealth investors
The gathering was orchestrated jointly by the Commonwealth Enterprise and Investment Council, the Commonwealth's esteemed business network, and stalwarts like the Bangladesh Investment Development Authority (Bida), the Ministry of Foreign Affairs, and the benevolent Zi Foundation—a family-run organization dedicated to supporting vulnerable populations.
The overarching mission of the forum is nothing short of awe-inspiring: to champion innovation, foster trade, inspire investment, and cultivate economic growth. All these goals are set at aiming to gain while nurturing partnerships that pave the way toward sustainable and inclusive economic development for Bangladesh.
Prime Minister Hasina articulated an urgent need for substantial, sustainable investments to accelerate Bangladesh's ongoing economic journey. She articulated her government's steadfast commitment to this cause, with a laser focus on organizational reforms. These reforms are like the establishment of entities such as Bida and the Bangladesh Economic Zones Authority (Beza), both designed to provide an enticing haven for investors and to guarantee top-tier post-investment services.
Her leadership underscored that virtually all sectors in Bangladesh stand wide open to investment opportunities, with a particular emphasis on agricultural goods and food processing, leather and leather goods processing, medical equipment, automobiles, shipbuilding, and the booming realm of Information and Communication Technology (ICT). As a cherry on top, she reassured potential investors that these sectors come equipped with promising investment incentives. These incentives further coupled with a streamlined process for repatriating dividends and benefits to their home countries.
Prime Minister Sheikh Hasina's impassioned call to action transcends mere rhetoric; it signals a resounding climax to the Commonwealth Trade and Investment Forum Bangladesh 2023. Her words resonate with the promise of a future where Bangladesh takes its rightful place as a global economic powerhouse. Investors from Commonwealth countries now stand at the threshold of an extraordinary opportunity—one that beckons them to be part of Bangladesh's incredible journey toward prosperity.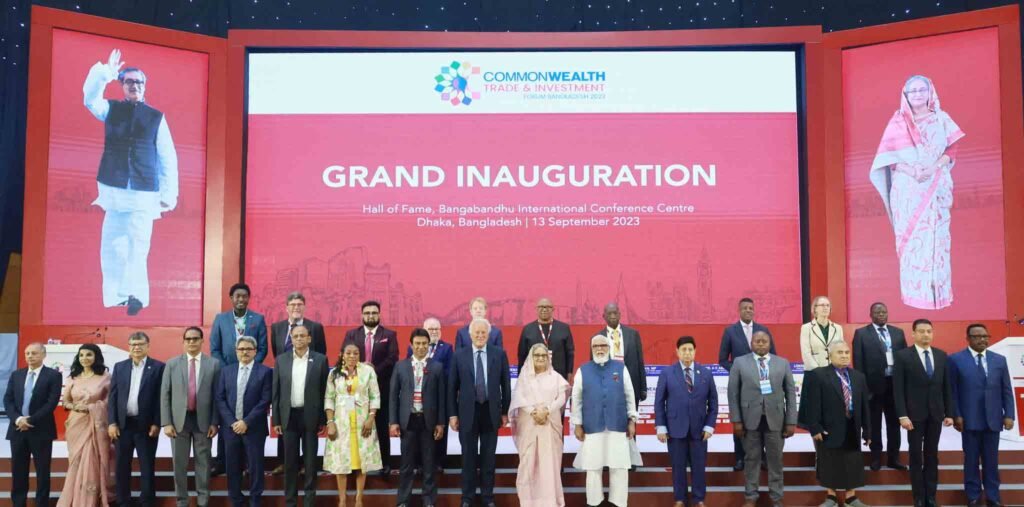 Key drivers of Bangladesh's socio-economic success discussed
PM Hasina, in her address, highlighted a remarkable facet of Bangladesh's foreign direct investment landscape: a staggering 70% of the country's foreign direct investment is sourced from reinvestment.
In her discourse, she underlined a fundamental precondition for successful investment: robust infrastructure development. To this end, the government has undertaken ambitious initiatives, establishing a network of 100 economic zones, 109 hi-tech and software technology parks, and IT training and incubation centers across the nation, all bolstered by enticing incentive packages designed to entice foreign investors.
The Prime Minister articulated her government's commitment to enhancing connectivity, spanning land, rail, and air. She proudly noted that almost all of the country's highways have been elevated to accommodate four or more lanes, thus facilitating efficient transportation.
In a momentous achievement, the Padma Bridge has forged a direct connection between 21 southwestern districts of Bangladesh and Dhaka, seamlessly integrating previously disparate regions into the country's economic landscape. Moreover, Bangladesh is poised to unveil the Karnaphuli underwater tunnel, a groundbreaking infrastructure project that not only heralds a first for Bangladesh but stands as a pioneering feat in South Asia. Progress is also rapidly advancing on the establishment of a rail link between Chattogram and the picturesque tourist destination of Cox's Bazar.
Prime Minister Hasina attributed Bangladesh's swift socio-economic development to a combination of factors, including a democratic environment, political stability, continuity of government, and a well-structured portfolio of development programs.
The esteemed gathering also featured key addresses from luminaries such as Prime Minister's Private Industry and Investment Adviser Salman Fazlur Rahman, Foreign Minister AK Abdul Momen, Executive Chairman of Bida Lokman Hossain Miah, Strategic Advisor (Bangladesh) of Commonwealth Enterprise and Investment Council (CWEIC) Zillur Hussain, and CWEIC Chairman Lord Marland.
In a poignant gesture, Prime Minister Hasina presented the Commonwealth Bangabandhu Sheikh Mujibur Rahman Green Investment Award to EcoBricks from Uganda. Organizers of the event revealed that over 300 international delegates, including 13 ministers from Commonwealth countries, have convened for this two-day conference.
Trade facilitation through Commonalities in focus
Later in the day, during an international seminar held as part of the Commonwealth summit at the InterContinental Hotel in Dhaka, Salman F Rahman, a prominent government policymaker, underscored Bangladesh's readiness to provide special policy support to Commonwealth nations in order to attract greater foreign direct investment (FDI).
Pointing to Bangladesh's pivotal role, Rahman cited a slew of ambitious infrastructure projects, including the Padma Bridge, Rooppur Nuclear Power Plant, Deep Sea Port, and Payra Sea Port, as testaments to Bangladesh's capacity to undertake and successfully complete such endeavors. These projects, he explained, are designed to enhance regional connectivity and bolster transportation networks.
In his opening remarks at the seminar, CWEIC Chairman Lord Marland commended Bangladesh for its global excellence in apparel exports and urged Commonwealth nations to adopt best practices in various sectors. He highlighted the vast potential inherent in the Commonwealth, a collective home to 2.5 billion people, encompassing both advanced economies and developing nations.
Zaved Akhtar, President of Unilever Bangladesh, affirmed that Bangladesh boasts political stability and a conducive investment environment. He stressed the importance of long-term policies to attract sustained investment.
Srini Nagarajan, Managing Director of British International Investment, emphasized the necessity for Bangladesh to formulate a comprehensive Business Integrated Action Plan to attract foreign investment. He highlighted the imperative of long-term, sustainable investment that encompasses zero carbon emissions, gender equality, community development, and good governance.
During another compelling session titled "The global economy: Breaking down barriers to trade," Commerce Minister Tipu Munshi underscored the pivotal role of free trade agreements (FTAs) in boosting trade among Commonwealth nations. Drawing inspiration from the African Continental Free Trade Agreement, Minister Munshi expressed a strong belief that greater collaboration among Commonwealth countries could significantly enhance trade facilitation and foster economic cooperation.
He pointed out the inherent advantages that Commonwealth member countries share, including common languages, legal systems, and historical ties. Minister Munshi stressed that leveraging these advantages could lead to more effective trade facilitation within the Commonwealth, creating a more conducive environment for commerce.
Photo Credit: Yeasin Kabir Joy