The historical and evolving relations between these two Asian giants have shaped the island nation's political landscape, with leaders oscillating between pro-India and pro-China policies
On Saturday, the Maldives will witness a crucial presidential election that holds the potential to determine the outcome of the contest for influence between China and India in this small Indian Ocean archipelago. Although the Maldives, home to approximately 521,000 residents, is renowned for its picturesque atolls and high-end tourist resorts, both China and India have made substantial investments in the island's infrastructure as they vie for favor and sway. President Ibrahim Mohamed Solih, an advocate for strong relations with India while pursuing an "India-first" policy, appears to hold a slight lead in the polls.
The opposition coalition has thrown its support behind Mohammad Muizhu, the main rival who has a history of aligning closely with China and has launched a "India out" campaign, pledging to reduce the presence of several surveillance aircraft and a small contingent of around 75 Indian military personnel. However, for a significant portion of the 280,000 eligible voters, the overarching rivalry between these major powers is not expected to be the primary factor influencing their electoral decisions, as noted by former foreign minister and human rights lawyer Ahmed Shaheed.
'Peoples' Voice'
According to a recent survey conducted by the Bani Center think tank, which polled 384 individuals and was published last month, 21% of the respondents expressed support for Solih, while 14% favored Muizhu. However, the poll revealed that a significant majority of Maldivians, comprising 53%, remained undecided. It's worth noting that Solih secured a landslide victory in 2018 as a candidate representing a joint opposition.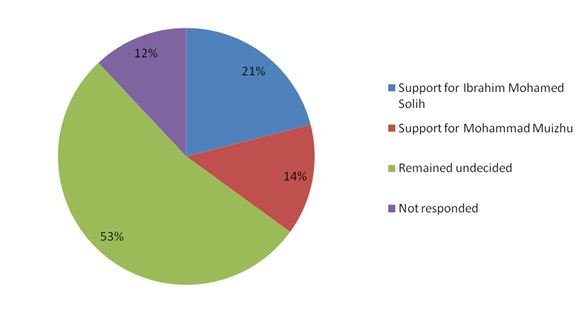 Presidential Poll survey conducted by the Bani Center think tank
In 2021, Muizhu, who represents a coalition of the Progressive Party and the People's National Congress, achieved an unexpected win in the mayoral election of the capital city, Malé. This outcome was particularly noteworthy as Malé was considered a stronghold of Solih's Maldivian Democratic Party at the time.
Historical Relations between India and Maldives
India and the Maldives share deep-rooted cultural, economic, and security connections that have endured over time. In recent years, China has also become a significant player, investing in various infrastructure projects in pursuit of its Belt and Road Initiative, which aims to create extensive transport and energy networks. President Solih has described India as "one of the earliest responders in times of crisis and one of the most steadfast supporters in times of prosperity."
Conversely, Muizhu's party contends that India's substantial influence poses a threat to Maldivian sovereignty. They accuse India of attempting to establish a permanent military presence in the archipelago, a claim that India denies. It's important to note that India is assisting in the construction of a naval port for Maldivian forces, and these forces will receive training from the Indian military.
China in the Maldives: The Chronicle So Far
The genesis of contemporary Maldives-China relations can be traced back to the era of former Maldivian President Maumoon Gayoom, who served from 1978 to 2008. Despite upholding a pro-India foreign policy, Gayoom made significant strides by becoming the first Maldivian President to visit China, doing so initially in 1984 and again in 2006.
Nevertheless, during Gayoom's tenure, Chinese presence and influence within the archipelago remained relatively limited. The relationship primarily revolved around technical and economic cooperation, visa arrangements, and project accords. China's investments at that time amounted to approximately 46 million US dollars, primarily allocated to housing, drainage, and road projects. Bilateral trade between the two nations amounted to a modest 2.8 million dollars.
As the Maldives approached its inaugural democratic elections in 2008, Mohamed Nasheed, leader of the Maldivian Democratic Party (MDP), criticized Gayoom for his cooperation with China. After Nasheed's election as President, he introduced an "India First" policy, demonstrating a commitment to respect Indian concerns and interests.
China and India's Impact on Domestic Politics
Mohamed Nasheed's policy direction was significantly influenced by two crucial factors: first, the Maldivian Democratic Party (MDP) and the newly democratic Maldives viewed India as their role model; and second, there was a recognition of the Maldives' reliance on India for security, defense, economic support, and development. Consequently, this policy approach was mirrored by India's escalating involvement in the Maldives' development and defense initiatives.
Under Nasheed's leadership, his government took measures to prevent other countries from investing in critical assets such as seaports and airports. However, Nasheed maintained limited engagement with Beijing. During his tenure, new Memoranda of Understanding (MoUs) were signed with China for housing projects and tourism development, and China established its embassy in Malé.
It wasn't until Nasheed's resignation in 2012 that China began to make significant inroads into the Maldives. During Mohammad Wahed's brief presidency from 2012 to 2013, there was a pursuit of a USD $500 million loan from China for housing projects. This marked a clear effort to bolster trade and tourism ties between the two nations. China's presence in the Maldives expanded notably under the leadership of Abdullah Yameen from the Progressive Party of Maldives (PPM) during the years 2013 to 2018.
During Yameen's tenure, the Maldives joined the Belt and Road Initiative, secured substantial and unconventional loans from China (ranging from USD $1.5 to 3 billion), and enacted new legislation allowing foreigners, including Chinese nationals, to own land. This period also witnessed the signing of significant infrastructure projects, investments, a free trade agreement, and the decision to construct an observation post in the Indian Ocean in collaboration with China.
In his later years, Yameen openly advocated for a stronger Chinese presence, which sometimes ran contrary to Indian interests and sensibilities. China's tolerance for issues like corruption, democratic regression, the arrests of opposition leaders, and the declaration of emergencies in the Maldives further solidified its relationship with Yameen.
Conversely, China's support for Yameen's administration pushed the MDP closer to India. Following the MDP-led coalition's ascent to power in 2018, relations with Beijing once again scaled back to a minimum level.
Under President Solih's "India First" policy, India's involvement in the Maldives has surged, encompassing impactful community development projects, large-scale infrastructure initiatives, and defense collaboration. Nevertheless, the MDP-led government has not actively opposed China. With consideration for Indian sensitivities and concerns, the current administration cooperates with Beijing on various fronts, including the energy sector, desalination plants, sports, and infrastructure projects.
Is China's Influence on the Wane?
In May 2023, Indian Defense Minister Rajnath Singh embarked on a three-day visit to the Maldives with the aim of strengthening India's defense collaboration with the archipelago, potentially as a response to growing Chinese influence. While China and the Maldives have shared warm relations since establishing diplomatic ties in 1972, recent political developments suggest that China might be experiencing a decline in its influence within the country.
Maintaining positive relations with the Maldives serves several strategic purposes for China, including safeguarding its sea lines of communication, ensuring access to the Indian Ocean, and challenging India's presence and sway in the region. Conversely, Maldivian leaders have consistently recognized Beijing's significance in the country's development, economic prosperity, investment, and tourism. They have often aimed to strike a balance in their engagement with China, rather than outright opposition or alienation.
As the Maldives gears up for presidential elections in September, China finds itself at a critical juncture with much at stake. Internal divisions within the ruling Maldivian Democratic Party (MDP) and the emergence of mainstream political parties advocating for stronger ties with India, driven in part by a leadership crisis within the opposition, are eroding China's political capital and influence in the island nation at a rapid pace.
Conclusion: As the Maldives prepares for its pivotal presidential election, the contest for influence between China and India takes center stage in this idyllic Indian Ocean archipelago. The historical and evolving relations between these Asian giants have shaped the island nation's political landscape, with leaders oscillating between pro-India and pro-China policies. With each election, the balance of power teeters, and the outcome remains uncertain. China's once-solid foothold in the Maldives appears to be facing challenges, as internal divisions and shifting alliances signal a potential decline in its influence. As the ballots are cast, the world watches closely to see whether the Maldives will continue to play a crucial role in the geopolitics of the Indian Ocean.