If global market prices were to decrease, the government has formulated a strategy to lower fuel prices, which would be beneficial for consumers, especially given the ongoing inflationary challenges
The government has chosen the consumer's comfort and decided not to raise fuel oil prices this year, even if global prices keep going up. This decision, which contradicts the commitment to apply an automated pricing formula as agreed with the International Monetary Fund (IMF) starting in September this year, has been made primarily due to the impending general elections, as indicated by officials from the energy ministry.
Nonetheless, if global market prices were to decrease, the government has formulated a strategy to lower fuel prices, which would be beneficial for consumers, especially given the ongoing inflationary challenges, according to officials.
Even though global oil prices reached a seven-month high on Friday, the Bangladesh Petroleum Corporation (BPC) appears to be in a position to absorb these increases for the time being, alleviating any immediate pressure on the government to raise prices.
Bangladesh to Adopt IMF Fuel Price Formula in September
In August last year (2022), significant increases in fuel prices—42.5% for diesel and 51% for petrol—enabled the BPC to generate sufficient revenue to cover its fuel import expenses, as the government declined to offer any subsidies. The state-owned oil monopoly has also nearly settled its outstanding debts with international oil suppliers, overcoming delays caused by banks' hesitance to process import transactions due to a shortage of dollars.
Bangladesh is appealing a $4.7 billion loan from the IMF, but there is a condition. The condition is to announce a "periodic formula-based price modification device" for petroleum products in September. Fuel oil is anticipated to be sold to the public or clients on this basis from March next year.
Back in April of the current year, State Minister for Energy Nasrul Hamid announced that fuel oil prices would be adjusted every three months based on international market rates, commencing on September 1st.
Furthermore, during the visit of the IMF mission in May (2022), the Energy Division informed them about the plan to periodically adjust fuel prices starting in September.
Officials from the Energy Division have noted that fuel oil prices have been decreasing in the international market since April of this year. The Bangladesh Petroleum Corporation (BPC) has been reporting healthy profits from various types of fuel oil, including diesel, kerosene, petrol, and octane.
During this time, both the country's business community and the Centre for Policy Dialogue (CPD), a think tank, advocated for price adjustments. The government indicated its intention to align fuel oil prices with the IMF's formula starting in September.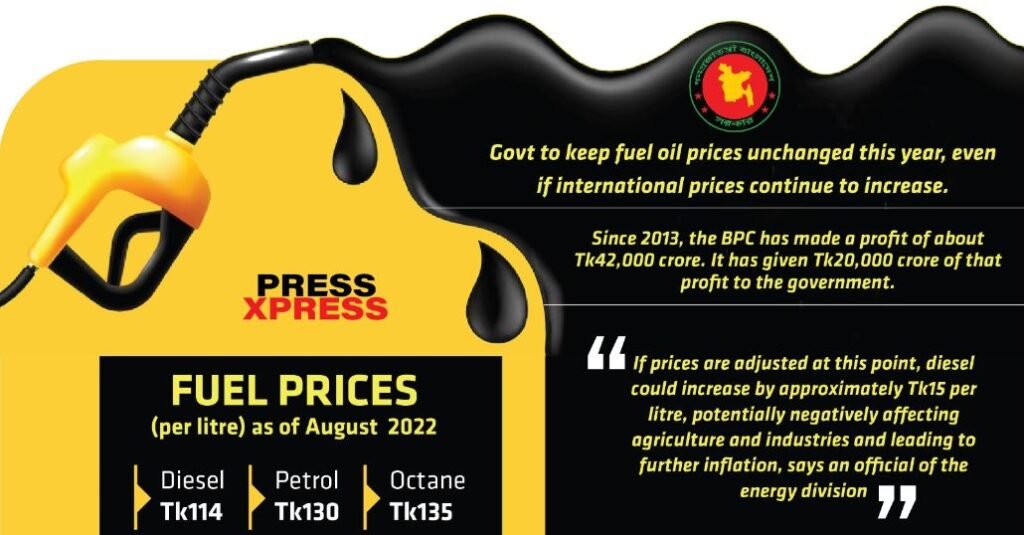 Global diesel price surge sparks delay in fuel price adjustments
Since August, the cost of refined fuel oil, particularly diesel, has been on the rise in the global market. Bangladesh, which consumes approximately seven million tonnes of refined fuel oil in FY23, largely relies on imports to meet its demand.
An anonymous official from the energy division expressed concerns, stating that if fuel prices are adjusted at this point, diesel could see an approximate Tk15 per litre increase compared to the current market rate. This, in turn, is expected to have adverse repercussions on the agricultural and industrial sectors while contributing to a further increase in inflation.
Consequently, the government has made a calculated decision to refrain from adjusting fuel prices before the elections, as mentioned by the same official.
Another high-ranking energy division official pointed out that the current international market price for diesel surpasses that of octane. Therefore, if adjustments were implemented, the prices of petrol and octane, primarily favored by more affluent consumers, might experience a slight reduction in the domestic market. While this could benefit the upper-class population, it may pose challenges for lower and middle-income individuals.
Will there be any impact on IMF loans?
Ahsan H Mansur, the executive director of the Policy Research Institute (PRI), a think tank, emphasized the importance of regular adjustments to fuel oil prices in line with the international market dynamics. However, he speculated that the government might postpone such adjustments until after the elections, potentially justifying this delay as a political decision in discussions with the IMF.
Mansur further noted that determining fuel oil prices internationally, while simultaneously meeting revenue targets and maintaining sufficient foreign currency reserves, might not align with the initial assessment of the IMF. He suggested that the government could use the pretext of upcoming elections to delay action, allowing these factors to be taken into account during the IMF's subsequent evaluation.
Oil price trends
BPC's financial performance is intricately tied to the fluctuating global prices of its primary product, diesel, which constitutes the majority of its fuel oil inventory.
According to data sourced from the US Energy Information Administration, on August 28, refined diesel prices on the world market ranged from a low of $175 to a high of $238 per barrel, encompassing all associated taxes. Concurrently, other reports indicated that crude oil was trading at $84.47 per barrel in the international market on the same day. To put this in perspective, at the beginning of July, crude oil was priced at approximately $74 per barrel. This demonstrates a notable increase of around $10 per barrel in just two months.
The surge in refined oil prices is primarily attributed to the elevated costs of crude oil and the increased expenses incurred during the refining process. Notably, Bangladesh relies on imports to fulfill approximately 80-85% of its demand for refined fuel oil.
An official from the Energy Division disclosed that before the pandemic, the refining cost for fuel oil averaged between $5 and $7 per barrel. Presently, refining companies are charging around $20 per barrel, reflecting a substantial cost escalation.
Price hike and criticism
On August 5, 2022, the Energy and Mineral Resources Division raised the prices of diesel by Tk34 to Tk114, petrol by Tk44 to Tk130, and octane by Tk46 to Tk135.
Subsequently, there was a reduction of Tk5 per litre after a fuel tax cut. These moves by the government garnered criticism for shifting the price burden onto the people, especially considering the Bangladesh Petroleum Corporation's (BPC) profitable track record in previous years. Critics also questioned why the government didn't take measures to prevent such substantial price hikes by lowering fuel duties.
In response to the criticism, BPC Chairman ABM Azad defended the agency's actions. He explained that despite BPC's profit of Tk 42,993 crore, it had fulfilled its tax obligations, provided surplus funds to the government, and allocated resources for various development projects. As a result, there was still enough left to cover two months' worth of import bills.
Status of the automated pricing formula
Officials from the Energy Division have indicated that they have already formulated an automated price adjustment mechanism to IMF recommendations. This formula is set to be presented during the upcoming visit of the IMF mission scheduled for October. However, the specific implementation date for this formula has yet to be determined.
Furthermore, discussions have taken place with the IMF regarding the formula's implementation at a suitable juncture.
The development of this formula involved a comprehensive analysis of various factors, including the import price of crude oil, shipping costs, refining expenses, distribution and marketing costs, and taxes. Notably, the fuel oil prices in India were also considered in devising this formula. To combat fuel oil smuggling with neighboring countries, Bangladesh's fuel oil prices will be aligned with those in the Indian market.
Moving toward zero subsidy on fuel oils
In January of the current year, there was a 5% increase in average retail electricity prices and up to a 42% hike in demand charges for most consumers. Gas prices for industrial, power generation, hotel, and restaurant sectors are also set to rise from February 2023.
Although recent price adjustments have brought petroleum prices closer to international levels, subsidies for gas and electricity are projected to be less than 1% of GDP in FY23, according to the MoU published by the IMF. Over the next three years, a formula-based fuel price adjustment mechanism will be implemented, eliminating structural subsidies for petroleum products.
In addition, unless faced with unexpected global price shocks, authorities have committed to avoiding further subsidy increases during the program and are exploring gradual reduction options.
Is BPC making profits or losses?
The Bangladesh Petroleum Corporation (BPC), the exclusive provider of fuel oil in the country, has recently faced financial setbacks over the past two months. These challenges stem from the escalation of global diesel prices and the devaluation of the Taka currency. To offset these losses, the corporation is using its resources.
However, since 2013, the BPC has made a profit of about Tk42,000 crore. It has given Tk20,000 crore of that profit to the government. However, the company's profitability began to wane after the outbreak of the Ukraine-Russia war in February of the preceding year, which led to a surge in international market prices.
Last year, the company sought a subsidy of Tk19,000 crore from the finance division, but the Ministry of Finance remains steadfast in its refusal to provide subsidies for fuel oil. Consequently, the BPC found itself incurring a debt of nearly $400 million to international suppliers. The company proactively took steps to reduce this debt by utilizing profits generated over a few months, ultimately reducing the current debt to $30 million.
Energy Division Officials have observed a global trend toward the adoption of renewable energy sources, resulting in reduced investments in refineries worldwide. However, earlier-established refineries have increased the prices of refined fuels to recoup their investments, which has posed challenges for the BPC.
In Bangladesh, the Eastern Refinery Ltd, the sole government-owned oil refinery, can refine only 1.5 million tonnes out of the 7 million tonnes of fuel oil required domestically. As a result, the remaining 5.5 million tonnes must be imported at higher costs.
According to BPC data, diesel accounts for the majority of the country's total fuel demand at 70%, followed by petrol at 6.50%, octane at 6%, kerosene at 1%, furnace oil at 8.50%, and jet fuel at 6.25%. The remaining portion consists of various other fuel types.