Bengal Fish is committed to delivering improved, nutritious and safe fish obtained from trained farmers through WorldFish research to the buyers.
Success begets more success, and this is evident in the remarkable journey of Bengal Meat. Having established a strong brand identity by delivering safe processed meat to the market, they have now reached new heights as an industrial fish processor, providing consumers with convenient "ready-to-cook" fish products under the brand "Bengal Fish."
'Bengal Fish' and WorldFish will collaborate to ensure the safety and nutritional value of their fish products. Bengal Fish's slogan is "Trust fish for quality and taste."
This partnership was formalized with an agreement signing ceremony on October 21 at Bengal Meat's Head Office located in Tejgaon of Dhaka.
Beginning of a strategic initiative
In 2021, the trusted protein provider entered into a partnership with WorldFish, a globally recognized research organization. This collaboration marked the beginning of a strategic initiative where the company gradually introduced fish cultivated by contracted farmers, all under the meticulous guidance of this esteemed research institution. This endeavor resulted in the establishment of the renowned "Bengal Fish" brand.
Currently, the company successfully distributes approximately five metric tonnes of fish each month through its proprietary retail outlets and collaborative vendors. Their diverse product range includes an array of freshwater species like:
Gulsha
Bata
 Rui
 Katla
 Shing
 Pabda
 Additionally, they offer delectable options such as:
Black Tiger Prawn
Rupchanda and
Various other marine fish varieties
Bengal Fish offers convenient solution
In a city where time is often in short supply for fish preparation, Bengal Fish offers a convenient solution with its ready-to-cook fish offerings. While there are individuals and Facebook-based groups selling processed fish, Bengal Meat distinguishes itself as the country's sole provider of high-quality processed fish.
Bengal Meat exclusively procures freshwater fish from its contracted farmers, ensuring stringent compliance with safety standards throughout the fish production process. These dedicated farmers, who receive regular training, operate under the vigilant oversight of WorldFish. The majority of these farms are strategically located in the northern regions of the nation, including Rajshahi, Bogura, and Natore.
Rajib Kumar Sarkar, one of the contracted farmers working with Bengal Meat in Natore, emphasized the three key factors in producing safe and high-quality fish:
Maintaining standard ponds
Using quality fish fry and
Providing good fish feed
He further highlighted the motivation for producing safe fish, citing the consistently favorable prices they receive for their produce.
Following the procurement of fish from contract farmers, Bengal Meat conducts rigorous quality assessments at its well-equipped laboratory located in Pabna. This laboratory recently achieved ISO certification, signifying its commitment to maintaining international standards.
Once the fish undergoes processing, vacuum packaging, and blast freezing through automated machines, Bengal Meat distributes the product via freezer vans to 25 outlets, which include Unimart, Dhali Super Shop, and Agora outlets.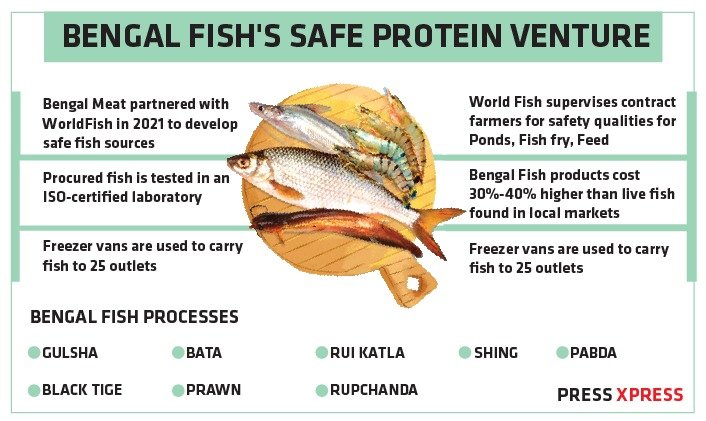 Bengal Fish's focus on ensuring safe production facilities
Bengal Fish officials have indicated that their processed fish carries a price tag 35%-40% higher than live fish available in the local market. This price differential primarily stems from the additional expenses associated with sourcing, processing, and managing the supply chain.
Moreover, customers purchasing fish from local markets typically end up discarding 150-200 grams of the fish due to various factors. In contrast, Bengal Meat's processed fish products can be consumed in their entirety, providing added value to consumers. Shaikh Imran Aziz, the marketing head of Bengal Meat, highlighted this advantage.
Future plans
Regarding their future plans, the marketing head of Bengal Meat, Shaikh Imran Aziz mentioned 'We are actively working on expanding our range of fish products. However, the key challenge lies in ensuring the establishment of safe production facilities before diversifying our offerings. Nevertheless, we are encouraged by the positive response from customers for our current product offerings in the market.'
Aim is to diversify range of fish products
Regarding future plans, Shaikh Imran Aziz stated, 'Our aim is to diversify our range of fish products. However, achieving this expansion is contingent upon securing safe production facilities. Nevertheless, we're receiving favorable responses from customers for our current market offerings.'
Currently, Bengal Meat allocates 80% of its processed beef to the domestic market, exporting the remaining 20%. While considering the possibility of exporting fish, the company's immediate focus remains on meeting local demand.
In the early years, Bengal Meat faced losses due to inexperienced entrepreneurs, inadequate collateral for obtaining loans, and local meat prices exceeding export rates. Despite repeated share issuances against debt, the company struggled to stabilize.
However, in 2011, Envoy Group's investment in Bengal Meat marked a turning point. The company then adopted a dual-market strategy, targeting both the local and export markets, and began turning a profit nearly a decade after its inception. Bengal Meat currently employs approximately 700 individuals.        
Bengal Meat's Journey: From start-up struggles to sustainable success
 In 2006, American expatriate Mazharul Islam, along with two friends, founded Bengal Meat with the goal of exporting halal, healthy, and high-quality "safe meat." Initially, the company faced challenges and was not profitable. In 2011, it sought investment from entities like the Sheltech Group and experienced businessmen. With their support, Bengal Meat began to turn a profit, focusing primarily on the local market. Over time, they expanded their offerings to include chicken, goat, and various frozen foods. Originally, Bengal Meat had no plans to market processed fish, and their processing facility in Pabna lacked a fish processing unit. Later, they established a fish processing unit there, but encountered difficulties in other areas, particularly in sourcing safe fish. It took the company approximately 15 years to establish sustainable sources of safe fish.