Brazil, Russia, India, China, and South Africa collectively make up the BRICS, which was created in 2010 after South Africa joined the BRIC. Jim O'Neill, a Goldman Sachs economist, first used the term "BRIC" or "the BRICs" in 2001 to refer to a group of rapidly expanding economies that he anticipated would collectively control the world economy by 2050. Last week, the bloc known as the BRICS took the historic step of inviting six new countries for membership. The BRICS nations of Brazil, Russia, India, China, and South Africa made the announcement at their summit on August 24 in Johannesburg. The group will welcome Argentina, Egypt, Ethiopia, Iran, the United Arab Emirates (UAE), and Saudi Arabia in January.  A potent adversary of the Group of Seven (G7) democratic states might alter the course of geoeconomics and geopolitics on a number of fronts, from Russia's conflict in Ukraine to the dollar's position as the world's reserve currency. But Egypt's membership in the BRICS represents a crucial turning point in a world characterized by altering economic dynamics and changing geopolitical environments. Both Egypt and other developing countries stand to gain from this action. Western countries, especially the US, express concerns about the expansion of BRICS membership as Cairo prepares to join this significant economic group.
Egypt's Membership Process
BRICS Plus was created in 2017, and invited non-BRICS government officials to hold discussions. Russia and China have supported the process of expanding the membership and cooperation of BRICS Plus including the expansion of BRICS members.
Egypt participated in the BRICS Summits in 2017 and 2022. Egyptian President Abdel Fattah al-Sisi participated in the last BRICS summit at the invitation of Chinese President Xi Jinping. Emphasizing increasing the position of the BRICS economy and the position of Egypt and its leading economic and commercial capabilities in the region, Cairo showed its interest in joining the BRICS. Effectual relations with in the BRICS members have caused actors like Russia to support Egypt's efforts to join the alliance, while the Egyptian economy and manufacturing sectors have aligned with the needs of the BRICS. Egypt is, along with South Africa, very much seen as a Gateway to the African Continent.
BRICS Creates New Opportunities for Egypt
Egypt's membership in BRICS opens up a wide range of possibilities and benefits, particularly in terms of growth, commerce, and investment. This is an opportunity for Cairo to boost trade interchange and collaborative investments as one of the most significant economic meetings in the world. Egypt is particularly interested in this membership because one of the BRICS projects, that it is currently involved in, is turning trade into alternative currencies as much as possible, whether it be national or forming a shared currency. Along with the significance of protecting the political and economic interests of the Egyptian state, membership in a bloc also fosters more cooperation and knowledge sharing. Using the BRICS trend to transact in local currency or other currencies. The dominance of the dollar in payments will also decline with membership in the BRICS, which was discussed at earlier meetings. After higher US interest rates and the Russo-Ukrainian War caused the US dollar to escalate and the price of dollar-priced goods to rise, the debate reemerged as a result of increased usage of member countries' national currencies in commerce and the development of a single payment system. The creation of a single currency is viewed as a long-term undertaking.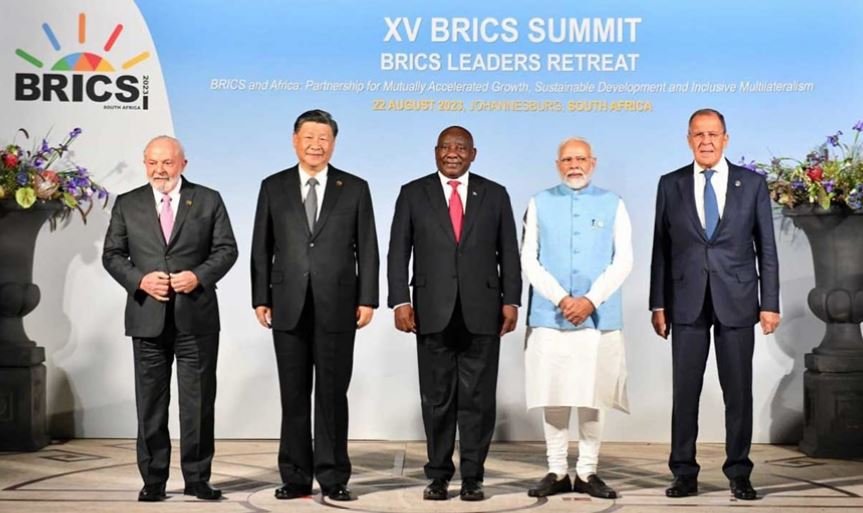 Egypt's accession creates Opportunities for the world
Because of Egypt's membership world can get many benefits. Such as-
Diminishing Dollar Dominance:
Egypt's BRICS membership may cause the US dollar's sway over global payments to wane. The influence of the dollar could decline as members build a common payment system and utilize their national currencies for trade more frequently.
Changing Geopolitical Balances:
The entry of new countries, including Egypt, could reshape BRICS' geopolitical dynamics. BRICS nations collectively advocate for a multipolar global balance, and Egypt's inclusion may bolster this vision.
Benefits for Developing Countries:
Egypt's inclusion in BRICS has the potential to provide developing countries, especially African nations, more leverage. International financial institutions may be more confident in these economies if they have access to funding sources, economic expertise, and investment opportunities.
Trade and Commodity Accessibility:
BRICS membership could provide Egypt and other developing nations with easier access to essential commodities like wheat, electronics, coffee, and tea, thus fostering mutually beneficial trade relationships.
Multipolar World Economic System:
The BRICS group, spearheaded by Russia and China, seeks to establish a multipolar world economic system, challenging the traditional Western dominance. Western nations fear that the group's expansion could further amplify this trend.
Russia's Influence and Expansion:
The recent Russian-Ukrainian conflict has fueled interest in joining the BRICS group. Countries, including Russia, view BRICS as a platform for building supportive partnerships, particularly when facing Western economic sanctions.
Political Pressure and Isolation:
Russia's encouragement for BRICS expansion could stem from its aim to wield political influence. Amid international isolation due to the Ukraine conflict, Russia may influence the group to counterbalance this isolation.
BRICS' Intentions and Goals:
The founding BRICS nations do not approach developing countries from a condescending standpoint. Instead, they focus on fostering progress and development in these nations, underscoring their commitment to a multipolar world order.
Western concerns regarding Egypt
Many Western nations, especially the United States, seem to oppose the efforts to increase the number of BRICS members. The most notable Western and American concern centered on the inclusion and expansion of many developing nations into the organization due to the volume of economic cooperation between the nations. BRICKS nations may equal or surplus the economic volume of the Western blocs and thus, may facilitate to undermine their hegemony. Following these, Western countries are concerned about Egypt's membership in BRICS. The reasons are discussed below-
Change in Allies:
Egypt's prospective departure from its long-standing relationships with Western nations, particularly the United States and the European Union, were indicated by getting membership in BRICS. This might change the geopolitical equilibrium in the Middle East and North Africa, escalating tensions and fostering rivalry between various blocs.
Impact on Regional Dynamics:
Egypt is a significant player in the Middle East, both politically and strategically. Its participation in BRICS might impact the dynamics of regional alliances and conflicts, potentially creating challenges for Western countries' interests in the region.
Competitiveness in the economy:
The economies and rising markets of BRICS members are sizeable, and they are having an increasing collective impact on international trade and finance. By joining this club, Egypt may strengthen its economic relations with these nations, which may draw trade and investment away from Western nations.
Strategic Alliances:
BRICS nations frequently work together on a range of international challenges, including terrorism, climate change, and international security. The success of Western-led activities in these areas might be impacted if Egypt sided more with the BRICS.
Adaptation to Non-Western Values:
BRICS nations occasionally place a strong emphasis on refraining from meddling in one another's internal affairs, a posture at odds with Western values of advancing democracy and human rights. Egypt's policies could collide with Western nations' ideologies if they are more closely aligned with BRICS principles.
Competing Visions of International Order:
Western countries and BRICS members sometimes have differing views on how the international order should be structured. The Western-led order, characterized by liberal democracy and market-based economies, might conflict with the vision that BRICS countries have for a more multipolar world with alternative forms of governance and development.
In conclusion, Egypt's pursuit of BRICS membership is laden with potential advantages for its economy and development trajectory. Simultaneously, Western concerns stem from the fear of a shifting global economic order that challenges their traditional dominance. As Egypt's journey towards BRICS continues and the alliance expands its membership, the global landscape will inevitably witness transformations that could reshape economic and geopolitical dynamics.