Bangladesh's per capita GDP witnessed a remarkable growth of 500 percent over the last 20 years, an achievement more than two and a half times greater than that of Pakistan
Bangladesh stands as a prominent rising star among the economies in South Asia, demonstrating remarkable growth and stability. In June 2022, the country's per capita income reached USD 2,687, a significant increase from USD 2,462 in June 2021. Over the course of 50 years, Bangladesh's economy has grown an impressive 271 times, largely attributed to its macro-economic stability.
The success story of Bangladesh serves as an inspiring example, particularly evident in the past two decades when it surpassed Pakistan in several crucial economic indicators. Notably, Bangladesh's per capita GDP witnessed a remarkable growth of 500 percent over the last 20 years, an achievement more than two and a half times greater than that of Pakistan.
In 2021, a report from the Washington-based conservative think tank, The Heritage Foundation, ranked Bangladesh 120th with a score of 56.5, acknowledging its progress and potential.
Up until 2022, Bangladesh has also maintained a higher per capita gross domestic product (GDP) compared to India, according to the latest data from the International Monetary Fund (IMF). However, the IMF predicts that India will regain the lead over Bangladesh in the next two years and retain that advantage until at least 2028. Despite this projection, Bangladesh's journey of economic progress remains an inspiring example for other developing nations in the region.
Presently, Bangladesh has earned the distinction of being one of the most rapidly growing economies on a global scale. Few of the world's least developed nations can parallel the remarkable achievements made by Bangladesh in this regard. Moreover, indicators of human development exhibit notable progress, reflecting the country's dedication to improvement. The life expectancy in 2019 reached an impressive 72.6 years, showcasing a remarkable gain of over 7 years since the year 2000. Education has also seen a positive shift, with mean years of schooling increasing from 4.1 to 6.2 during the same period.
Furthermore, Bangladesh's human development index (HDI) value has demonstrated substantial growth, climbing from 0.478 in 2000 to an impressive 0.632 in 2019. These achievements stand as a testament to Bangladesh's commitment to enhancing the well-being and prospects of its citizens.
Bangladesh's Economic Journey
The economic journey of independent Bangladesh commenced in 1972, with India and Pakistan leading in every economic index at that time. However, after 50 years, the tables have turned, and Bangladesh now outpaces both India and Pakistan in almost every index, marking a tremendous achievement for our independence.
When the current government came into power, foreign exchange reserves were at an all-time low, and the economy was on the brink of collapse, given the complexities of the previous administration
Amidst the challenges posed by the global recession, Bangladesh, like many other countries, has felt the pressure. When the current government came into power, foreign exchange reserves were at an all-time low, and the economy was on the brink of collapse, given the complexities of the previous administration. However, since then, Bangladesh has marched forward, achieving noteworthy economic growth even during the Great Recession, surpassing even the wealthiest and most established economic powers in the world.
From Agriculture to Industry
Presently, Bangladesh boasts a formidable GDP of over $409 billion, positioning it as the 37th largest economy in the world. Encouraging forecasts indicate that the country's economy has the potential to double in size by 2030.
Since its inception in 1971, Bangladesh's economic landscape has undergone a remarkable transformation. Initially reliant on agriculture, the composition of the economy has significantly evolved over the years, with industry and services now dominating the economic output. The share of agriculture in GDP has dwindled to a mere 13%. Economic development was propelled by the availability of job opportunities beyond the agricultural sector, as highlighted by Jansen.
A notable success story for Bangladesh has been the emergence of its garment industry. This sector holds the distinction of being the second-largest globally, second only to China, and garners over $35 billion annually from exports. Employing a staggering 4 million people, the majority of whom are women, the garment industry contributes significantly to female empowerment in the country.
The Sources of Growth
Bangladesh's impressive growth can be largely attributed to its successful garment exports, contributing a significant 84 percent of its total exports, and the influx of remittances from overseas, amounting to over 6 percent of GDP (Figure 2). However, the principal driver behind this growth has been investment, which has surged from 24 percent of GDP in 2000 to 32 percent in 2019.
Interestingly, the nation's overall growth is not heavily reliant on total factor productivity, which has remained below 1 percent per annum since 2000. Total factor productivity is a crucial determinant of long-term income growth for all countries. To put it in the words of Paul Krugman, world renowned economist, the key to Bangladesh's performance thus far is not just inspiration but rather sheer hard work and dedication, as it is perspiration that has been responsible for their remarkable achievements.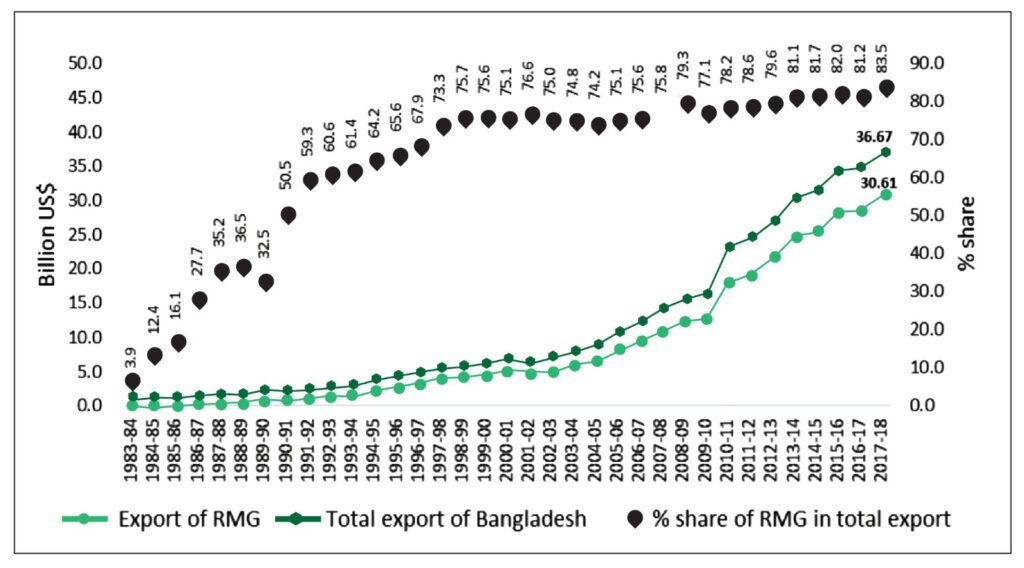 What lessons can be learned from Bangladesh's experience?
Can the experience of Bangladesh offer valuable lessons for other late-starting least developed countries (LDCs)?
Certainly, one crucial lesson is that establishing a large and competitive garments industry and integrating into the global value chain (GVC) can help countries climb the initial rungs of the development ladder. Bangladesh's success in this aspect is evident, with approximately 4,600 garment factories producing goods worth over $33 billion in exports as of 2019.
However, it is essential for countries to consider early diversification into higher-value manufacturing, as demonstrated by the experiences of Korea and other East Asian economies. While starting with light manufactures, these nations quickly expanded into more complex and valuable products, achieving remarkable growth. Nevertheless, this kind of structural transformation poses considerable challenges for late-starting LDCs like Bangladesh. Barriers to entry in advanced technologies and high-value GVCs, the increasing automation and servitization of manufacturing, and the diminishing role of manufacturing in GDP and growth all present hurdles.
To complement efforts by multinational corporations, fostering the growth of homegrown, high-growth conglomerates can prove beneficial. Examples like Korean chaebols, Taiwanese contract manufacturers, and Vietnamese conglomerates highlight their contributions to industrial diversification and prosperity.
Fundamentally, the most reliable path for escaping the lower-middle-income trap is through continuous improvement in factor productivity year after year. Additionally, focusing on enhancing the quality of human capital, encouraging private entrepreneurship and investment, and maintaining a stable and predictable policy environment are indispensable for productivity-led growth. Emphasizing openness and commitment to growth while ensuring checks and balances on state power through credible political and legal institutions can pave the way for rapid and sustainable growth, potentially leading LDCs like Bangladesh to become true growth miracles.
What factors contribute to the booming growth of Bangladesh?
The Bangladesh government also deserves credit for supporting grassroots initiatives in economic inclusion, the positive effects of which are visible in recently released data from the World Bank. Another partial explanation for Bangladesh's progress is the success of its garment manufacturing industry. That success is itself driven by a number of factors. One notable point is that the main garment firms in Bangladesh are large—especially compared to those in India, owing largely to different labor laws.
Having been born without the law, Bangladesh offered a better environment for manufacturing firms to achieve economies of scale and create a large number of jobs. And though Bangladesh still needs much stronger regulation to protect workers from occupational hazards, the absence of a law that explicitly curtails labor-market flexibility has been a boon for job creation and manufacturing success.
Challenges
The question at hand revolves around the sustainability of Bangladesh's robust economic performance. As things currently stand, the country's prospects appear excellent, but policymakers must be mindful of certain risks that could arise. Firstly, when an economy experiences significant growth, there is a tendency for corruption, cronyism, and inequality to surge, potentially stalling the growth process if left unaddressed. Unfortunately, Bangladesh is not immune to these challenges.
However, a more profound threat looms in the form of orthodox groups and religious fundamentalists who oppose the progressive social reforms that Bangladesh has undertaken. Should there be a reversal of these forward-looking investments, it could lead to a severe and prolonged economic setback. This concern is not to be taken lightly, as history has shown that vibrant economies have been derailed by zealotry on numerous occasions.
Policymakers must remain vigilant in countering corruption and promoting fairness while safeguarding the progressive reforms that have propelled Bangladesh's growth. By doing so, the country stands a better chance of sustaining its economic momentum and building a prosperous and resilient future.
Prospects 2075
As stated in the Goldman Sachs report, that Bangladesh's resilience makes it impervious to defeat, projecting the country to become the 16th largest economy globally by 2075
Emilia Fernandez, a security and political analyst specializing in South Asian geopolitics, highlights that Bangladesh's remarkable progress has drawn attention from world leaders, prompting discussions on how to curtail its advancement. Nevertheless, it is widely acknowledged, as stated in the Goldman Sachs report, that Bangladesh's resilience makes it impervious to defeat, projecting the country to become the 16th largest economy globally by 2075.
According to the forecast, Bangladesh's GDP is expected to reach a staggering $6.3 trillion by 2075. This projection translates to approximately Tk 686.7 lakh crore in local currency, a remarkable increase of Tk 636 lakh crore compared to the government's current financial year's estimated GDP. The robust growth is fueled by the potential in training and developing skills within the country's growing population, expanding labor force, and vast talent pool. Goldman Sachs views emerging economies, including Bangladesh, as promising entities in their GDP Outlook 2075.
Although the COVID-19 pandemic temporarily slowed down GDP growth, Bangladesh's economy is now recovering, exhibiting its resilience and determination to forge ahead. As the country overcomes these challenges, it continues its remarkable journey toward a prosperous and flourishing future.